We live in a world where it's very easy to buy the things we need like furniture or home decorations and with so many different options we don't really have to worry about not finding the thing we're looking for. It's often just a matter of knowing where to look for something or having the right budget. Some of us, however, prefer to build our own furniture and accessories. DIY furniture is pretty popular nowadays, with many great tutorials and plans available for free.
Today we'll explore some of the things you too can put together if you ever decide to give DIY projects a try.
How to DIY Old Furniture
Don't have money for new furniture? There's no need to buy anything when you can use a DIY project to upgrade old furniture you already have lying around your house.
Depending on the piece you need to DIY, the process will be different. Below we have included some simple ideas to help you DIY old furniture.
Turn a Dresser into a Shelf
Transform your old dresser into a nice storage table for your entryway in a few easy steps.
Materials:
Old Dresser
Paint or Stain
Screw Driver
Hole Filler
2 -3 Cloth Bins
Step 1: Remove the Drawers
Depending on how many drawers your dresser has will dictate how many you need to remove. Generally, you want to keep the top row to store keys/mail and other small things which accumulate in the entryway.
Remove all the other drawers. But don't toss them, as you may be able to use them for another DIY project.
Step 2: Remove the Drawer Tracking
Next, remove all elements used to hold the drawers in place. You should be able to do this with a screwdriver. Don't worry if you damage the paint/stain.
Step 3: Re-stain or Paint
Then, fill any holes left from the tracking using a hole-filler. Give the whole dresser a new coat of paint or stain.
Step 4: Add Baskets
After giving your dresser a chance to dry, place a few cloth baskets in the open space left from removing the drawers. Just like that, you've got a nifty place to keep your shoes.
Transform an Old Coffee Table into a Tufted Ottoman
Do you have a coffee table that doesn't suit your living room anymore? Follow these steps to turn it into a chic tufted ottoman.
Materials:
Old coffee table
Paint (in the same color as the pleather)
Pleather or cloth in the color of your choice (enough to cover the coffee table and then some)
Furniture Stuffing
Drill
Staple Gun
Wood Staples
Glue
Screws
Buttons
Step 1: Cut and Lay Out Fabric
Start by laying the fabric over the top of your coffee table and cutting it to size. Be sure to leave a little excess on all sides so you can attach it beneath the table (and out of sight) as well as add the desired amount of stuffing.
Step 2: Staple into Place
Staple the ends of the fabric to all sides of the table, except for one—leaving enough space for you to add stuffing.
Step 3: Add Stuffing
In the opening you left, start to add stuffing until the ottoman is as full as you want it to be. Don't overfill though, as you will still need to staple to get the tufted look.
Step 4: Create the Tufted Look
Using either the staple gun or drill, gather the fabric every few inches to create the tufted look. If you use the staple gun, simply staple the fabric to the table, then glue buttons on top (this method is recommended for a thin table).
For a thicker table, you will need to use the drill method. Using a very small bit, drill holes through the material and the table, then strig buttons through to the other side, tying them in place there.
Leave the remaining side unstapled for this step in case you need to remove the stuffing.
Step 5: Staple the Remaining Side
Staple the remaining opening shut, ensuring the fabric is pulled taught. You can add extra staples on any side to ensure it is tight.
Step 6: Paint the Legs
Paint the legs to match the tufting, or leave them natural if you prefer. Either way, once the paint is dry, you will have your own tufted ottoman.
Use Old Chairs to Make a Dog Feeding Station
Have some old dining chairs you don't want to toss? Make them into a feeding station for the furry members of your family instead with this easy DIY.
Materials:
Old chairs, one per dog dish
Metal bowls
Saw
Sandpaper
Primer
Wood stain/paint
Step 1: Cut the Holes in the Chairs
Measure the rims of the metal bowls you have purchased, and cut the holes in the chair just slightly smaller than the rims of the bowls.
Step 2: Sand and Prime
Next, sand the entire chair to get them rid of splinters and uneven ends. Once sanded, give the chairs a coat of primer.
Step 3: Paint the Chairs
Paint or stain your chairs with the desired colors. You can also use stencils to add labels like "drink" and "eat" to the chairs.
Once they are dry, add the bowls and your furry friend will have his very own feeding station.
How to DIY Distressed Furniture
Distressed furniture is all the rage, especially when you are going for a classic farmhouse vibe. Before you go out and spend lots of money to purchase distressed furniture, check out the steps below to see how you can DIY distressed furniture using items you already have on hand.
Materials:
Paint/Stain
Sandpaper
Polyurethane
Candle
Rags
Steel Wool
A furniture piece
Step 1: Sand Your Furniture Piece
Start off by sanding the furniture. The more finished the piece of furniture is, the more you will need to sand. Wipe the piece off with the rag.
Step 2: Paint Your Furniture
Paint or stain the piece the desired color. If you want the piece to look like it was previously painted, buy two colors of paint. Paint the color you want to show through first.
Step 3: Let the Paint Dry
Let the paint dry completely, then rub a candle on the parts you want the first coat of paint to show up in. Paint the whole piece with the second color. The paint will not adhere to the wax.
Step 4: Distress the Furniture
Once the second coat of paint is dry, rub sandpaper and steel wool on the piece to remove some of the paint. Concentrate on the edges and corners to mimic natural wear.
Step 5: Add the Polyurethane to Protect the Piece
Add a layer of polyurethane to protect your furniture piece. When that is dry, you can start to use your distressed furniture. 
How to Make DIY Patio Furniture
There are many different types of patio furniture you can make yourself. You can make everything from chairs to benches, and even raised flower beds. To get you started, here are the steps for making a DIY patio bench.
Materials:
Lumber (2×4 and 2×6)
Saw
Screws
Drill
Paint/Stain
Glue
Step 1: Cut Your Boards
Cut your boards to make all of the following:
4-2×4 pieces 22 and ¼" long (legs)
6-2×6 pieces 28 and ½" long (side slats)
2-2×4 pieces 31 and ½" long (armrests)
4-2×6 pieces 25" long (front and back slats)
7-2×4 pieces 25" long (top slats and seat slats)
2-2×2 pieces 25 and ½ " long (inside cleat)
Step 2: Attach the Legs
Take 2 of the leg boards and attach 3 side slat boards between them using screws. Leave ¾" of space between each board. Repeat with the other two legs
Step 3: Attach Armrest
Attach one of the armrests to the top of the 3 side slat boards using screws. Do the same with the other set.
Step 4: Create Front and Back of Chair
Take the two armrest pieces and place the front and back slats between them. There should be 3 on the back to create the back of the chair, and 2 in front to create the front of the chair. From above, this will look like a square.
Step 5: Attach the Top Back Piece
Using wood glue and screws, attach one of the top slats to the back of the chair.
Step 6: Make a Rest for the Seat Slats
Using the inside cleat wood, place it along the inside of the seat, perpendicular to the back of the chair. These boards will hold your seat slats, so be sure they are screwed into place.
Step 7: Add the Seat Slats
Screw your seat slats into place on the cleats.
Step 8: Finish or Paint
Now is the time to stain or paint your chair the desired color. Then, just purchase a 25"x25" seat cushion and you've got yourself some patio furniture.
How to Make DIY Dog Crate Furniture
Having a dog is an amazing experience, but there has got to be a better way than having that ugly crate in the corner. Luckily, there are tons of DIY projects you can use to blend your dog's crate in with everyday furniture. Here is our personal favorite for a DIY dog crate table.
Materials:
Medium size pet crate
2 tension rods (36")
Café Style Curtains
Kreg Jig
Screws
Drill
Four 28" table legs
Four 1×4 pine boards the length/width of your dog's kennel
Five 1×6 pine boards
Stain/Paint
Step 1: Make a Table Top
Splice the 1×6 boards together to create a tabletop using the Kreg jig.
Step 2: Attach the Legs Together
Using the four 1×4 pine boards, place them between the legs at the top to create a table shape. Screw these into place
Step 3: Attach the Table Top
Attach the tabletop you made in step one to the top of the frame using screws.
Step 4: Stain or Paint
Stain or paint the wood the color of your choice. Allow time to dry completely.
Step 5: Install Tension Rods
Install the tension rods along the length of the table. Hem the curtains as needed, then install on the tension rods. Now your furry friend has his own little space that you can utilize the top of as well.
60 Amazing DIY Furniture Ideas to Transform Your Home
Easy DIY Furniture
If this is your first time making DIY furniture, you'll want to start with the easier ideas. These will give you a good introduction to making DIY furniture without throwing something too difficult your way. Then, once you've gained some experience you can move on to the more complicated projects.
1. Easy Built-in Shelves
A well-organized space is always more enjoyable than a messy one, so don't let things pile up in your home or in your garage, especially not when it's so easy to keep the clutter under control. A solution can be a set of DIY built-in wall shelves, great for any space but especially the garage or the pantry.
2. Wooden Slab Table
A wood slab side table might also be something that you'd like to add to your living room or bedroom. Building one is easy. You need a slice of wood from a large log, three hairpin legs, some sandpaper, paint screws, and a drill.
3. DIY Media Box
A DIY media box is another useful project you might enjoy doing for the living room. The project is super simple and only consists of putting together three pieces of wood to create a sort of box or pedestal for the TV, with space to store other smaller electronics underneath.
4. Narrow Sofa Table
Here's a really clever idea that you might not have thought about: built a narrow sofa table and put it between the back of the sofa and the wall, so you can have a surface on which to store a few extra things.
You can also integrate an outlet into the table so you can always have it handy whenever you want to charge your devices.
5. DIY Wire Basket
A lot of things can be stored in baskets and that's actually a really chic trend which brings us to the next project, a DIY industrial wire basket. You can use it to store extra towels in the bathroom and you can make it in any size and all you'd need is some wire mesh or fencing and metal cutters.
6. DIY Cat Scratcher
If your cat scratching the sofa? Well, that might actually be your fault. Cats need a good surface to sharpen their claws and this sleek and modern cat scratcher could potentially save your furniture. It's also pretty easy to build too. Make sure it's big enough for your cat and also that it's stable.
7. DIY Industrial Rolling Cart
Carts and trays are pretty practical when you have guests over but not only then. If you're thinking of getting one, why not actually build one yourself from scratch? It's easier than you think. Check out this industrial rolling cart tutorial for details.
8. Wooden Crate Coffee Table
Wooden crates can also be repurposed and used to put together a table. For example, you can use four of them to make a rolling coffee table with storage on all four sides. There would be this gap at the center which you can leave as such or which you can cover up by placing a top over the crates.
9. Modern DIY Coat Rack
A coat rack is essential if you want to keep the entryway clean and tidy and since most good ones are simply not worth the price, you might prefer to build one yourself. Check out this modern DIY coat rack and its simple design.
It's super easy to make and all you need is four wooden dowels, a leather belt, and some craft paint.
10. Simple Brass Toilet Paper Holder
It's often the little things that matter the most in a home and this includes the accessories like lamps, shelves, or even the toilet paper holder. Nothing should be ignored, especially if it's meant to be practical.
That being said, check out this simple brass toilet paper holder which you too might find useful. It's integrated into a clever storage module which we find great for bathrooms of all kinds.
DIY Outdoor Furniture
DIY furniture isn't just for inside your home, as your backyard probably needs some DIY love as well. Use these projects to make everything from flower beds to furniture your guests can enjoy sitting on during those warm summer evenings.
11. Chair Garden Bed
Sometimes a chair is just too damaged to continue serving its intended purpose but that doesn't mean you can't still use it in other ways. For instance, you could turn a chair into a garden bed. You have to remove the seat and put a planter instead.
12. DIY Garden Bench
Speaking of expensive things, garden furniture can be quite costly and if you're not particularly interested in the design or the materials you could build your own garden bench or table for a lot less. One idea could be to use pallets for that.
13. DIY Patio Furniture Upgrade
Spray paint is super useful if all you want is a change of color for some of your furniture and accessories. You could use it to give your outdoor bench or chairs a quick makeover and make them look brand new. Check out wonderwood to see how effective this strategy really is.
14. Outdoor Wooden Bench
This cute outdoor bench from danslelakehouse is a really cool accessory for a porch or a deck and the best thing is that you can also use it as a sort of table if you want to. It has a nice flat and solid top and it's lightweight and easy to move around as well. You can customize it with your favorite color or finish.
15. DIY Maldivian Chairs
Referred to as Maldivian chairs, these pieces of furniture are super simple and typically have steel frames and mesh seats. They're quite comfortable and affordable but they can be hard to come by if in other areas of the world. Luckily, you can craft your own. Check out essenziale-hd to find out how.
DIY Pallet Furniture
Many businesses throw out pallets at the end of the day, but you know what they say, one man's trash another man's treasure. Pallets are the easiest material to make DIY furniture out of, so be sure to grab a few from your local business and check out the DIY pallet furniture ideas below.
16. Hairpin Leg Side Table
This DIY hairpin leg side table can be useful in a lot of ways. You could use it as a nightstand in the bedroom, as a side table in the living room, or as an accent table in the hallway or in some other space. Putting it together is a piece of cake.
17. DIY Pallet Planter
Pallets are a great resource when it comes to DIY projects. You can repurpose them in a lot of cool ways and use them to build beautiful pieces of furniture and accessories like this DIY planter box for instance. Check out the tutorial to find out all the details and so you can make your own pallet planter.
18. Wall Mounted Wine Rack
If you like the idea of repurposing wood pallets into cool DIY furniture and accessories, you'll probably enjoy building this wall-mounted wine rack. It has a lovely rustic flair and it includes a storage rack for glasses at the bottom too. You can install it anywhere you want.
19. Pallet Table
Pallets and hairpin legs are two of our favorite things when it comes to DIY furniture projects. That makes this DIY pallet table with hairpin legs one of the coolest projects on this list. As you can imagine based on the design, the project is very simple.
20. DIY Hanging Wine Rack
You know what else your home could use? A wine rack. We're not talking about the fancy and expensive ones you often see in stores but the DIY hanging wine rack kind which you can make out of some scrap wood on a weekend. Isn't this one just lovely?
DIY Copper Pipe Furniture
After wooden pallets, the next best item to collect to create DIY furniture is copper piping. Whether you want to make tables with copper pipe legs, or maybe a magazine holder, copper pipes are truly formidable and can be used for any number of DIY furniture ideas. Here are some of our favorites.
21. Copper Pipe iPad Stand
Speaking of devices, check out this copper pipe iPad stand. It's something that you might find useful in the kitchen when you're looking up recipes or other things. All you need for this quirky project is some copper pipe pieces and fittings. You can spray paint them if you prefer a different color.
22. Copper Pipe Paper Towel Holder
We tend to occupy the kitchen counter with things that don't actually need to be stored there, like paper towel rolls. It would be much more practical to install an under-cabinet hanging paper towel holder like this one. It saves space and it's super practical and easy to use. Go ahead, give it a try.
23. Rustic Pipe Table
If you like the rustic-industrial look of galvanized pipes there are plenty of ways in which you can use them in DIY furniture projects. For instance, you could build a rustic table using galvanized pipes for the frame and a piece of lumber for the top.
24. Copper Pipe Magazine Rack
Copper pipes also have an industrial allure but they're more modern and quite chic. You can use some to make a copper pipe magazine rack which you can keep by the sofa in the living room or next to the bed in the bedroom. Just rest your magazine or book on it so it stays open.
25. Copper Pipe Magazine Holder
This copper pipe magazine holder is quite similar to the one we just showed you but instead of resting the magazines onto the frame pipes, you keep them inside a fabric pocket. This way you can store several magazines or books at the same time in the same place.
26. Copper Pipe Jewelry Stand
Copper pipes can also be used to build other types of accessories, some of which can be quite delicate and elegant, like this copper pipe jewelry stand for example. Its structure is similar to that of a tree and you can add more branches as your collection grows.
27. DIY Industrial Towel Rack
In case you don't have one of those radiators that double as towel racks, we have the perfect DIY accessory for you: an industrial towel rack with an oak shelf that's guaranteed to make the bathroom 9or kitchen) look charming and welcoming.
DIY Wood Furniture
Do you love woodworking? Then we've got some projects for you. Below are some of the best DIY wood furniture ideas that will have you sawing and hammering to create the perfect furniture for your home.
28. DIY Toy Chest
At first, kids only have a few little toys but, as time passes, more and more start to accumulate, and before you know it you need a big box to store them into. If that's the case, how about building a modern toy box with a lid, just like this one?
Sure, it won't be as easy as ordering one online and waiting for the package to arrive at your doorstep but this way it might actually be more fun.
29. DIY Desk with Shelves
Need a desk? Just build one. It's easier said than done but we're pretty confident that you could pull this off if you ever manage to find the time to do it. This contemporary desk with hairpin legs is not only super easy to build but also pretty chic and stylish.
30. DIY Hairpin Desk
Since we're on the subject, here's another contemporary hairpin leg desk that you might enjoy. It's basically just a simple table and you can use it as one but it's also a pretty cool desk that you can customize in a lot of fun ways. For example, paint the legs in a funky color.
31. Coffee Table with Hairpin Legs
You can build just about anything when you put your mind to it. A coffee table with hairpin legs is actually a fairly simple craft when you think about it. This particular design is also very stylish and practical, featuring a storage shelf.
32. DIY Spinning Table
There are plenty of things that you can repurpose and turn into stylish accent tables, including an empty cable reel. This spinning table seems like a perfect addition to a reading corner. You can paint it to make it match the rest of the decor. All you need now is a discarded cable reel and some free time.
33. DIY Coat Rack
Every entryway needs a coat rack and the most practical ones are those that don't take up a lot of space. A DIY coat rack can be a great project that wouldn't take up much of your time and wouldn't require much effort or a big budget either. The hardest part is finding a design that you like.
34. Leather Sling Wine Rack
Wine racks come in all shapes and sizes and, most often than not, we need something simple and space-efficient. Such a design is surprisingly difficult to find so you're better off building your own. A nice option could be this leather sling wine rack. You can customize the dimensions according to your own needs.
35. Wooden Coat Rack
When building a freestanding coat rack it's important to give it a sturdy and stable base. Once you have that, everything else is a piece of cake. This DIY wood coat rack tutorial shows you how you can customize the design with various types of hooks.
36. Industrial TV Stand
Don't hesitate to build your own furniture, not even when it's something as basic as a TV stand. You'd be surprised to see how many cool DIY options there are, like this DIY TV stand that's a blend of industrial, rustic, and modern.
DIY Boho Painted Furniture
Boho furniture is all the rage, but it can be expensive to purchase. The good news is, you can create your own boho furniture very easily just by repainting the furniture you already have. Check out these DIY boho painted furniture ideas to get you started.
37. Faux Fur Stool
You may already have a few extra chairs or stools around the house so this project should be easy. It's a faux fur stool that can potentially look very sleek and stylish. the secret is using a stool with a slender base. Hairpin legs could work but so would most metal frames.
38. Mason Jar Wall Organizer
Mason jars are incredibly versatile and can be repurposed in a lot of cool and interesting ways. For example, you could make a lovely mason jar wall organizer if you happen to have a piece of wood and some leather. It could be a nice addition to the kitchen or the bathroom.
39. DIY Rattan Furniture Fix
If you've had any rattan furniture before, you probably know that at one point or another it starts to break and that pretty much ruins the appeal. If the problem is the unraveling cane, there's a simple and quick fix for that. All you need is a steamer, glue, and clamps to fix it. Check out lovelyindeed to see how it's done.
40. DIY Colorful Bar Cart
A small bar cart can also be super useful around the house and outside as well. You might already have one so don't let its outdated and ugly look trick you. It can definitely be restored and transformed. Check out this amazing makeover from thecraftedlife if you want to feel inspired.
41. DIY Ikea Bench Makeover
Another strategy can be to take a plain and simple bench-like one you can get from Ikea and to give it a quick makeover. Perhaps you'd like to paint its base a different color, dip the legs in paint or decorate the top with some cord or rope for some added texture. Check out hunker for some interesting ideas.
42. DIY Blanket Ladder
Not sure where to store all those cozy blankets you've been collecting? How about a blanket ladder that you can casually lean against the wall in your bedroom? You could make one out of wooden dowels and use copper tee fittings to connect all the pieces.
Spray paint the fittings to give your ladder a custom look. More details on thecraftedlife.
43. DIY Indoor Upholstered Bench
Benches are not just for patios, decks, and gardens. Indoor benches are often underrated so make one for your own home if you want something special and different for its décor. This waterfall bench from abeautifulmess is straightforward and easy to make. Check out the tutorial and see how it can be customized.
DIY Bedroom Furniture
While DIY furniture goes great outdoors, in the living room, and in the kitchen, it's important not to forget the most important room of the house, the bedroom. Just like the other rooms, chances are your bedroom could use a little DIY love. Here are some suggestions to get the DIY juices flowing.
44. Modern Two Toned Nightstand
This modern two-toned nightstand could also serve as a chic accent table and, as the design suggests, building it is fairly easy. We like the idea of the open-top which lets you keep a tall vase in there. It really makes a difference.
45. Floating Bookshelves
Floating bookshelves are often meant to be practical but also good-looking. Their designs and proportions vary based on the purpose the shelves are meant to serve. These ones for example are very narrow because they're meant to hold small books in the nursery or in a child's room.
46. DIY Rolling Storage Cart
An interesting and practical way of maximizing storage can be with the help of a rolling storage cart which you can build yourself. You can roll this under the bed and several could fit in there. Use it to store clothes, books, toys, or extra blankets and pillows. Such an accessory could be great for guest rooms too.
47. Wooden Corner Cube Shelf
We all have dead corners in our homes and it's a real shame because we could definitely use these spaces in much more practical ways. One idea is to build a novel wood cube corner shelf like this one. We like the symmetry of the design but if you'd much rather prefer a different geometry, feel free to customize the design.
48. DIY Barn Door
It's not just shelves and small side tables that you can build from scratch but also larger pieces as well, like a barn door for example. That's right, you can build your own door and it's not exactly difficult as long as you follow the instructions in the tutorial.
49. DIY Picture Ledge
Are you a fan of having framed photos displayed around the house? If so, you might like the idea of putting together a sleek picture ledge so you can display photos on it and rearrange the frames whenever you feel like it. It's more practical than hanging each picture frame separately.
50. Wooden Nightstand
A cute nightstand can really change a bedroom. It doesn't have to be big. In fact, the small ones are the cutest. You could make one just like the one featured on themerrythought out of some pieces of plywood and wood boards and leave it looking natural for a more authentic and simplified appeal.
51. DIY Concrete Desktop
Have you ever worked with concrete? We think it's a wonderful material that can be used in so many creative ways around the house. You may be familiar with concrete countertops. They're pretty great and they can be quite expensive too. A DIY concrete desktop or countertop, on the other hand, is not.
DIY Storage Furniture
As you grow older, it is likely you and your family have accumulated more items. The problem with this is that you then have to find storage for all the items you are accumulating.
DIY Storage furniture can help you with your problem, and since you are designing it yourself, this gives you lots of leeway to add as much, or as little, storage as you need. Take a look.
52. Wooden Magazine Holder
What about a DIY wooden magazine holder? It's one of those things that you probably didn't even know existed but, when you think about it, this can be a useful accessory for the living room, the bedroom, or that cozy reading corner you're thinking of setting up.
53. Industrial Shoe Bench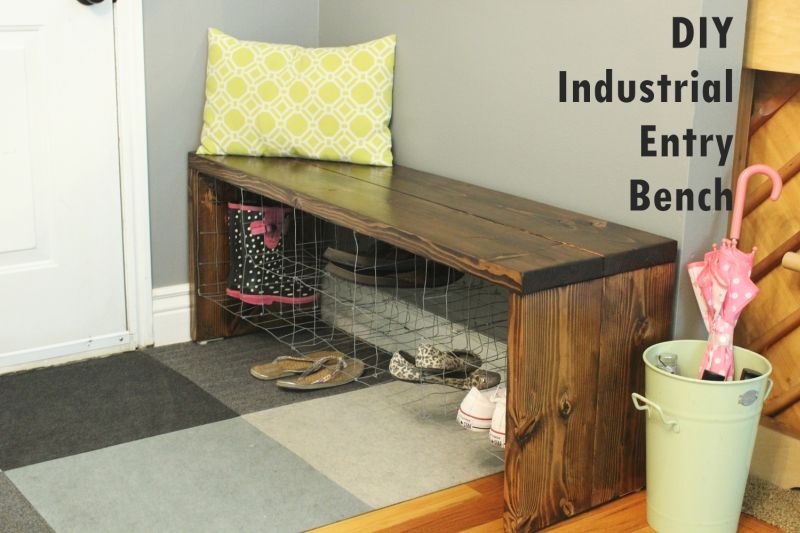 For the entryway, a great combo would be a bench with storage for shoes underneath. Something like this can be easily built without much effort and with few supplies. This industrial shoe bench has a frame made out of wood while the shelves are made of wire grating.
54. Mid-Century Modern Shelf
Does your entryway look kind of empty? Perhaps you'd like to put together a mid-century modern inspired shelf like this one to complete the space in a chic manner. You could use it as a mini shoe-storage station or as an accent table on which you can put a little table lamp or a vase.
55. DIY Floating Shelves
You can put up shelves in pretty much any space. They're very useful for storing and displaying things on. These bathroom floating shelves are also really elegant, featuring a minimalist and versatile look. They're great for that open space above the toilet or the space behind the door.
56. Bookcase Storage Bench
Tired of your old furniture? Don't throw it out just yet. There's a chance you could still use some things if you simply turn them into something else. For example, you could turn a bookcase into a storage bench.
57. Wooden Crate Storage Bench
A storage bench made from wooden crates is another possibility. Start with two crates and two longboards. If you want the bench to be bigger, adjust the measurements and add more crates as needed. You can stain or paint the crates and the boards if you want to.
58. DIY Wooden Fruit Holder
It's nice to have fresh fruits and vegetables in the house but you need a way to store them properly. Here's an idea: built yourself a market-style wooden fruit holder which you can keep in the kitchen or whoever else you want to. This one has three compartments and looks really cute.
59. DIY Cabinet
A cabinet is a bit more complicated than a bench or a simple side table but not impossible to build from scratch. A simple design like the one featured on makingmanzanita makes this an achievable project.
You can make a cabinet similar to this one for your entryway, for a hallway, or even for a bedroom or a dining area.
60. Unique DIY Wall Hanging Shoe Storage
Shelves of course are known to be quite simple and easy to build. There are many different variations and options in terms of design and ways in which you can combine multiple shelves to create storage systems. This one is a vertical shelving unit that you can use for various different things like books, plants, decorations, or even shoes. Check it out on heywandererblog.
DIY Furniture FAQs
Where to Buy Wood for DIY Furniture?
To buy wood for your DIY project it is best to head to a large home improvement store near you. Smaller stores may not offer the wood that you need for your project. Additionally, you could check a local lumberyard for wood.
Which is the Best Wood for Making Furniture?
Walnut is the best wood for making furniture because it is strong and durable. If you don't have access to walnut, oak, maple and birch are other good options for making DIY furniture.
How do You Price DIY Furniture?
When you want to sell the DIY furniture you have been making, you will want to start by tallying up the cost to make the furniture. The number should include both the cost of materials and how many hours you worked on it (set a price per hour for your time).
Next, you will want to take a look at online furniture sales sites to be sure your prices are competitive. You can adjust them as needed, but don't devalue your labor too much, as handmade furniture is always in demand. Now you should have a good idea of the price and this is what you should sell it for.
What is the Easiest DIY Furniture to Make?
The easiest DIY furniture to make are pieces that don't involve woodworking, or if they do, they involve very little. These are pieces like baskets, benches, wine holders, or anything made using pre-fabricated crates.
Ready to DIY Furniture?
Did you see something on this list that you can wait to add to your home? Then don't, head out today to grab the supplies you need to start making your very own DIY furniture. Whether you are making a stool, a bench, or maybe even a patio chair, you know you will get exactly what you want when you choose DIY. So don't delay and start making DIY furniture today.
The post 60 DIY Furniture Ideas To Base Your Next Original Project On appeared first on Home Decorating Trends - Homedit.