Hyatt bought downtown Los Angeles' iconic 95-year-old Hotel Figueroa in June 2021, adding it to The Unbound Collection by Hyatt brand. The Unbound Collection is a group of one-of-a-kind, historic hotels.
The Hotel Figueroa (a Category 5 hotel) was the largest commercial building funded by women for women when the YWCA opened it in 1926. It was a safe haven for solo female travelers, who, at the time, were not allowed to check into most hotels without a male chaperone.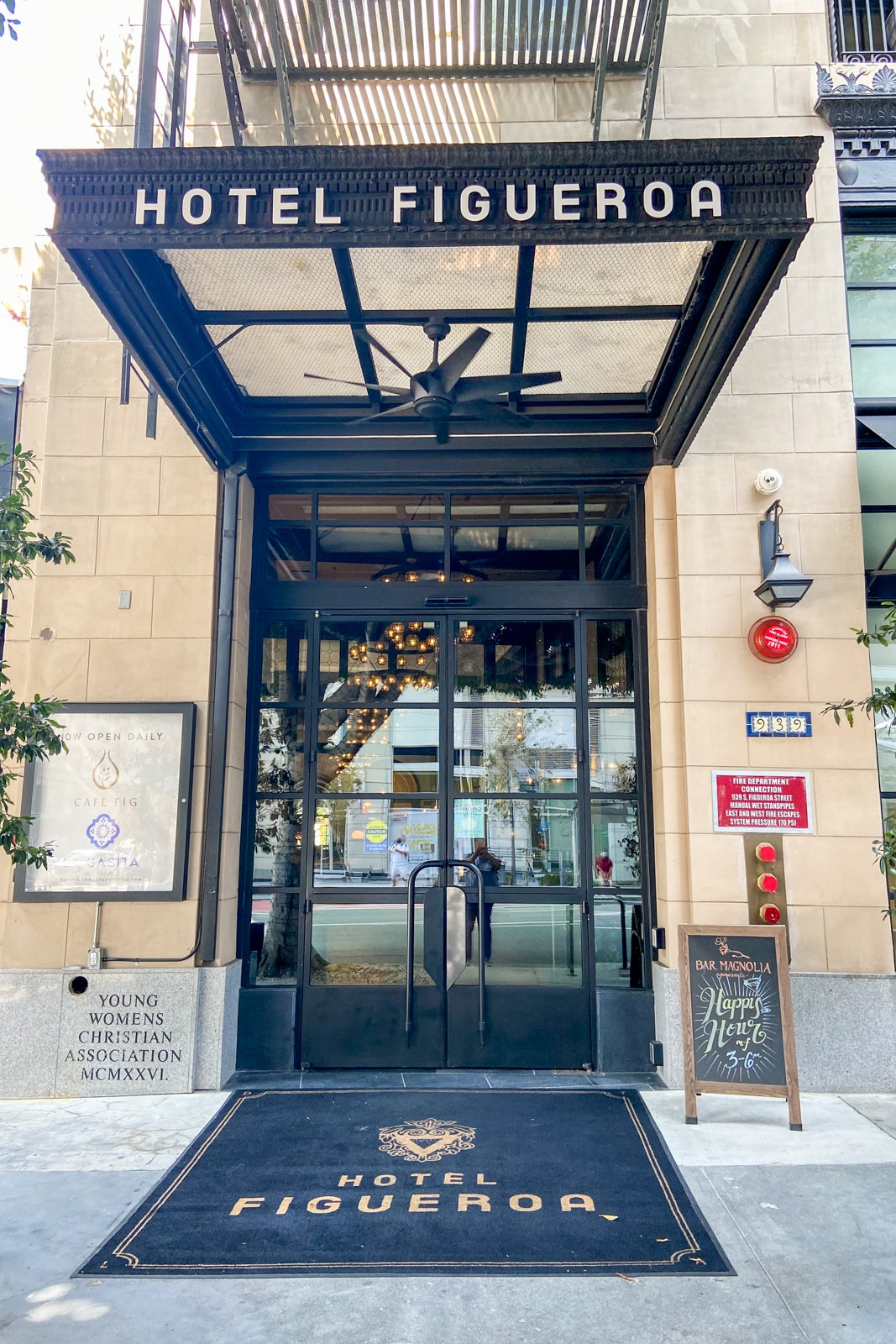 Fast forward to 2014, when the hotel was purchased by Green Oak Real Estate and Urban Lifestyle Hotels and began a three-year restoration to its original Spanish Colonial Revival style. Note the sign on the left in the photo above for an ode to the hotel's humble beginnings.
Related: Plan ahead: The 50 most in-demand World of Hyatt hotels for point redemptions
As Hyatt assesses what it will do with its recent acquisition, it will be interesting to see what changes it makes. But until then, TPG stopped by to review what the Hotel Figueroa is like now. Here's what we discovered:
For more TPG news delivered each morning to your inbox, sign up for our daily newsletter.
Booking
If I had a World of Hyatt Credit Card, I would have used it to book this hotel — $306.21 after fees and taxes — now that it's part of the Hyatt family. Right now, that card is offering a sign-up bonus of 60,000 points — 30,000 after you spend $3,000 on purchases in the first three months from account opening and up to another 30,000 points by earning 2x per $1 spent in the first six months from account opening on purchases that normally earn 1x, on up to $15,000 spent.
But until I get out from under Chase's 5/24 rule, I will continue to pre-pay with The Platinum Card® from American Express. I was consoled by earning 5x points for my overnight stay (when booked via American Express Travel).
Related: What is World of Hyatt elite status worth in 2021?
Location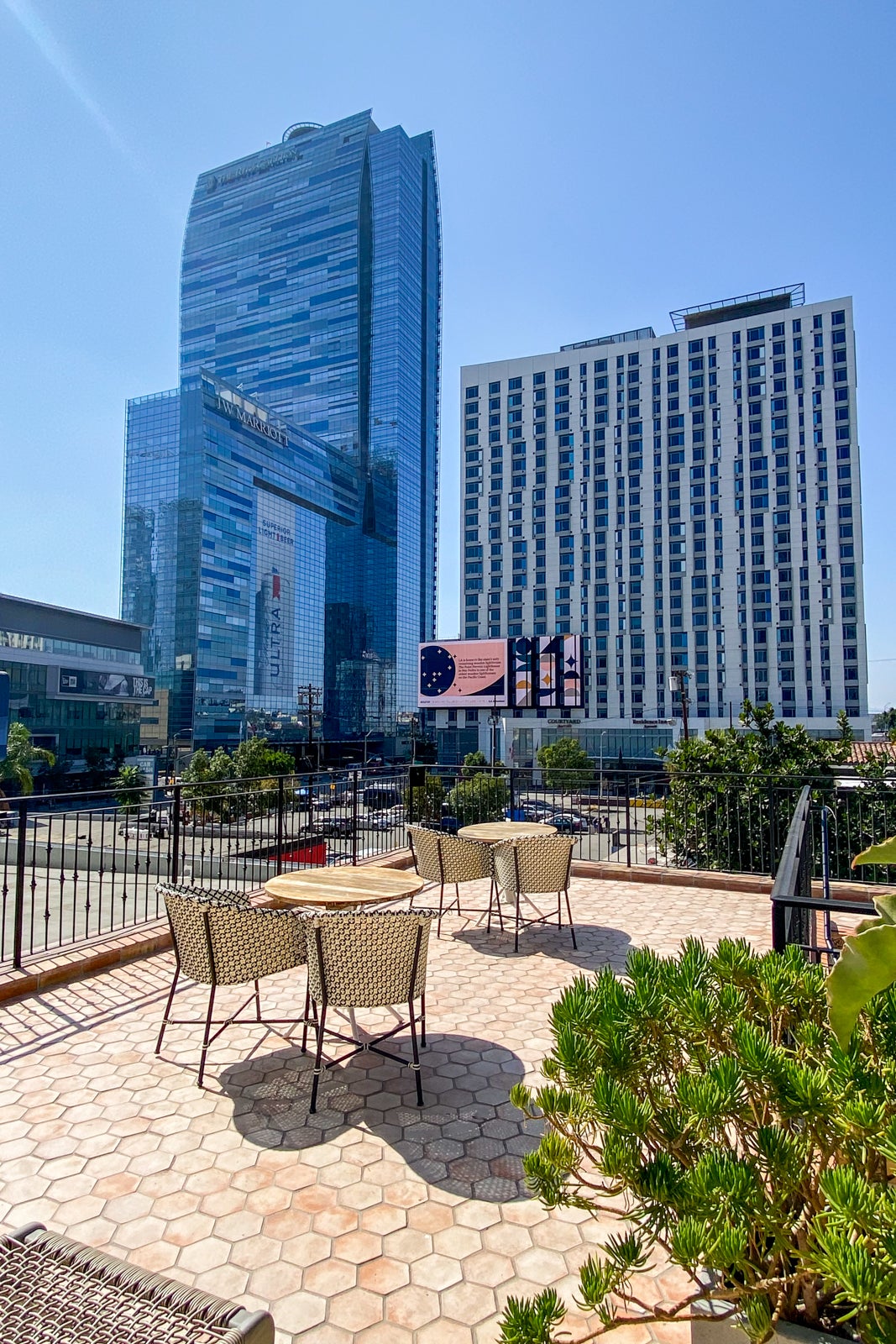 Let's be honest — this neighborhood wasn't always the place you wanted to hang out in, especially at night. But the opening of the Staples Center in 1999 launched a renaissance in downtown Los Angeles. The neighborhood has been rebranded as DTLA, and the Hotel Figueroa is in the center of the action. The Staples Center is around the corner, a Park Hyatt is under construction, the Hotel Indigo and the JW Marriott are across the street and the iconic Ritz-Carlton (also home to L.A. Live, a multi-phased dining, entertainment and hotel development) is nearby. Other nearby attractions include the Grammy Museum, the Microsoft Theater and the Walt Disney Concert Hall, along with dining, shopping and outdoor spaces.
Check in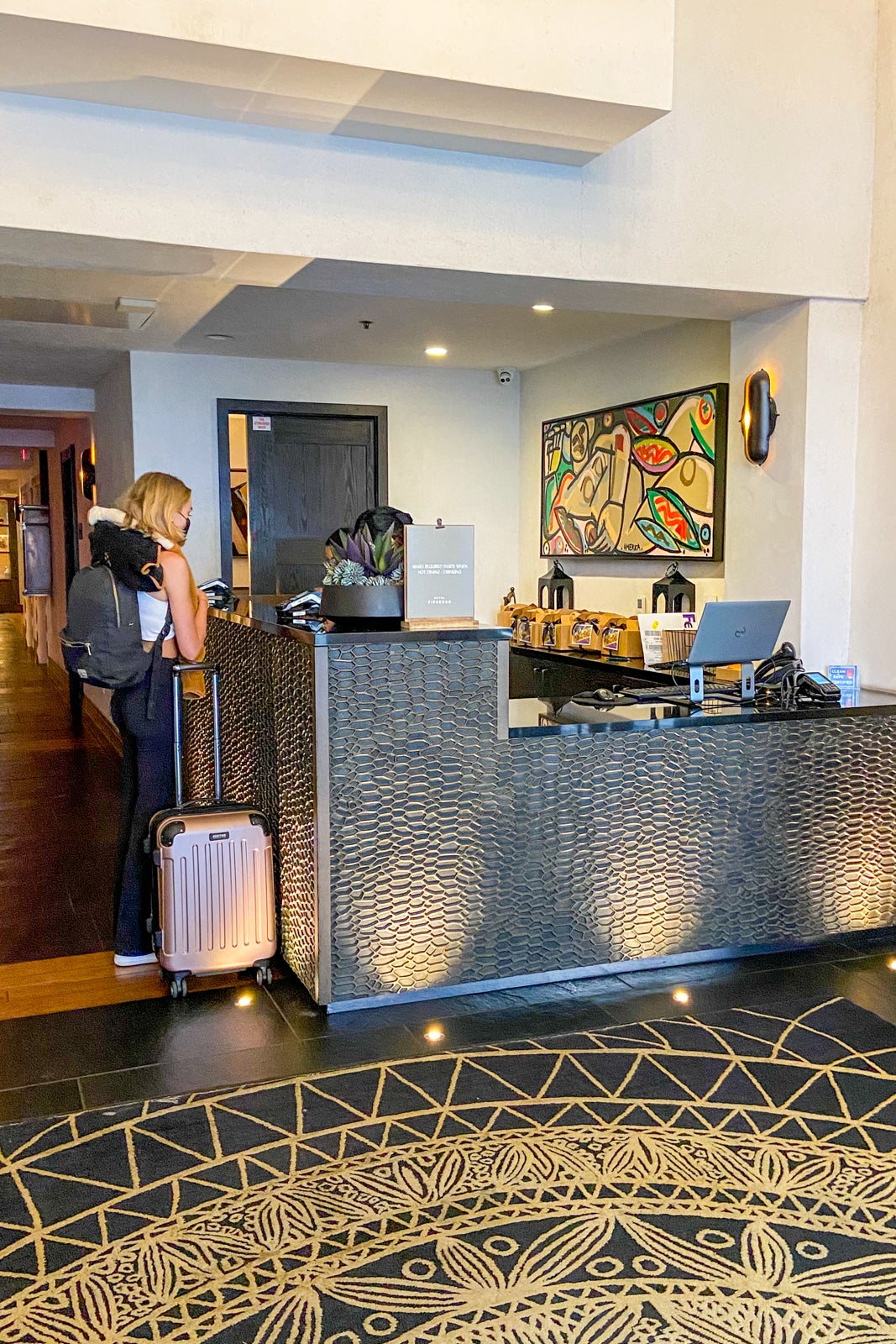 As soon as my Uber pulled up, I was warmly greeted by the doorman, who welcomed me and asked if I needed help with my luggage. The check-in desk was pretty small, but the friendly attitude of the team more than made up for it. Check-in was quick, and I was upgraded from a queen to a king room thanks to my Explorist status.
I was able to check in early because of my status, but I could see this area getting pretty crowded during regular check-in and check-out times. I did have the option of checking in online, bypassing the desk altogether, thanks to Hyatt's mobile key.
Related: 7 strategies you can leverage to snag valuable Hyatt Globalist status in 2021
Room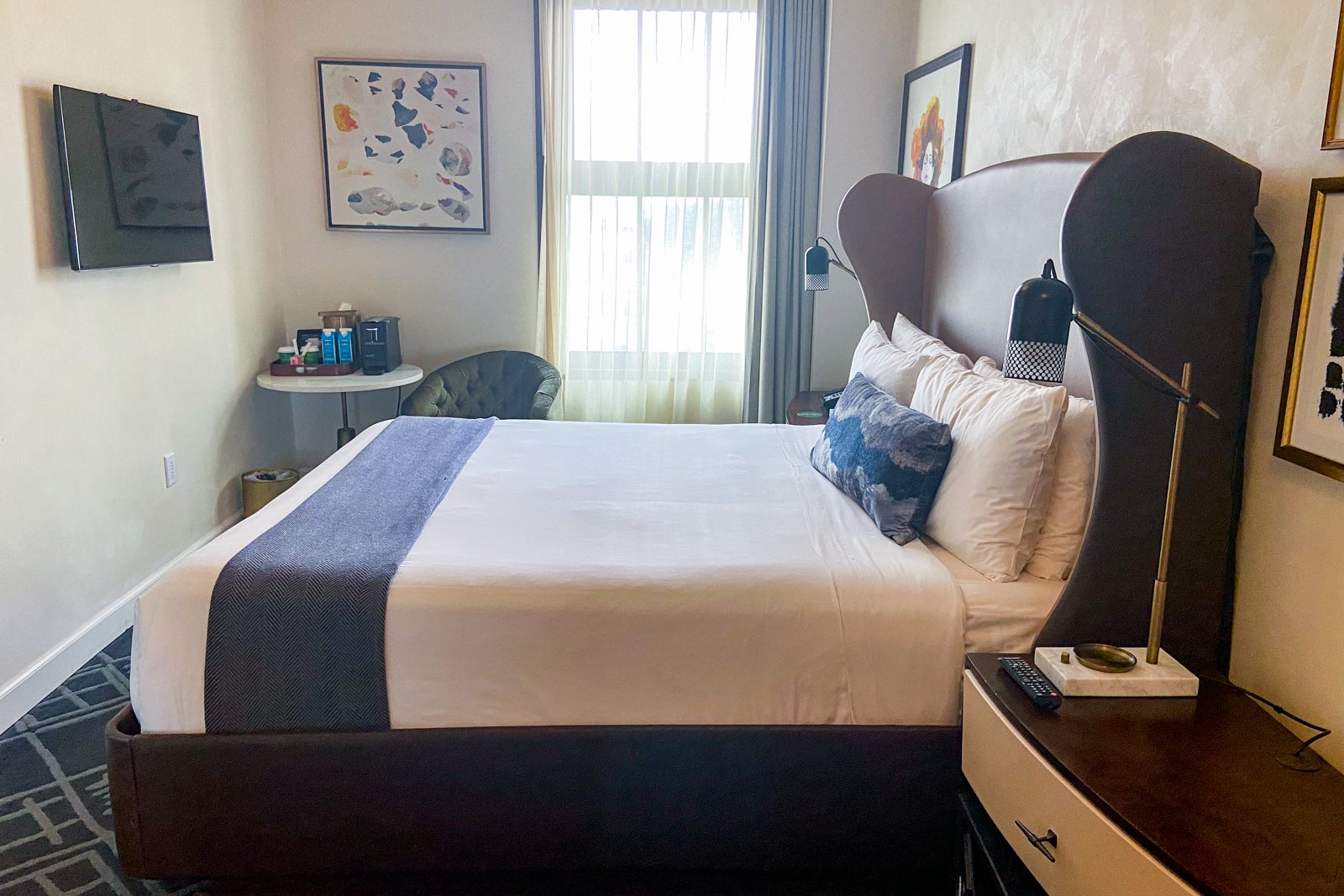 Initially, I was happy to get an upgrade to a king room. But upon entering its small foyer, I was surprised at how small it was — only 270 square feet. My original queen room would have been an even tinier 187 square feet.
The bed was pretty close to the opposite wall. There was just enough room for a night table with a drawer on either side. If you'll be here for a longer stay, you'd be better off leaving your clothes in your luggage, because the drawers don't fit a lot of clothing. The white walls could have used a fresh coat of paint.
A small television hung on the wall in front of the bed. Crammed in the corner was a small marble table that was taken up by two boxes of water, an Esspressotoria coffee machine, coffee pods, cream, sugar, artificial sweetener and stir sticks. I was able to use my iPad and keyboard there, but I had to put items on the floor to make room on the table for my MacBook Air laptop. There was no minibar or refrigerator in the room.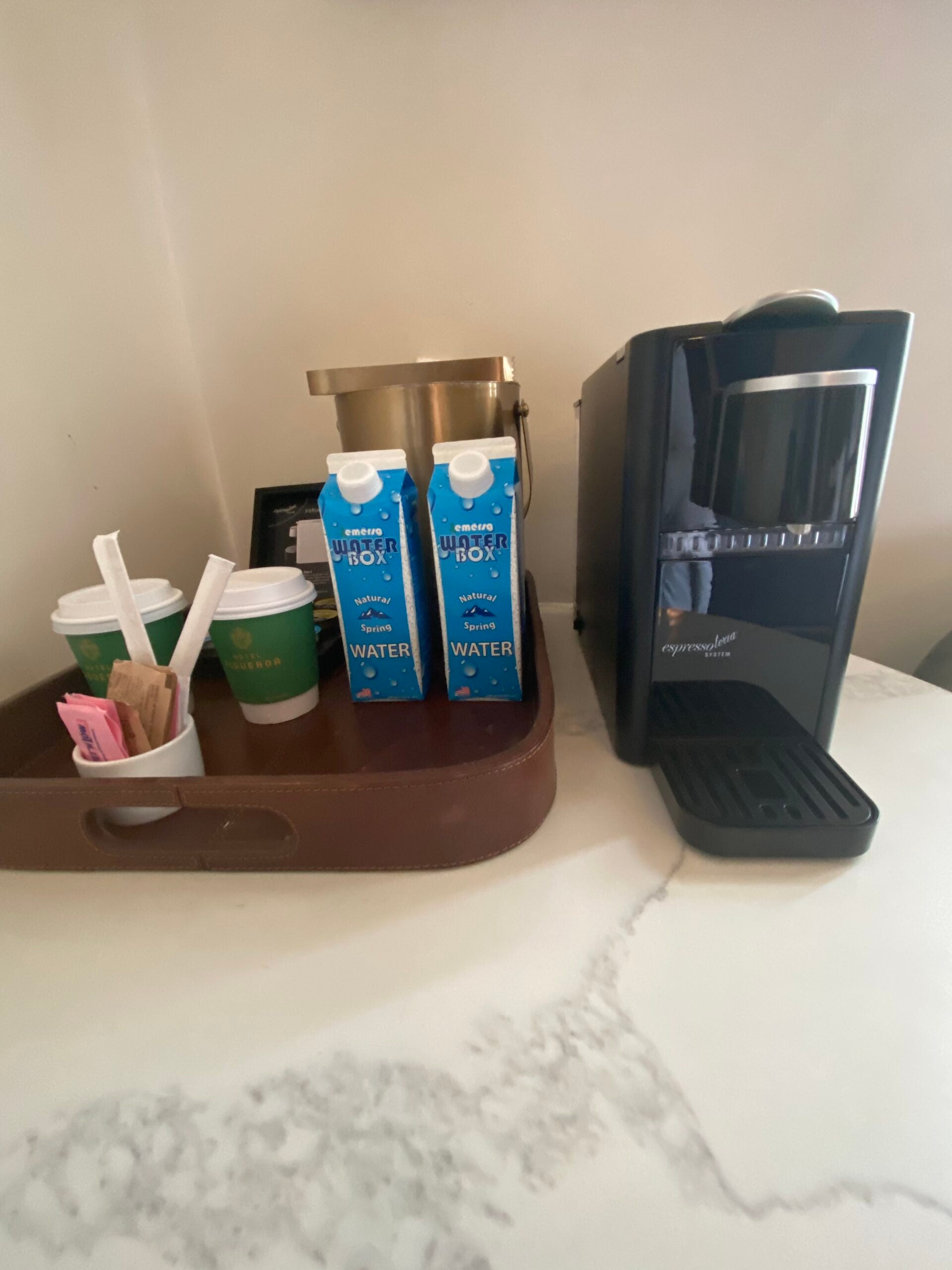 There was a comfortable decorative chair next to the table. My window had a nice view of the pool and La Casita, a detached restaurant and bar.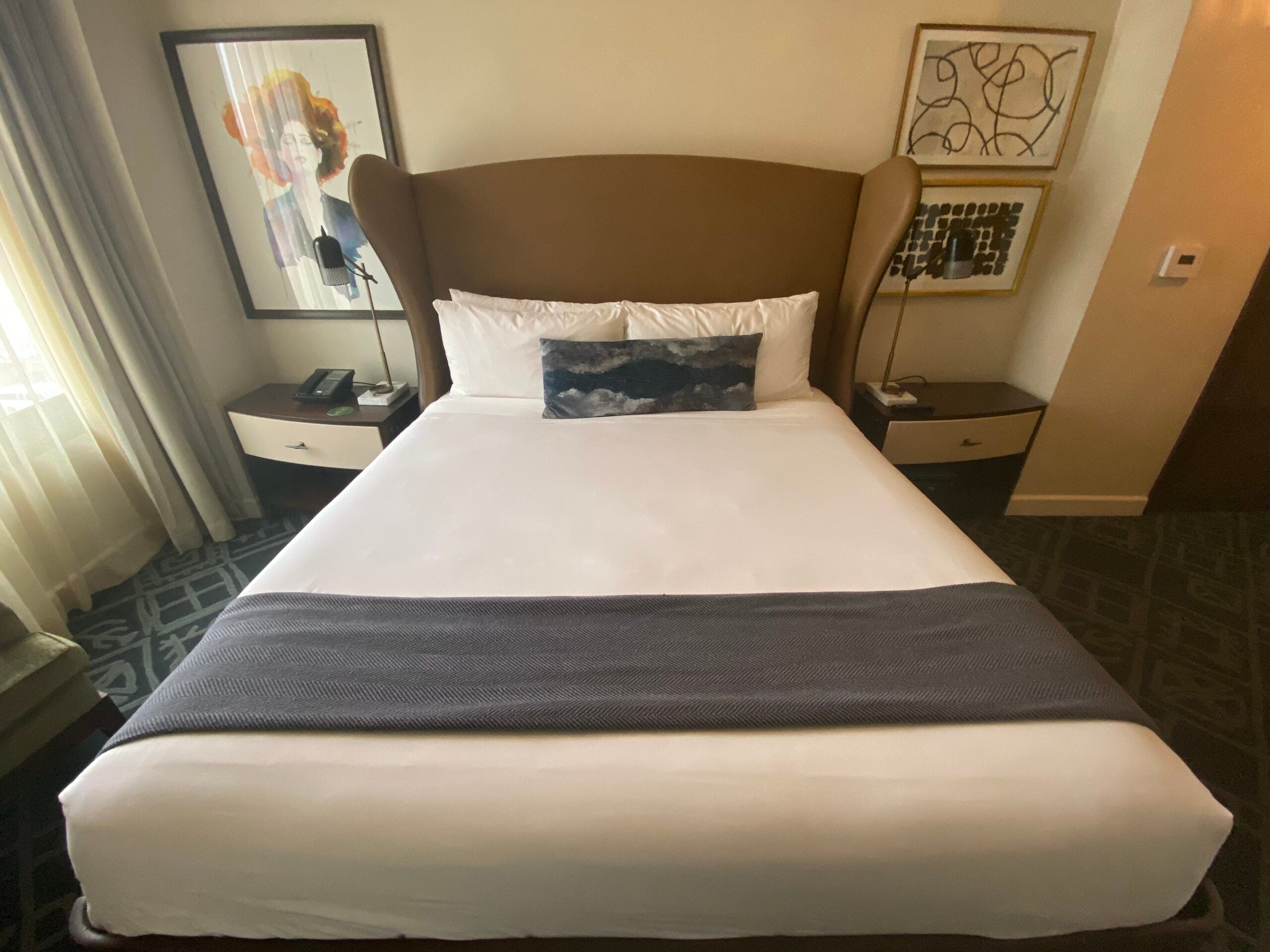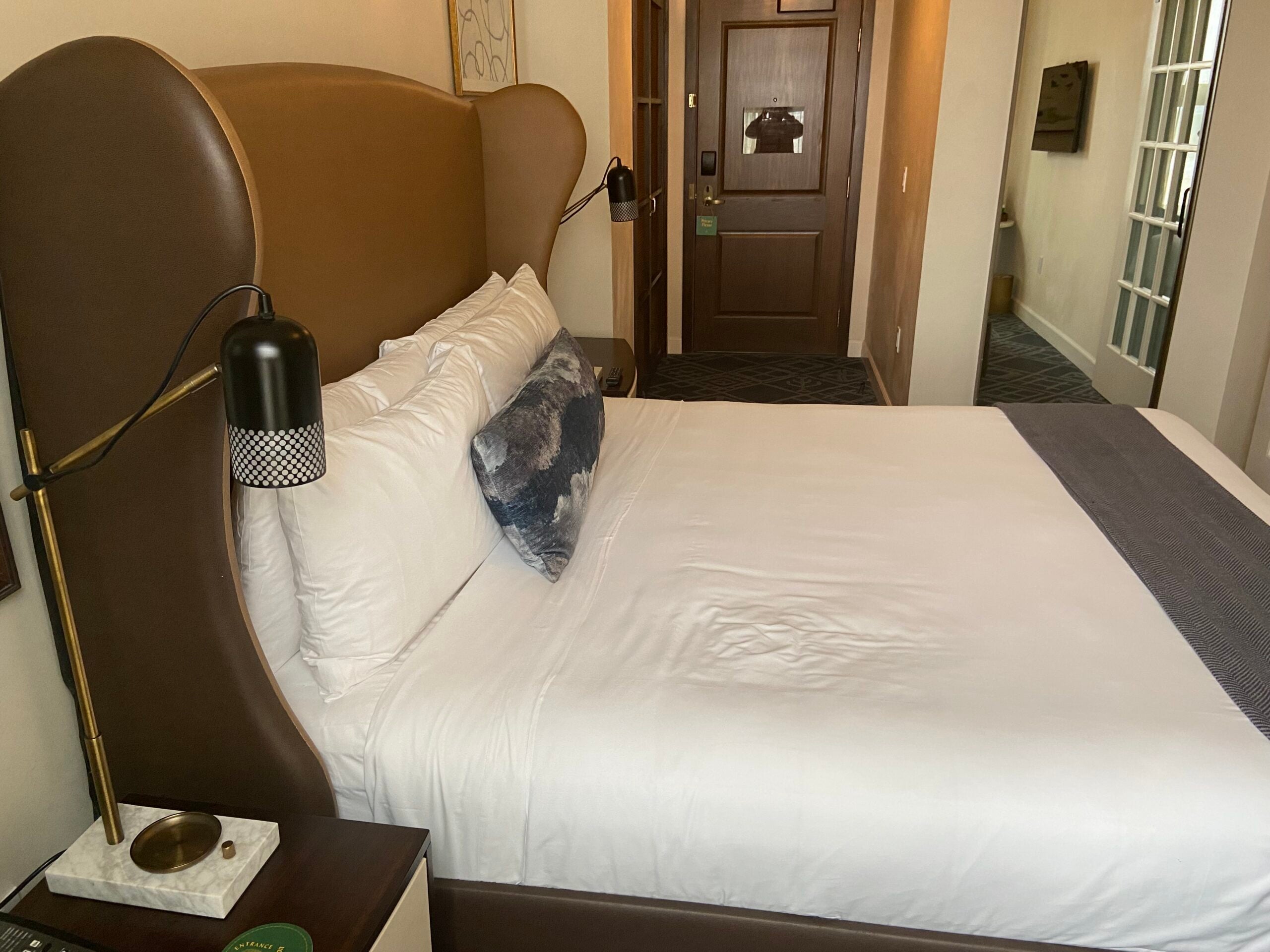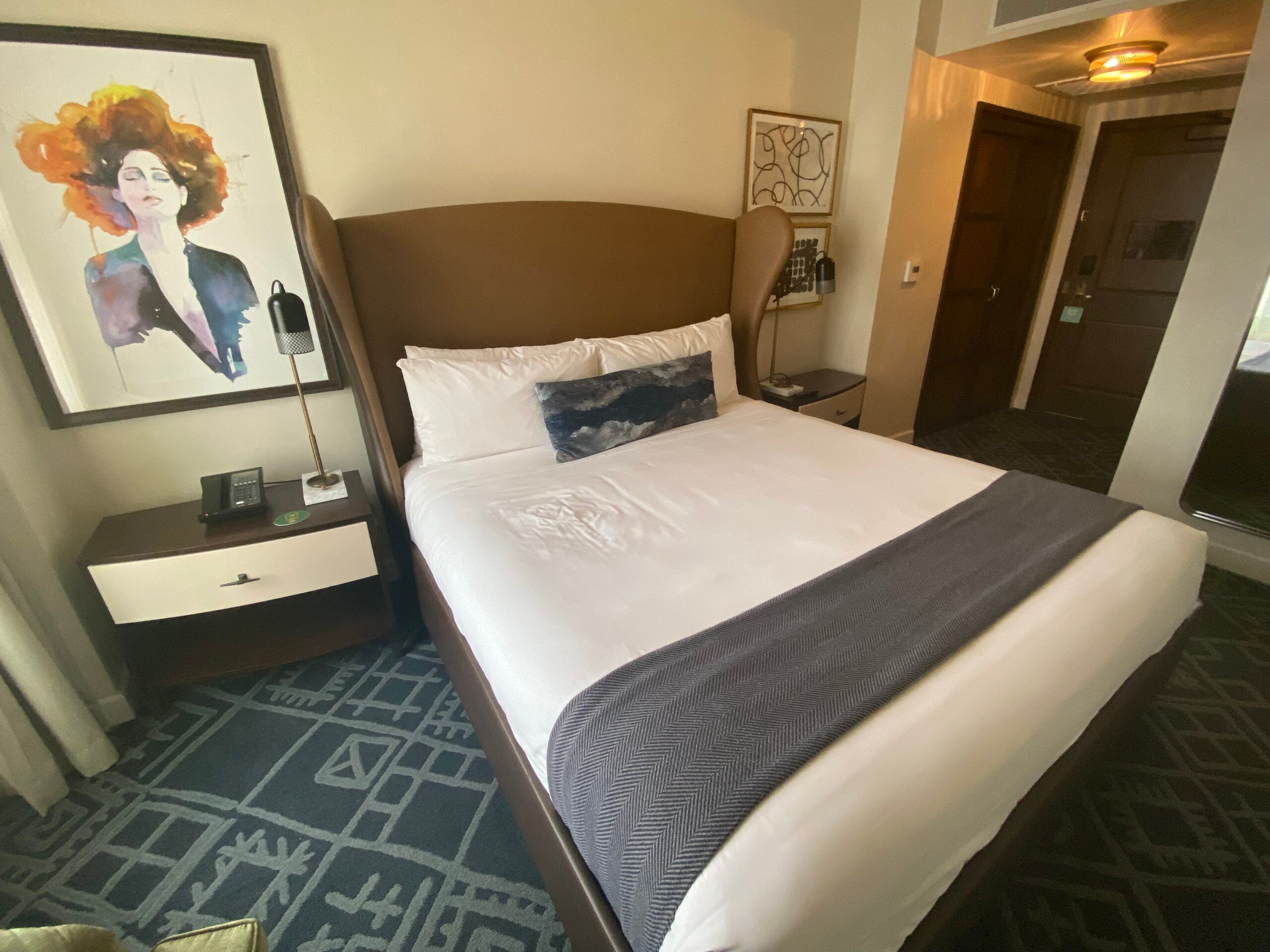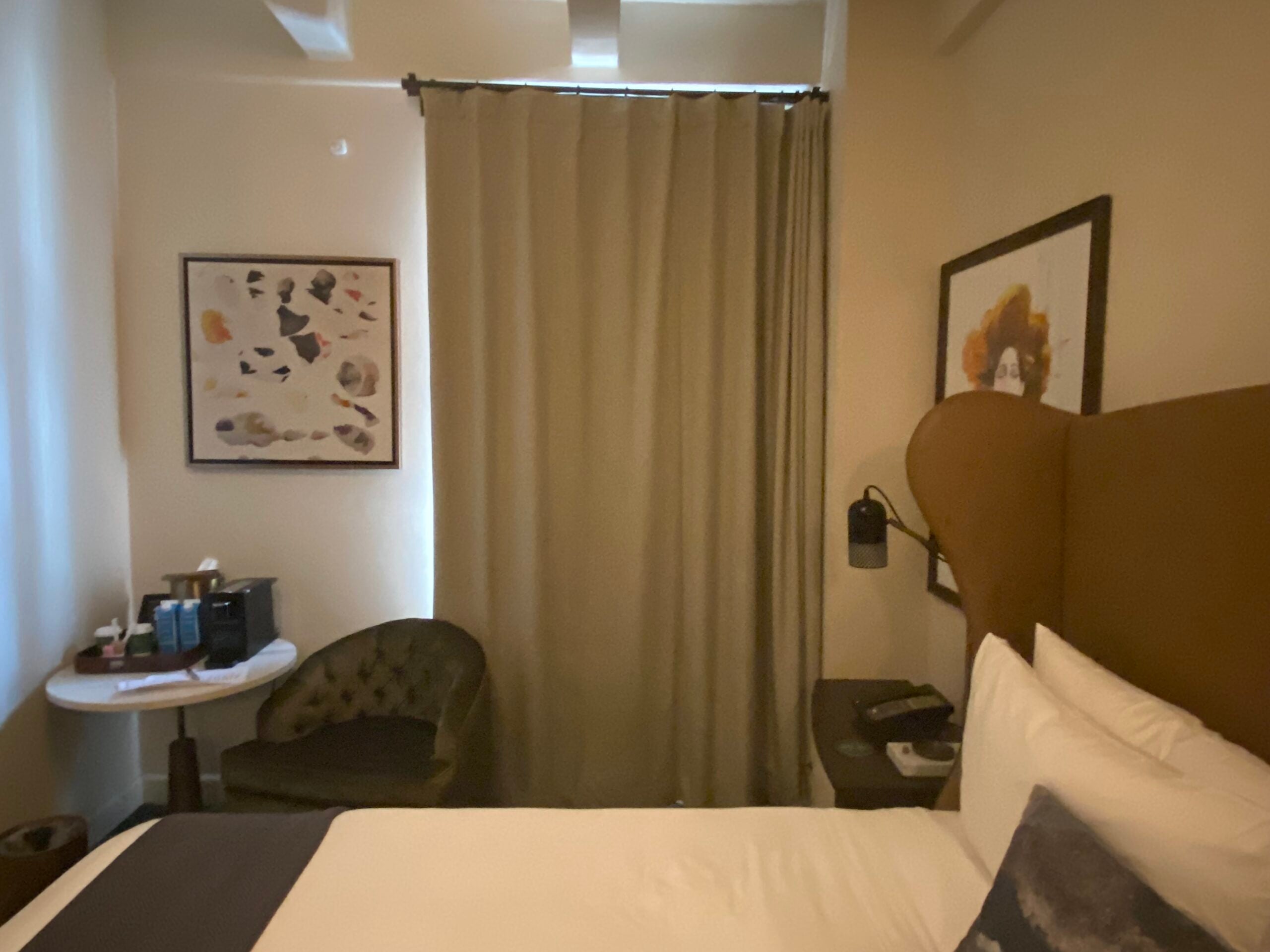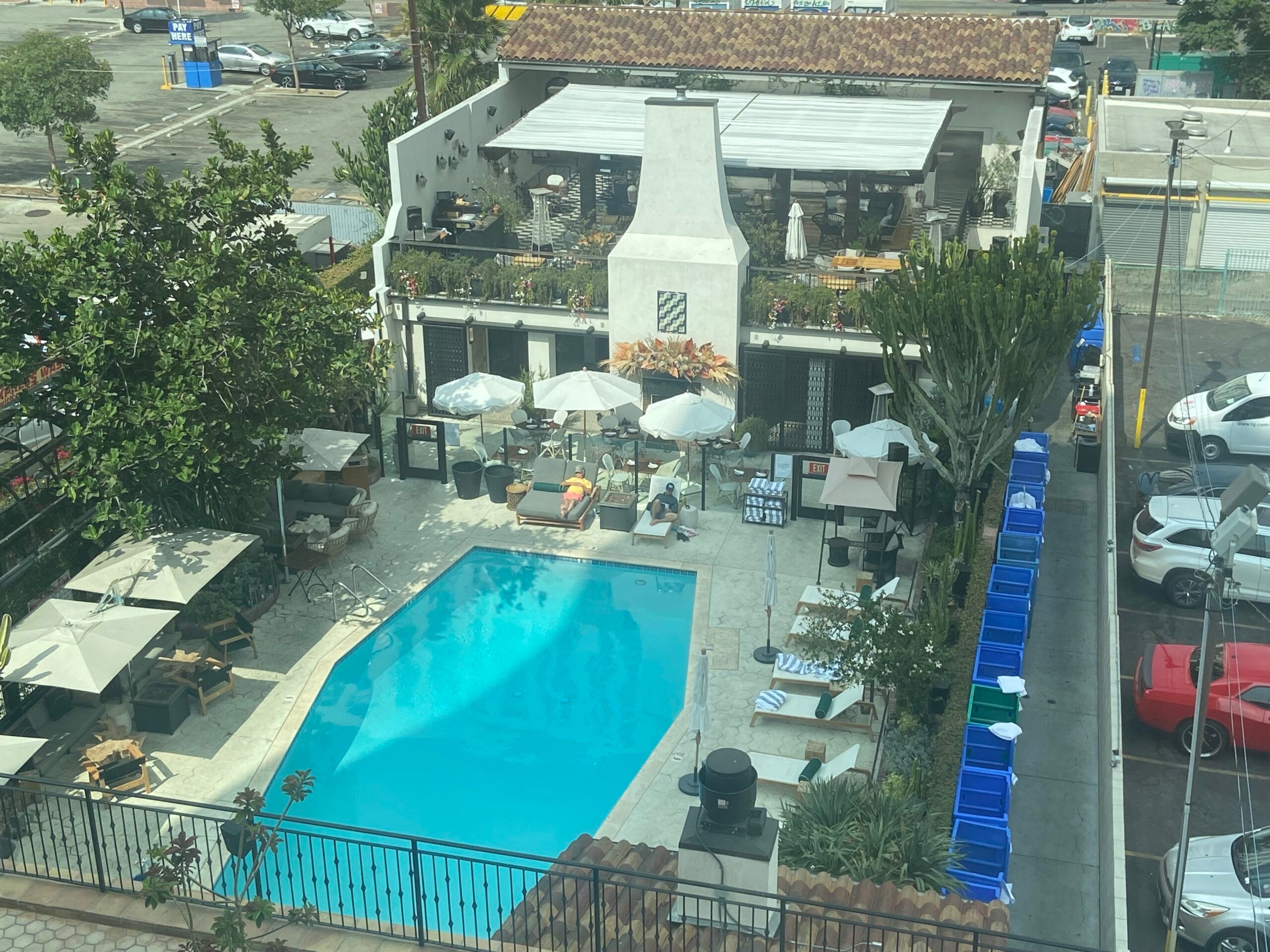 I was happy to see a full iron and ironing board in the closet, because sometimes the best you can get in a Hyatt property is a steamer. The closet was a good size, with four regular and four pants hangers. However, despite a promised robe, it wasn't in the closet. There were also no extra pillows or an extra blanket – but there was a 1200W/875W Eco Selectaire Tourmaline Ceramic blow dryer. I have no use for this thanks to my short hair, but I know that this is a hair dryer that will get the job done. There was also a luggage rack in the closet, but I didn't use it because this was a quick overnight trip.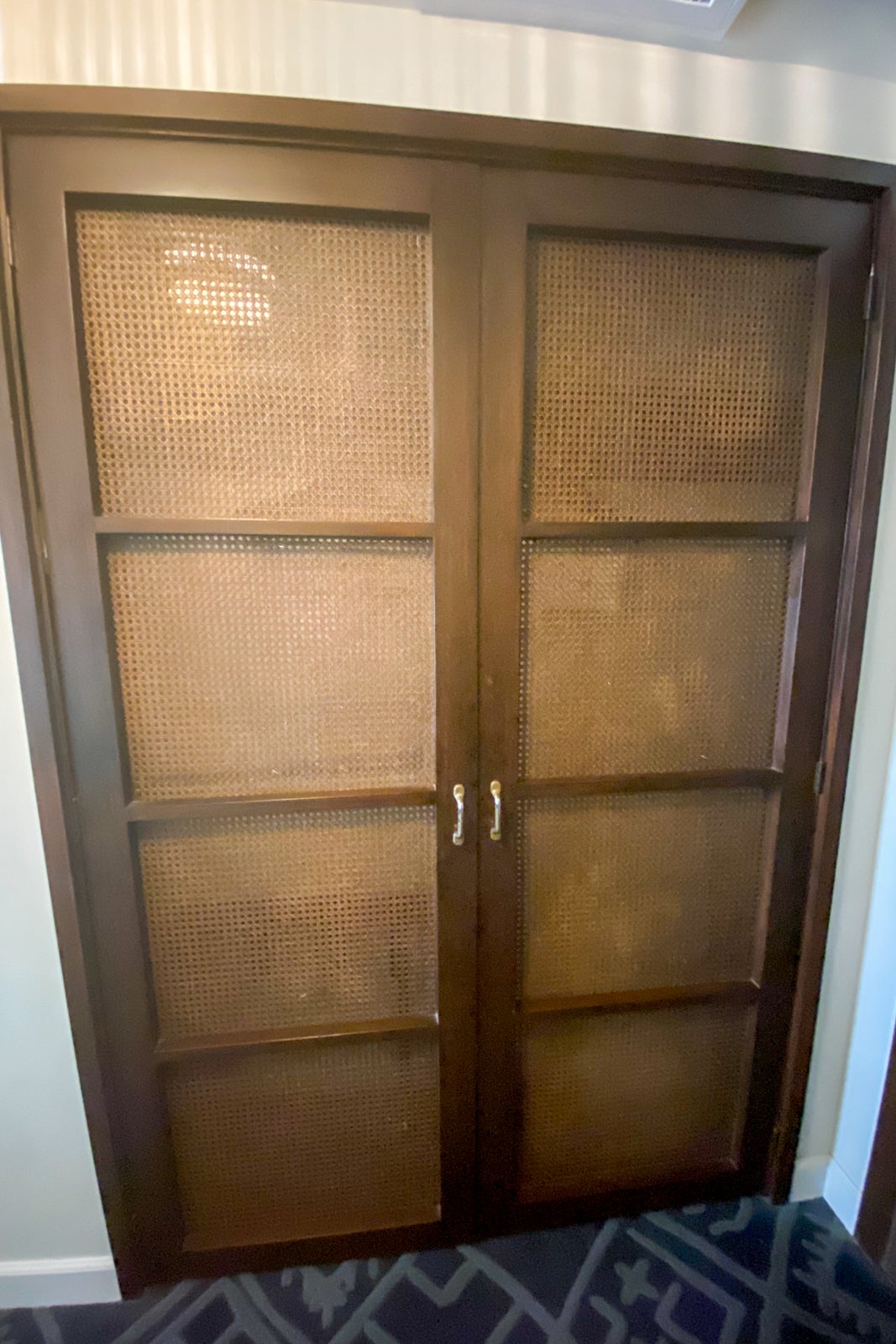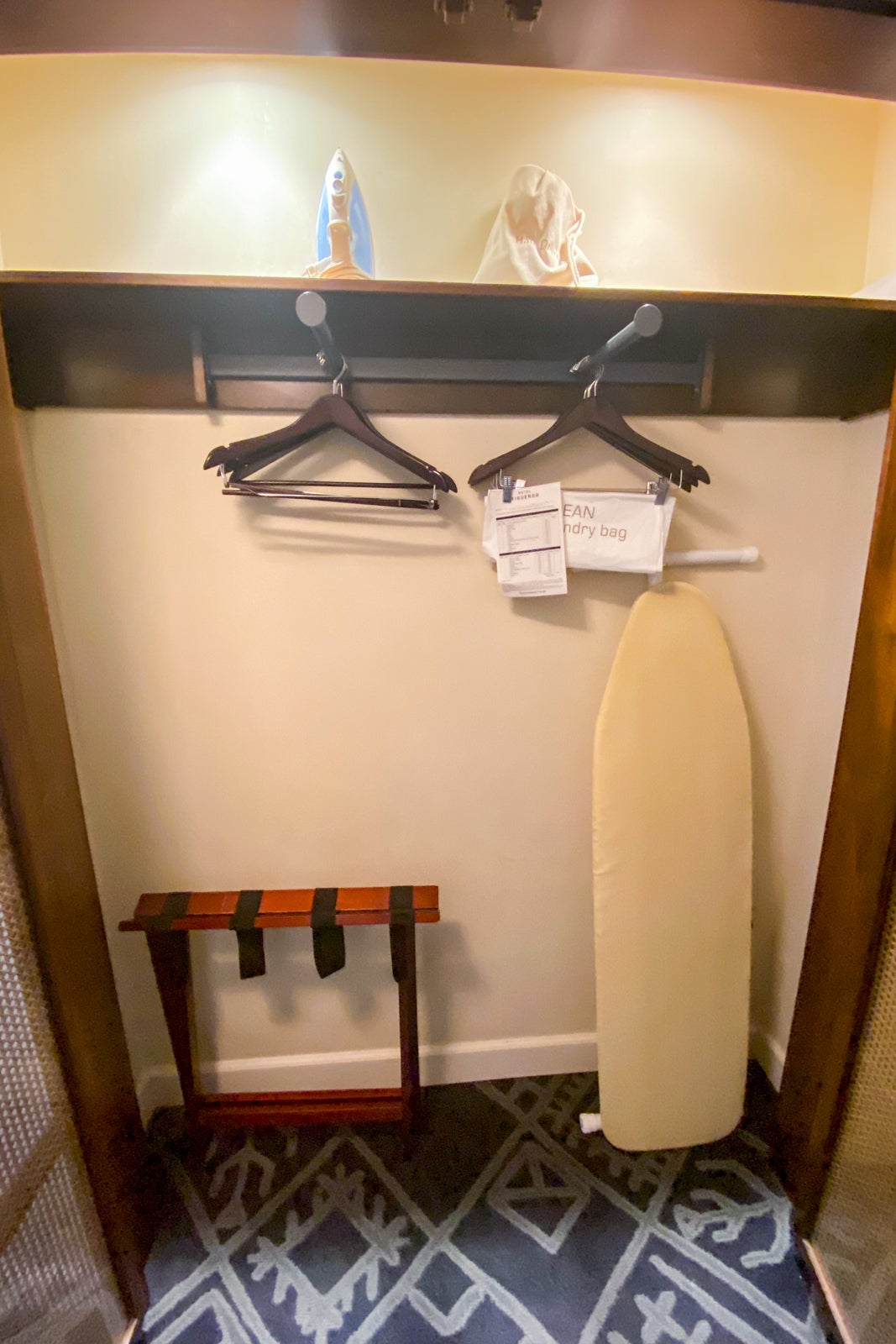 The bathroom was small, but clean. While some might find its decor a bit busy, I loved the blue wallpaper, along with the blue-and-white tile floor and the subway tiles on the wall. What I didn't like was the rain shower head/hand-held shower. It took me a while to know which knobs to turn to control the shower heads and temperature, and my travel companion agreed. Normally I love the rain shower heads, but I didn't like how this one couldn't be moved. You had to almost touch the front shower wall to feel the water on your head and body. Lord help you if you're taller that six feet (which my travel companion was) — you will not have a good bathing experience unless you resort to the hand-held shower. The hotel offered Roam shampoo, conditioner and shower gel on a small shelf in the front of the shower.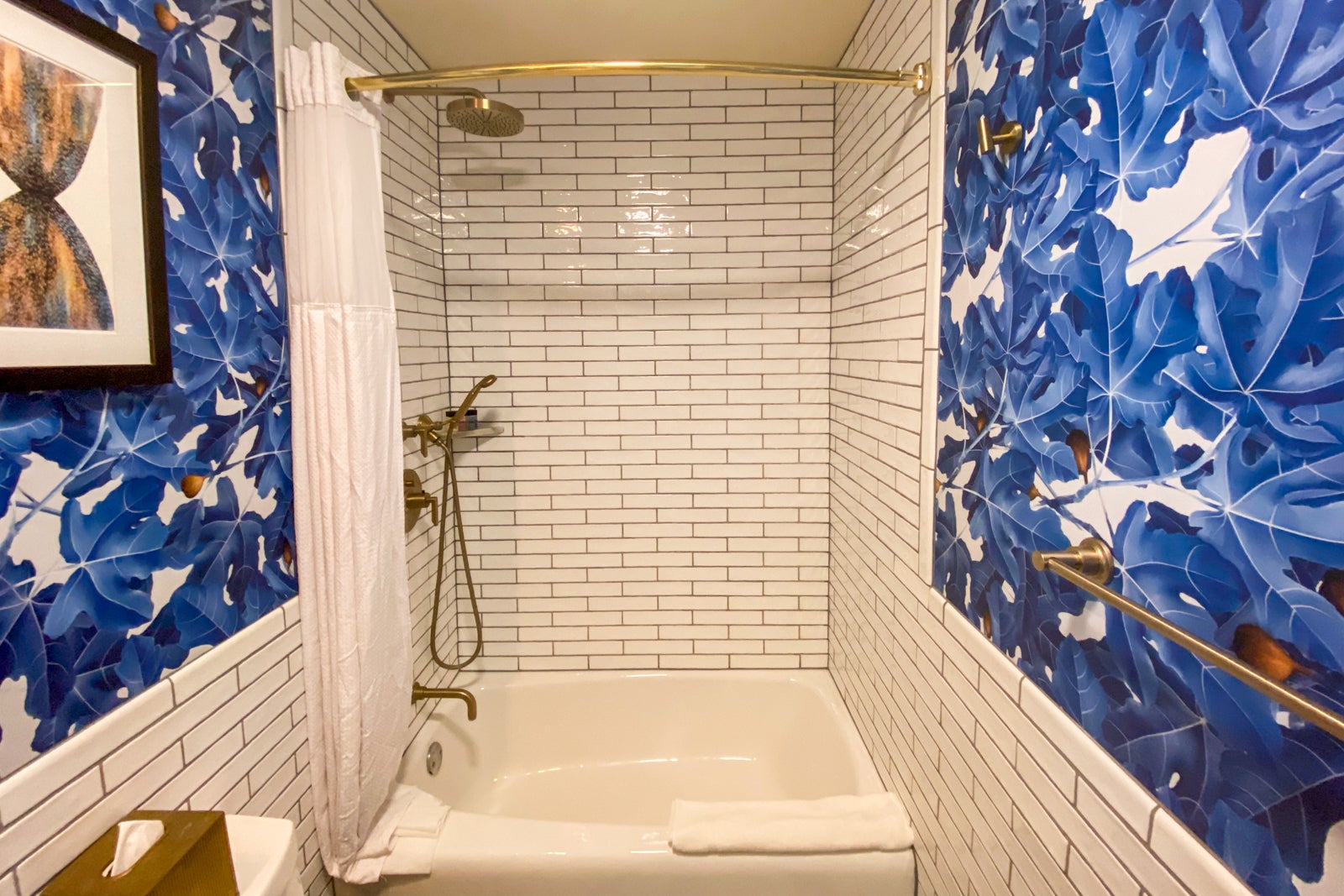 The pedestal sink had towels at the bottom and just enough room to hold some toiletries and make-up. Lucky for me, I'm a low-maintenance girl. There was a vanity kit with Q-tips, a shower cap and a nail file. Next to it, inexplicably, sat a bottle of Roam hair conditioner that I think should have been body lotion. The mirror in the bathroom was large, but it would have been nice to have a smaller lighted magnifying mirror for make-up application. There was one outlet in the bathroom.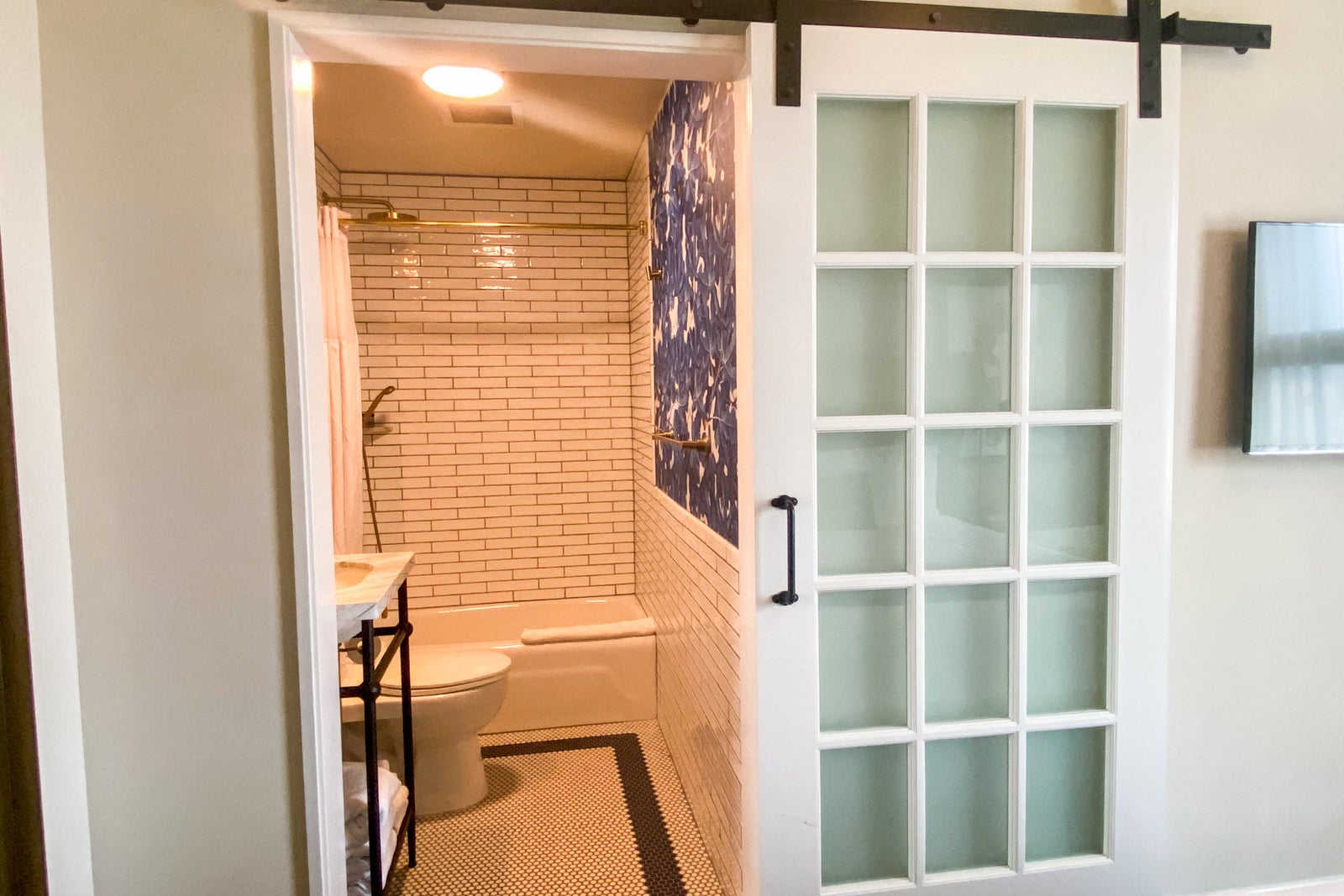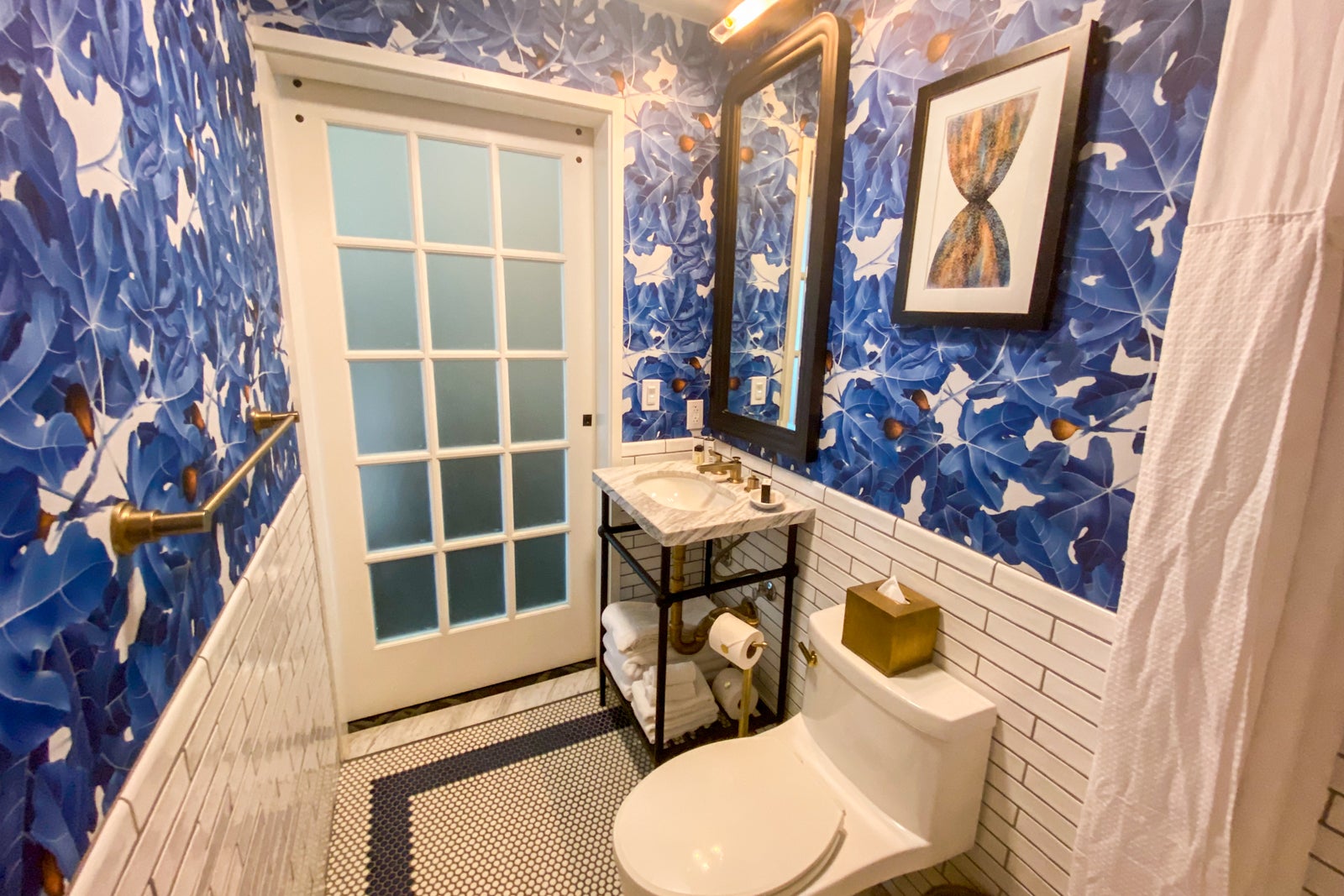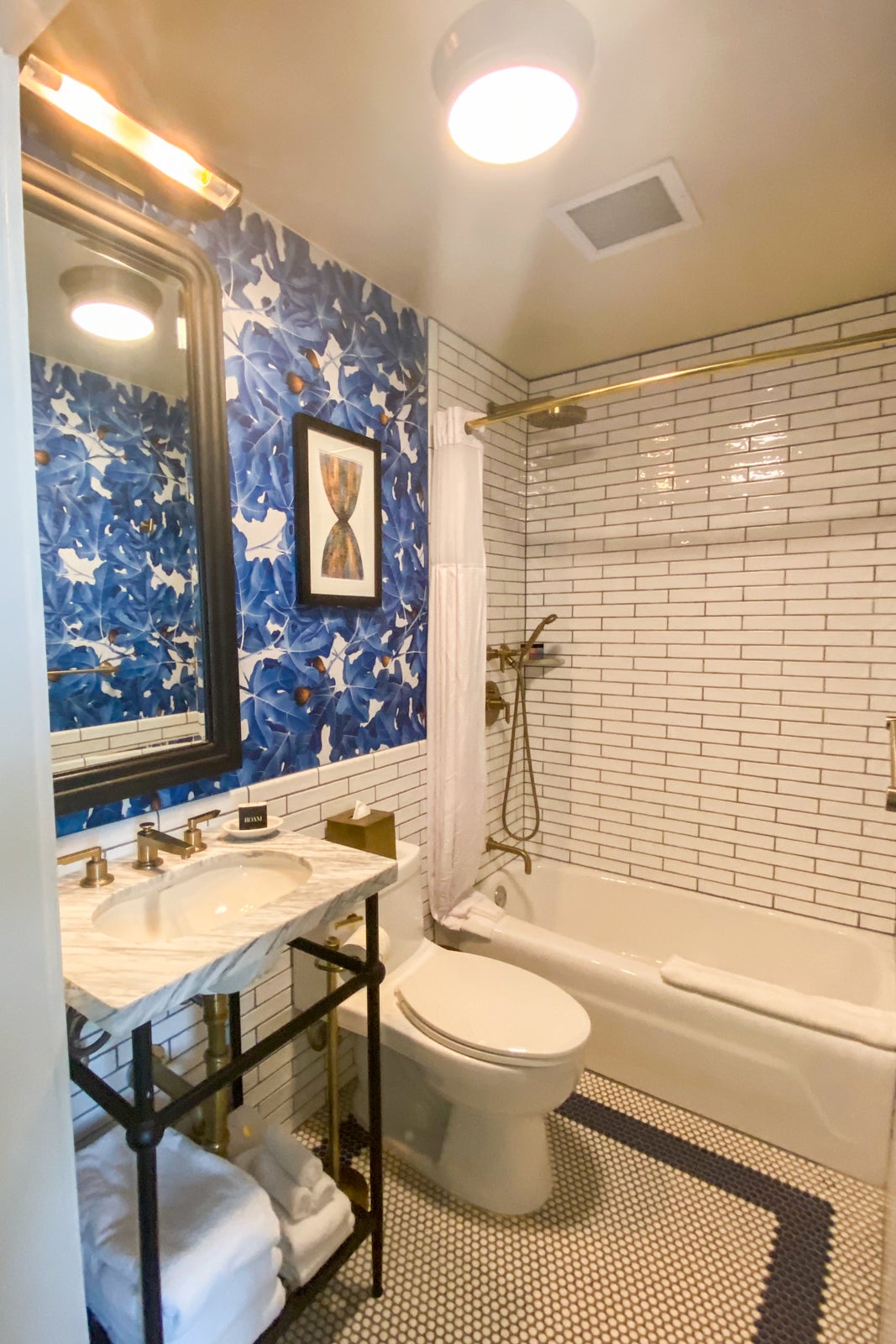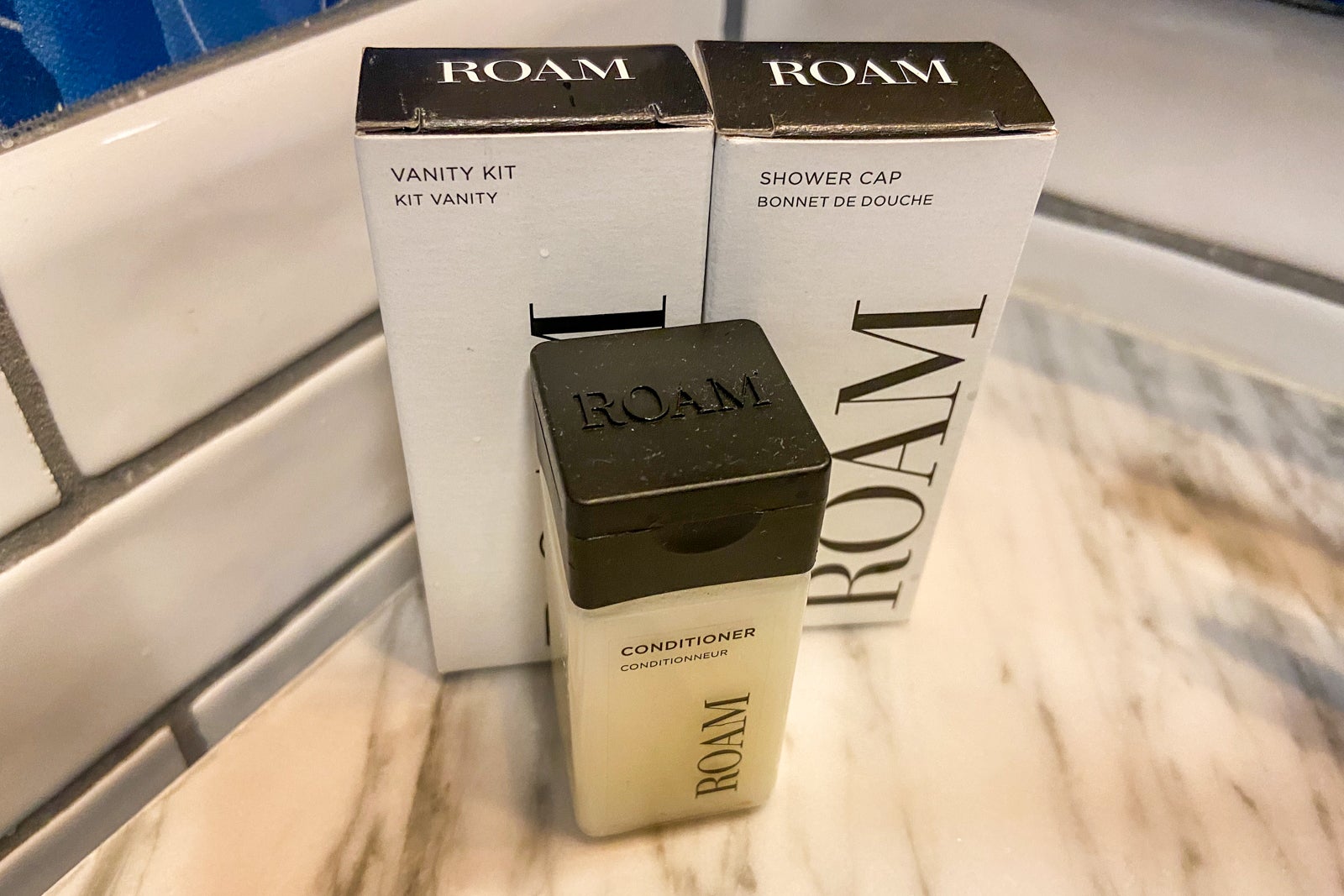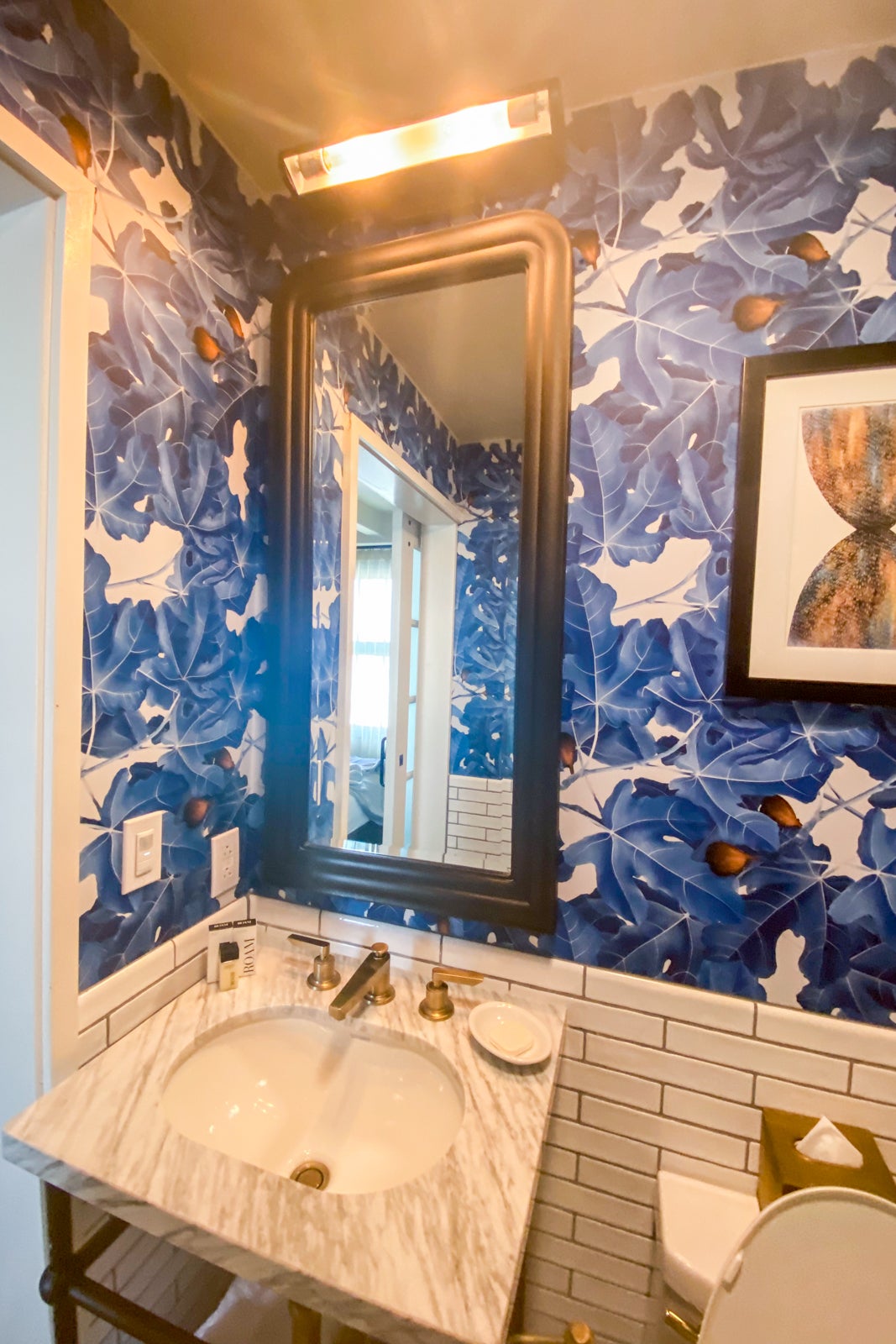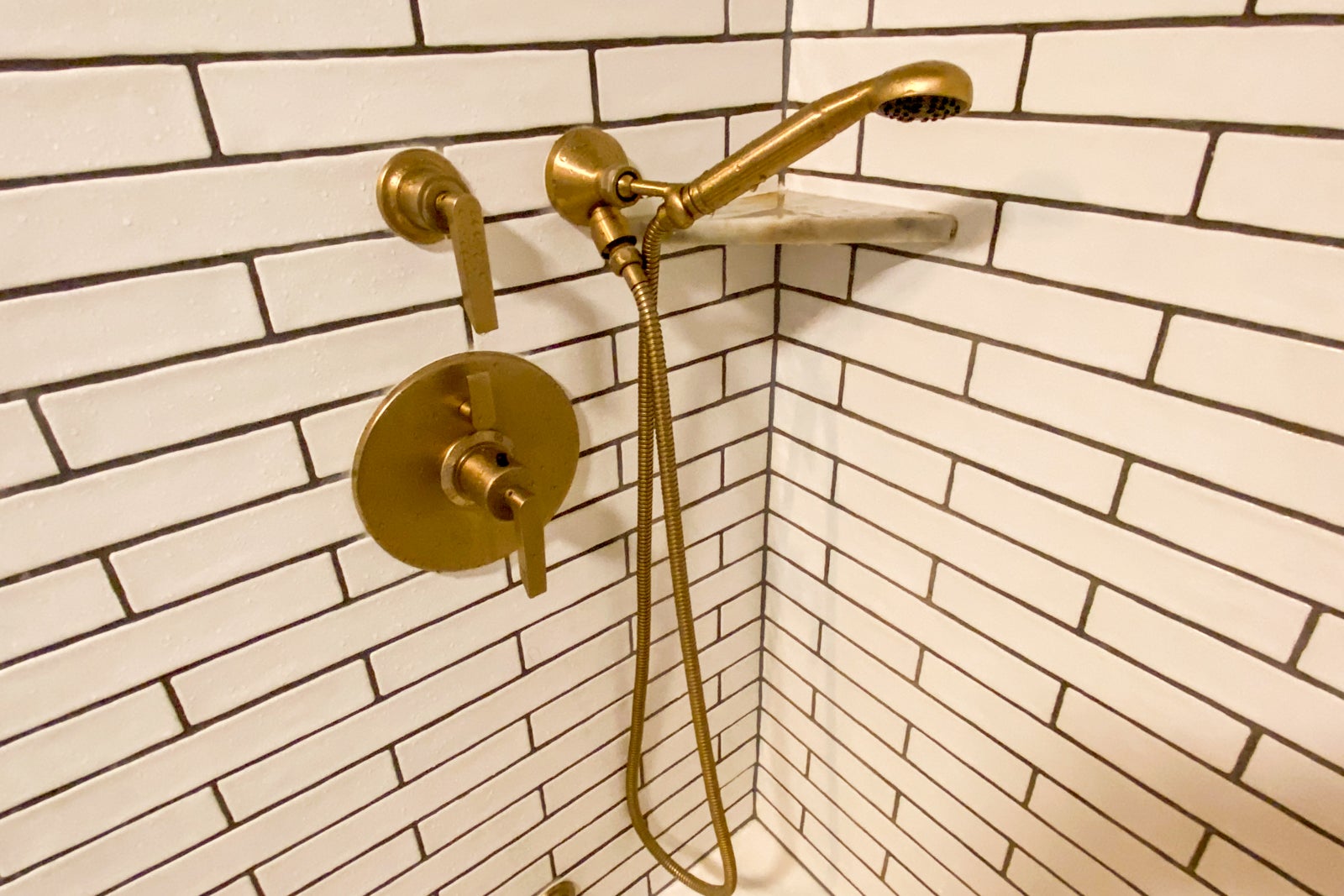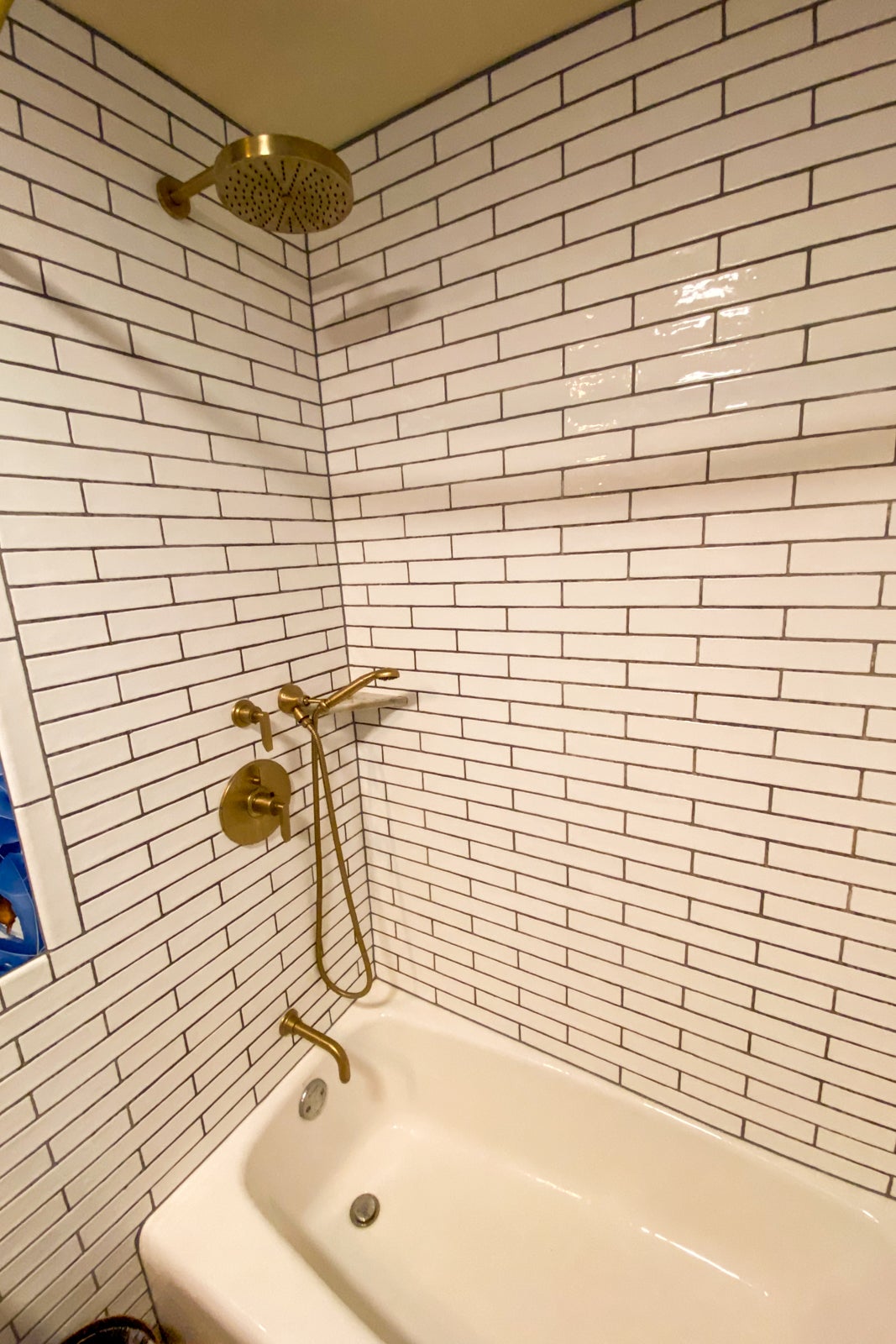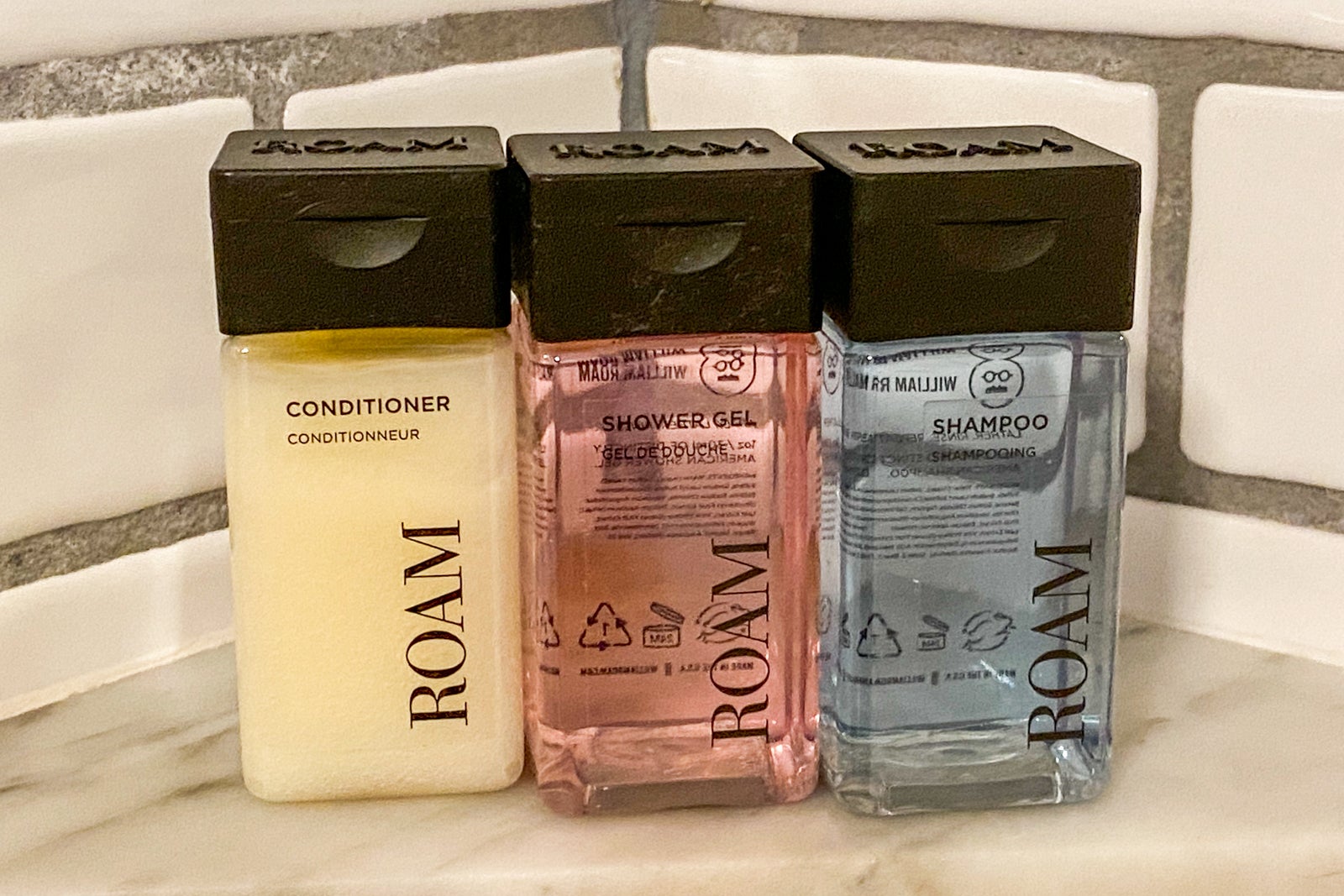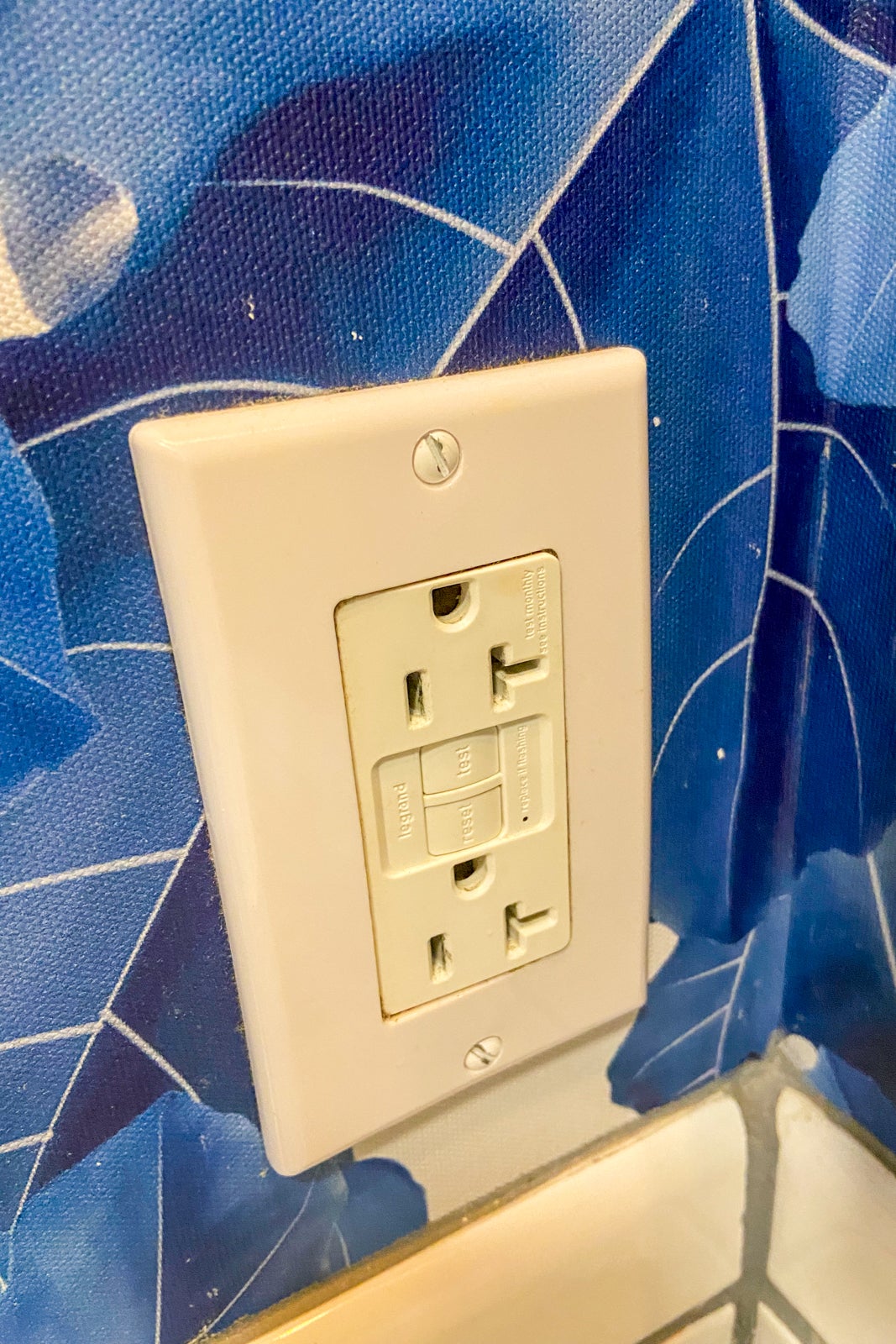 As someone who travels with a laptop, an iPad and an iPhone, along with headphones and two power chargers (I know, but I must be prepared), I was happy to see that my room had two outlets and a USB port on each side of the bed. There was a hotel safe below the nightstand on the side of the bed nearest the door, but you had to go down on your knees to use it, which is not comfortable at my age. I prefer a safe in the closet for easier access.
The king bed was quite comfortable and the four pillows were more than enough to promote a good night's sleep. I did like the holder at the base of the bedside lamp, which was perfect for my watch and rings. There was no alarm clock in my room but I wasn't mad about it. Nine times out of 10, they're either set at the wrong time or the alarm doesn't work.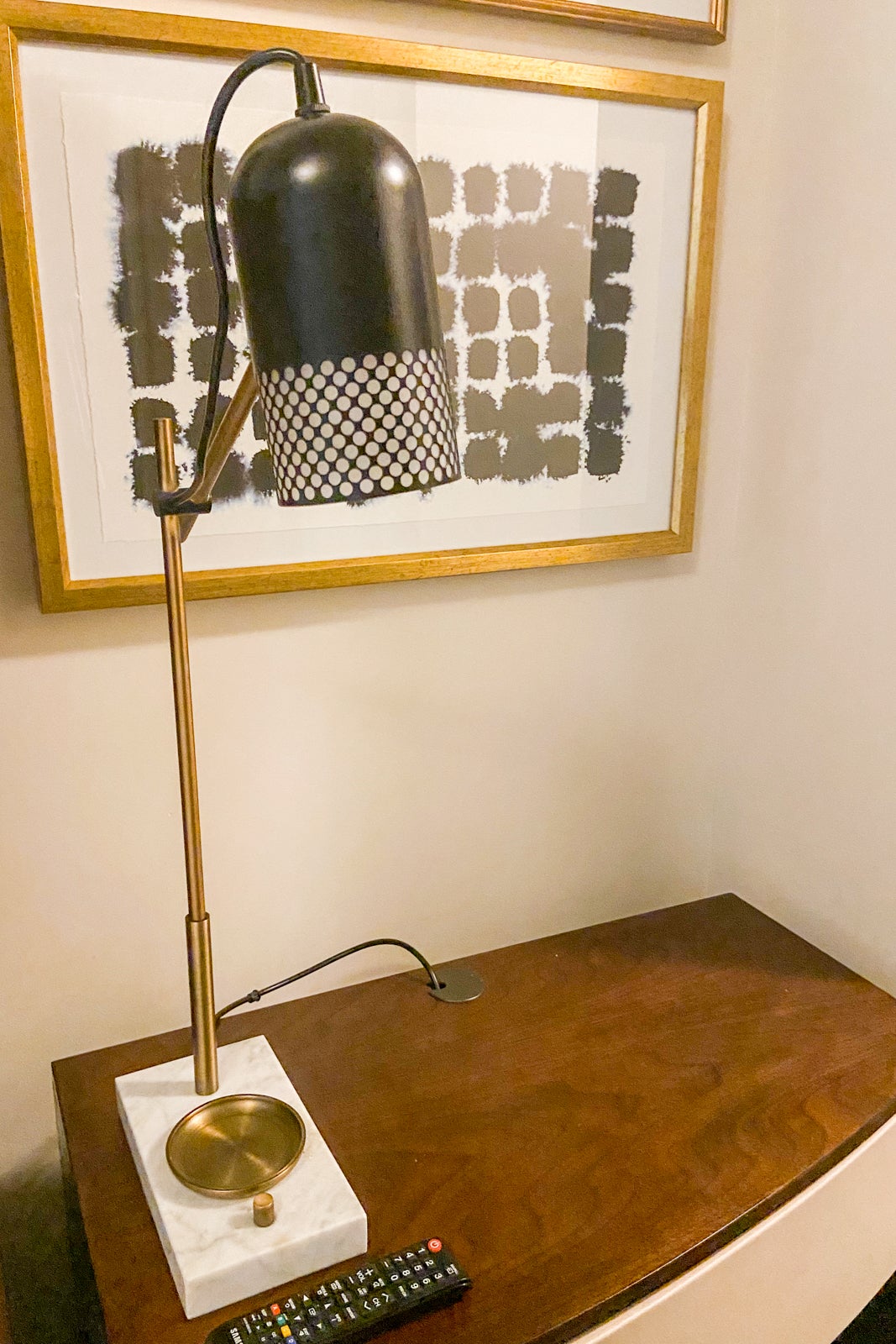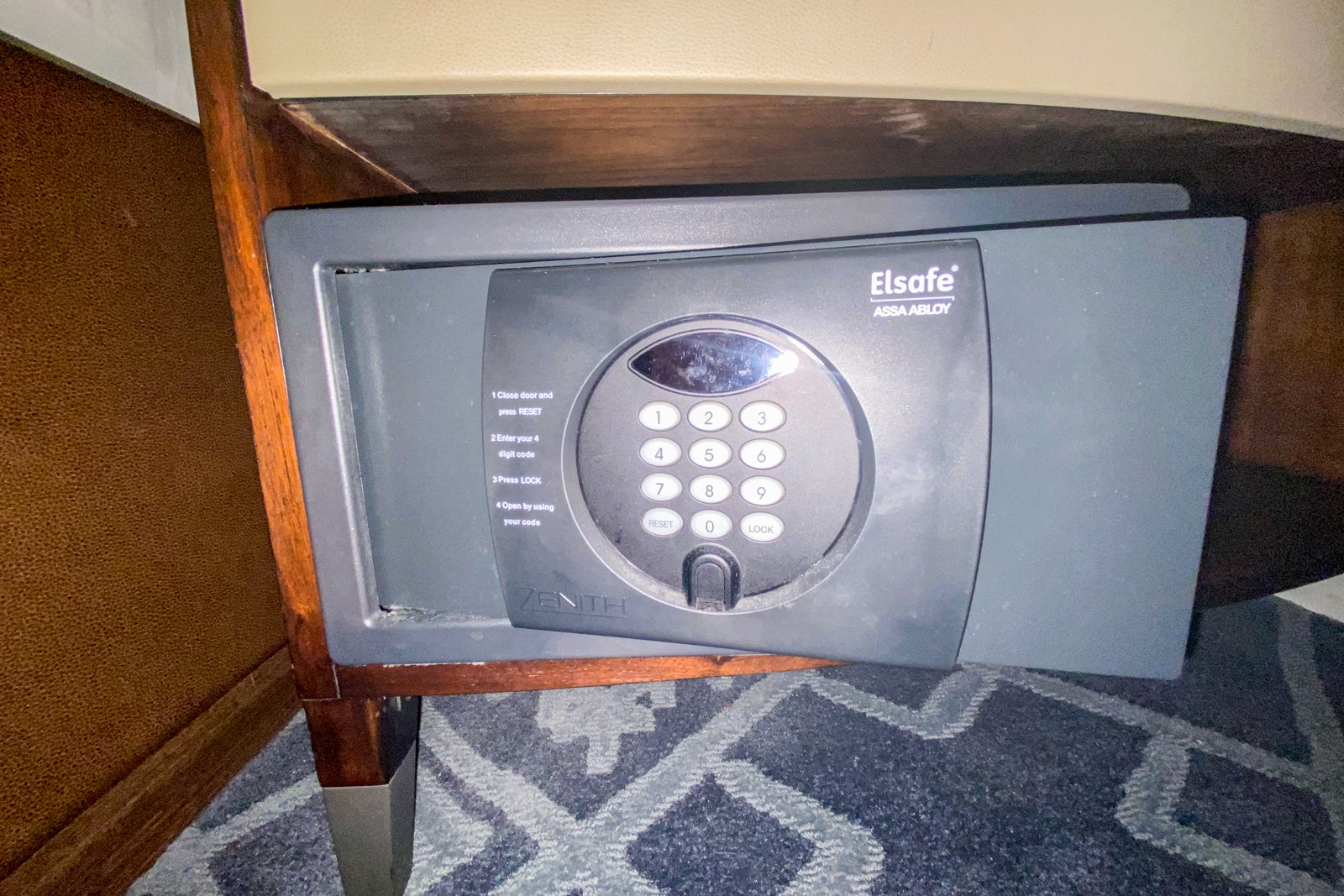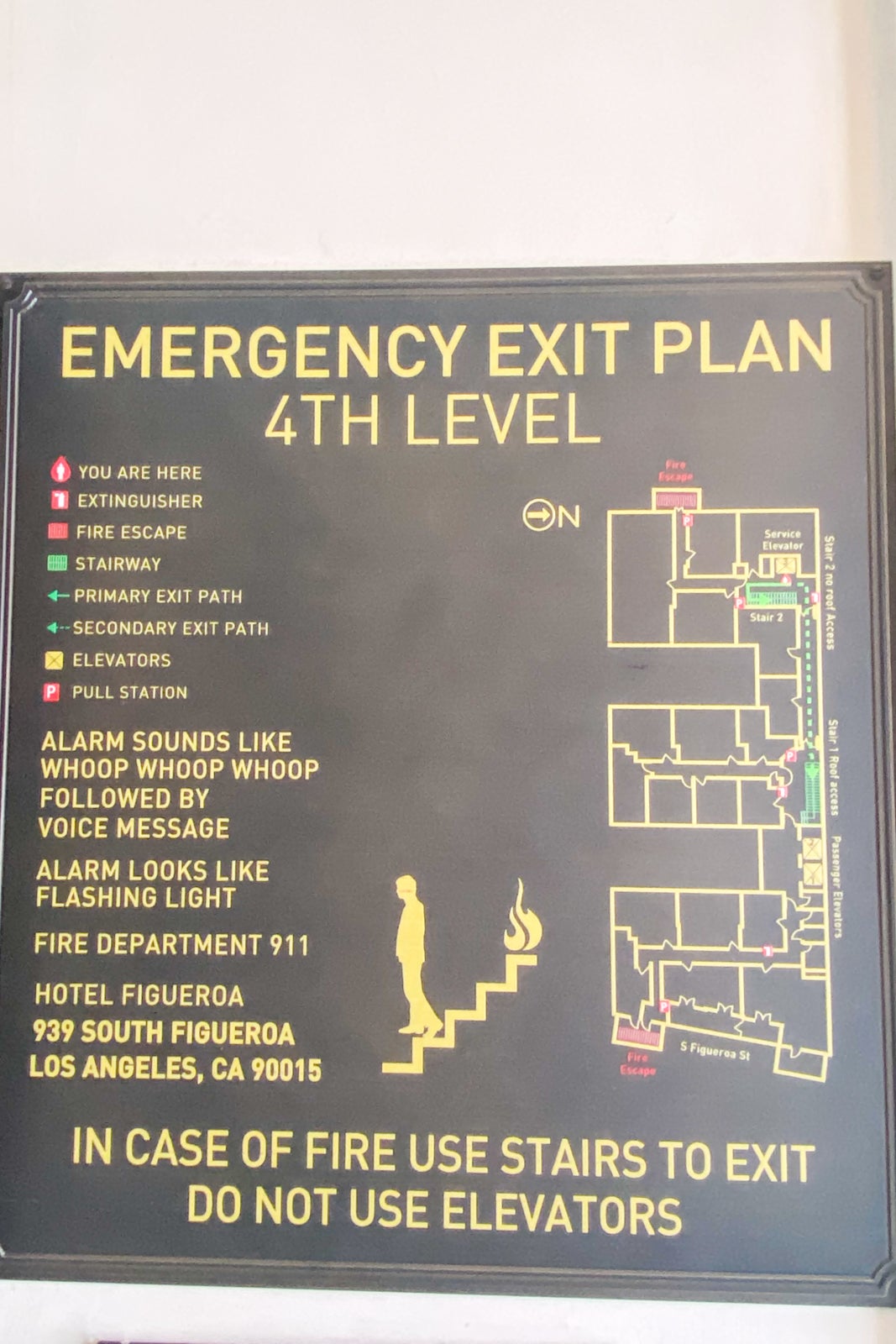 Suite sneak peek
I met loyal TPG reader Bryant, a Hyatt Globalist who was in L.A. on a mileage run to keep his American Airlines AAdvantage Platinum Pro status, in the hotel lobby after he recognized me by my glasses. He had been upgraded to a junior suite and allowed me to take a peek. It was a corner room that had stylish furniture with an easy, breezy California vibe. The main sitting area was spacious, with a comfortable seat and couch. The television was much bigger than mine.
Unlike my room, there was a large desk that could be used for work or even double as a bar if you have friends drop by. There was a curtain that could be pulled between the king-sized bed and the sitting area for privacy. There was a full closet, with a safe inside. The bathroom was far more spacious, with a double sink, a large shower and a separate space, behind a door, for the toilet.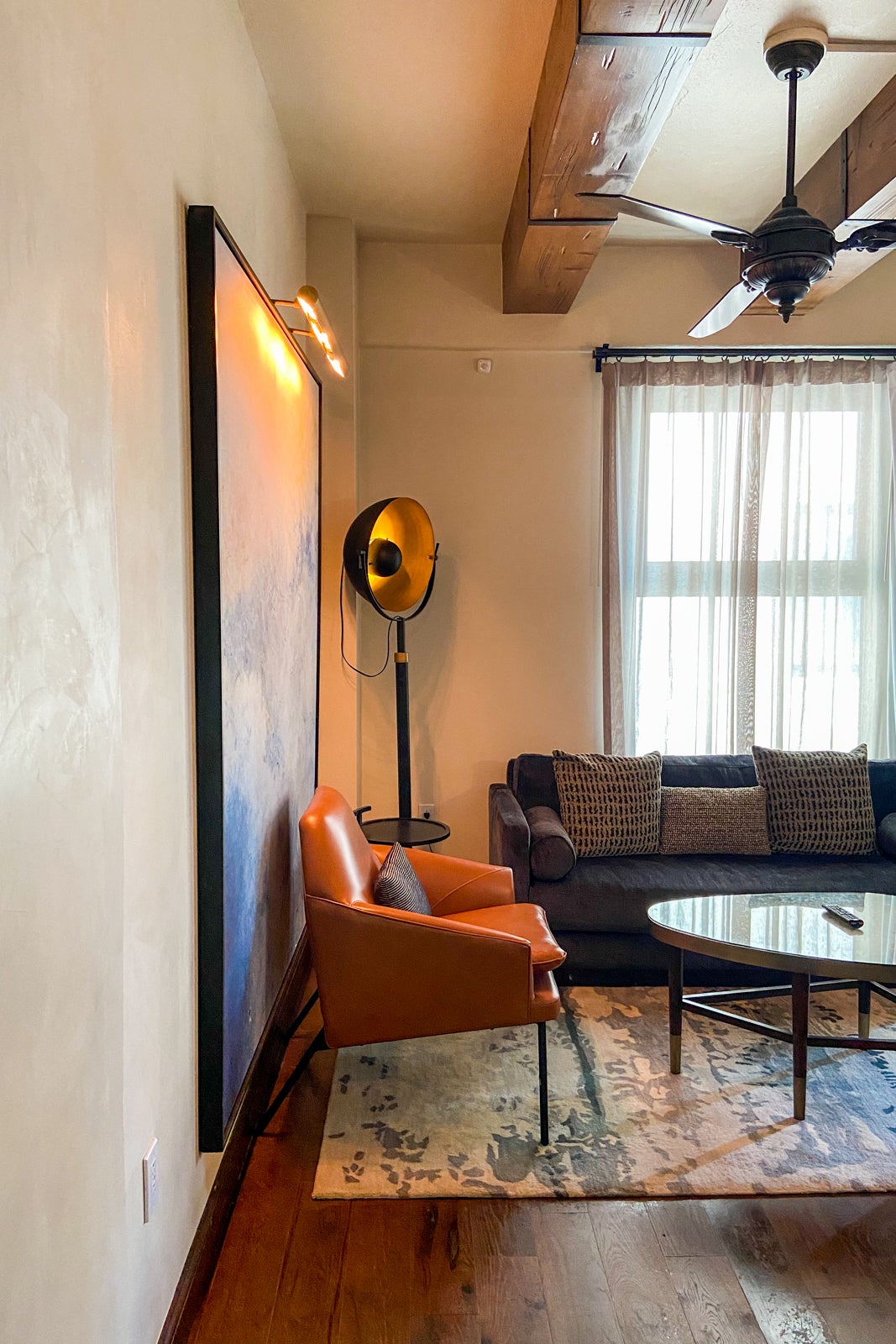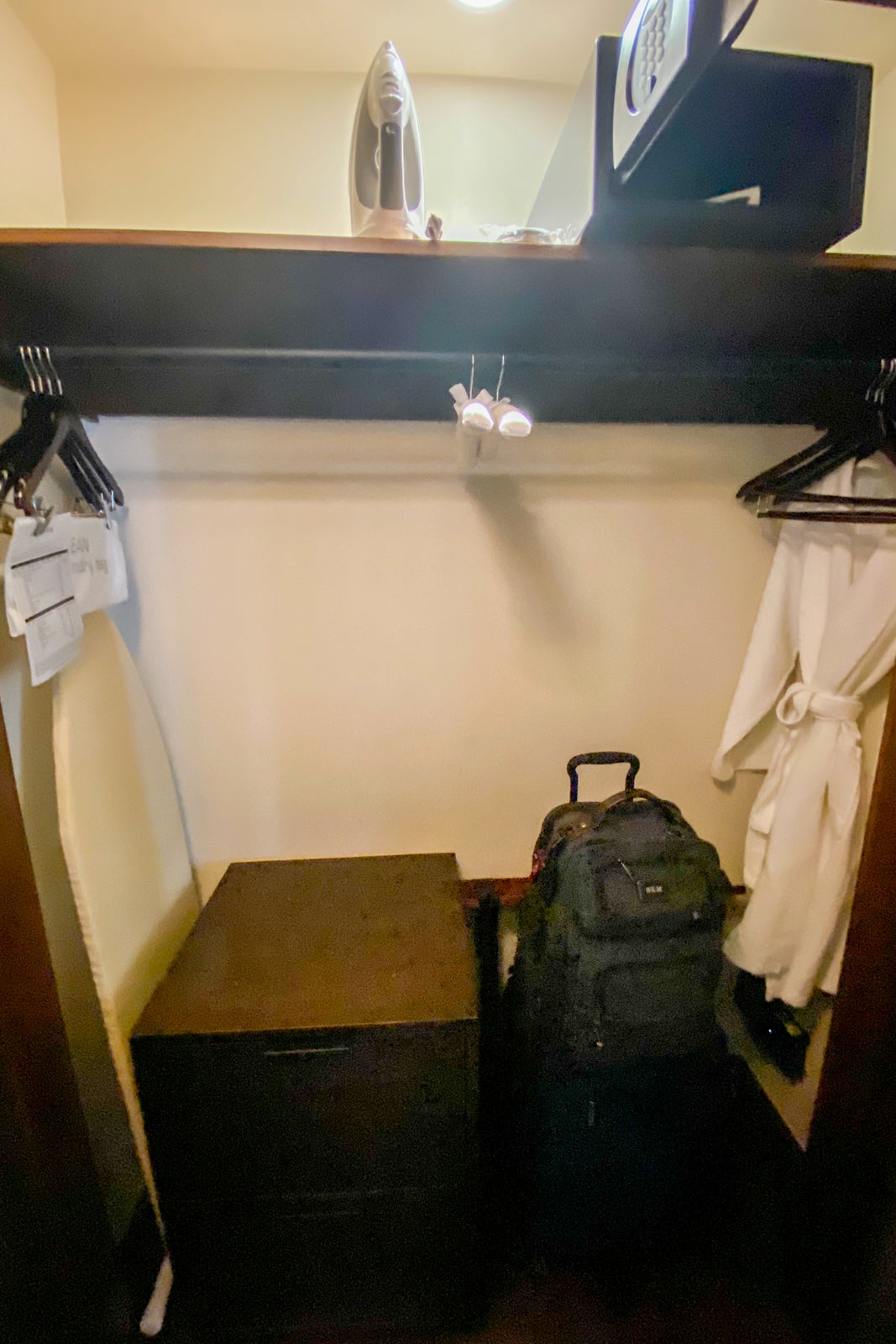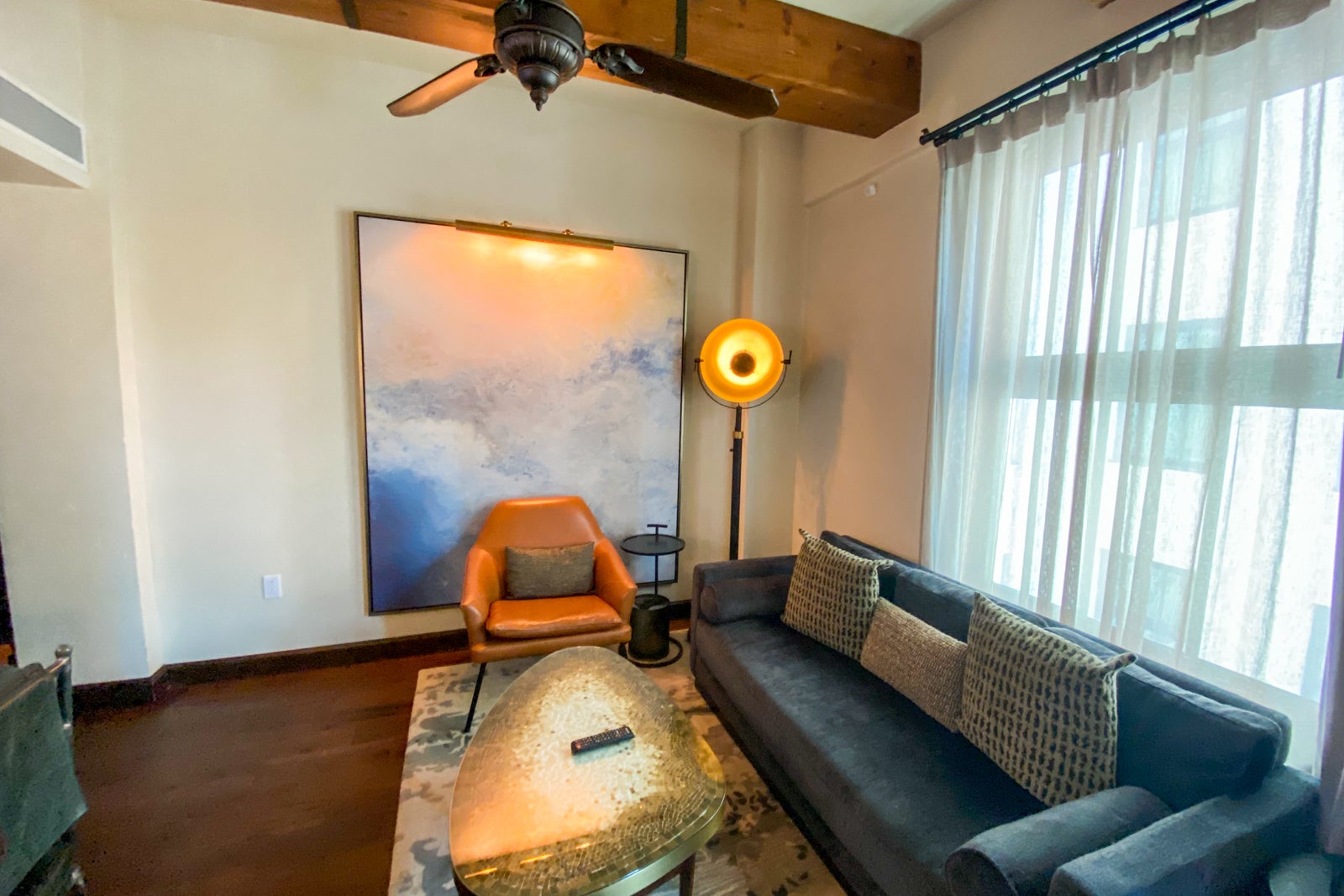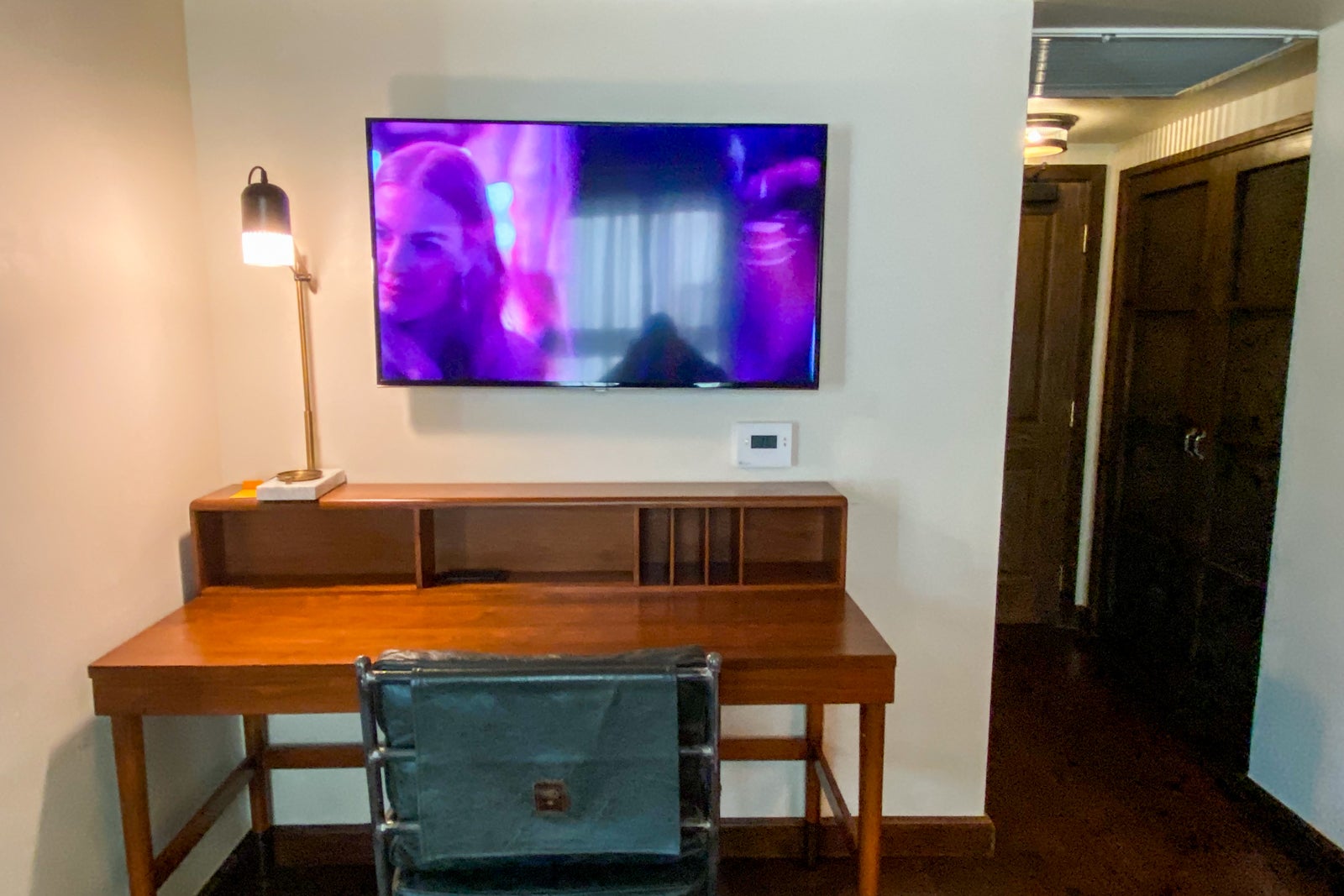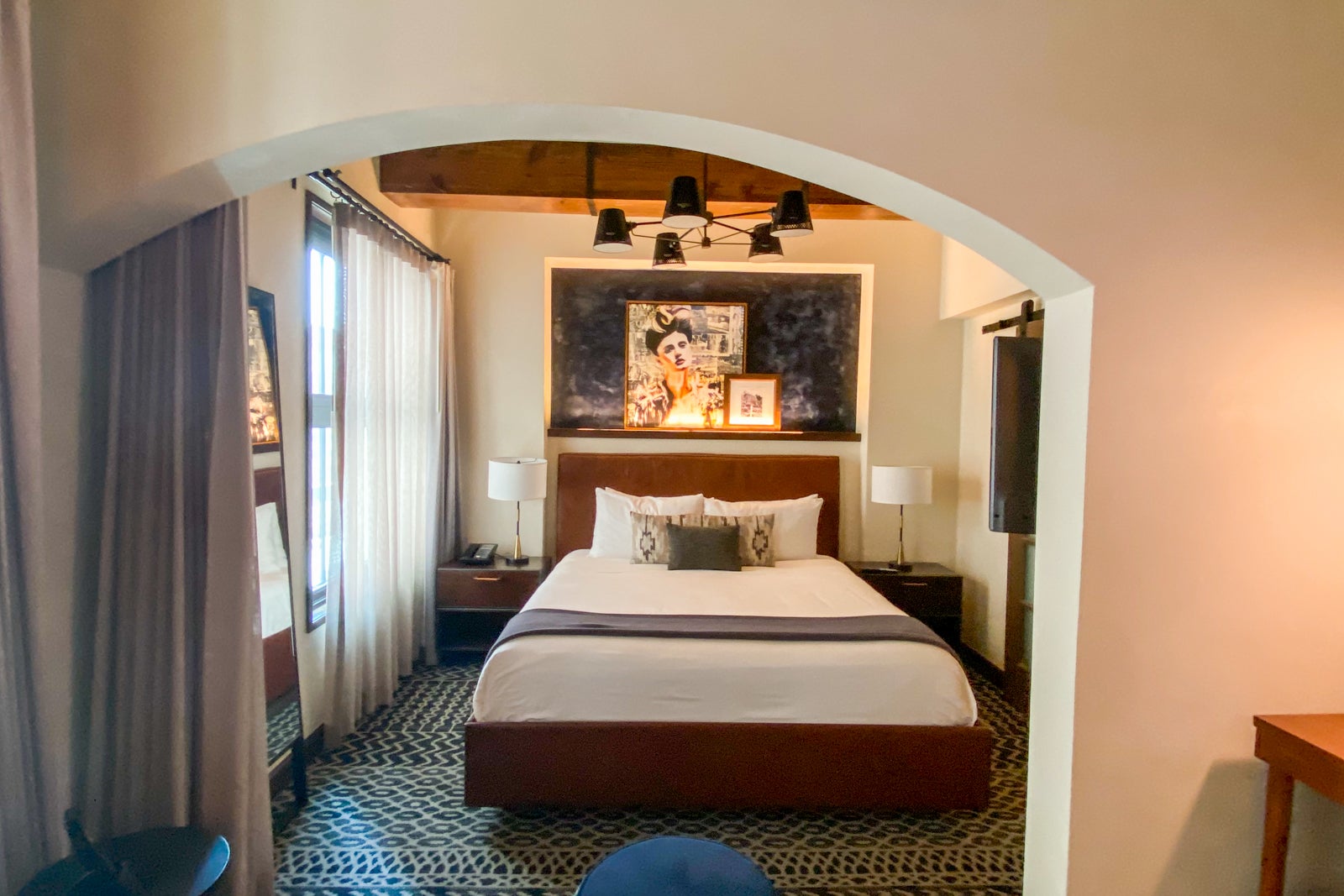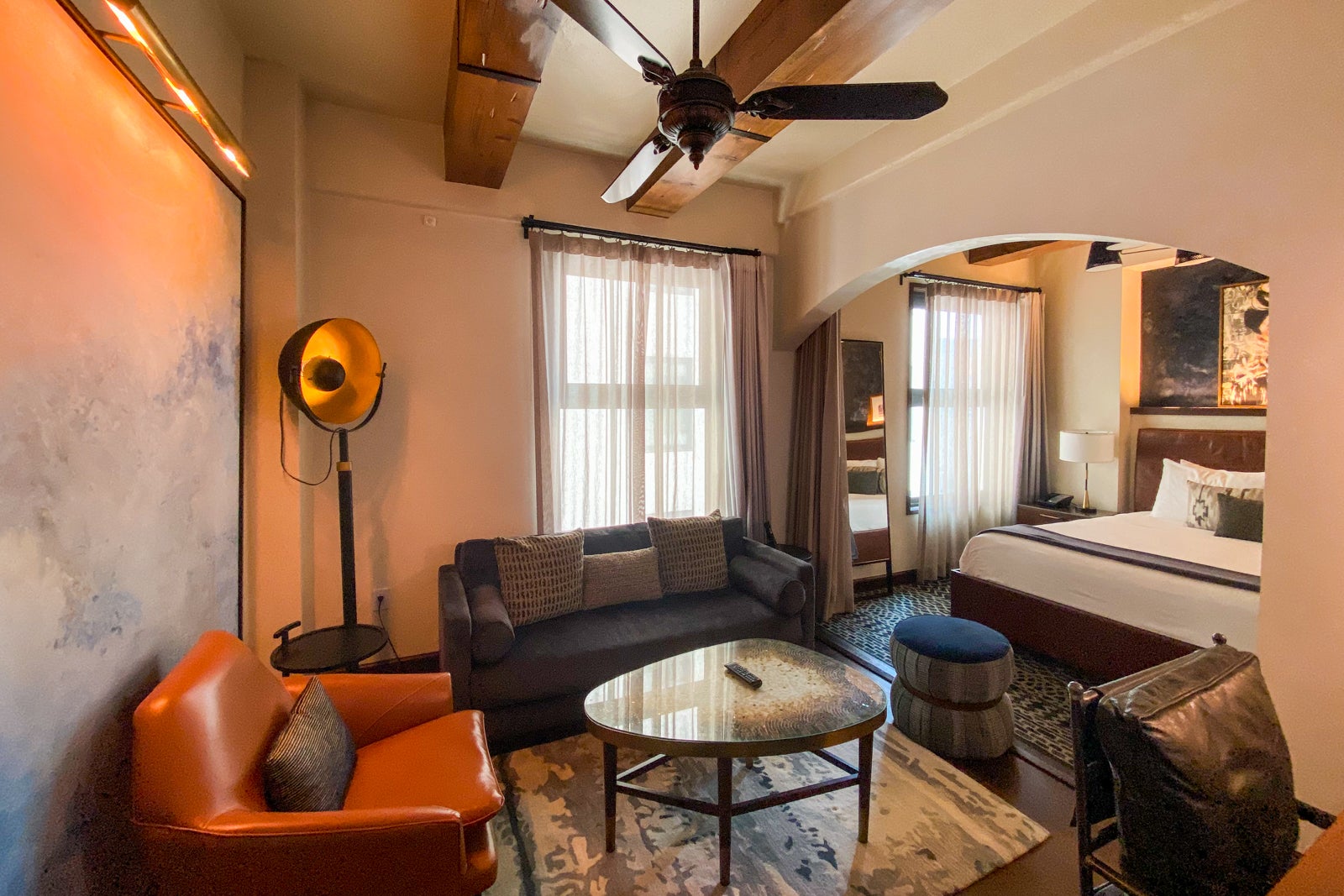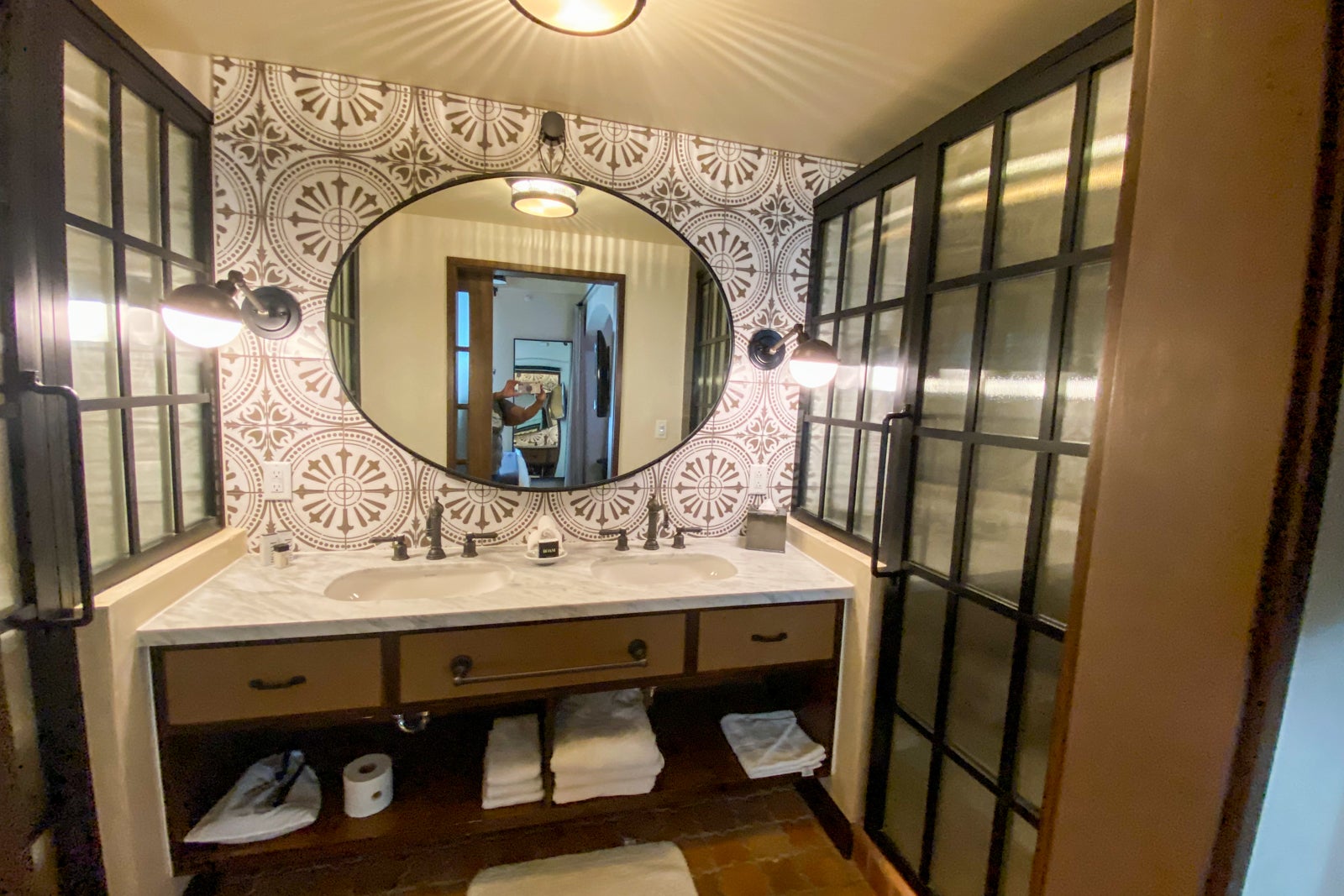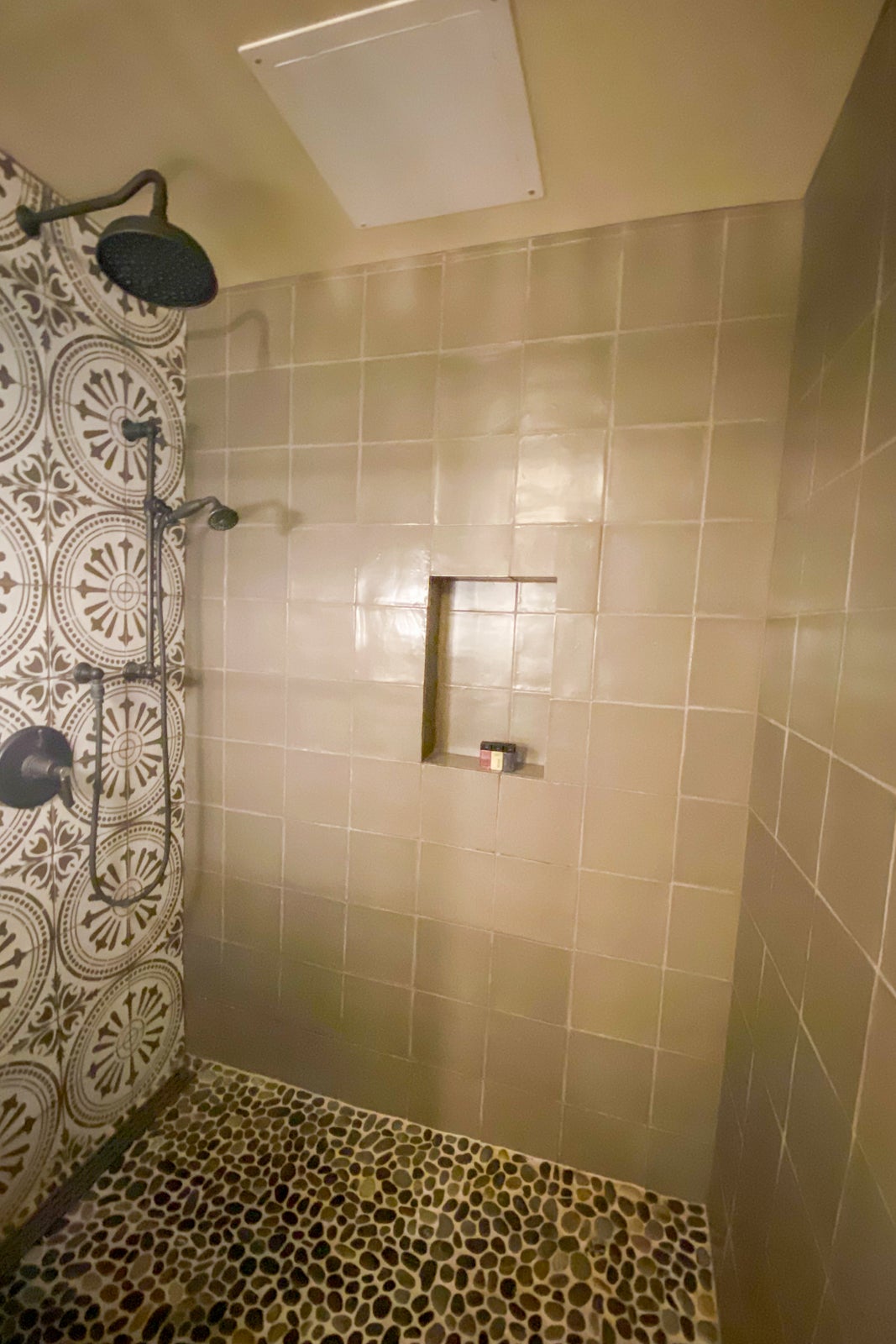 Accessibility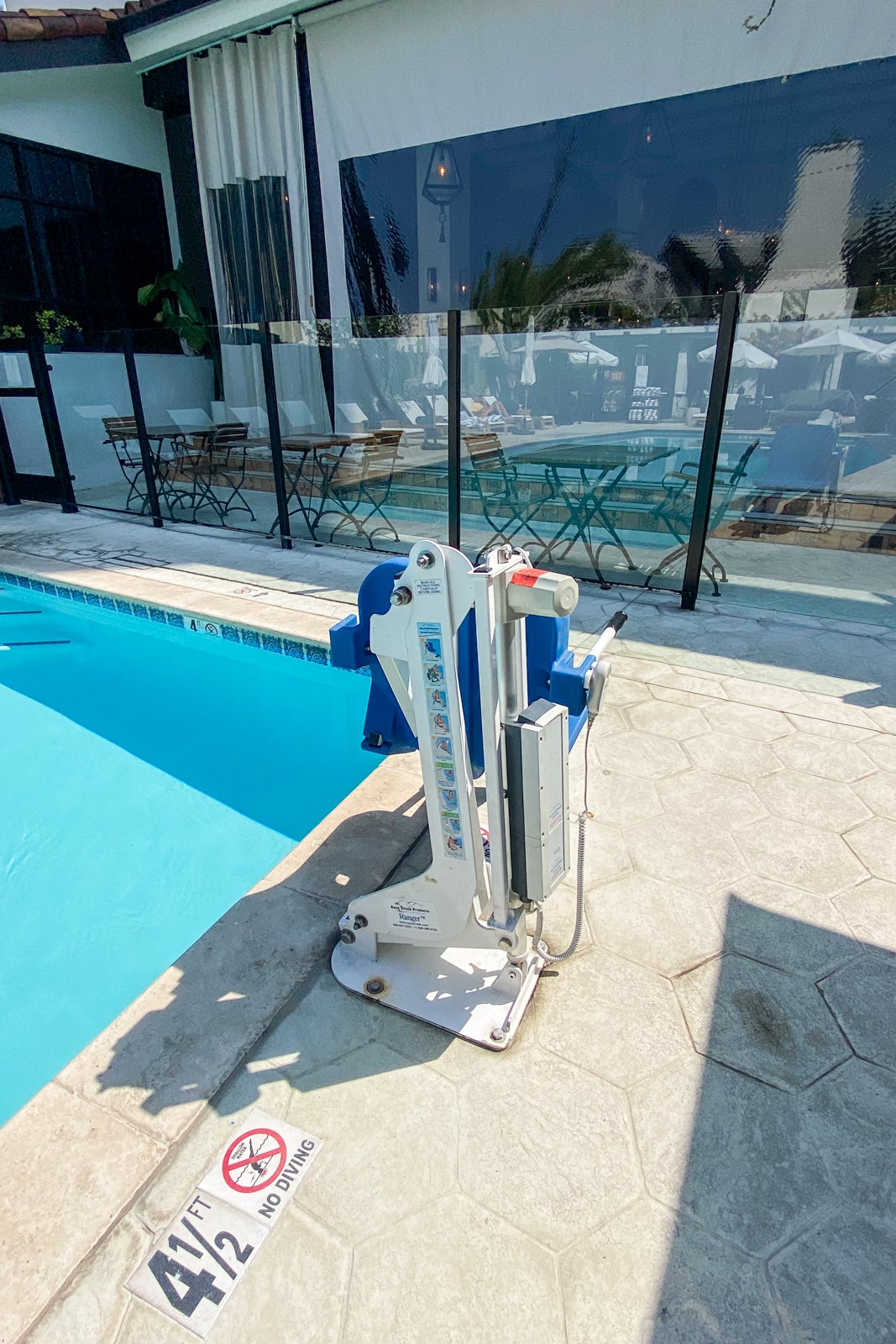 The hotel is Web Content Accessibility Guidelines 2.1 compliant and lists on its website how that's achieved, including: handicap spaces; full access to the pool with a lift available; full access ramps in public spaces; 29 accessible queen and king rooms; three fully accessible and eight partially accessible rooms; eight audible accessible rooms; larger door openings; roll-in shower or shower/tub with handheld showerhead and hand rails; toilet with hand rails; ADA-compliant room measurements; communication features like visual notification for hotel alarm system, door, and phone; and Braille signage.
There's a complete list of measurements covering spaces including the front door,  the check-in desk, the elevators, parking, the concierge, public restrooms, food and beverage and the pool. It also goes into great detail on room measurements, from door width to bed clearance. The bathroom list includes door width, sink height, grab rails, lavatory controls, roll-in showers and seat tubs. This attention to detail is impressive, allowing those with disabilities to know that they can stay in this hotel. The same information seems to be hit or miss with other Hyatt brands. I did a random search and found the Hyatt Place Waikiki follows WCAG 2.0 guidelines, while the Thompson San Antonio only mentioned having rooms with roll-in showers, but offered no further details.
Food and beverage
For lunch, I went to one of the hotel's two restaurants, La Casita, and had the ceviche classico, made with wild-caught sea bass, jalapeños, tomatoes, cilantro, red onion and avocado, served with house-made chips and salsa. The meal was incredibly fresh and spicy – in a good way. I washed it down with the Dios Mio, the bar's version of a spicy margarita.
La Casita is detached from the hotel but in the pool area. It has outdoor seating on the first level and open air, covered seating on the second.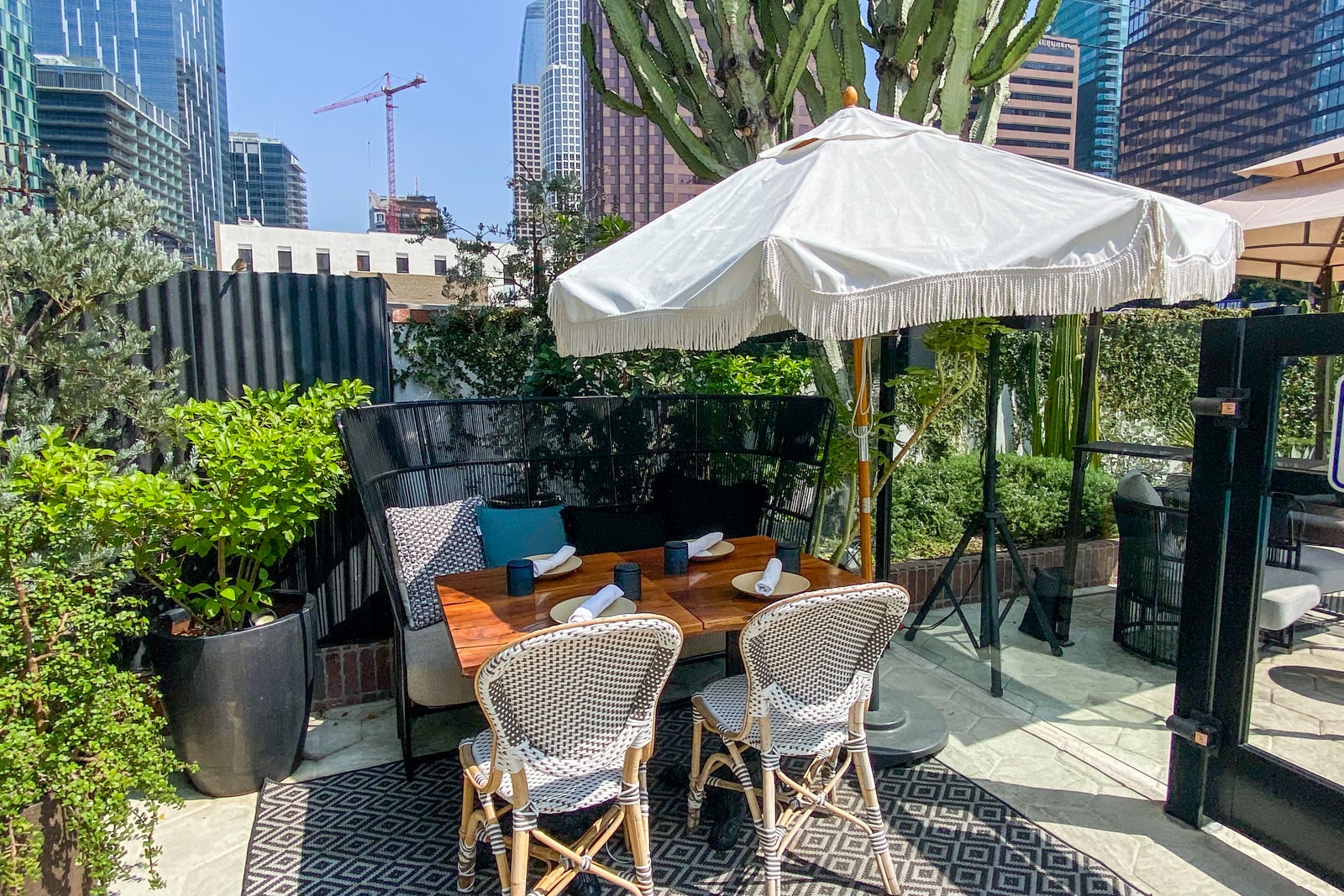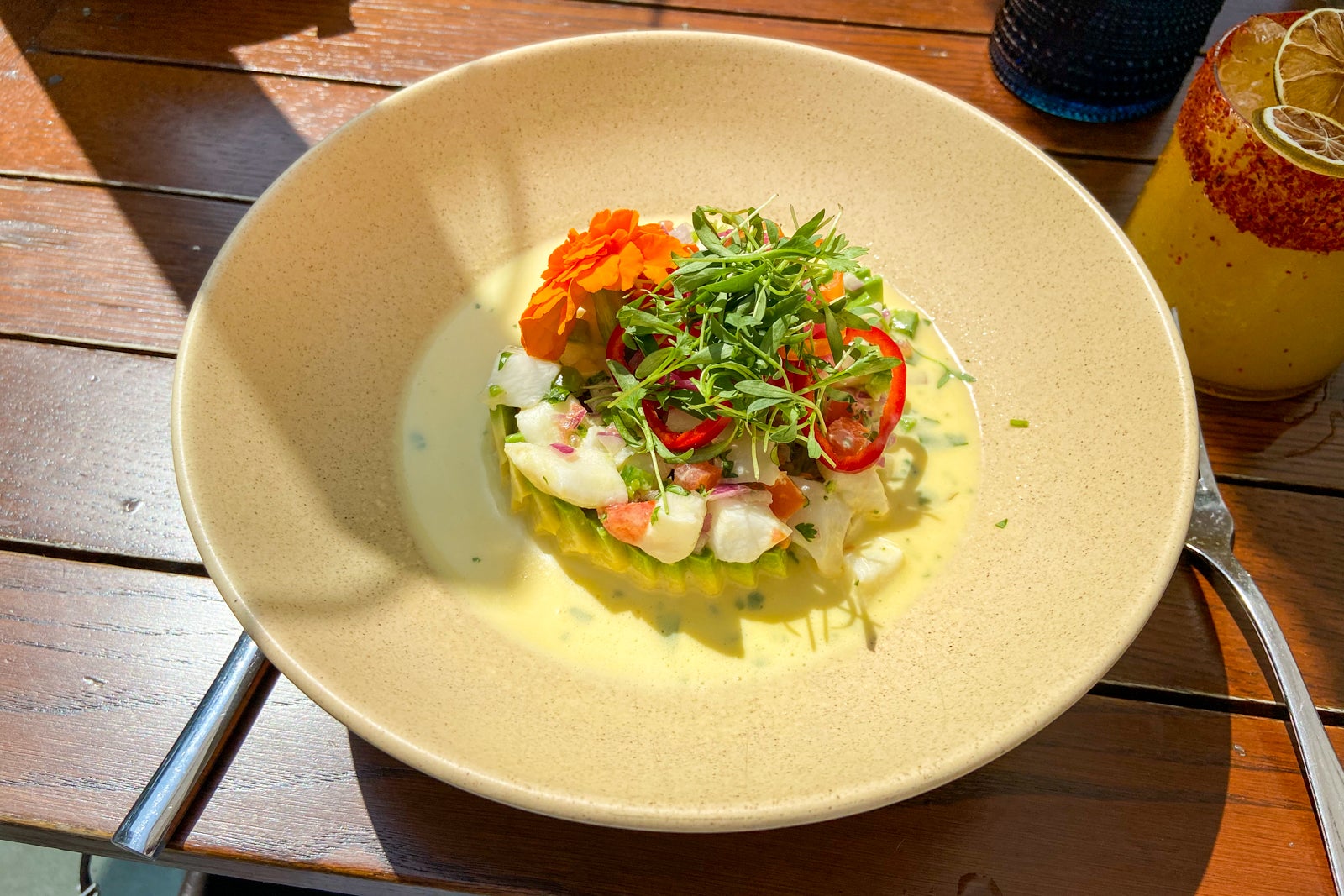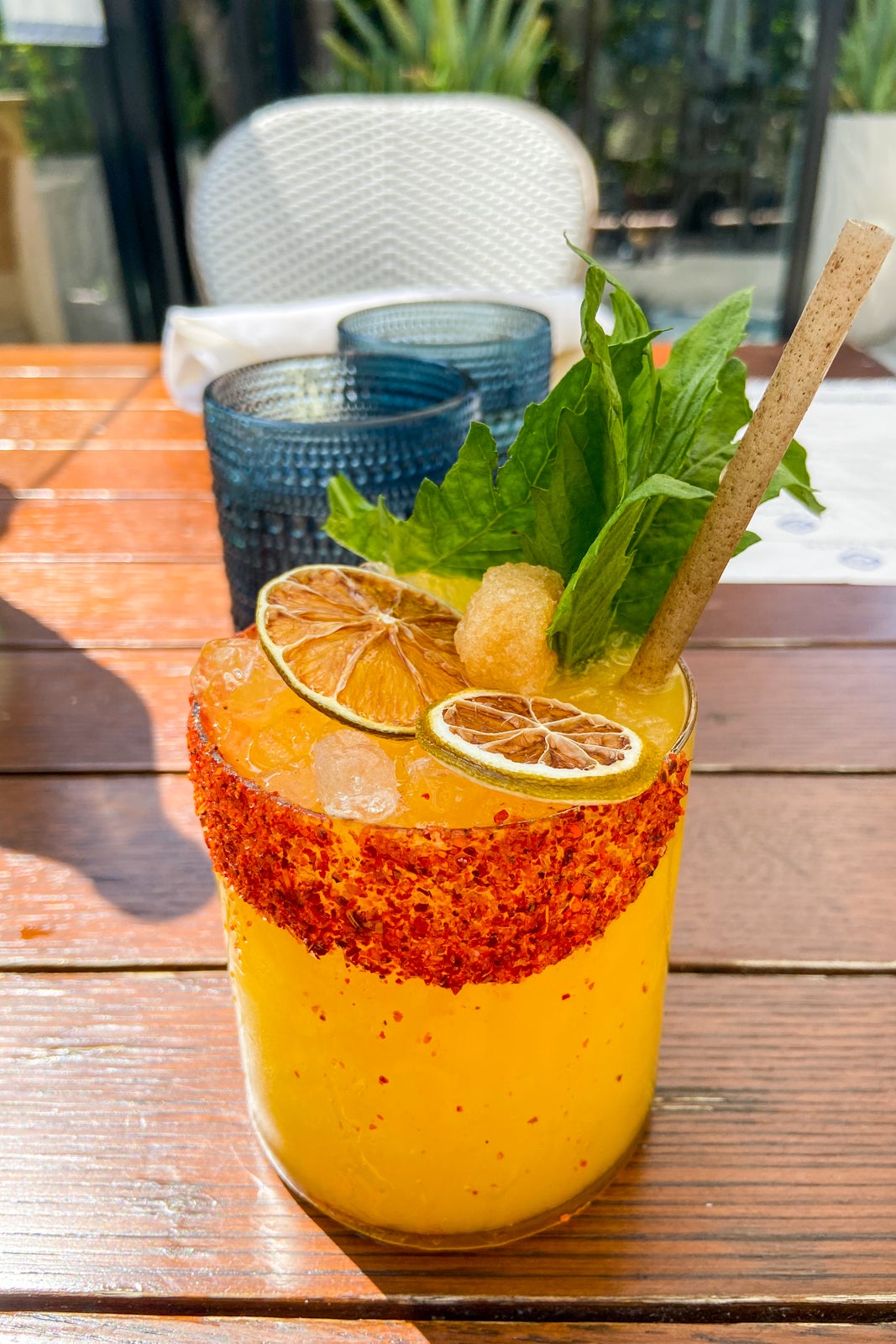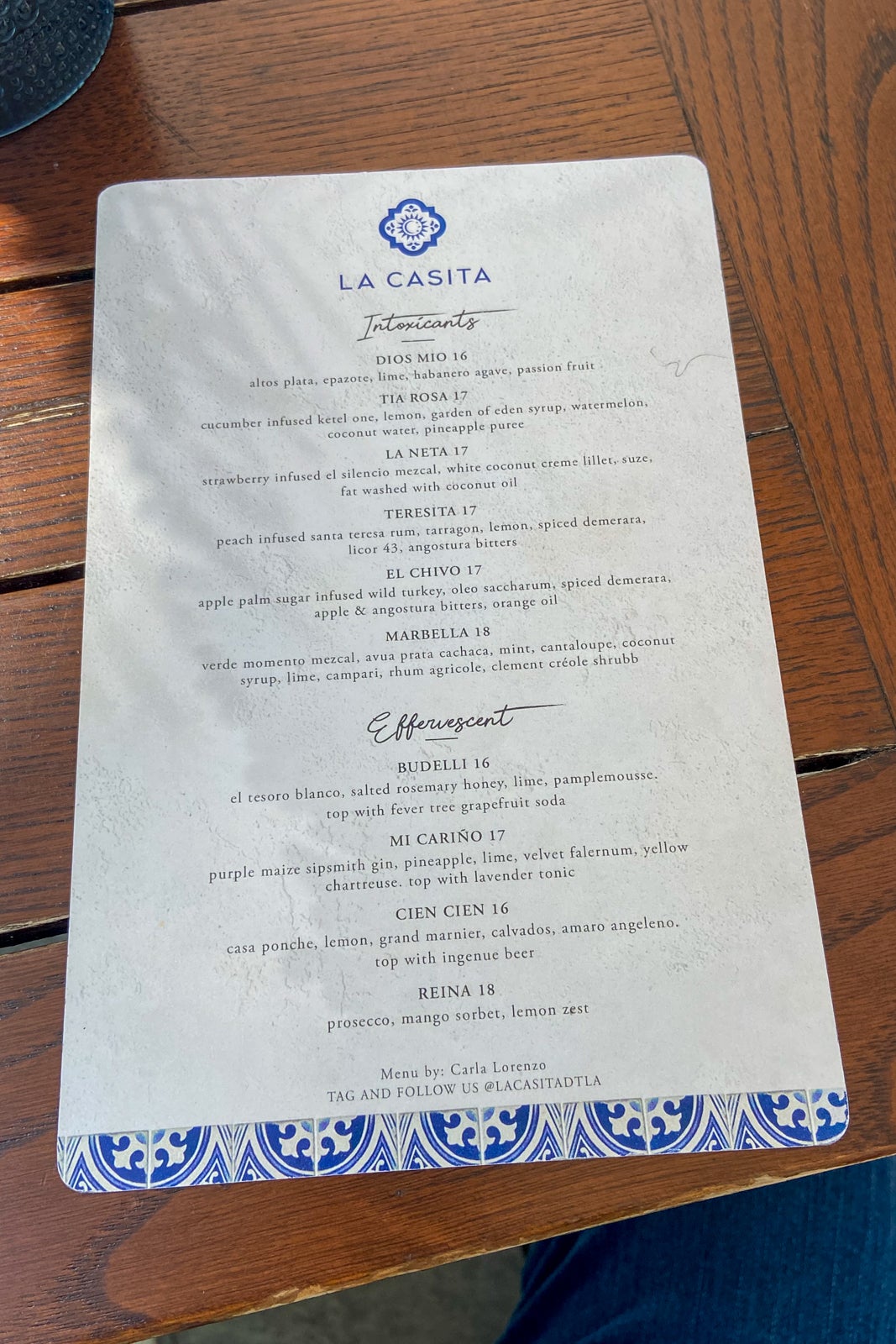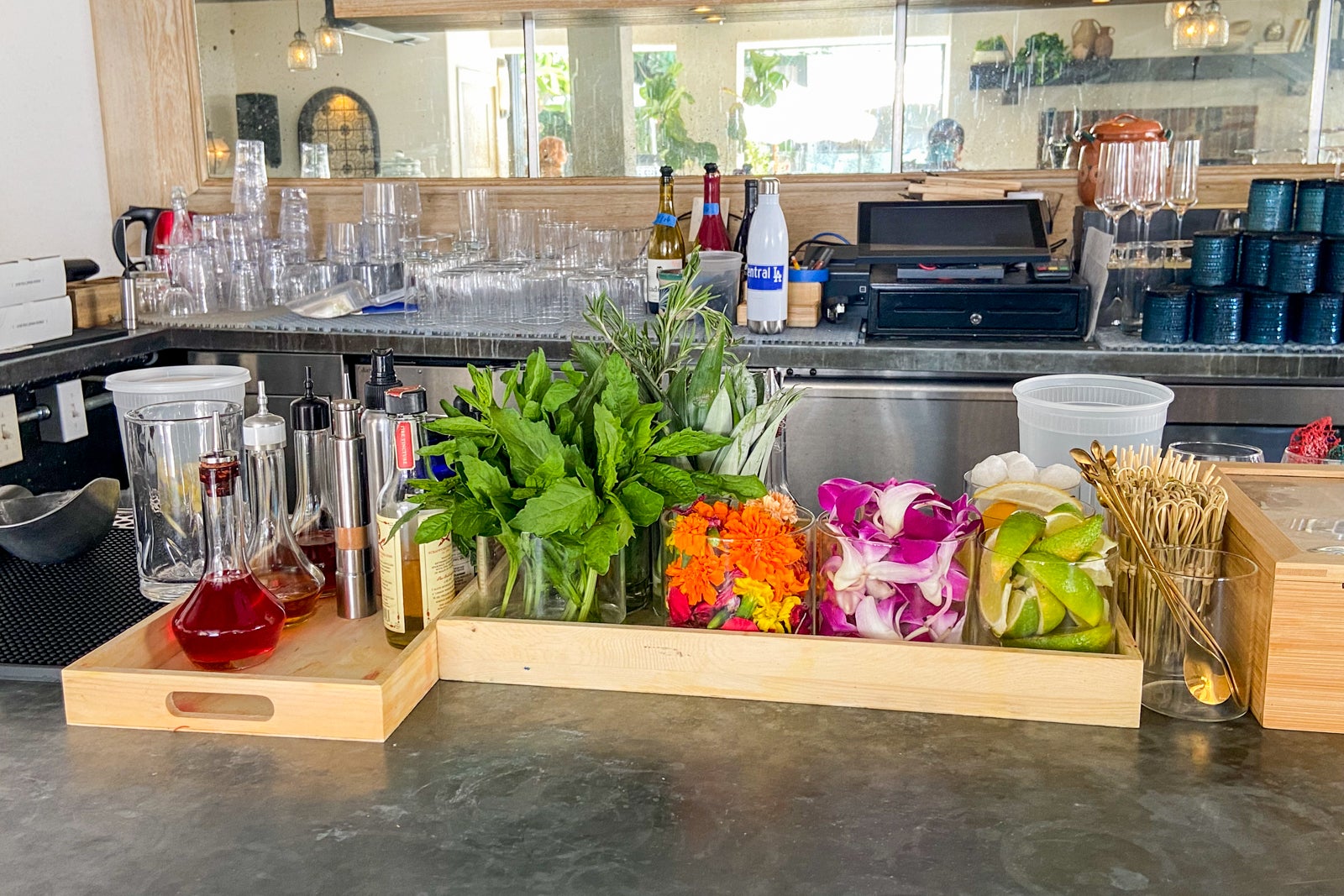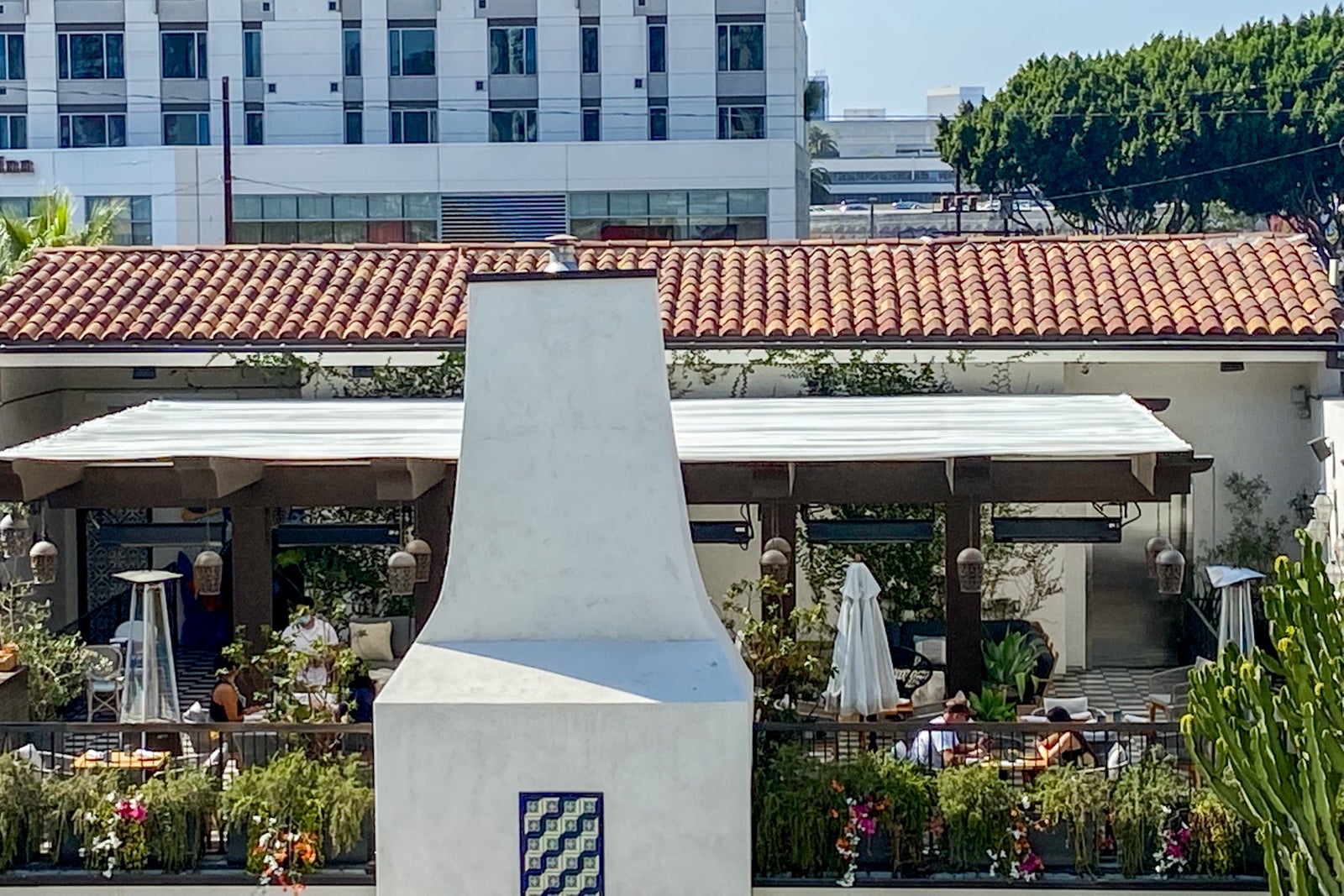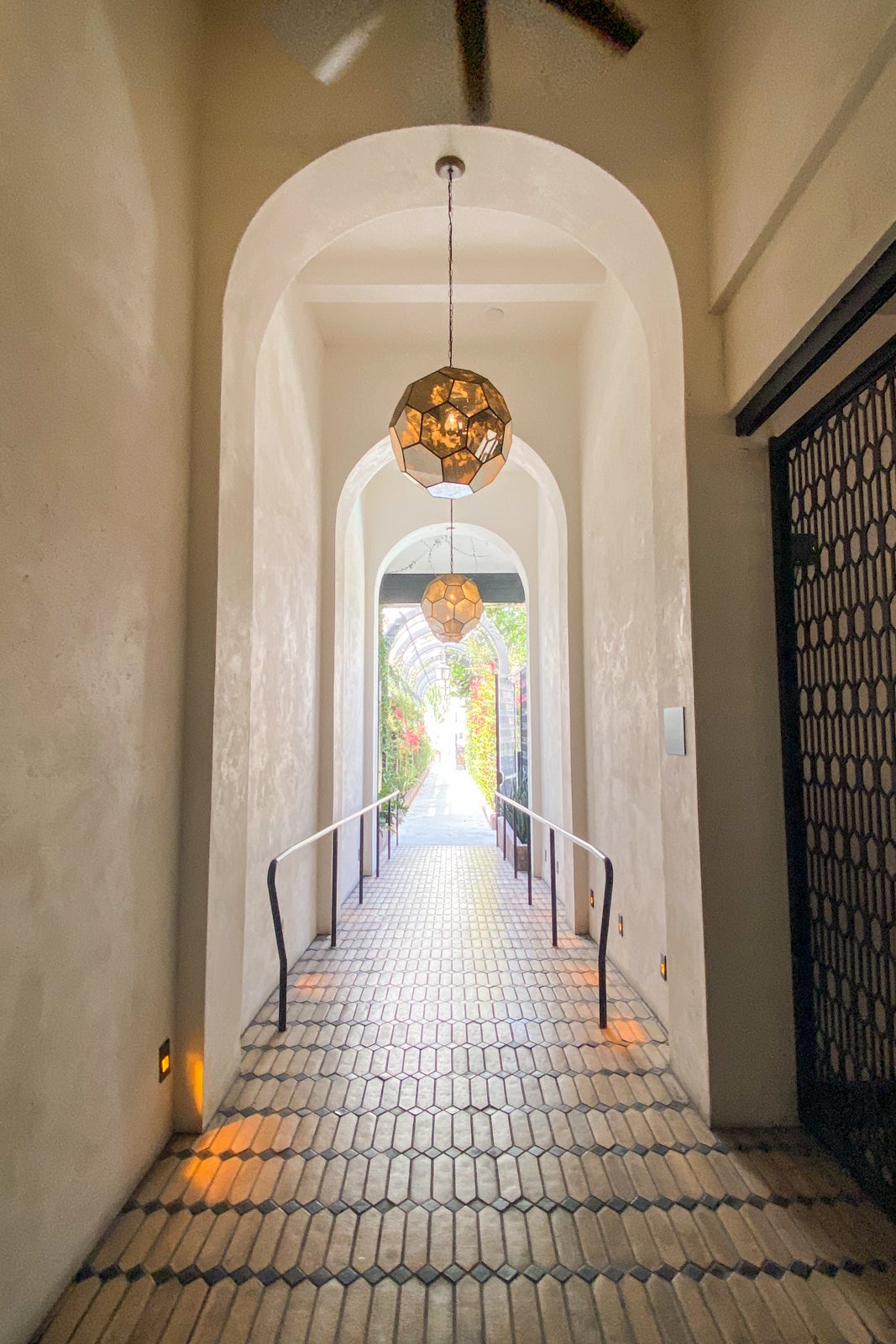 Cafe Fig is the hotel's main restaurant, serving locally sourced food in its dining room or outdoors.
Like many hotels around the world, the Hotel Figueroa suspended room service during the pandemic, so I was stuck using Uber Eats for my dinner delivery. However, both restaurants were open for people seeking sit-down dinner service.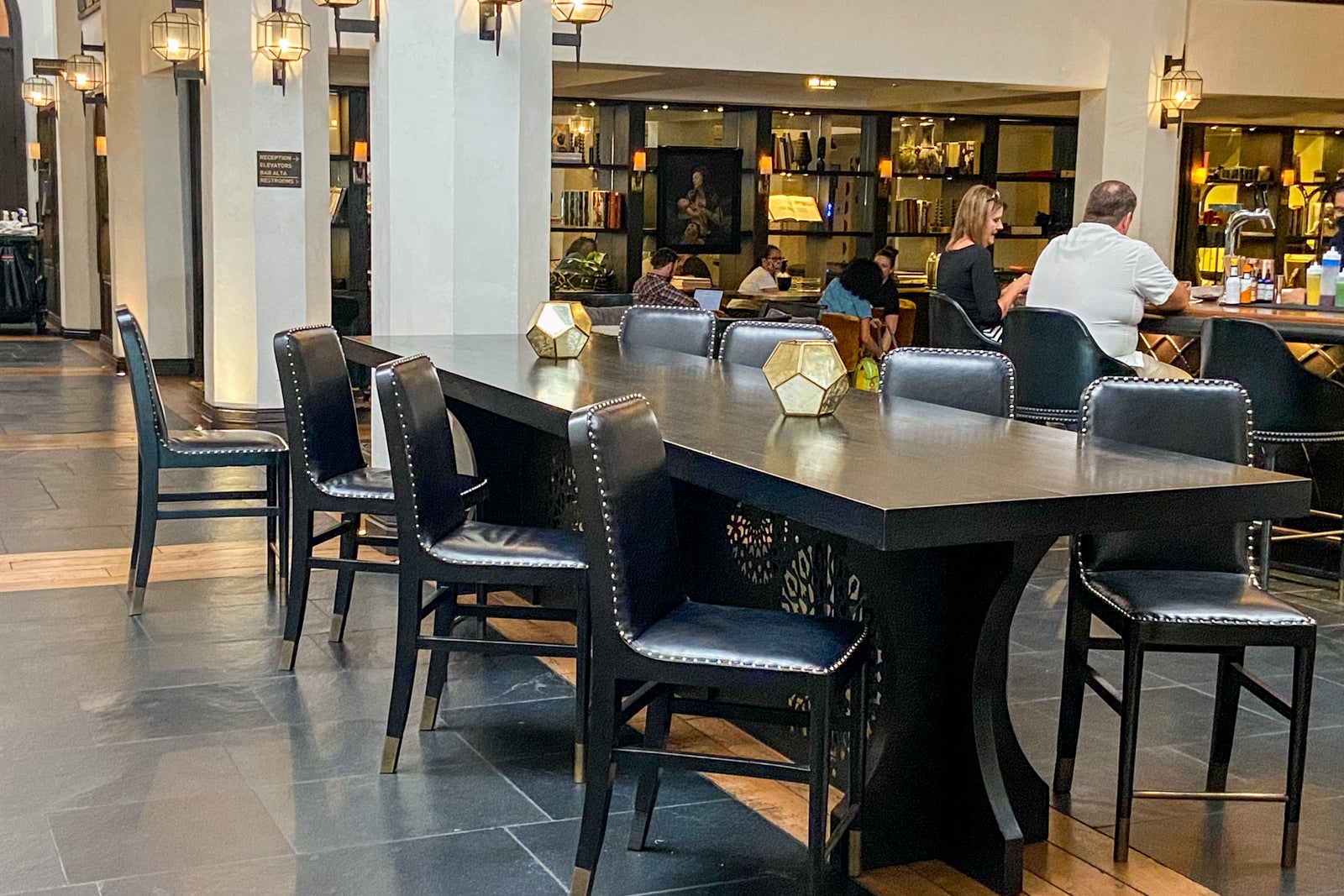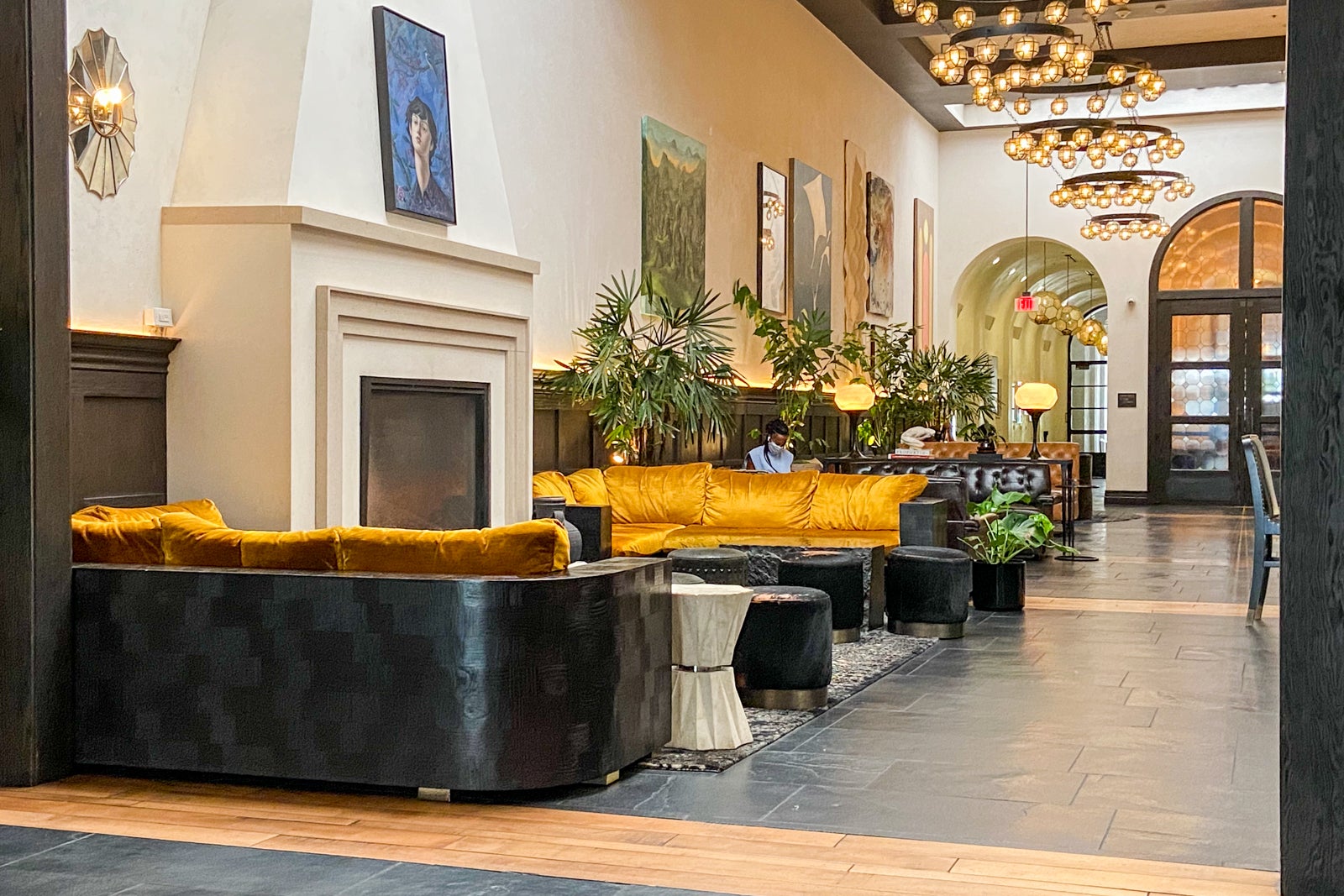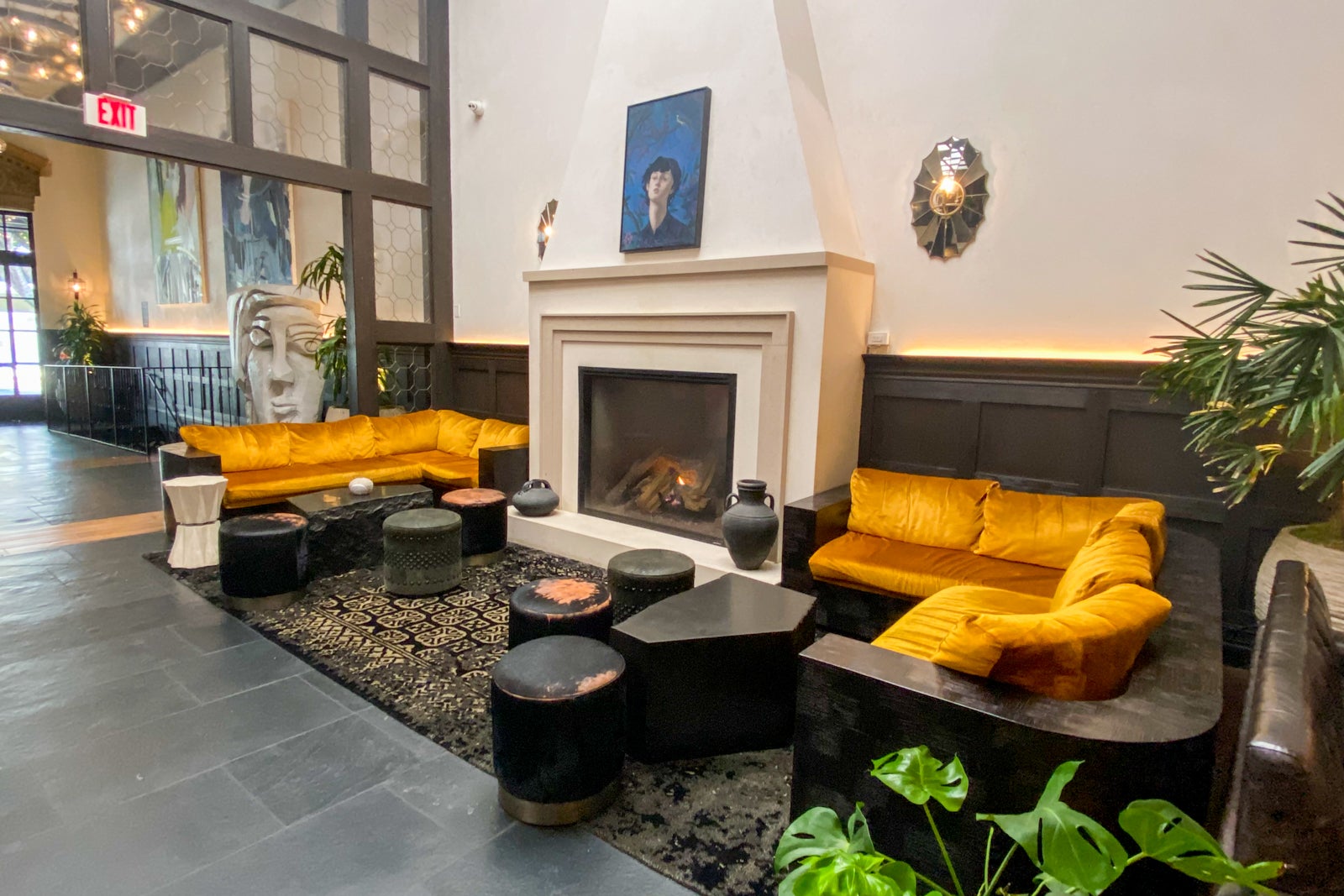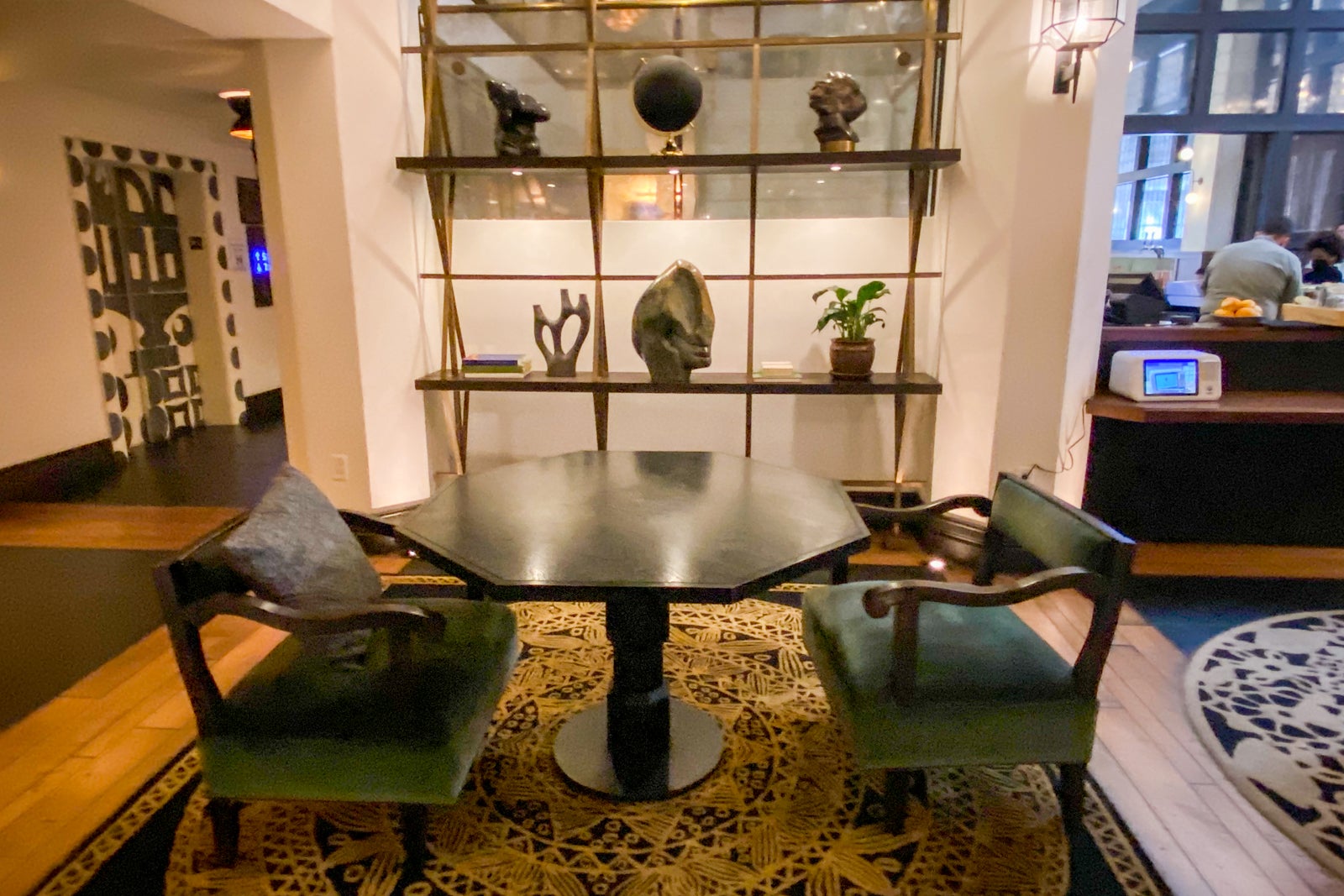 Bar Magnolia, which features specialty cocktails made with fresh ingredients, is located on the first floor in the main part of the hotel and has plenty of seating areas, from cozy two-seat nooks to comfy couches by the fireplace. The space was so welcoming I invited an L.A.-area friend to join me for drinks.
There was no coffee in the lobby, but guests could get two free coffees a day at Cafe Fig.
Amenities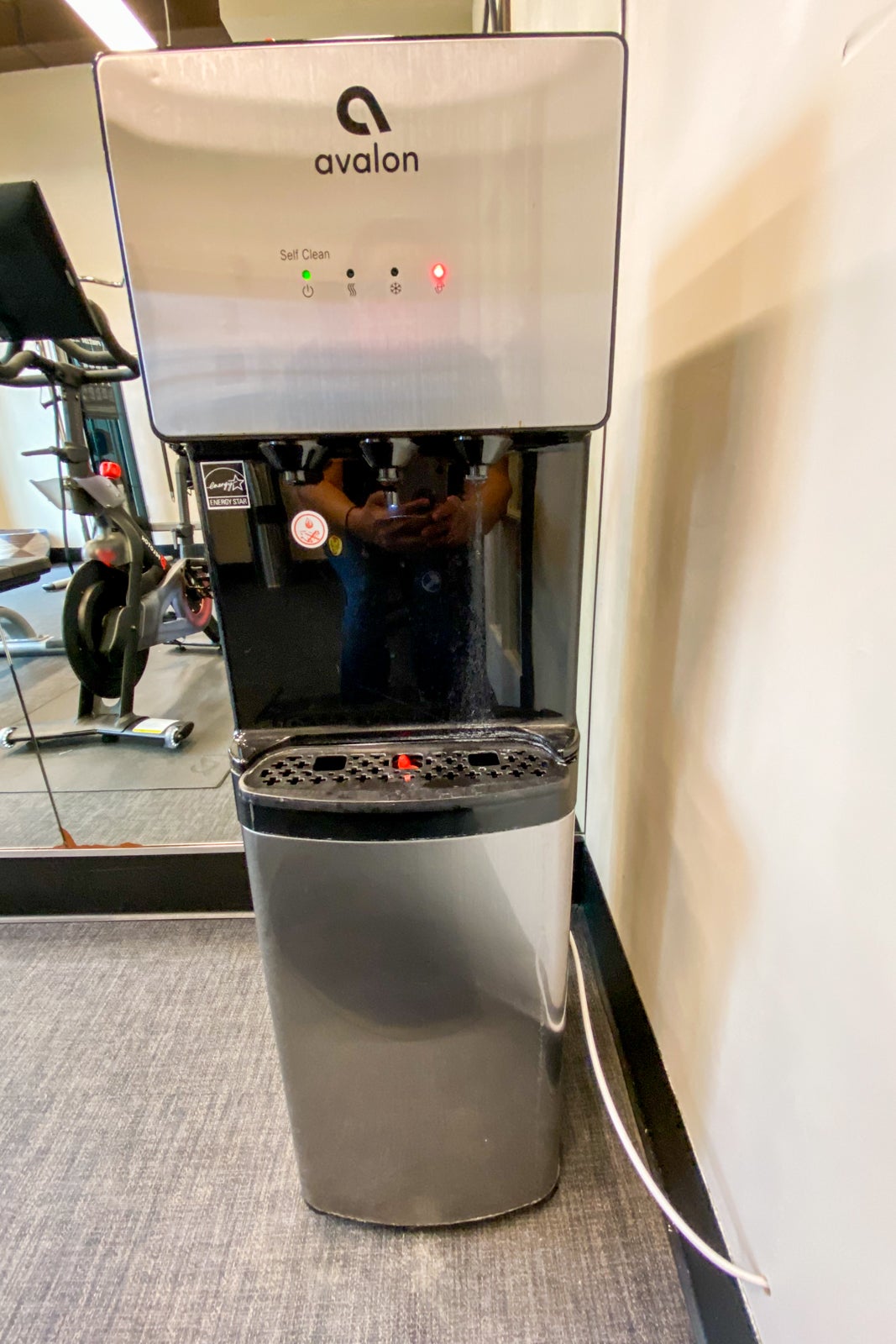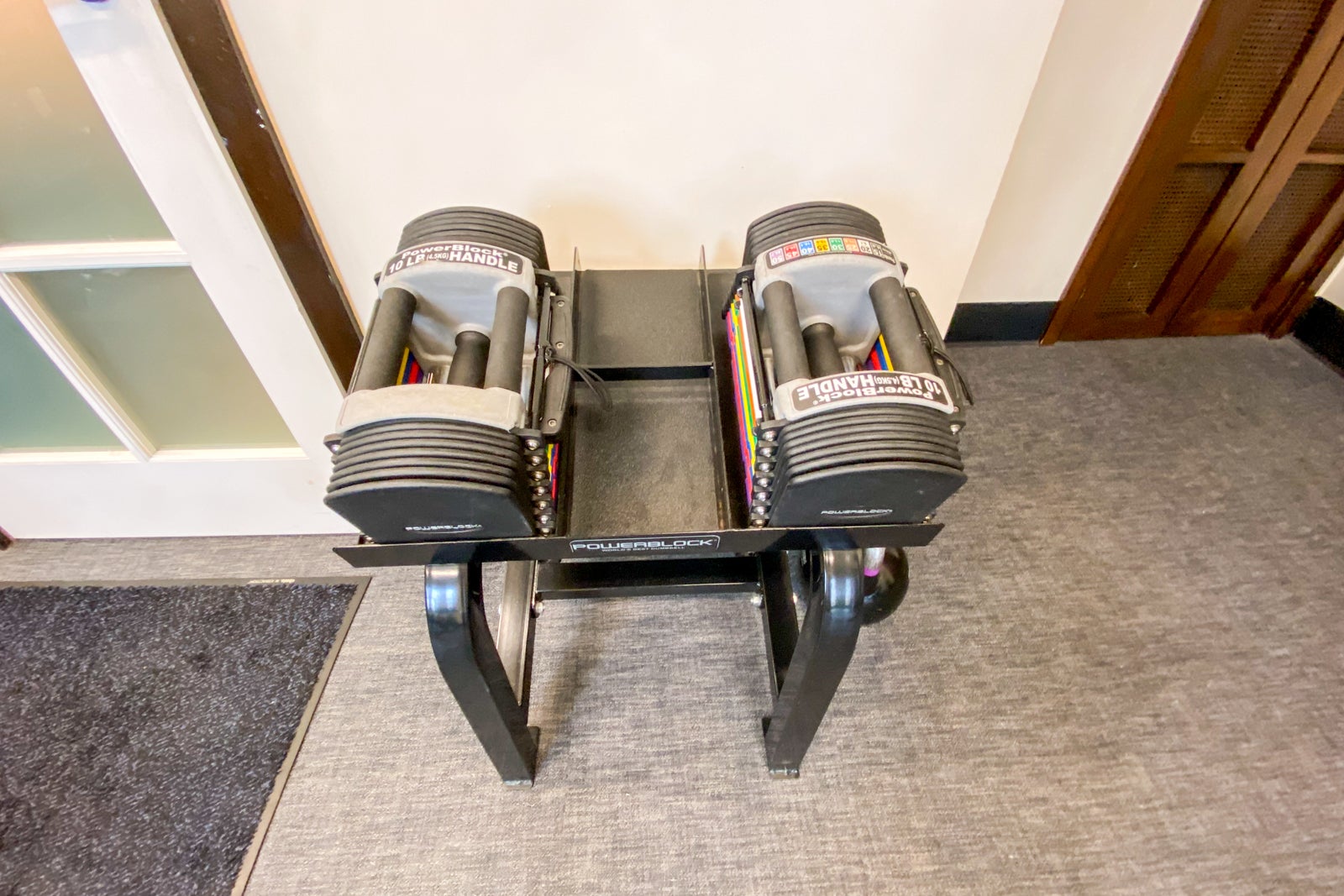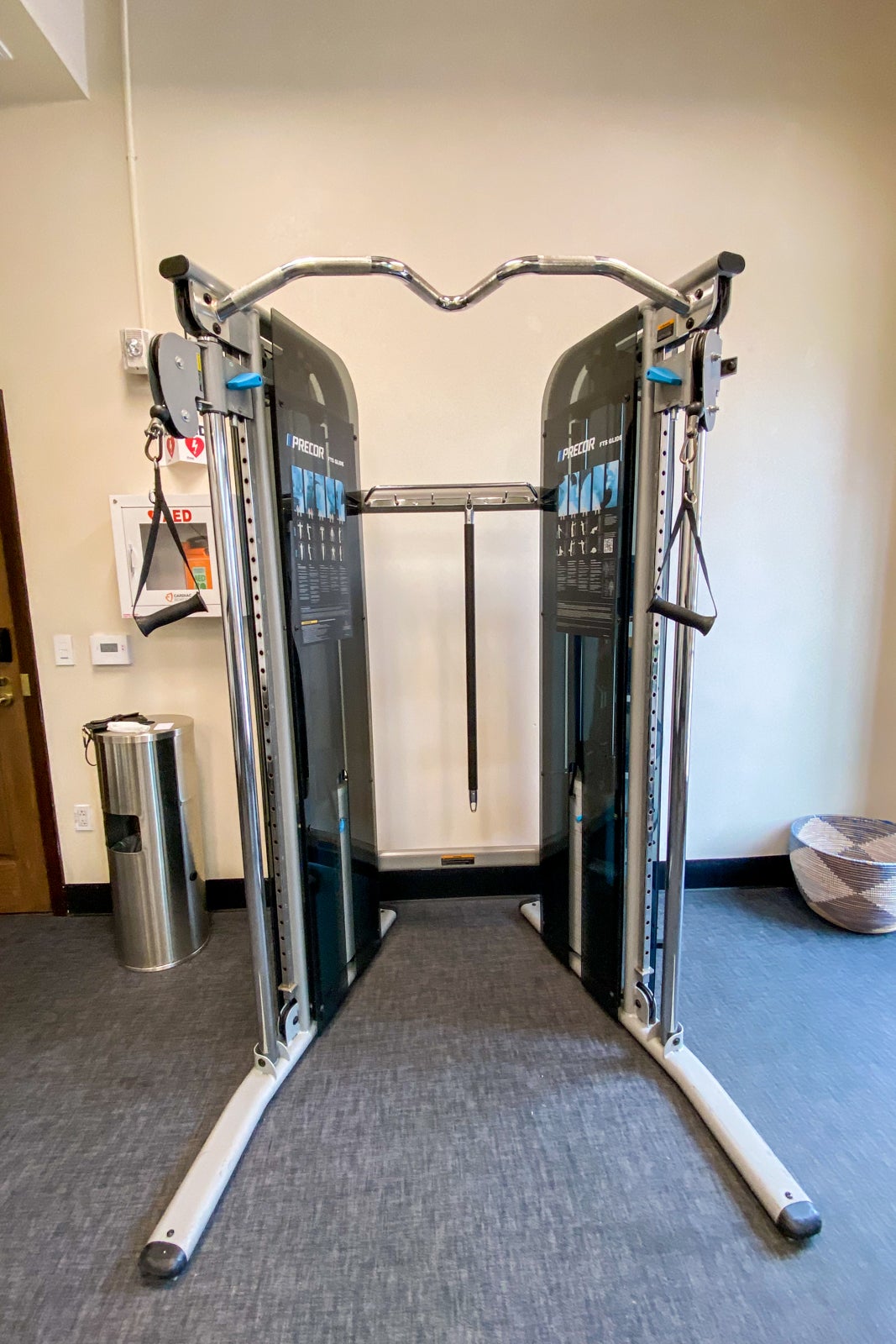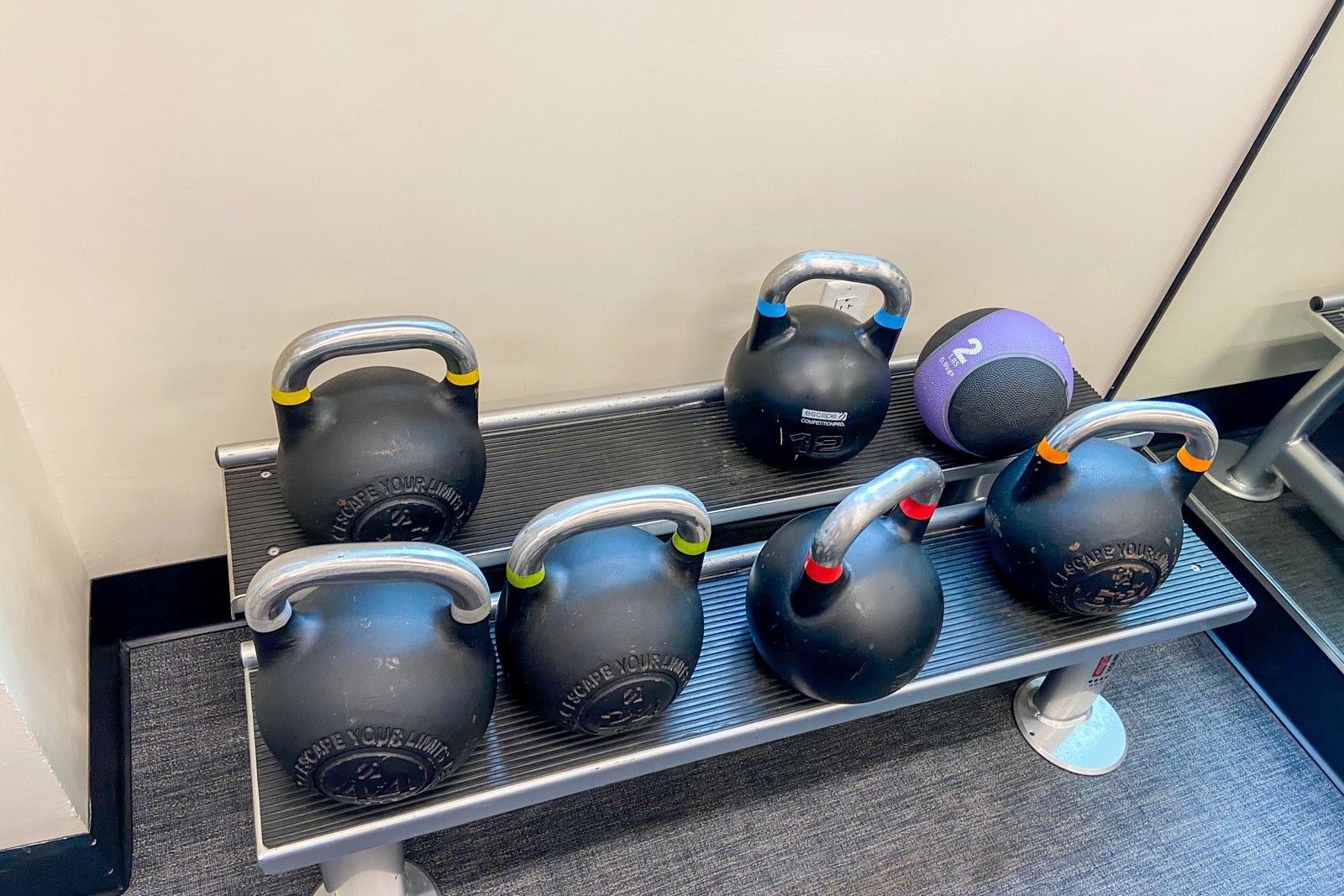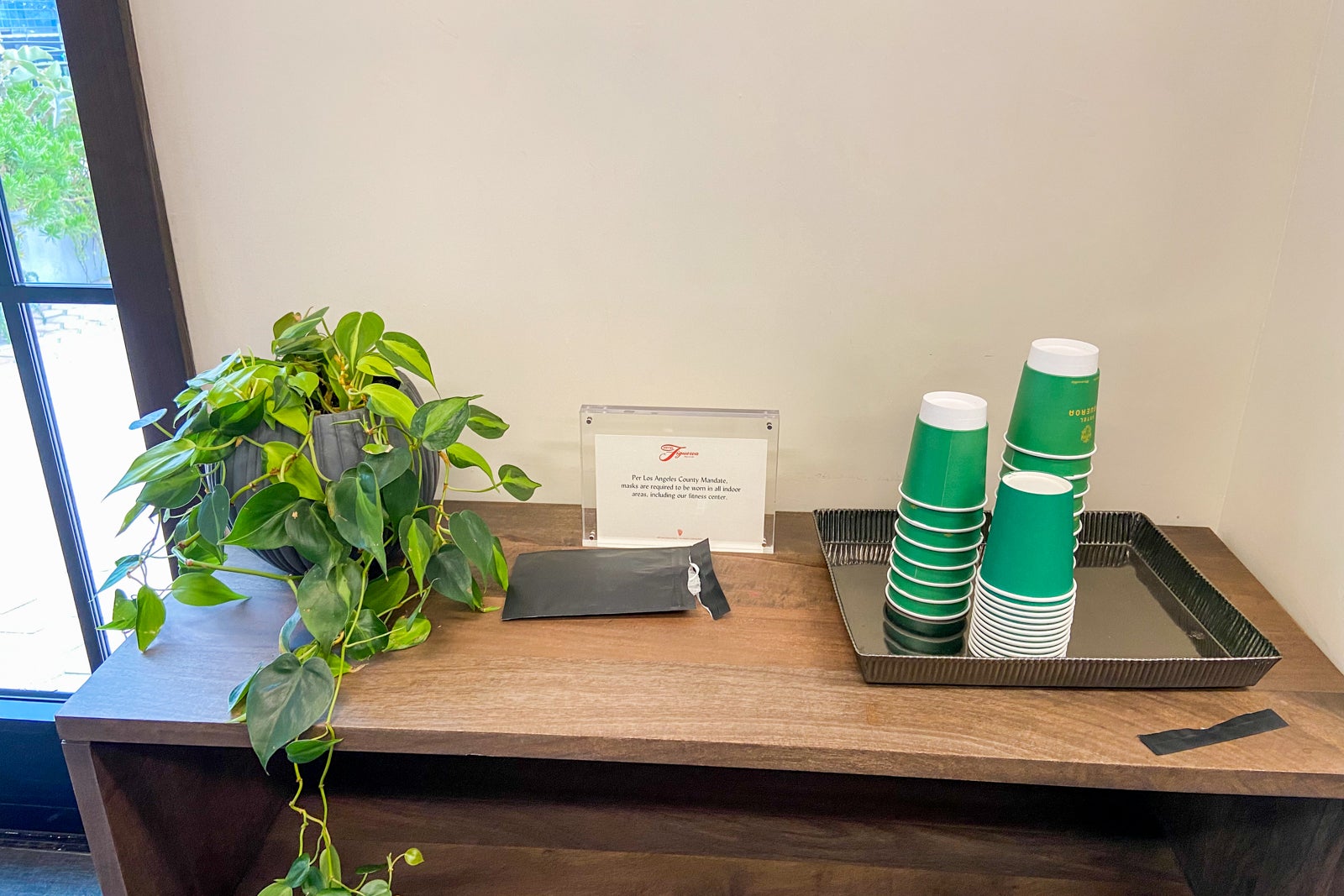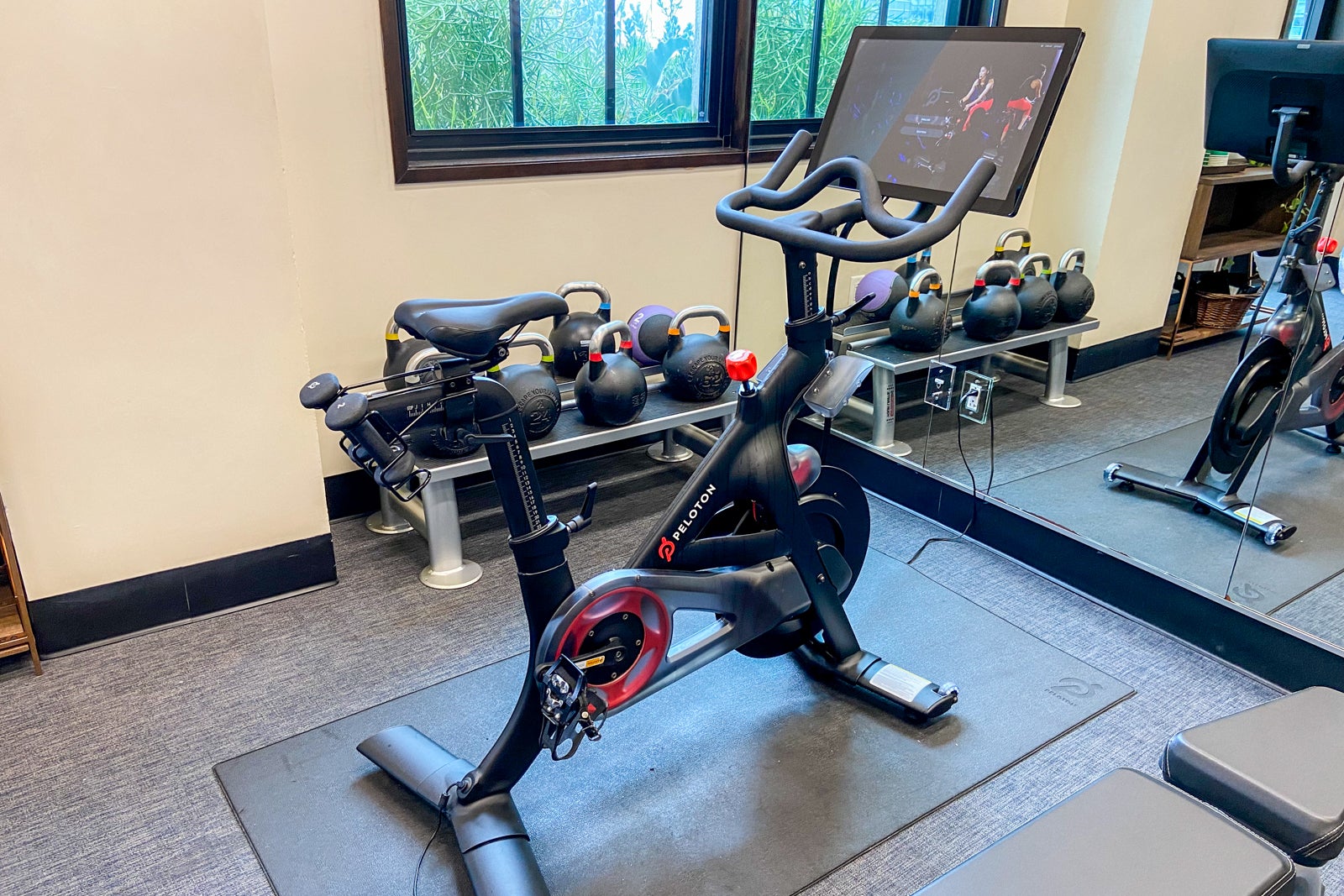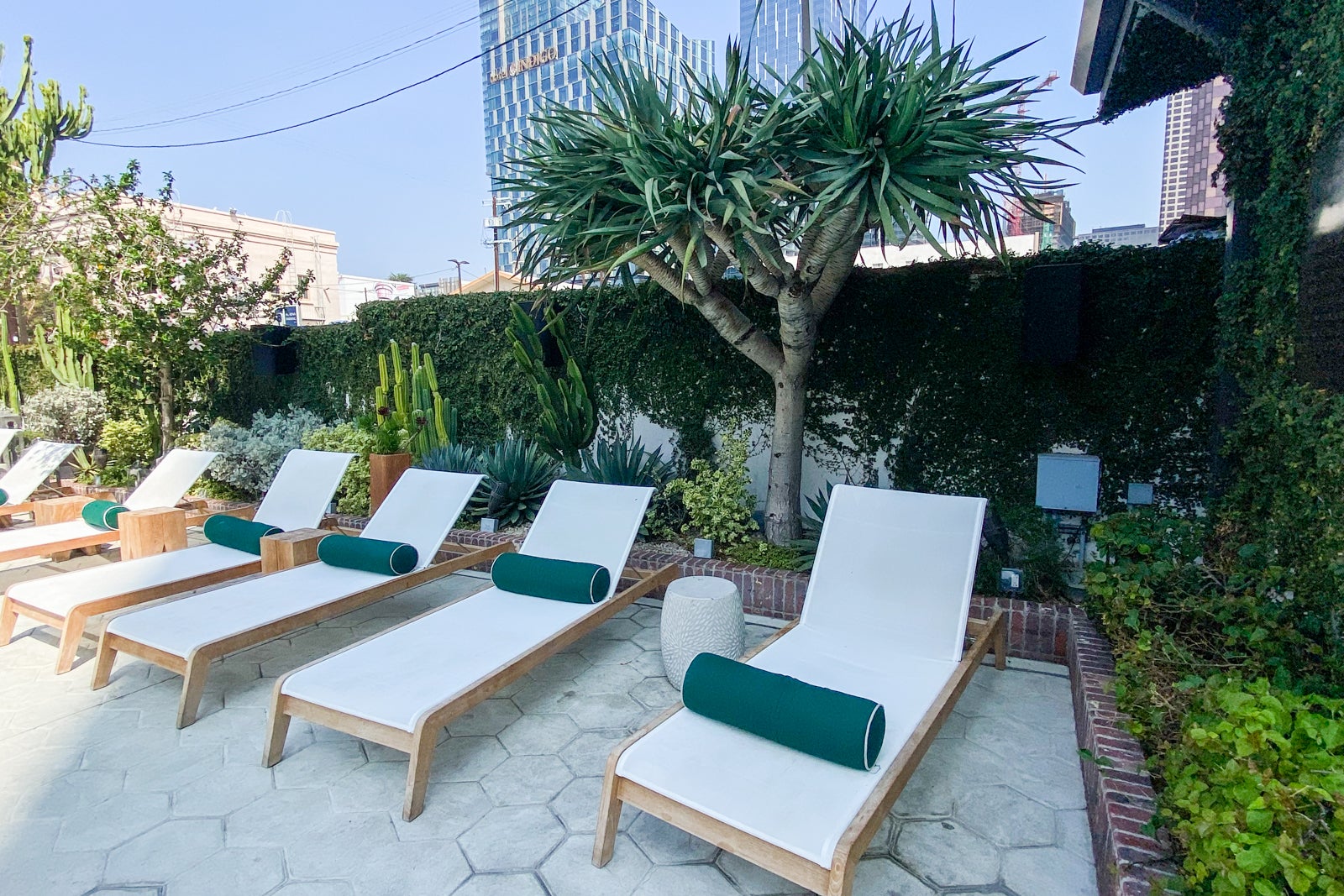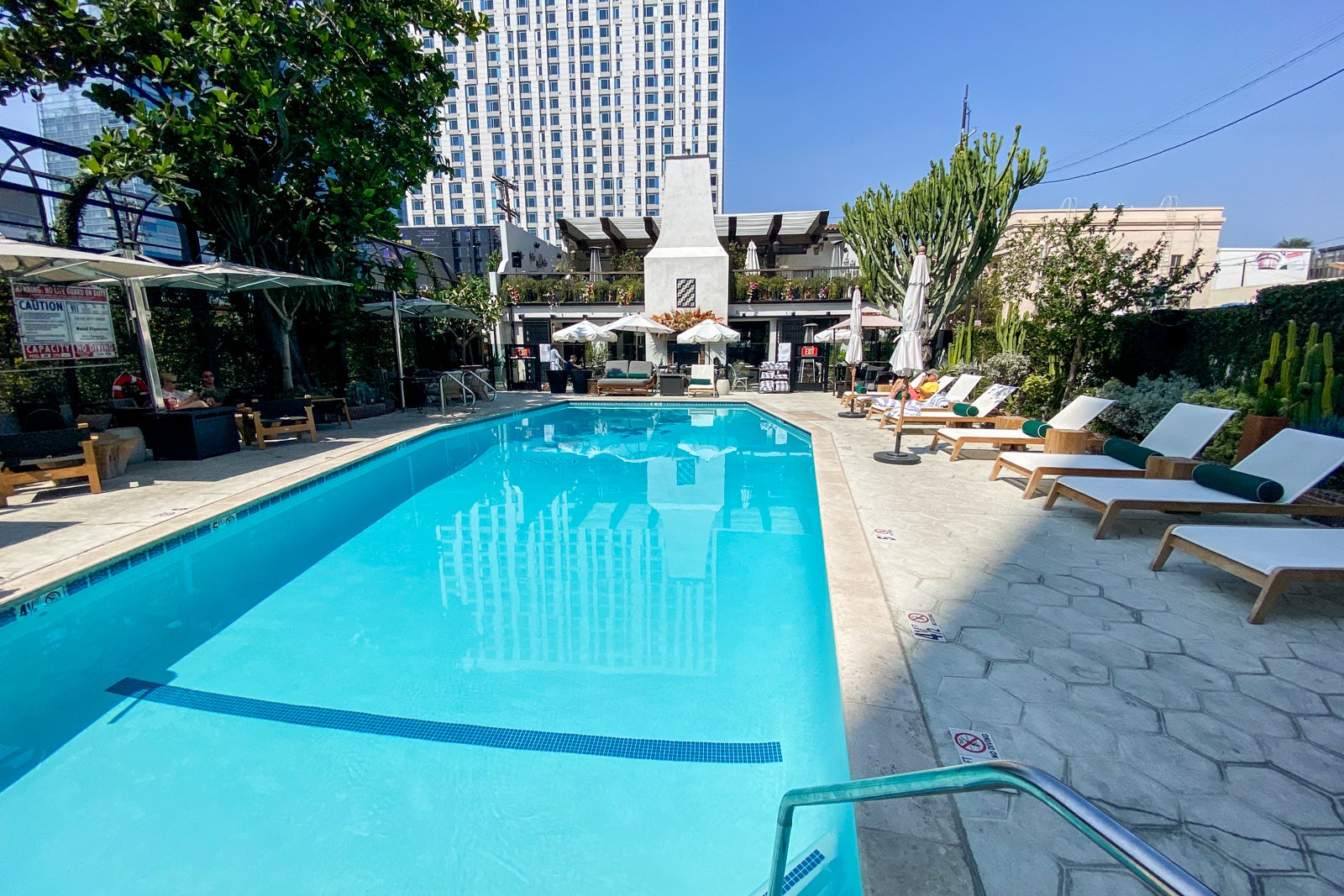 The hotel had a gym, although it was very small. It included a lone Peloton bike (beloved by TPG staff), a weights system, kettlebells, free weights, COVID-19 kits (face mask, wipes, hand sanitizer and gloves), plus cold and room-temperature water. Right past the gym was an outdoor seating area with great views of downtown Los Angeles. The entrance wasn't marked and the door was very narrow, making it easy to miss. However, the weather was perfect to enjoy this gem of a space.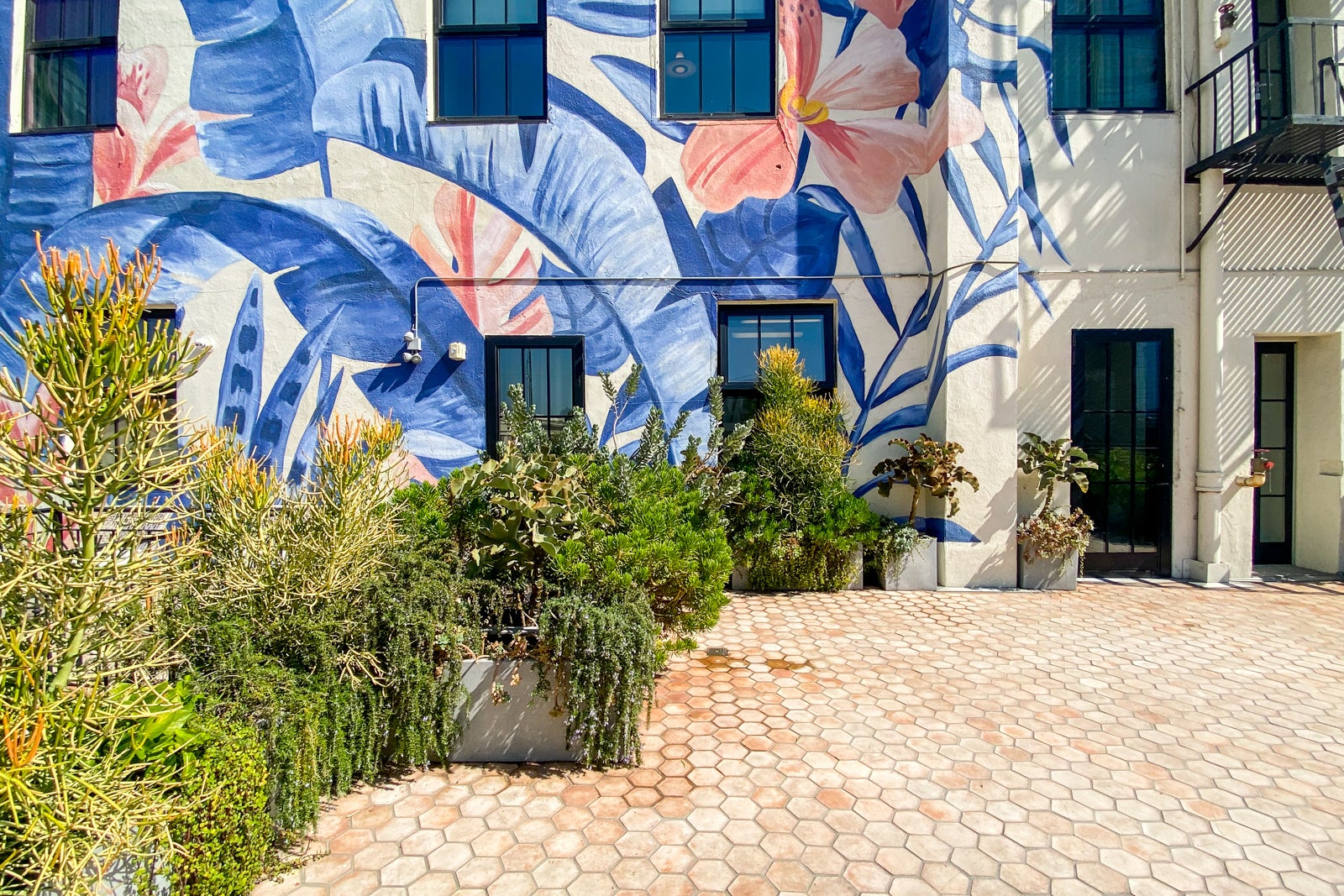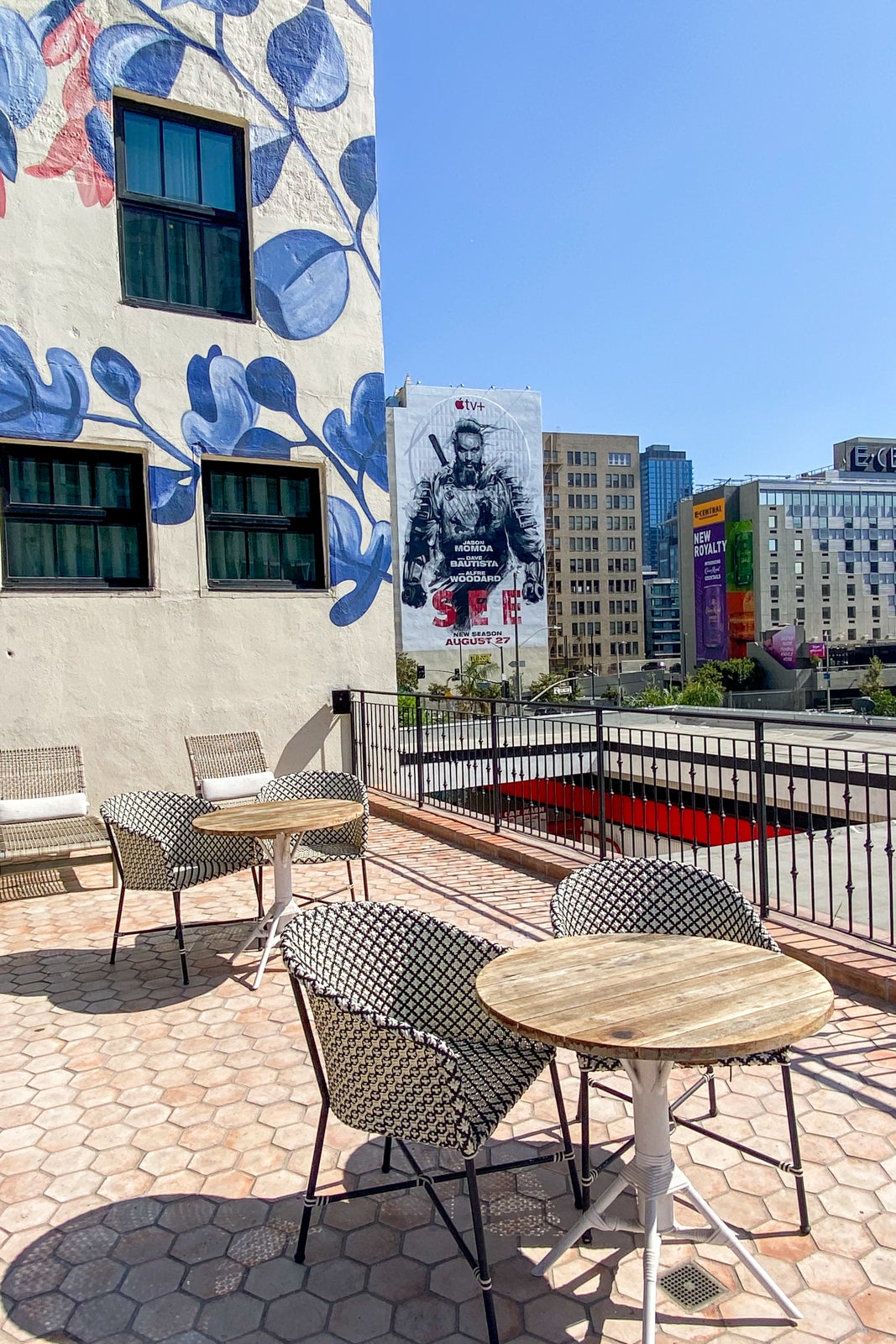 I'm a big art lover, and the Hotel Figueroa didn't disappoint in public spaces. There were paintings, sculptures and interactive art on the first and second floors. There was also nice art in my room. Oddly enough, there was no art hanging on the walls on any floors above the second, although the elevator doors on every floor were painted quite decoratively.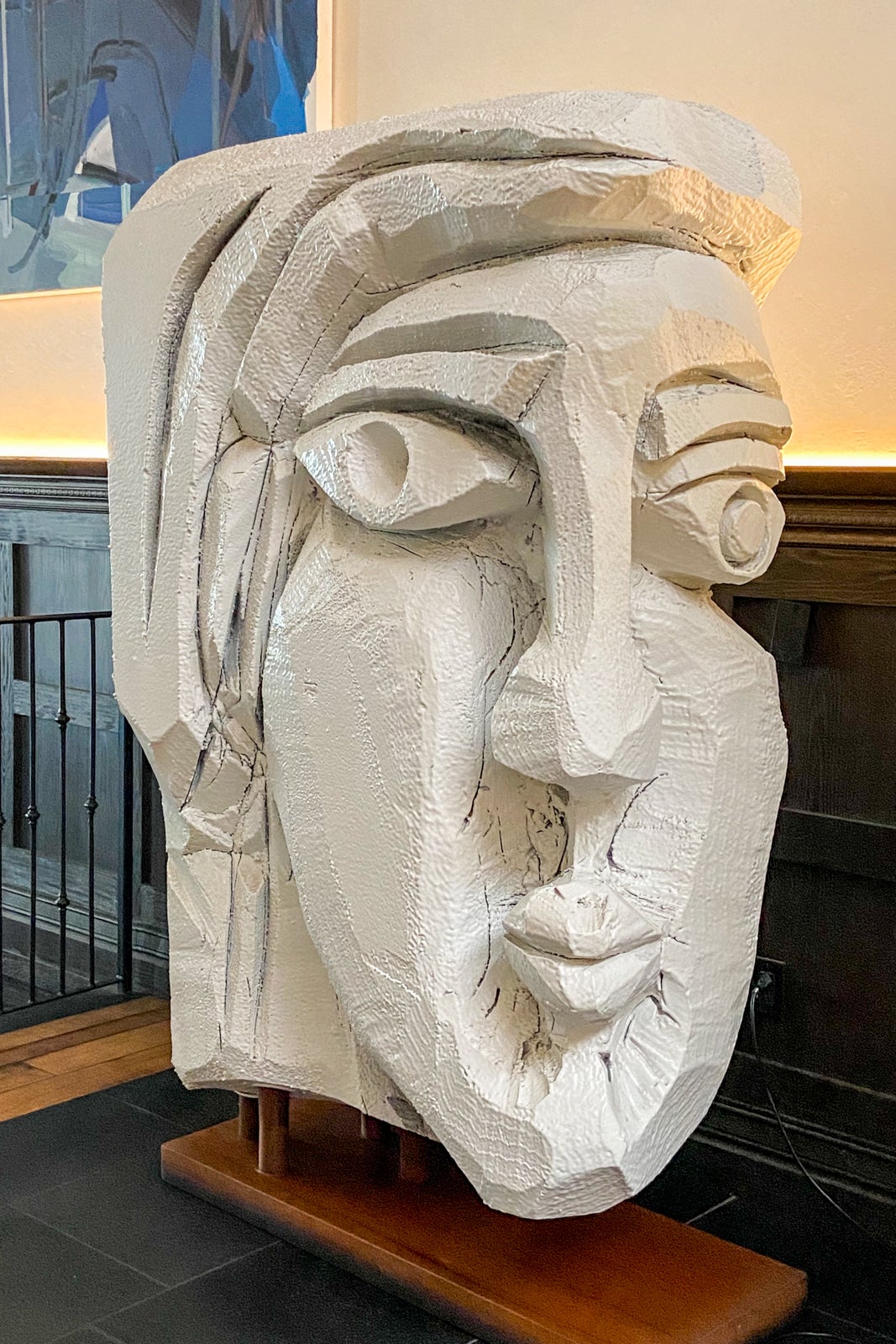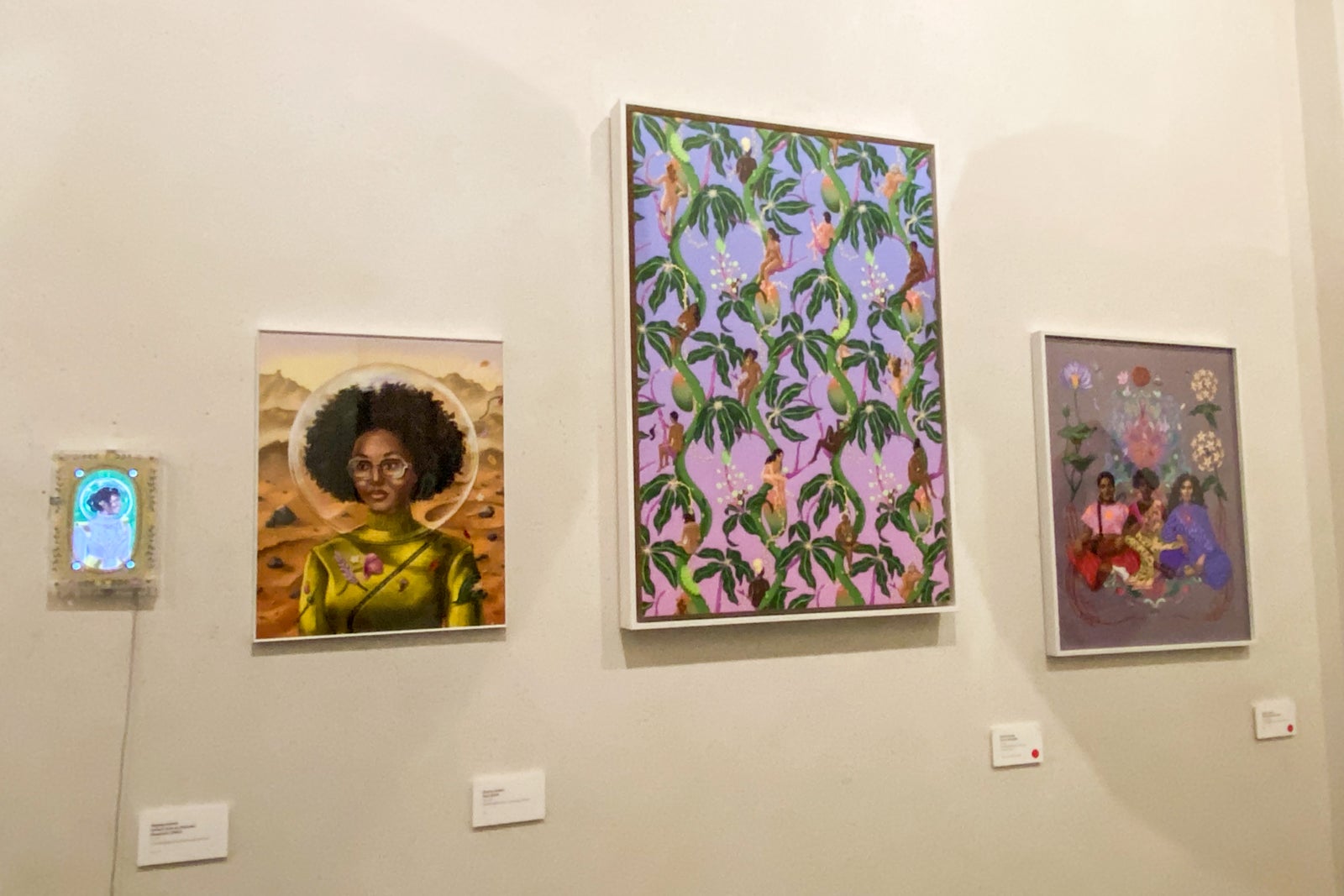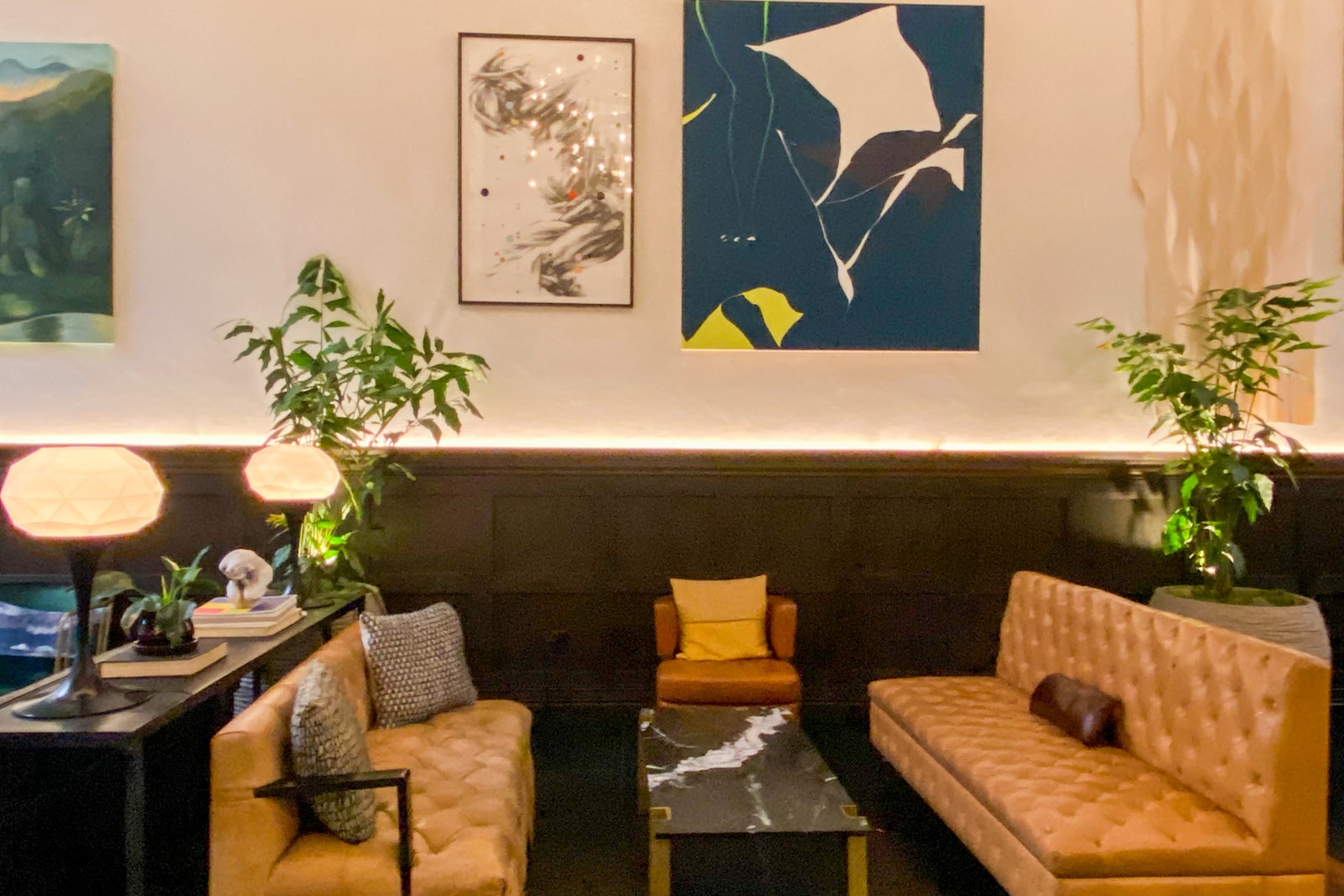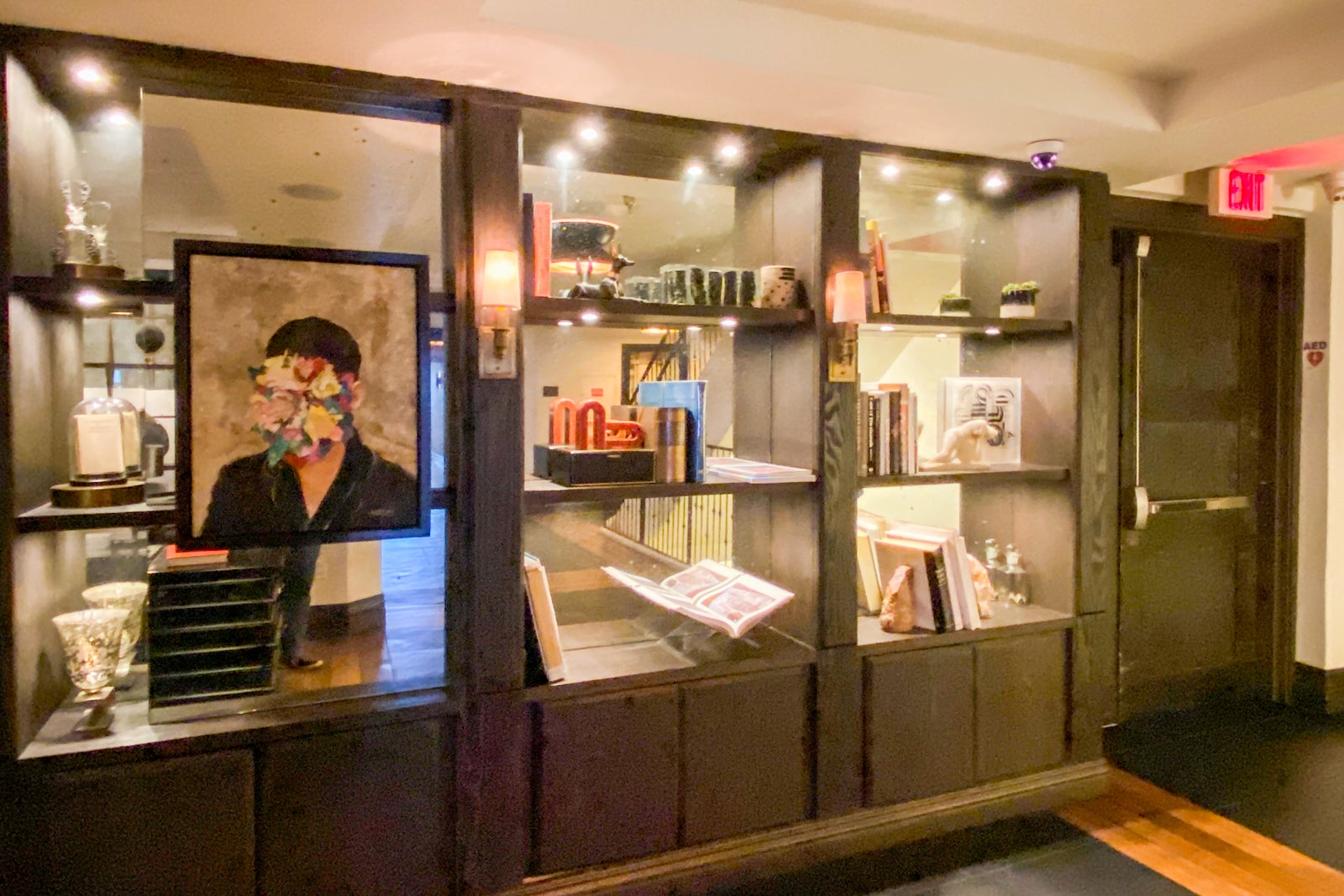 Overall, the hotel has all the amenities that you would expect in a small property.
Service
On my quest to achieve Hyatt Globalist status, I've stayed in brands including Thompson, Hyatt, Hyatt Place and JdV By Hyatt and the service has always been consistently good. Check-in staff, bartenders, wait staff, hostesses and housekeepers were warm and welcoming during my stay. When I misplaced my key but didn't have an ID, someone escorted me to my room to check it, then gave me a new key. As a single woman who travels regularly, I appreciated this level of security.
Related: Why I checked out of the Hotel Indigo Lower East Side after 15 minutes 
Overall impression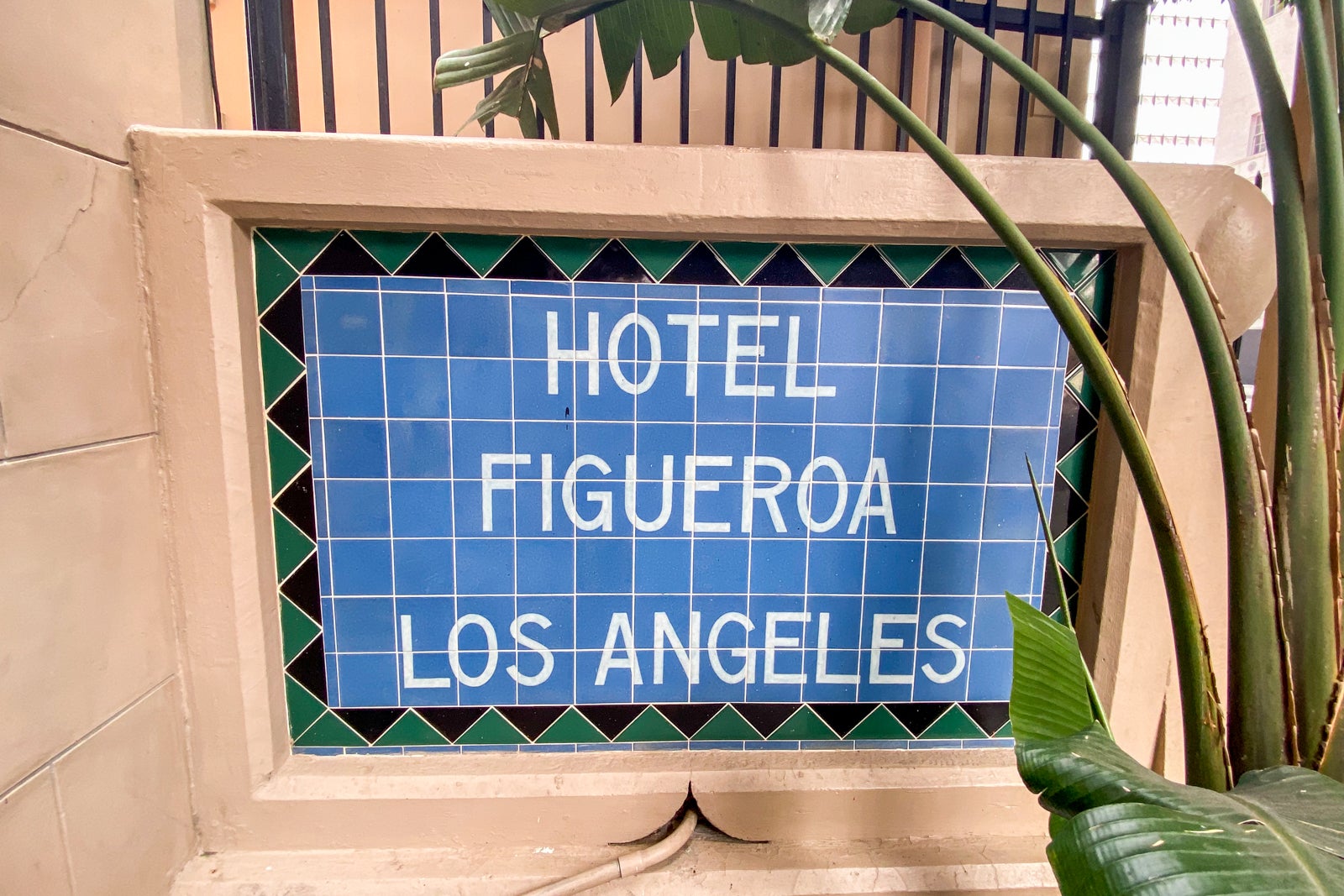 If you're looking for a place to stay that's right in the center of the action in downtown L.A., the Hotel Figueroa is a solid option. You're within walking distance of shopping, great hotels, the Staples center and other entertainment. Its food and bar options are top-notch.
The Hotel Figueroa's staff met my high standards that I've come to expect from Hyatt brands, even though the brand was just acquired in June. And thanks to its history, it definitely fits into the brand of the Unbound Collection. But I question whether it should be a Category 5 hotel right now. The hotel's first floor is spacious and welcoming, and there were great food options available. However, the rooms could use a little love and there should be art throughout its floors. It's only been three months since Hyatt acquired this iconic Los Angeles hotel, so I think TPG eventually should come back and do an updated review.