Maybe you're finally ready to furnish your first shoebox apartment in the city, or perhaps you're just trying to make your bedroom in the house you share with roommates feel more like home. Either way, you likely already know that decorating a small space comes with a unique set of challenges. And while there's no real right answer when it comes to picking that mid-century modern sofa versus the traditional one, designers do have plenty of opinions when it comes to the elements that you shouldn't include in your cramped living quarters. Below, five experts share a list of the biggest interior design mistakes to avoid when decorating small spaces.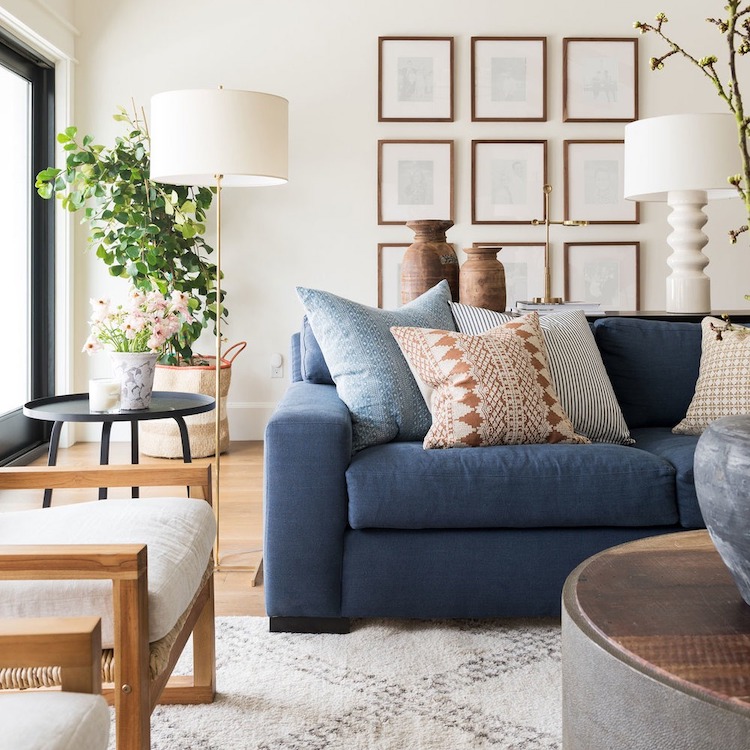 don't make the same mistakes I did
1. Decorating With Dark Colors and Patterns
Say goodbye to those black and navy blue hues for now—you'll thank yourself later. "Utilize bright, lighter colors and allow as much natural light into the space as possible," designer Allison Rowan urged.
And tone down those prints, too. "Patterns can overwhelm the space, so avoid them if you can," designer Anaïs Chaumien said. "If you want to add interest to a small space, layer textures instead of colors and patterns." All of these tweaks will make a space feel bigger and more inviting.
Source: @goldalamode
2. Skimping on Light Fixtures
While it's key to select hues that will make your space appear lighter and brighter, you still need light fixtures to do the heavy lifting. Don't forget to purchase a few lamps in various shapes and sizes! "​​Utilize floor lamps, table lamps, and other affordable lighting fixtures to brighten your space," blogger Esperanza Lorena advised. Overhead fixtures? Sconces? Bring those on, too.
3. Incorporating Oversized Furnishings
Designers also agree that clunky furniture has to go. "A definite no for me would be selecting furniture that's not the right scale for the space," Rowan said. "Oversized furniture will take over a small space and make it feel more cramped."
Chaumien expressed the same concerns but noted that if you must, it's better to opt for a single more substantial piece over multiple little ones. "For instance, avoid grouping three side tables as a coffee table," she said. "I'd prefer one clean-looking coffee table instead."
Source: @homeyohmy
4. Forgetting About Versatile Pieces
The furniture you purchase should be able to adapt to your busy lifestyle as needed, designer Leah Walder said. "It's helpful to consider multi-functional pieces such as an ottoman with hidden storage or a drop-leaf dining table that can be folded down to serve as a console table," she suggested. Think about the way you live within your space—for example, if you love to cook and entertain, consider adding a small, portable island that can store pots and pans while also serving as a buffet table the next time you host happy hour.
5. Not Getting Creative With Space
Making the most of wall, counter, and ceiling spaces is essential when living in cramped quarters, Lorena explained. Opt for easy yet impactful fixes, such as "a coat rack on an entry wall, a fruit basket hanging from the kitchen ceiling, or a catch-all basket on the counter," she suggested.
Source: @mycityapartment
6.  Over-Accessorizing
Save the maximalist touches for your wardrobe—your small apartment shouldn't be too over the top when it comes to accent pieces, Chaumien said. "A decluttered space is the key to maximizing your square feet, so avoid accumulating tons of plants, pillows, decor, and accessories." Just as with furniture, Chaumien prefers one statement piece over lots of smaller items—she suggested trying one sizable mirror versus a wall of smaller ones, for example.
Too many items will simply lead to chaos. As designer Ashley Hunte put it, "Having a cluttered space will block off flow and circulation, and we like to keep things pretty open around here."
7. Not Setting Up Storage
It's a fact: A petite apartment unit is going to have to work extra hard in the storage department. "You need to plan storage before anything else because you will need to hide as many things as possible," Chaumien said.
Most importantly, she noted that any clutter should be tucked fully out of sight. "Open storage is not a storage option. It's a decorative option," Chaumien said. "The real clutter should go in closed cabinets or bookcases to be hidden!"
The post Experts Agree: These Are the Biggest Mistakes You Can Make When Decorating a Small Space appeared first on The Everygirl.