This soft and tender gluten free strawberry bread is lightly sweet and packed with strawberry flavor. A perfect berry alternative to banana bread, and it can even be made with frozen fruit.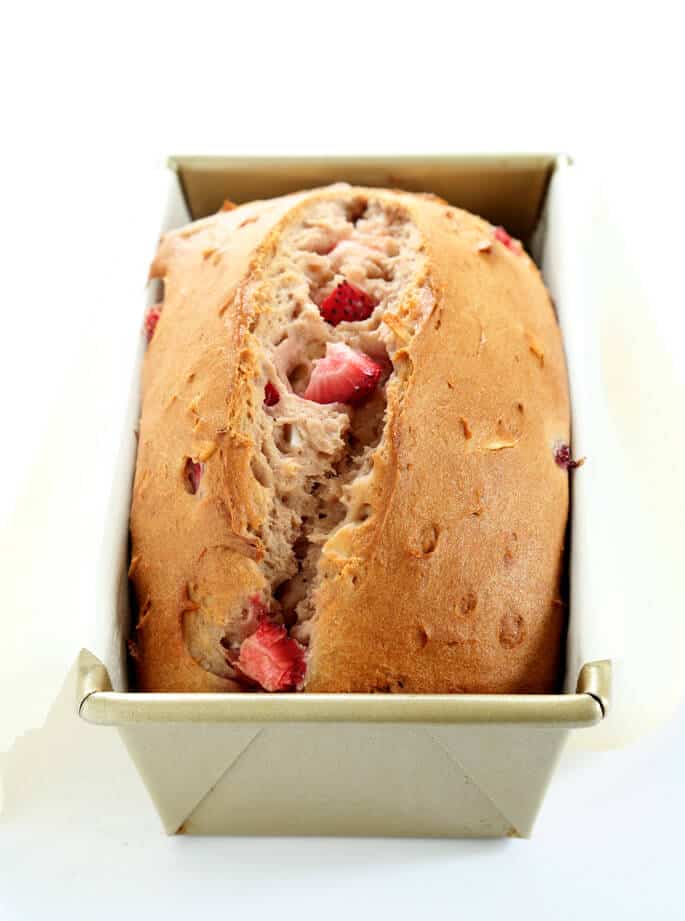 Why you'll love this recipe
This gluten free strawberry bread recipe is sure to become a favorite for its irresistible flavor, moist and tender texture, and versatility. It's an ideal treat for breakfast, snack time, or dessert, and can be easily customized to suit your preferences or dietary needs.
This moist and tender quick bread loaf has an unmistakable strawberry flavor, is not very sweet, and you can serve it for breakfast with total confidence. I bet it has less sugar than most cereals, and it's definitely more satisfying.
Can you make this gluten free strawberry bread with frozen berries?
Yes, you can make this loaf with frozen berries, but they do pose some challenges in baking. The loaf won't rise quite as high, since it will be heavier, and it will take a few extra minutes to bake. I've included full instructions for precisely how to make that fresh-frozen switch below, in the recipe ingredients list.
If you have some fresh strawberries and want to help them go a long, long way, I recommend using only 1 cup of fresh berries and the rest defrosted, frozen berries.
The first 3/4 cup of strawberries is blended with the wet ingredients in the recipe before being mixed into the dry ingredients. The 1 cup is chopped up and folded into the batter, and really benefits from being fresh.
How to make gluten free strawberry bread
Strawberries tend to release a lot of liquid in baking, which is why we often bake with it in a strawberry syrup like in our gluten free strawberry cupcakes.
First, to avoid a soggy bread without much flavor, we begin by pureeing nearly half of the strawberries are with the yogurt, butter, and eggs, which together are used as the liquid in this recipe.
Second, the remaining strawberries are tossed in some of the granulated sugar and allowed to rest as we prepare the rest of the quick bread batter. That sweetens the strawberries a bit and enhances their flavor.
Third, whisk together the classic dry ingredients (gluten free flour, xanthan gum, baking powder, baking soda, salt, ground cinnamon, and the remaining granulated sugar), and add the coconut flakes.
Fourth, add the wet ingredients to the dry, mix until just combined, and fold in the strawberries tossed with sugar.
Finally, place the mixture in a prepared loaf pan and bake at 350°F first, then reduce the oven temperature to 325°F to finish baking. This allows the loaf to bake all the way through more gently without burning.
Serving suggestions and pairings
This versatile strawberry loaf pairs well with various spreads, such as cream cheese, almond butter, or honey. Serve it as a delicious breakfast treat, alongside a cup of coffee or tea, or as a satisfying afternoon snack. For a delightful dessert, top a slice with whipped cream and fresh strawberries.
How to store strawberry bread
To store your gluten free strawberry loaf bread, wrap it tightly in plastic wrap or a container with a tight-fitting lid, and keep it at room temperature for up to 3 days. For longer storage, you can freeze the bread in an airtight container or a resealable freezer safe bag for up to 3 months. Thaw at room temperature before serving.
Tips for baking strawberry bread
Baking this strawberry bread recipe is pretty easy. But I have a few more tips and tricks for you to get beautiful strawberry quick bread perfection the very first time.
Use fresh or frozen berries
The recipe works well with both fresh and frozen strawberries. Follow the recipe's guidance on how to adapt the baking process when using frozen berries.
Select and measure ingredients carefully
Be sure to select one of my recommended all purpose gluten free flour blends, and measure by weight. Using the correct measurements for other ingredients will help you achieve a perfect loaf every time.
Test for doneness
Use the toothpick test and be sure that the top of the loaf springs back when pressed gently with your fingertip to ensure that your strawberry bread is ready to come out of the oven. Allow it to cool completely, too, before slicing and serving or you may deflate and compress the loaf.
Adapting the recipe for dietary restrictions
Although I prefer my recipe as-is, I know that, sometimes, you have to cater to other dietary limitations. To that end, I'm offering my best-educated guesses for dietary alterations for this recipe. But remember, I haven't tried them, so I can't guarantee the results.
Dairy free alternatives
To make this gf strawberry bread dairy-free, you can replace the plain whole milk yogurt with a plain dairy-free alternative like almond, coconut, or soy-based yogurt. Thankfully, there are so many good products on the market now. Similarly, substitute the unsalted butter with a vegan butter alternative (my favorite brands are Melt and Miyoko's Kitchen).
Egg free options
For an egg-free version of this strawberry loaf, you can try replacing the two eggs with a "chia seed eggs" (for each, mix 1 tablespoon ground white chia seeds with 1 tablespoon lukewarm water and allow to gel). Keep in mind that the texture and rise of the bread may vary with these substitutions, as no egg substitute is perfect.
Lower sugar or sugar-free substitutes
To reduce the sugar content in this strawberry breakfast bread, you can opt for a sugar alternative like Lankato brand monk fruit. Remember to follow the manufacturer's conversion guidelines to achieve the desired sweetness level. Sugar alternatives do tend to be drying, so you may need to add a bit of moisture to compensate, but you'll have to experiment.
Variations and add-Ins
Get creative and make this gf strawberry bread recipe your own by incorporating some delightful add-ins. The bread already has some coconut flakes/chips in the batter for some complementary light coconut flavor and texture. Here are some suggestions to add extra flavor, texture, and personality to your strawberry loaf, either by replacing the coconut or adding a handful of other mix-ins.
Incorporating chocolate chips or nuts
Enhance your gluten free strawberry loaf by adding about 4 ounces of chocolate chips for a chocolate chip strawberry bread. Try folding about 2/3 cup of your favorite chocolate chips (white, milk, or dark) or chopped nuts (pecans, walnuts, or almonds) into the batter for added flavor and texture. These can replace or be in addition to the coconut chips/flakes.
Adding a streusel topping
For a delightful crunch, why not make strawberry bread with a streusel mixture on top? Try using the streusel recipe in our gluten free blueberry muffin bread, and follow the instructions for making, chilling, placing, and baking.
Infusing with citrus zest or spices
Add some more flavor to your strawberry loaf by adding some complementary citrus zest or spices. Try mixing in the zest of one lemon or orange, or add a pinch of ground cardamom or freshly grated nutmeg to the batter for an extra layer of taste. None of these additions should affect the baking chemistry at all.
Troubleshooting common baking issues with strawberry bread
Baking strawberry bread – or muffins, or regular bread, can seem a bit tricky, but really, if you follow my recipes carefully and faithfully, you'll have no trouble!
However, just in case, here are some common baking issues you might encounter with your gluten free strawberry bread and helpful tips to resolve them, ensuring your loaf turns out beautifully every time.
Preventing a dense or gummy texture
To avoid a dense or gummy texture in your strawberry bread, be careful not to overmix the batter after adding the dry ingredients. Mix until just combined, and fold in the strawberries gently. Overmixing xanthan gum can lead to a tough and dense loaf.
Bake at the right temperature
Ensure your oven is preheated to the correct temperature. I always use a standalone oven thermometer, as my oven, like most ovens, runs hot. A too-hot oven will bake the outside too quickly before the center is baked enough to hold, which will lead to a loaf that falls as it cools.
Ensuring even baking
For even baking, rotate the loaf pan about 2/3 of the way through the baking process to account for any hot spots in your oven. Be sure to open and close the oven very quickly to avoid too much temperature fluctuation.
FAQs
Can I use other fruits in this recipe?
Yes, you can easily adapt this fresh strawberry bread recipe to include other fruits. Blueberries, raspberries, blackberries, or diced peaches would all make excellent alternatives or additions to a portion of the strawberries.
How do I tell when the bread is done?
Your strawberry loaf is done when the top springs back when pressed lightly, and a toothpick inserted into the center comes out with, at most, a few moist crumbs attached. Be sure to follow the baking time guidelines in the recipe, as gluten free baked goods can be sensitive to overbaking.
Does it matter what loaf pan I bake this quick bread in?
Yes! Ideally, you'll bake your strawberry bread in a light-colored cast aluminum loaf pan, which conducts heat evenly, but doesn't attract too much heat too quickly. Glass pans conduct heat more slowly than metal, but tend to get hotter and retain more heat than metal, which can make for uneven baking (and ultimately overbaking).
Print
Gluten Free Strawberry Bread
Bake a moist, tender gluten free strawberry bread with this easy recipe. Perfect for breakfast or dessert, customize it with our tips and variations.
Course
Breakfast, Brunch, Quick bread
Keyword
gluten free strawberry bread
Servings
10
slices strawberry bread
Ingredients
⅔

cup

plain whole milk yogurt

at room temperature

1 ¾

cups

chopped fresh strawberries

(See Recipe Notes)

8

tablespoons

unsalted butter

melted and cooled

2

eggs

at room temperature

¾

cup

granulated sugar

2

cups

all purpose gluten free flour blend

(I used Better Batter; please click thru for info on appropriate blends)

1

teaspoon

xanthan gum

(omit if your blend already contains it)

1

teaspoon

baking powder

½

teaspoon

baking soda

¾

teaspoon

kosher salt

¼

teaspoon

ground cinnamon

½

cup

coconut chips/flakes

(or chopped raw pecans or walnuts)

Whipped cream

for serving (optional)

Chopped strawberries

for serving (optional)
Instructions
Preheat your oven to 350°F. Grease and line a standard 9-inch x 5-inch loaf pan, and set it aside.

Place the yogurt, 3/4 cup (105 g) of the strawberries, butter and eggs in a blender or food processor, and blend until smooth. Set the mixture aside.

Place the remaining chopped strawberries in a medium-size bowl, add 1/4 cup (50 g) of the granulated sugar, and toss to coat the strawberries in the sugar. Set the bowl aside.

In a large bowl, place the flour, xanthan gum, baking powder, baking soda, salt, cinnamon, and remaining 1/2 cup (100 g) granulated sugar, and whisk to combine. Add the coconut chips and mix to combine.

Create a well in the center of the dry ingredients and add the yogurt mixture. Mix until just combined. The mixture will be thick but soft.

Add the chopped strawberries and sugar, and fold the strawberries into the batter carefully, taking care not to smash the berries.

Scrape the batter into the prepared loaf pan and smooth the top with a wet spatula. To create a dome shape, run a wet spatula along the edges of the pan and pull the batter toward the center.

For a uniform split down the center as the bread rises in the oven (instead of a more haphazard split), slash down the center of the loaf with a sharp knife, about 1/4-inch deep in one swift motion.

Place the pan in the center of the preheated oven and bake for 30 minutes.

Reduce the oven temperature to 325°F, and continue to bake for another 20 minutes, or until the top of the loaf springs back when pressed lightly and a toothpick inserted in the center comes out with, at most, a few moist crumbs attached.

Remove from the oven, place the loaf pan on a wire rack and allow to cool in the pan for 15 minutes before transferring the bread from the loaf directly onto the wire rack to cool completely.

Slice once cool and serve with more (optional) chopped berries and whipped cream.
Notes
About using frozen strawberries

.
You can make this bread with frozen strawberries, but it will not rise as high and may take a bit longer to bake. Defrost frozen whole strawberries at room temperature until soft but not mushy.
Follow the recipe instructions for blending 3/4 cup (105 g) of the berries with the yogurt, butter and eggs, but include all the liquid in the blender.
Chop the remaining whole berries carefully with a very sharp knife before tossing with sugar and folding into the remaining batter, as directed in the recipe as written.
Originally published on the blog in 2016. In 2023, more text resources added.
Nutritional information is approximate and should not be relied upon.
Nutrition
Calories:
289
kcal
|
Carbohydrates:
42
g
|
Protein:
3
g
|
Fat:
12
g
|
Saturated Fat:
7
g
|
Polyunsaturated Fat:
1
g
|
Monounsaturated Fat:
3
g
|
Trans Fat:
0.4
g
|
Cholesterol:
59
mg
|
Sodium:
329
mg
|
Potassium:
96
mg
|
Fiber:
2
g
|
Sugar:
19
g
|
Vitamin A:
347
IU
|
Vitamin C:
15
mg
|
Calcium:
56
mg
|
Iron:
0.4
mg
The post Gluten Free Strawberry Bread appeared first on Gluten Free on a Shoestring.