Learn how to make the perfect Gluten-Free Tempura at home! Find tips on how to deep fry shrimp and vegetables encased in a light yet most crisp batter.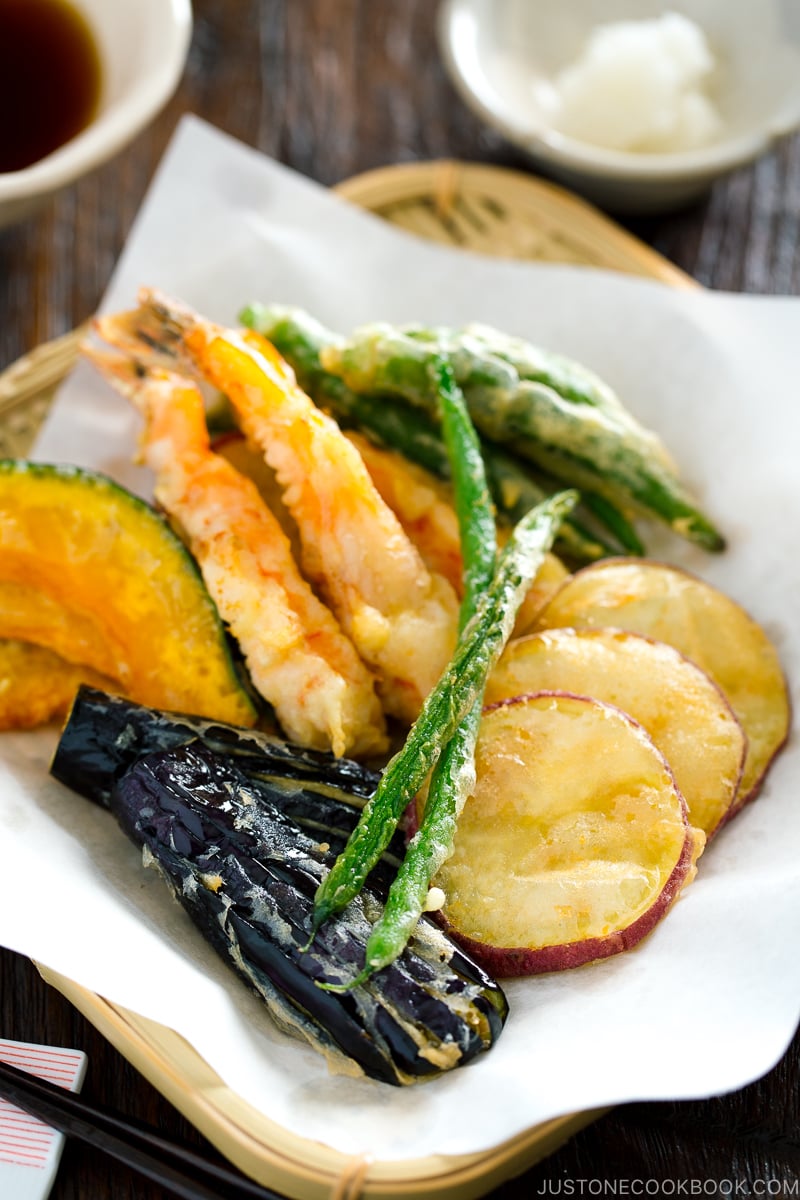 Servings: 4
Ingredients 
For Tempura
▢ 1 Japanese sweet potato (satsumaimo)
▢ ⅛ kabocha
▢ 8 okras
▢ 8 French green beans (haricots verts)
▢ 8 large or jumbo shrimps
▢ 4 cups neutral-flavored oil (vegetable, rice bran, canola, etc.)
▢ 2 inches daikon radish
For Tempura Batter
▢ ½ cup rice flour
▢ 1 large egg (50 g w/o shell)
For Tempura Dipping Sauce
▢ ¾ cup dashi (Japanese soup stock; click to learn more) (I use the standard kombu + katsuobushi awase dashi; Use kombu dashi for vegan/vegetarian; or ¾ cup water + 1 tsp dashi powder.)
▢ 3 Tbsp gluten free soy sauce
▢ 3 Tbsp mirin (Hon-mirin is made by fermenting sweet rice and contains nothing else. Aji-mirin or seasoned mirin may include wheat. You can substitute mirin with sugar and sake (or dry sherry or Chinese rice wine). For 1 Tbsp mirin, combine 1 Tbsp sake + 1 tsp sugar.)
Japanese Ingredient Substitution: If you want substitutes for Japanese condiments and ingredients, click here.
Instructions 
Gather all the ingredients.
Tempura Dipping Sauce:
In a small saucepan, add 3 Tbsp mirin. Bring it to boil over medium-high heat to let the alcohol evaporate.
Once boiling, add ¾ cup (180 ml) dashi and 3 Tbsp gluten-free soy sauce and bring it to boil. Once boiling, turn off the heat and set aside.
Prepping Ingredients:
Using a spoon, scoop the seeds from kabocha. Without peeling the skin, cut the kabocha in half widthwise, then cut each half into ⅛ inch (3 mm) slices.
Cut the sweet potato into ⅛ inch (3 mm) slices and soak in water to remove starch for 10 minutes.
After soaking for 10 minutes, pat dry with paper towel to remove the moisture.
Make a couple of small slits on the okra's skin. This will prevent okras from exploding while deep frying. Also, trim the end of green beans if it's not done yet. Keep the eggplant uncut for now.
Now it's time to peel and devein shrimp. For tempura, we remove the last segment of shell but keep the tail tip on. Using a knife, cut along the outer edge of the shrimp's back.
If you see the vein, remove and discard.
Optionally, you can soak the shrimp in 1-2 Tbsp sake to remove the unwanted smell.
Lay the shrimp on its side and cut the tip of tail diagonally (see picture on left). This will create V shape when you open the tail (see the picture on right). Remove moisture that is trapped in the tail by scraping the tail with the knife. This will prevent oil splatter from water retained in the tail.
Make a couple of slits underside. Hold the shrimp with both hands and bend it backwards (belly-up) until you hear "pop" sound in each segment Straighten the shrimp as much as possible.
Tempura Batter:
In a medium bowl over a kitchen scale, add an egg. Then pour water until the egg + water mixture weighs 200 grams. If you don't have a scale, add the egg to a 1-cup measuring cup, whisk the egg, and add water until you have ¾ cup (180-200 ml).
Mix well and then add ½ cup (80 g) rice flour. Whisk until you see no more lumps of rice flour. Keep it in the fridge until you're ready to deep fry. Tip: If you like a thick tempura batter, you can increase the amount of rice flour.
Deep Frying:
Bring 4 cups (960 ml) vegetable oil to 340ºF (170ºC). We'll start deep-frying from hard ingredients because they will take a longer time to cook. Make sure to dry all the ingredients with a paper towel so that moisture won't dilute the tempura batter. Whisk the tempura batter vigorously every time you are ready to dredge the ingredients in the tempura batter. The bubbly tempura batter will help achieve a crispy, light tempura shell around the vegetables/shrimps. Plus, rice flour will separate from the water and stay at the bottom if you don't whisk the mixture.
Coat the sweet potato slices with batter and deep fry at 340ºF (170ºC) for 3 minutes. Do not overcrowd the surface of the oil. Keep the ingredients in a single layer, without overlapping. I put 4 pieces of sweet potato in my deep fryer at a time.
Once they are deep fried, shake off excess oil and transfer to a wire rack (or a plate lined with a paper towel). Continue with the rest of sweet potatoes. Before moving to next ingredient, ALWAYS pick up crumbs in the oil between batches. The burnt crumb will attach to your tempura if you don't clean them up, and oil will get darker once the crumbs become burnt and it leaves a bad flavor in the oil.
Next up, kabocha. Whisk the tempura batter first, coat the kabocha slices with the batter, and deep fry at 340ºF (170ºC) for 3 minutes.
Next, we'll deep-fry okras and green beans. Whisk the batter, coat the okras/green beans, and deep fry at 340ºF (170ºC) for 2 minutes.
Next, we'll deep-fry eggplants. Make sure the oil is kept at the desired temperature. Quickly, but carefully, you will cut the eggplant in half lengthwise. If the eggplant is long, cut each half into 2 equal size pieces. Tip: Keep the eggplant uncut until you're ready to deep fry because they will change the color as soon as you cut them.
Leaving ¾ inch (2 cm) on one end, make a 5-6 slits on the skin lengthwise, like a fan shape. This is a typical preparation for eggplant tempura.
Whisk the batter, coat the eggplant, and deep fry at 340ºF (170ºC) for 2 minutes.
We use clean oil for vegetables first, then we finish deep frying with seafood as seafood has more flavor. You don't want the vegetables to have shrimp flavors. Whisk the batter, coat the shrimp, and deep fry at 340ºF (170ºC) for 2 minutes.
Serve immediately with a dipping sauce and grated daikon. You can also serve tempura with sea salt (or green tea sea salt) instead of dipping sauce.
To Store
For the best tasting experience (texture and flavor), tempura is highly recommended to be consumed immediately after deep frying. However, if you can't finish everything, put it in an airtight container after tempura is cooled and store till the next day in the refrigerator. Use a toaster oven or oven to re-heat and do not use a microwave (otherwise tempura will get soggy).
From: Just One Cookbook