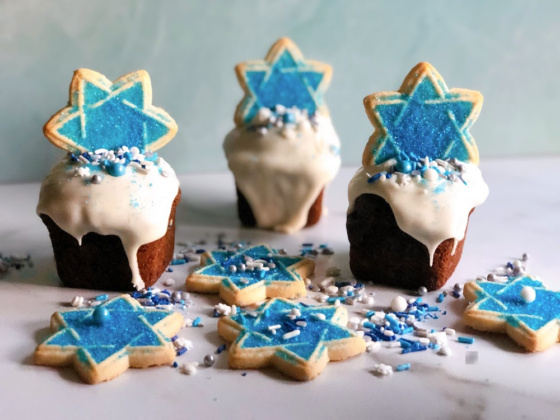 Hanukkah cupcakes with Star of David cookie topper and sprinkles is our suggestion for holiday treats!
I have been baking up a storm and couldnt miss embracing the Hanukkah holiday. Since I didnt have much time for making homemade Hanukkah cupcakes I headed over to the supermarket and bought a chocolate cake mix, a tub of cream cheese frosting, and festive sprinkles in blue and silver.
I was lucky because while perusing around the store I also found Star od David cookies with a blue sugary decoration that made the perfect topper for the chocolate cupcakes.
What is Hanukkah?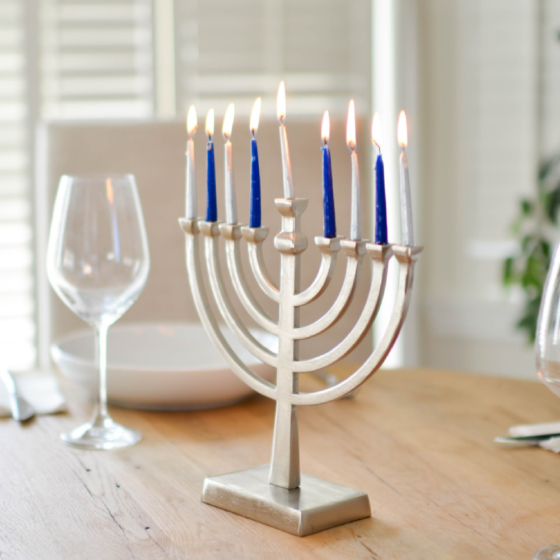 Hanukkah is a Jewish festival also known as the Festival of Lights. We love to learn new cultures and traditions and while I nor my family are Jewish I think it is important to embrace those from other beliefs and adopt some of their traditions too while enjoying sweet holiday treats and chocolate Hanukkah cupcakes.
Many good friends are Jewish and for them, family and getting together is an important part of their weekly activities. Same as enjoying good food and yummy holiday treats. They introduced me to this tradition and this year I made Hanukkah cupcakes and added chocolate coins.
My family enjoys being together, eating good food and chocolate cupcakes. Those are some of the things we do year-round. In my Latino culture, heritage and traditions are of prime importance. And Chanukah is a tradition has been carried through the years.
Hanukkah Foods We Love.
My Jewish friends really know how to enjoy the Hannukah evening celebration. While they do not offer Hanukkah cupcakes they prepare many holiday treats.
One of my favorites is latkes. These pancakes have two kinds of potatoes. Yukon gold and baking potatoes. The Yukon potatoes are shredded and the baking potatoes are cooked and mashed. The recipe also has chopped onion, eggs, matzo meal, and white pepper.
The latkes are crunchy and golden brown as they are fried. Deep-fried foods are a tradition for the Hanukkah menu. The pairing for the latkes is cream and homemade apple sauce. The contrast with sweet and savory goes very nicely the same as we do with the cream cheese frosting and the chocolate in the Hanukkah cupcakes.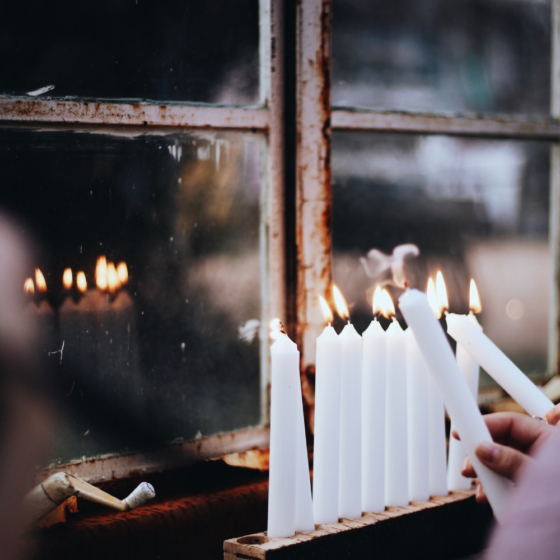 The holiday treats also include jelly doughnuts and chocolate coins also called gelt. We used the chocolate coin as the inspiration for making easy chocolate cupcakes for Hanukkah.
Hanukkah Rituals
The Hanukkah or Chanukah celebration consists of lighting the menorah every night. This year the celebration goes from sundown on December twenty-second through the thirtieth. But every year is a different date. Always during the December timeframe, but the assigned celebration dates defer.
Each night the whole family comes together to light that candle, eat food, sing, and play the dreidel.
I think Hannukkah is a beautiful celebration, that is why each year I prepare something special to remember this date. Are you ready for the Hanukkah cupcakes with Star of David cookie topper?
You can choose any flavor and any cake recipe if not wanting to use a premade cake mix. I have a favorite homemade chocolate cake option on this site too. And a homemade cream cheese frosting on the recipe card.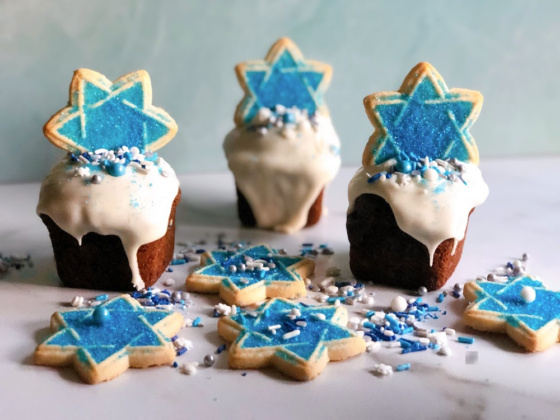 Print
Hanukkah Cupcakes
Hanukkah cupcakes with Star of David cookie topper and sprinkles is our suggestion for holiday treats. This is an easy dessert ready in 40 minutes or less.
Cuisine
American Contemporary
Keyword
chocolate, cupcakes, hanukkah
Author
Chef Adriana Martin
Equipment
Stand Mixer

Cupcake mold

Cooling wire rack

Spatula

Measuring cup
Ingredients
1

box

chocolate cake mix

1

box

chocolate pudding

1

cup

milk

1/2

cup

cooking oil

3

eggs

2

cups

cheesecake frosting

1/4

cup

sprinkles

12

shortbread cookies
Instructions
Preheat the oven at 350F, and coat the cupcake mold with baking spray.

In a mixing bowl add the cake mix. Incorporate pudding mix, the eggs, the milk, and the cooking oil. Mix until the batter comes together and scoop the same amount into cupcake mold.

Bake for 20-25 minutes until cooked. Insert a wooden toothpick and if it comes out clean the cupcakes are ready.

Take the cupcakes out of the mold and place in a wire rack to cool before icing.

Place the cheesecake icing inside the microwave and cook for less than a minute. Do it carefully if you cook too much the icing will be watery and that is not what we want.

When the icing has a glaze consistency pour it on top of each cupcake and decorate with sprinkles. Add a shortbread cookie as a topper and serve with chocolate coins.
Notes
If you do not want to use premade cake mix use your own homemade chocolate cake batter or use this other recipe for chocolate cake. It is easy and yummy too.
Same thing if you prefer a homemade icing follow these instructions:
1/2 cup unsalted butter, 1 package (8 oz) cream cheese, 1 teaspoon vanilla, 3 cups powdered sugar
In a large bowl, beat softened butter and cream cheese with electric mixer on medium speed until smooth and creamy. Add the vanilla, and the powdered sugar one spoon at a time. Mix until forming the icing.
Nutrition
Calories:
341
kcal
|
Carbohydrates:
50
g
|
Protein:
5
g
|
Fat:
14
g
|
Saturated Fat:
2
g
|
Cholesterol:
45
mg
|
Sodium:
390
mg
|
Potassium:
71
mg
|
Fiber:
1
g
|
Sugar:
30
g
|
Vitamin A:
101
IU
|
Calcium:
55
mg
|
Iron:
2
mg
Have you tried this recipe? Snap a photo and tag us on Instagram and orFacebookusing the handle@adrianasbestrecipesand this hashtag #ABRecipes Happy Eats!