Monkey bread is a gooey sweet pull-apart cake made from blobs of brioche dough coated in a buttery, cinnamony caramel sauce. It's easy as can be to make from scratch in a loaf pan—and fun as heck to tease apart with your hands.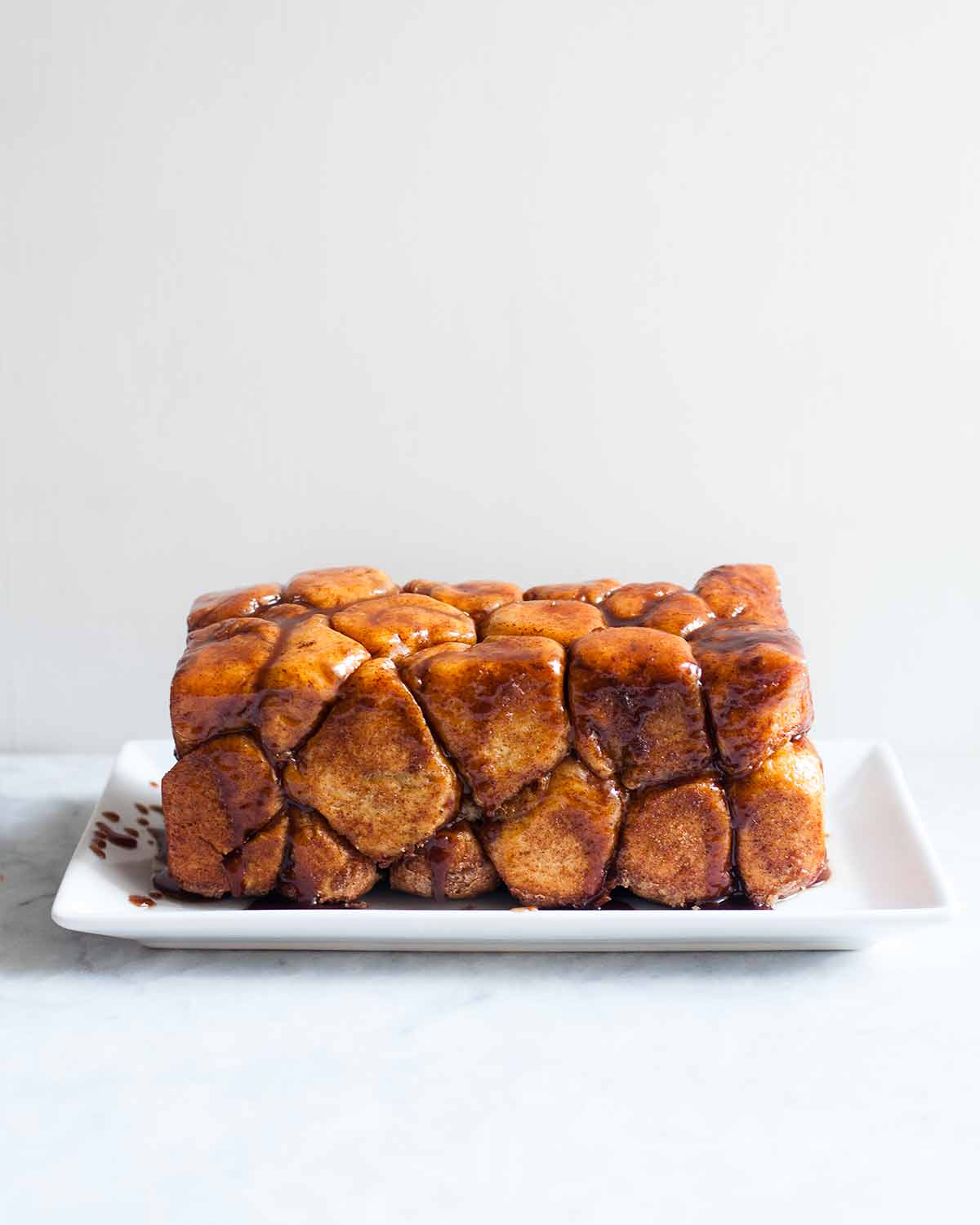 Adapted from Jeff Hertzberg | Zoë François | Holiday and Celebration Bread in Five Minutes a Day | St. Martin's Press, 2018
This sticky sweet bread seems to be the creation of a toddler given how the loaf of rich, buttery, caramel-coated blobs of baked dough are a gooey adventure to eat with your hands. (The pull-apart nature of the bread is, incidentally, behind the naming of the bread.)
It's also satisfying as can be, both to make from scratch and to watch others scarf it down. And, thankfully, it's as easy to make as it is a delight to eat. Meaning you can indulge your inner child—and those of loved ones—on a whim. Which may be a little dangerous.–Angie Zoobkoff
Monkey Bread FAQs
Why is it called "monkey bread?"
The origin of the name "monkey bread" supposedly comes from the notion that the pull apart bread is finger food, and those indulging in the treat would tear it apart as a monkey would. (We're not sure if that's an insult or compliment to monkeys!)
What can I do with the extra brioche dough?
The brioche recipe here makes quite a lot more dough than you need for the monkey bread. And that's a good thing. Actually, it's an excellent thing. Use the remaining brioche dough in place of the bread dough in pretty much any recipe for cinnamon rolls or sticky buns you like to make.

As noted in the recipe below, it lasts in the fridge for up to 5 days, so you have time to carefully consider all your baking options! Alternately, should you be short on flour or cutting back on carbs, the brioche recipe in the recipe below can easily be halved.
Can I add nuts or other spices to this monkey bread?
Definitely. To make pecan monkey bread, add 1 cup pecan halves to the bottom of the pan after you pour in the caramel.

You can also play around with the spices that you use. Try pumpkin pie spice blend, Chinese five-spice, or a blend of your favorites, adding it to the sugar. If you use a super-intense spice, like cardamom, nutmeg, clove, allspice, or ginger, be sure to reduce it according to the intensity you want. Try starting with 1/2 teaspoon of some of those and build from there.
In this recipe
Monkey Bread from Zoë François
This caramel monkey bread is a gooey sweet pull-apart cake made from blobs of brioche dough coated in a caramel sauce made with cinnamon, butter, and brown sugar. It's easy as can be to make from scratch in a loaf pan—and fun as heck to tease apart with your hands.  It makes a great breakfast treat, snack, dessert, or even Christmas morning surprise.
Jeff Hertzberg | Zoë François
Ingredients 
For the brioche dough
1 1/2

cups

lukewarm water (100°F | 38°C or below)

1

tablespoon

instant yeast

1

tablespoon

kosher salt

6

large

eggs

lightly beaten

1/2

cup

honey

3

sticks (12 oz)

unsalted butter

melted

7

cups

all-purpose flour
For the monkey bread
1 1/2

pounds

Brioche dough

All-purpose flour

for dusting

1

stick (4 oz)

unsalted butter

plus more for the pan

1

cup

granulated sugar

1

tablespoon plus 1 teaspoon

ground cinnamon

2

tablespoons

brown sugar

1/4

teaspoon

sea salt

1

teaspoon

vanilla extract
Directions 
Make the brioche
In a 6-quart bowl or other large container, stir together the water, yeast, salt, eggs, honey, and melted butter.

Using a heavy-duty stand mixer fitted with the paddle attachment or a spoon and strong biceps, mix in the flour until combined. If you're not using a machine, you may need to use wet hands to incorporate the last bit of flour. (The dough will be loose but will firm up when it's later chilled.)

Loosely cover the container with a lid or plastic wrap and let it rest at room temperature for 2 hours.

Refrigerate the dough until it's thoroughly chilled, at least 3 hours, and loosely covered for up to 5 days.
Make the monkey bread
Generously butter a 9-by-5-inch (23-by-13-cm) loaf pan, Pullman pan, or Bundt pan.

Dust the surface of the refrigerated dough with flour and cut off a 1 1/2-pound (680-g) piece. Divide the dough into about 32 equal pieces. Roll the dough into small balls. If the dough is sticking to your hands, coat your palms with a small amount of butter.

In a small saucepan set over low heat, melt 4 tablespoons butter. (Alternatively, you can microwave the butter in a small bowl to melt.) In a shallow bowl, stir together the granulated sugar and cinnamon.

Working with one ball at a time, drop the dough ball into the butter and then roll it in the cinnamon sugar. Place the balls in the prepared pan.

Let the dough rise at room temperature for about 1 hour.

While the dough is rising, preheat the oven to 350°F (180°C). Adjust the oven rack to the middle position.

In a small saucepan over low heat, melt 4 tablespoons butter. Add any remaining cinnamon sugar, the brown sugar, the salt, and the vanilla.

Pour the warm brown sugar mixture over the dough balls in the pan. Place the pan on a rimmed baking sheet lined with foil in case the caramel bubbles over the top. Bake until the surface of the bread is golden brown and seems caramelized and set, 30 to 40 minutes.

Let the bread cool for about 5 minutes in the pan. Place a platter or cutting board on the pan, turn it upside down, and then remove the pan. Serve warm.
Show Nutrition
Serving:
1
portion
Calories:
579
kcal
(29%)
Carbohydrates:
68
g
(23%)
Protein:
10
g
(20%)
Fat:
31
g
(48%)
Saturated Fat:
18
g
(113%)
Polyunsaturated Fat:
0.4
g
Monounsaturated Fat:
3
g
Trans Fat:
0.5
g
Cholesterol:
176
mg
(59%)
Sodium:
464
mg
(20%)
Potassium:
14
mg
Fiber:
1
g
(4%)
Sugar:
28
g
(31%)
Vitamin A:
1086
IU
(22%)
Vitamin C:
0.1
mg
Calcium:
68
mg
(7%)
Iron:
1
mg
(6%)
Recipe Testers' Reviews
Wonderful and warm with cinnamon sweet goodness. The dough is lovely, soft, and buttery with the perfect amount of cinnamon and caramel coating.
I made these the night before and let them rise. I then put them in the fridge overnight and baked them the next morning. Yum!
The dough was easy to work with and formed into a ball with just a few turns, as per the directions. It rolled out nice and smoothly.
I cut it into 32 equalish pieces and placed them in a buttered Bundt pan. They had lots of room to rise and were doubled after 1 hour. They were done baking after 40 minutes and were a nice golden caramel colour.
This monkey bread recipe took me back to being a kid! I can't even remember the last time I had this. So good! I used the brioche recipe and a Bundt pan (I only remember Monkey Bread being in that shape so I figured I would go with that).
I'm thinking that the next time I make this I might try adding some of the spices suggested as that sounds delicious.
I let the brioche dough sit overnight and made Monkey Bread in the morning. For the rise, it was a little less than double in size but it rose a lot once it went into the oven.
Of all the brioche doughs I have made over the years, this one is now my favorite. It was easy to mix up in the stand mixer and, though it was a bit sticky to work with, a little bit of butter on the hands, as mentioned in the recipe, worked beautifully. The brioche was soft and feather-light with a velvety, rich flavor.
As if that weren't enough, the warm caramelized cinnamon sugar that coated it was literally the icing on this lovely bread or cake.
I made the monkey bread to share with coworkers on Christmas Eve as a treat for those of us that were in the office that day. It received rave reviews and was devoured quickly. Light, fluffy texture on the inside. It was perfect.
Originally published December 1, 2020