Make this delicious green dessert to celebrate the arrival of spring.
Are you looking for something fun to bake for St. Patrick's Day? One of our favorite celeb chefs has shared a yummy green recipe. Check out this perfect smash cake from Weelicious founder, Catherine McCord. It's got three layers of cake and loads of buttercream frosting. In a nod to health, she's mixed in 6 cups of spinach to achieve the green coloring. Now that's how kids will eat those veggies!
Related: Veggie nugget recipe from Weelicious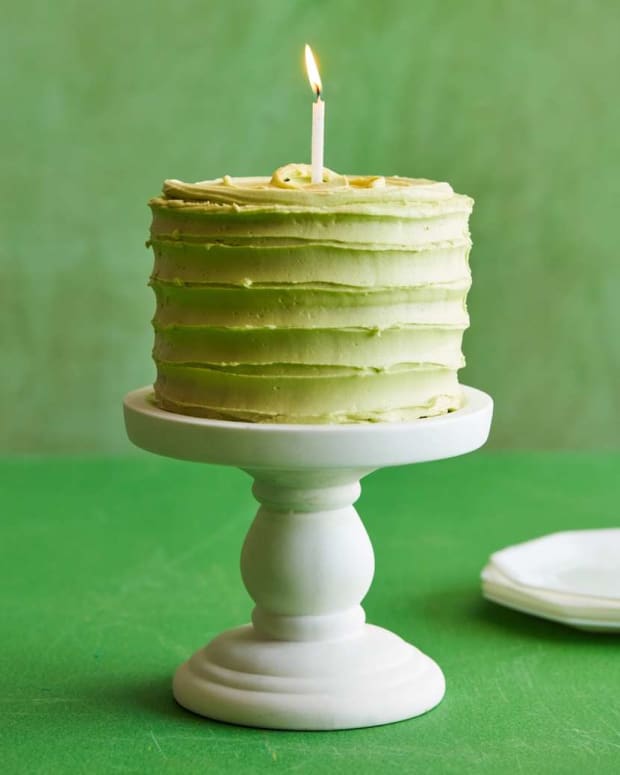 Spinach Smash Cake Recipe:
Catherine McCord is the co-founder of meal delivery service One Potato and the founder of the popular Weelicious brand. I've been getting inspired by her recipes for years. She always finds a way to sneak in veggies and make sweet treats a little more healthy. To help moms out, she has created online how-to videos. These videos are meant to encourage beginner bakers and chefs to get cooking! 
Spinach Smash Cake Ingredients:
3 1/2 cups cake flour, sifted
1 tablespoon + 1 teaspoon baking powder
1/2 teaspoon kosher salt
6 large egg whites, at room temperature
1 1/2 cups whole milk, at room temperature
4 cups fresh spinach
1 cup (2 sticks) unsalted butter, at room temperature
1 1/2 cups sugar
2 teaspoons vanilla extract
Spinach Buttercream Frosting:
3/4 cup (1 1/2 sticks) unsalted butter, cut into small pieces, at room temperature
6 3/4 cups powdered sugar
1 cup fresh spinach
1/3 cup whole milk
1 1/2 teaspoons vanilla extract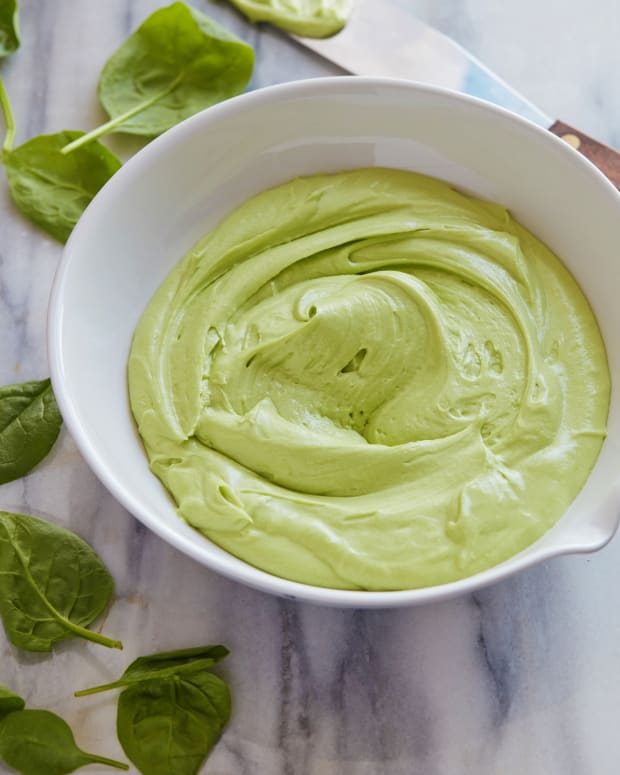 Spinach Smash Cake Directions:
Position the rack in the middle of the oven. Preheat oven to 350F. Coat the insides of 3-6 inch cake pans with non-stick cooking spray, line bottoms with parchment paper rounds, then spray parchment.
Whisk together sifted flour, baking powder and salt in a medium size bowl to combine. Set aside. In a blender, combine milk, egg whites and spinach, blend until well combined and smooth. Set aside.
Beat butter until creamy, about 2 minutes, with an electric mixer on medium-high speed. Add sugar gradually and beat until very light and fluffy, about 3 minutes, scraping down the bowl once or twice. Beat in the vanilla.
Add flour mixture in three additions, alternately with the milk-spinach mixture, while beating on low speed. Begin and end with flour, and beat briefly until smooth. Divide the batter evenly between the 3 cake pans and smooth the tops with a spatula.
Bake for 40-45 minutes, or until a toothpick inserted into layers shows a few moist crumbs when removed. The layers will be a light golden brown around the edges and top and will have come away from the sides of the pans.
Cool the pans on a wire rack for 8-10 minutes. Unmold, peel off the parchment, and place the layers directly on the racks to cool completely.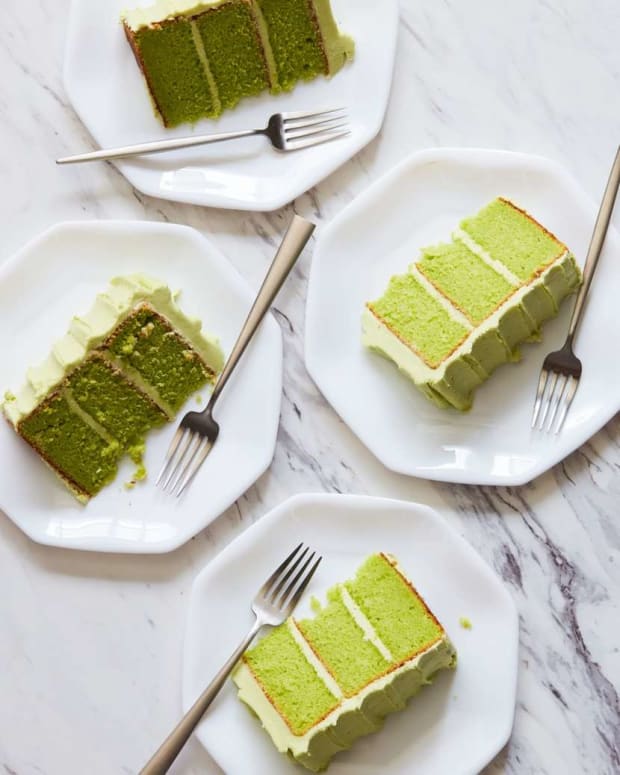 Spinach Buttercream Frosting
In a blender, combine milk and spinach. Blend until well combined.
In a large bowl, with an electric mixer or a stand- mixer on medium-high, beat butter until creamy, about 2 minutes. Add one cup of sugar gradually, beating until light and fluffy about 3 minutes, scraping down the bowl once or twice. Add remaining sugar, milk-spinach mixture, vanilla and beat on high until silky smooth.
To assemble the cake:
Cut off the very top of the cake to make all three layers even.
Place on 6 inch cake on a platter and spread 1/3 cup of the frosting. Top with another 6 inch cake and spread 1/3 cup frosting. Top with remaining 6 inch cake and use remaining frosting to cover the cake.
Note: The Spinach Smash Cake can sit at room temperature for 24 hours, refrigerate for 3 days or cakes can be individually wrapped and frozen up to 3 months.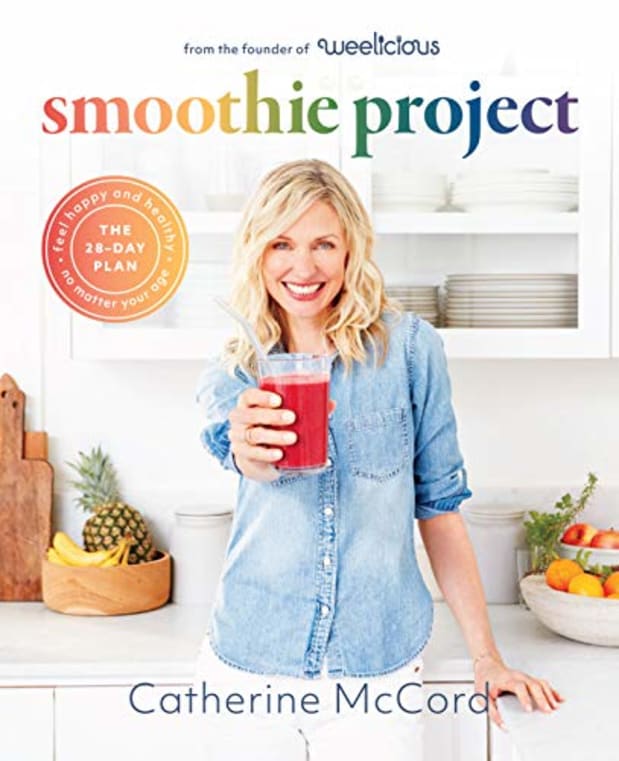 More Recipes from Catherine McCord
Catherine McCord has written three cookbooks including her latest The Smoothie Project (note: this is an Amazon affiliate link). And starting next month, Catherine will be available for 1:1 video sessions on the Intro platform where she can connect with users to discuss topics ranging from how to make healthy snacks to starting your own business. Happy to provide additional details if you're interested!
MORE RECIPES FROM MOMTRENDS
PIN IT!
Use Pinterest to save your favorite recipes. Be sure to follow our Recipes to Inspire board.
Momtrends was not paid for this post.