This easy sheet pan miso-glazed salmon meal with asparagus, radishes, and carrots can be prepared, cooked and on the table in under an hour.
This post was sponsored by California Wines a part of their "California Wines Down to Earth Month" campaign. I was compensated for this post and for developing the recipe. However, all opinions below are completely my own.
What's for dinner is probably one of those dreaded questions that every head of the household has to deal with. And though I don't have a family, I do have partner with a more traditional day job, which often leaves me as the one to figure out what to make. And though I have plenty of options for carryout here in San Francisco, making an easy sheet pan miso salmon dinner is ideal because it means I can have a homemade meal prepped and ready to eat in under an hour. The salmon is paired with seasonal vegetables like asparagus, radishes and rainbow carrots and the miso sauce is not only made with California chardonnay, but also pairs well with the same glass of chardonnay, making it a great way to relax at home, with minimal making dinner stress.
How to Make Sheet Pan Salmon
Start by preheating the oven to 425°F. Then make the miso sauce by combining chardonnay, red miso, honey, sesame oil, minced garlic and some salt and pepper.
Peel and chop some carrots. I like to use rainbow carrots but regular orange carrots work just as well. You can even do a quick cheat and just use baby carrots if you like! Toss the carrots with oil and a tablespoon of the miso sauce and then roast in the oven for 10 minutes.
While the carrots are roasting (they need a little head start with cooking, because they are a denser vegetable that takes longer to cook), prep the asparagus and radishes by trimming the ends off the asparagus and cutting the radishes in half. I used Easter Egg radishes, which are simply a variety of colorful different radishes bundled together but you can use English Breakfast, Watermelon, or regular red radishes if you'd like. Toss the vegetables with more oil and more miso sauce.
Then, once the carrots have cooked partially, remove the pan from the oven and switch the oven to high broil. Place the rest of the vegetables on the pan, then make a space in the center for the salmon. Don't worry if they vegetables overlap. Place the salmon, skin side down, on the pan, then generously brush it with the miso sauce. Drizzle the remaining sauce over the vegetables if you have any left. 
Then return the pan to the oven to broil for 6 to 8 minutes, or until the salmon is cooked and flakey. Serve with glasses of chardonnay, or a light pinot noir if you prefer red.
What wine to pick and pair for this dish
Salmon is a fish, which traditionally pairs well with white wine. Salmon is a firm fleshed fish with a rich and slightly oily texture that holds up well to the deep salty umami rich miso sauce. I like to pair it with a slightly oaky or neutral California certified sustainable Chardonnay (which is what I also use in the sauce). The Chardonnay has a bit of acidity that can cut through the richness of the fish and sauce. If you aren't a big white wine drinker, you can also reach for a light Pinot Noir, perhaps something from the California Russian River region. 
California is the 4th largest wine producer in the world, and, like the entire state of California, the California wine industry leads the charge in sustainability. Over 80% of California wines are made in a certified sustainable winery. Sustainable wine making includes water and energy efficiency, which help maintain health soil and protect air and water quality, which in turns creates better grapes and wine, as well as making sure all their employees are healthy, safe and satisfied. 
Sustainable California wineries also contribute to local economic, culture and small businesses throughout California. You can find California wines grown in 49 of the 58 counties of California. And the California's 4200 wineries produce over 80% of all U.S. wines. You can learn more about sustainable certification as well as find a list of wineries that are certified on the California Sustainable Wine website.
Variations and substitutions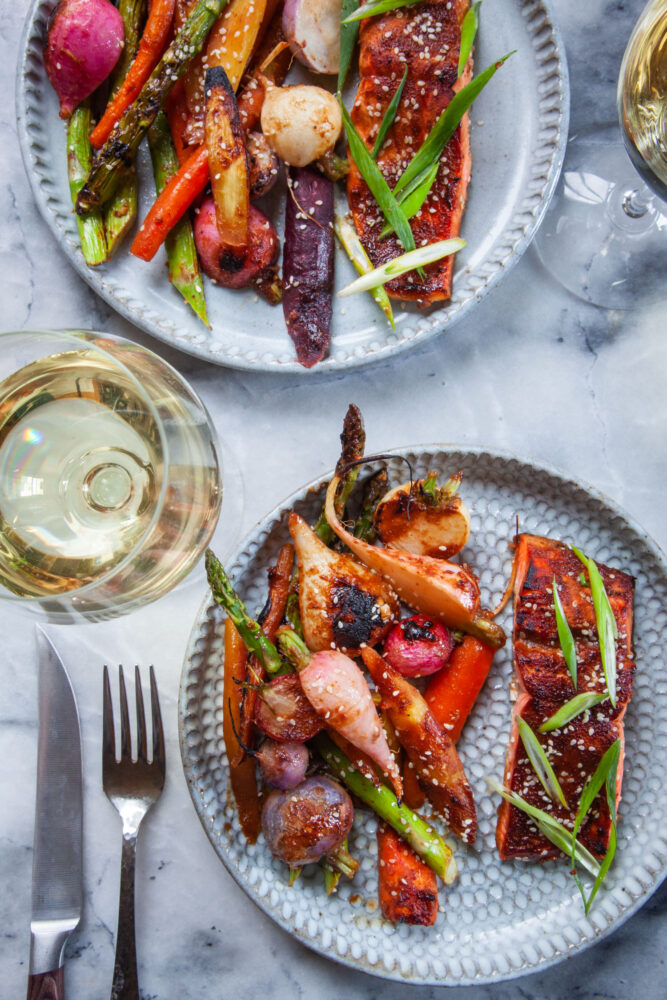 Fish: You can easily swap out the fish for a different sustainably caught fish fillet like Pacific cod, Mahi Mahi or Artic char. Be sure to adjust the cook time for each type of fish you use. 
Longer cooking vegetables: If you don't like carrots you can easily omit them or swap them for a different longer cooking vegetables. Parsnips, Brussels sprouts, and broccoli all take a little longer to cook in the oven but are excellent vegetables that pair well with this dish.
Short cooking vegetables: If you're not a fan of asparagus or radishes, feel free to omit them or use a different quicker cooking vegetable. Bok choy (cut lengthwise), broccolini/baby broccoli, green beans, and bell peppers would all be great quick cooking vegetables to swap in for the asparagus or radishes.
Miso: I use red miso because I like the robust flavor that it imparts. But you can easily substitute it for yellow or white miso as well. Just keep in mind that the deep salty umami flavor you get from the red miso will be milder with yellow or white miso.
Make ahead
This dish takes very little time to cook and doesn't really heat up well because the salmon dries up and can overcook. So, it's not recommended that you make it ahead of time. However, you can easily prep the ingredients the night before you with, peeling and chopping the vegetables, and making the miso wine sauce for the next day. 
On the day you wish to serve it, all you need to do is roast the carrots for the time recommended, then broil the salmon with the other vegetables, making cooking even easier and quick.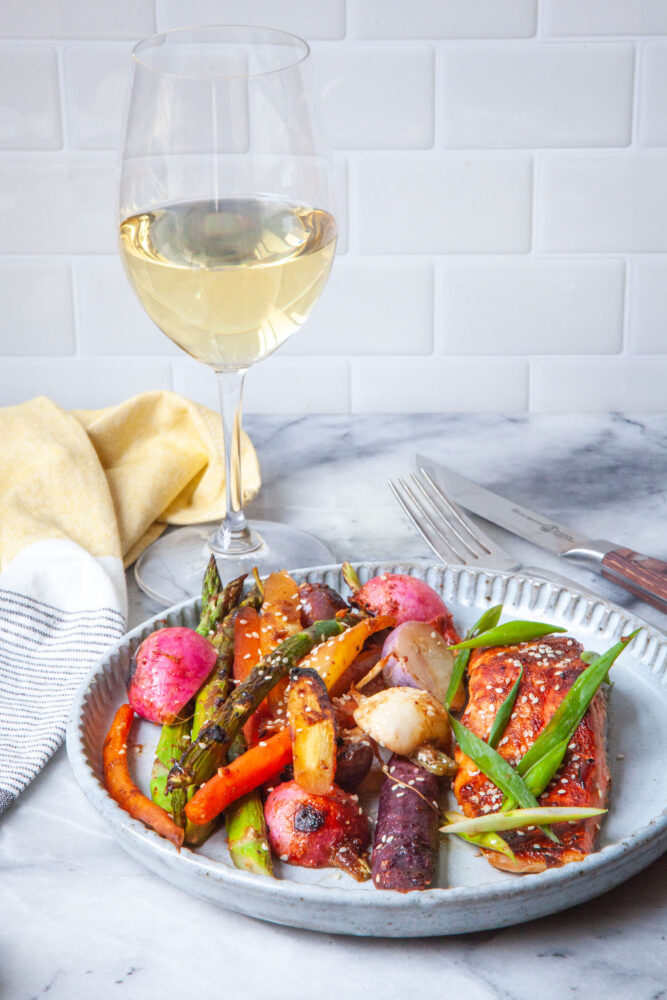 If you like this recipe, check out these other recipes that feature vegetables:
Print
Sheet Pan Miso-Glazed Salmon with Spring Vegetables
This easy-to-make sheet pan meal will have you prepping and cooking start to finish in under an hour. I use wild-caught salmon fillets, and brush on a miso chardonnay glaze sauce over the fish, as well as toss the asparagus, carrots and radishes with the same glaze, making it a simple prep. I serve the dish with the remaining chardonnay, but you can also serve it with a light pinot noir if you prefer red. Feel free to prep the ingredients the night before, which will cut the meal prep time significantly, getting the hot food onto the table in under 20 minutes.
Course
dinner, lunch, Main Course
Cuisine
American, asian, California-cuisine, Japanese-American
Keyword
asparagus, broiling, carrots, radishes, roasted, root vegetables, salmon, sheet pan
Prep Time
5
hours
20
minutes
Ingredients
Miso sauce
1/2

cup

Chardonnay

or other white wine

3

tablespoons

red miso paste

1

tablespoon

honey

1

tablespoon

sesame oil

2

medium-sized garlic cloves

minced

1/4

teaspoon

kosher salt

1/4

teaspoon

fresh ground pepper
Salmon and Vegetables
1

pound

carrots

3

tablespoon

olive oil

divided

1

pound

asparagus

1

pound

radishes

about 2 bunches

4 6-

ounce

salmon fillet
Garnish
1

tablespoon

sesame seeds

2

green onions

sliced diagonally
Instructions
Preheat the oven to 425°F. Line a large, rimmed baking sheet with aluminum foil.

Make the miso sauce by combining the wine, miso, honey, sesame oil, minced garlic, salt and pepper in a small bowl or glass measuring cup.

Prep the carrots by peeling them and chopping them into 2-inch pieces. Drizzle 1 tablespoon over the carrots, along with 1 tablespoon of the miso sauce and toss to coat. Place the carrots on the baking sheet and roast for 10 minutes in the oven.

While the carrots are cooking, prep the asparagus by trimming the woody ends off, and cutting the radishes in half, reserving the greens for another use if you wish. If the radishes are very large, quarter them. Toss the asparagus and radish halves with the remaining 2 tablespoons of olive oil and 2 tablespoons of the miso sauce.

Once the carrots are done cooking, remove the pan from the oven and switch it to high broil, making sure the rack is 6 inches from the broiler. Add the vegetables to the pan, tossing them together to flip the carrots.

Push the vegetables to the sides, making a space in the center for the fish. Don't worry if the vegetables are overlapping.

Add the fish, skin side down, to the center of the pan, and then generously brush each fish two or three times with the miso sauce. Drizzle any remaining sauce onto the vegetables.

Place the pan under the broiler, and broil for an additional 6 to 8 minutes, or until the fish is fully cooked and flaky. Garnish the dish with sesame seeds and sliced green onions. Serve with the remaining Chardonnay or a glass of light Pinot Noir if you prefer.
Nutrition
Calories:
513
kcal
|
Carbohydrates:
30.7
g
|
Protein:
37.9
g
|
Fat:
25.8
g
|
Saturated Fat:
3.7
g
|
Cholesterol:
75
mg
|
Sodium:
868
mg
|
Potassium:
1580
mg
|
Fiber:
7.5
g
|
Sugar:
16.8
g
|
Vitamin A:
-47
IU
|
Calcium:
186
mg
|
Iron:
-45
mg
The post Sheet Pan Miso-Glazed Salmon with Spring Vegetables [Sponsored Post] appeared first on Eat The Love.