SO EASY + family-friendly! Keep it plain with cheese or add all your favorite toppings – pepperoni, sausage, and/or veggies!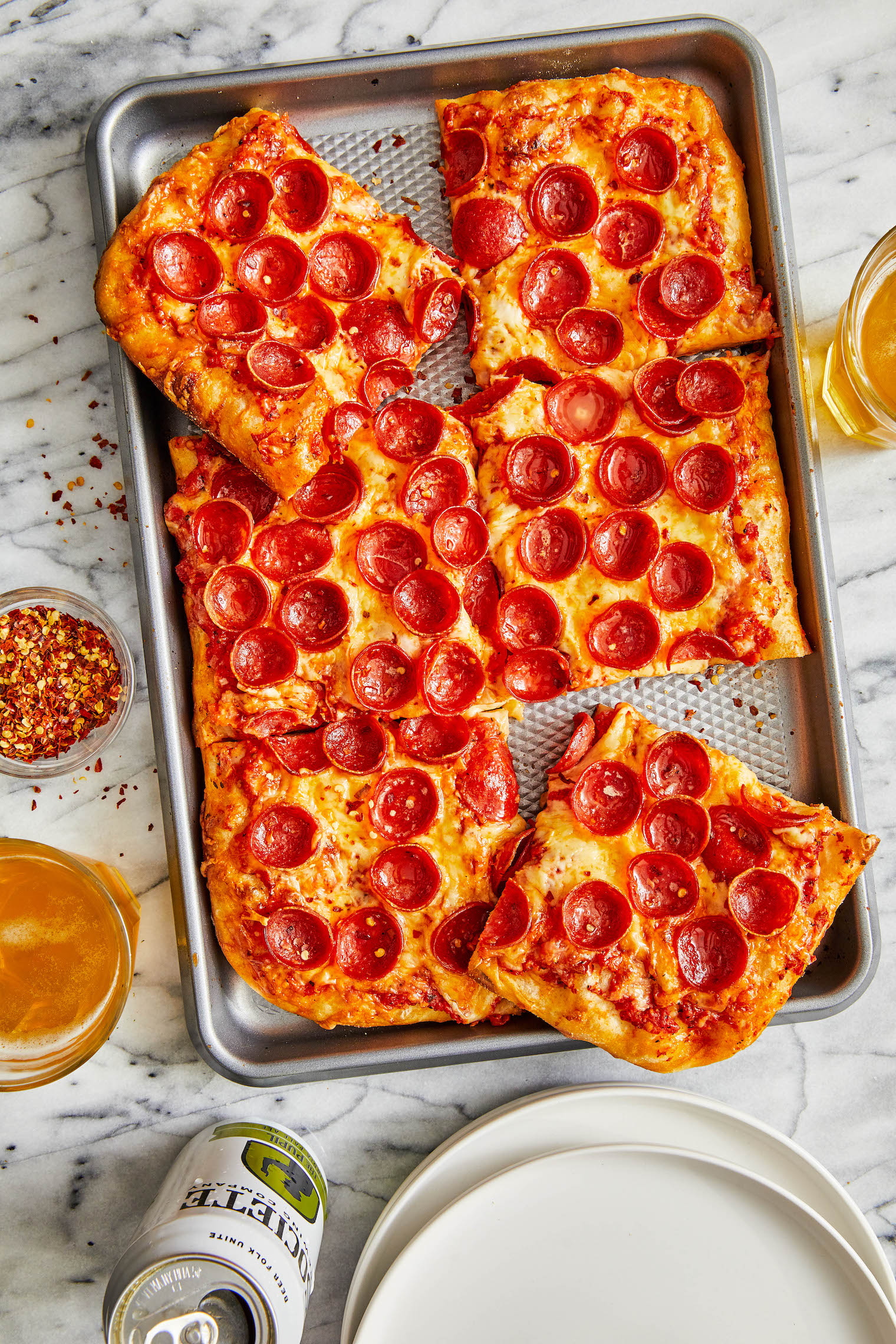 This pizza has been my go-to for those busy weeknights when I have some people coming over. It yields a big batch (perfect for feeding a big crowd) and the crust comes out perfectly thick and chewy.
Best of all, you don't need any special equipment. No pizza peel or pizza stone needed here.
All you need is a 15×10-inch jelly roll. But most importantly, be sure to let your pizza dough come to room temperature. Cold pizza dough will stretch and snap back instantly. By letting the dough come to room temp will allow the dough to loosen and make it easier to shape into a rectangle.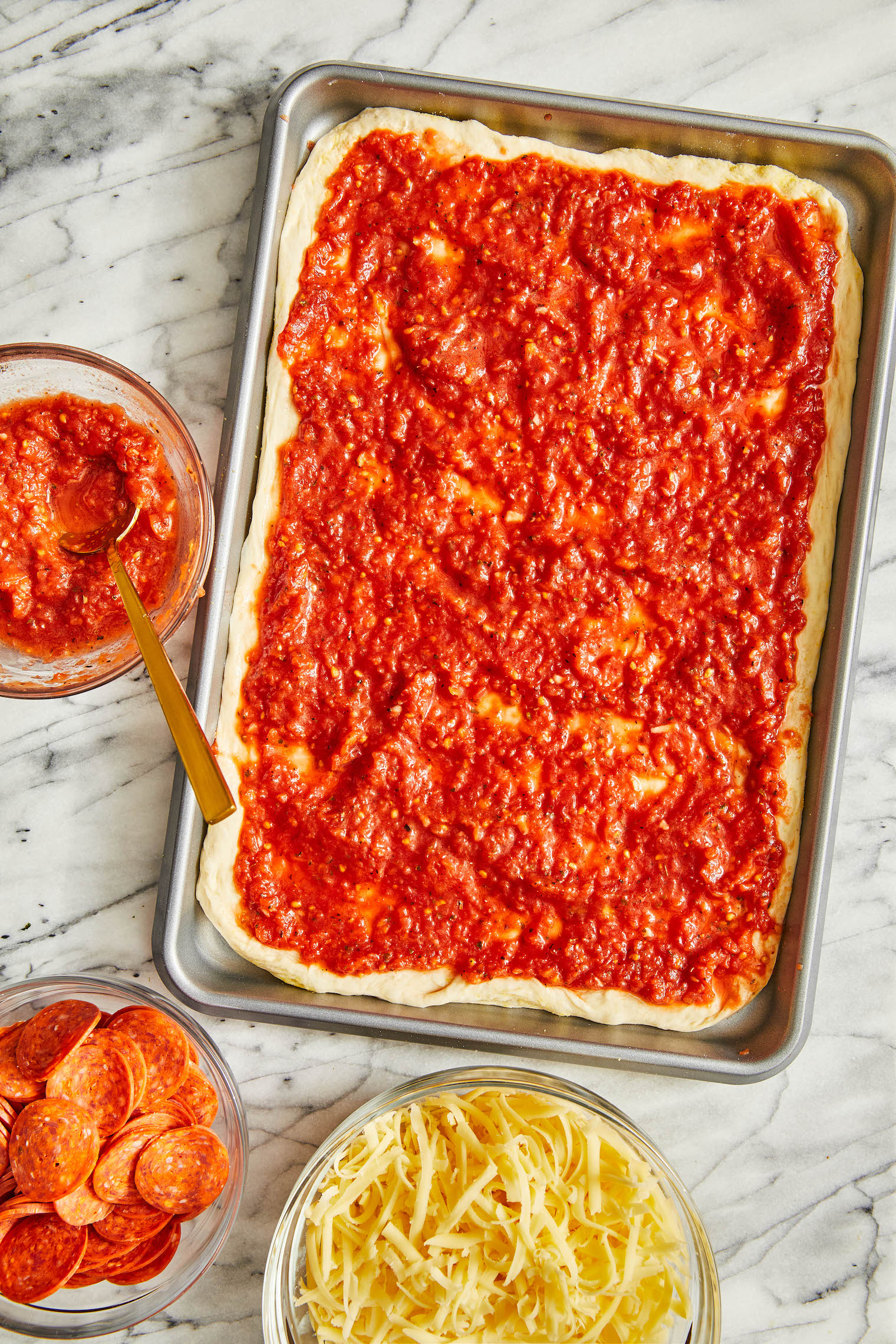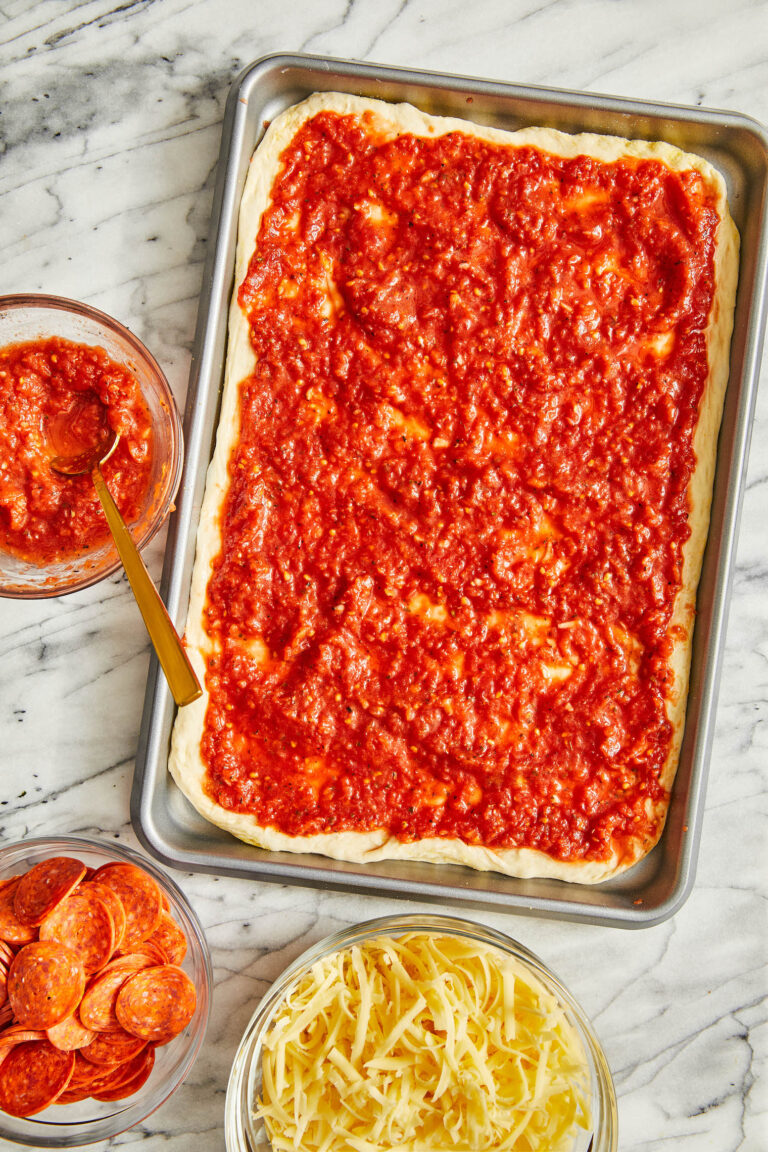 If you're short on time, store-bought pizza sauce is fine but I highly recommend this quick homemade tomato sauce with a few pantry ingredients and a food processor blitz. It's very fast, and so much better than store-bought.
From there, pile on your cheese and desired toppings. I am partial to pepperoni but anything goes here – complete veggie or meat-lovers all work beautifully here!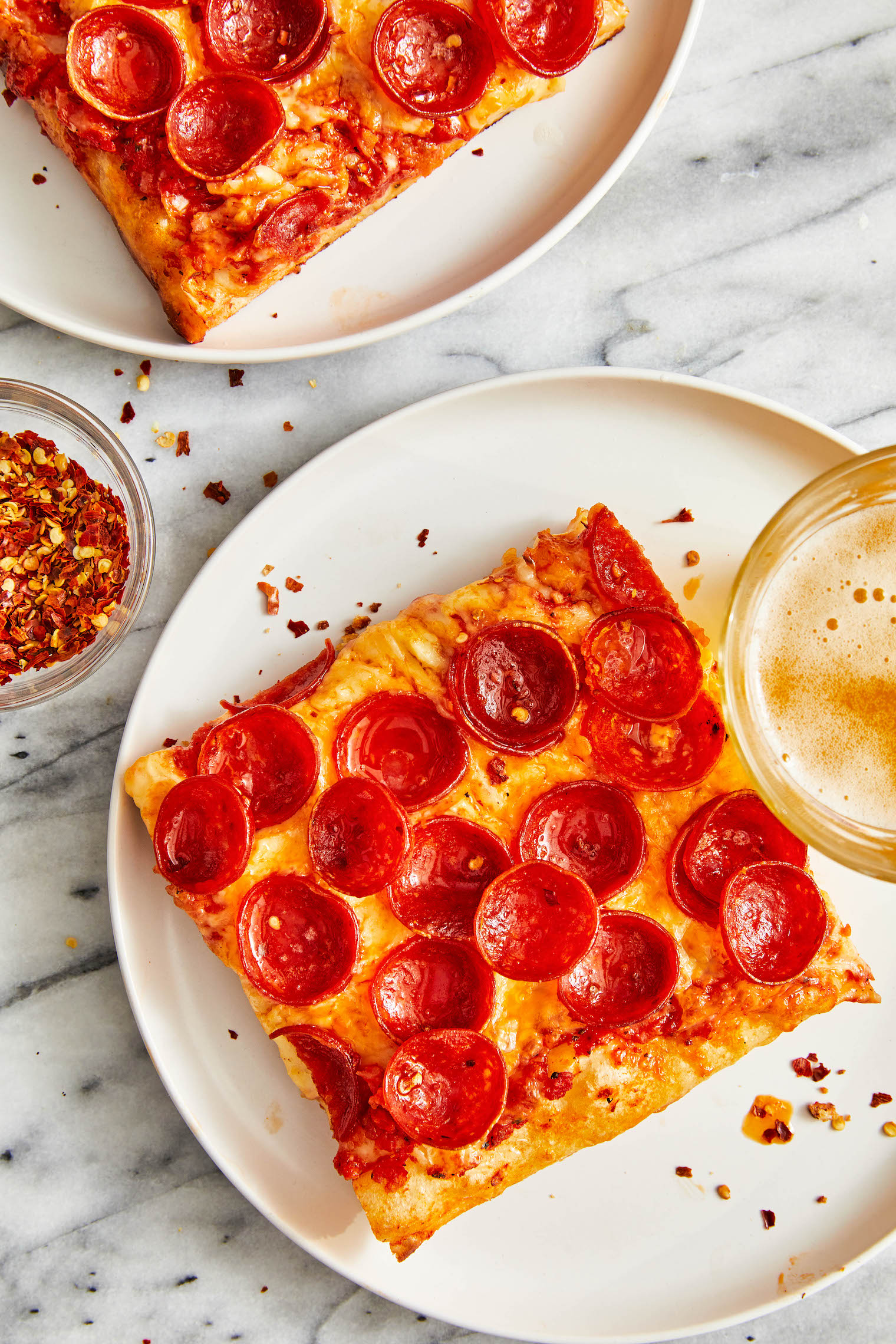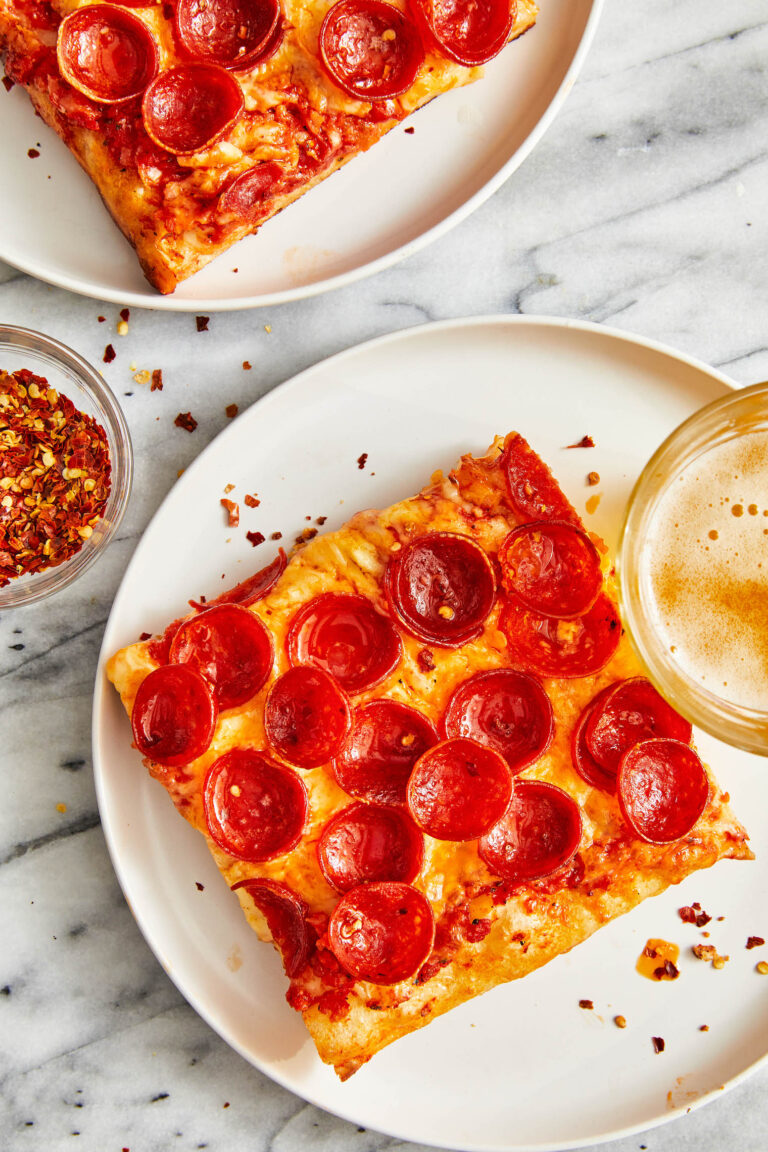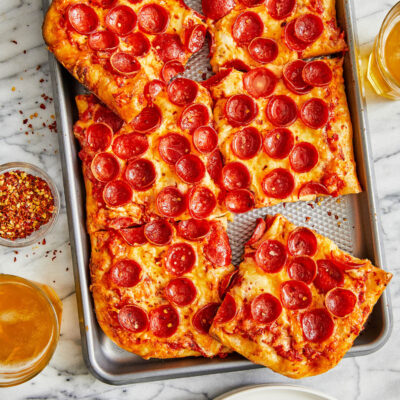 Sheet Pan Pizza
Yield: 6 servings
prep time: 1 hour 15 minutes
cook time: 20 minutes
total time: 1 hour 35 minutes
SO EASY + family-friendly! Keep it plain with cheese or add all your favorite toppings – pepperoni, sausage, and/or veggies!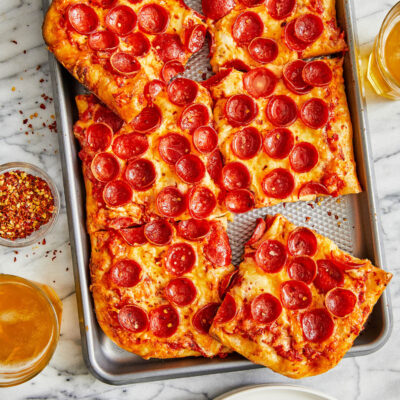 Ingredients:
1 1/2 pounds pizza dough, homemade or store-bought
1 (28-ounce) can whole tomatoes, such as San Marzano, drained
1 tablespoon extra-virgin olive oil
2 cloves garlic
1/2 teaspoon dried oregano
1/2 teaspoon dried basil
Pinch of crushed red pepper flakes
Kosher salt and freshly ground black pepper, to taste
1 tablespoon cornmeal
8 ounces mozzarella, shredded
1/4 cup freshly grated Parmesan
1 (5-ounce) package sliced pepperoni, such as Hormel cup n' crisp
Directions:
Let pizza dough stand at room temperature, lightly covered, for 1 hour.
Preheat oven to 500 degrees F. Lightly coat a 15×10-inch jelly roll pan with olive oil.
TOMATO MIXTURE: Combine tomatoes, olive oil, garlic, oregano, basil and red pepper flakes in the bowl of a food processor; season with salt and pepper, to taste.
Working on a surface that has been sprinkled with cornmeal, roll out the pizza into a 15×10-inch rectangle. Transfer to prepared jelly roll pan, pressing dough to the sides of the pan.
Using a small ladle, spread TOMATO MIXTURE over the surface of the dough in an even layer, leaving a 1/2-inch border.
Top with cheeses and pepperoni (yes, ALL the pepperoni).
Place into oven and bake on the lowest oven rack, rotating once, for 16-18 minutes, or until the crust is golden brown and pepperoni are crisp.
Serve immediately.
Did you Make This Recipe?
Tag @damn_delicious on Instagram and hashtag it #damndelicious.
The post Sheet Pan Pizza appeared first on Damn Delicious.