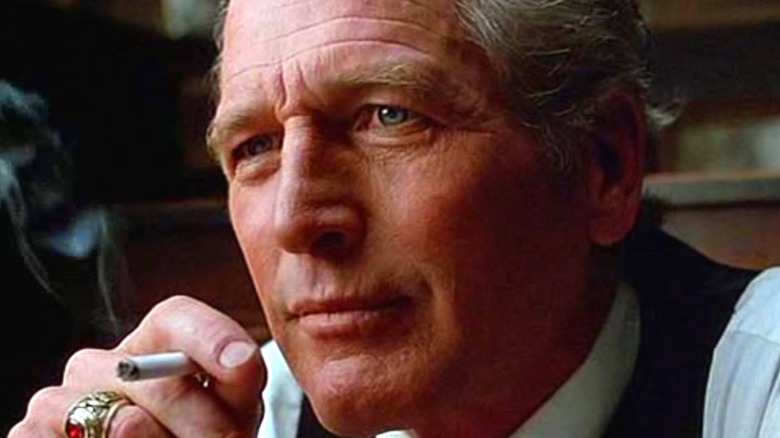 One of the most beautiful and coolest movie stars of all time, Paul Newman always wanted to be known as more than a pair of astonishing blue eyes. With a career that lasted 50 years, tracing Newman's movies will give you a good grounding in the cinematic history of the second half of the 20th century, and will take you through a wide range of genres, showing how acting styles and filmmaking in general evolved over time. Picking up the mantle from James Dean after his death — like Dean, he also trained at the Actors Studio — Newman initially played a succession of rebellious young hot-heads who railed against the older generation, although he also appeared in westerns, sports movies, romances, and thrillers.
You may have first become familiar with Newman, as I did, as the face on a bottle of salad dressing, or maybe as an auto racer. Newman's charitable work and political activism (which lead to an appearance on Nixon's enemies list) were also major parts of his life. Newman's long-lasting marriage and his activities outside of his movie career have helped cement his reputation as an all-round legendary figure. 
Newman refused to coast on his good looks, and worked hard to perfect his craft. His lack of an Oscar became a long-running Hollywood joke, until he finally won in the 1980s for Martin Scorsese's "The Color of Money." Paul Newman is one of the best actors and greatest movie stars we will ever know. These 15 roles are the proof.
The Verdict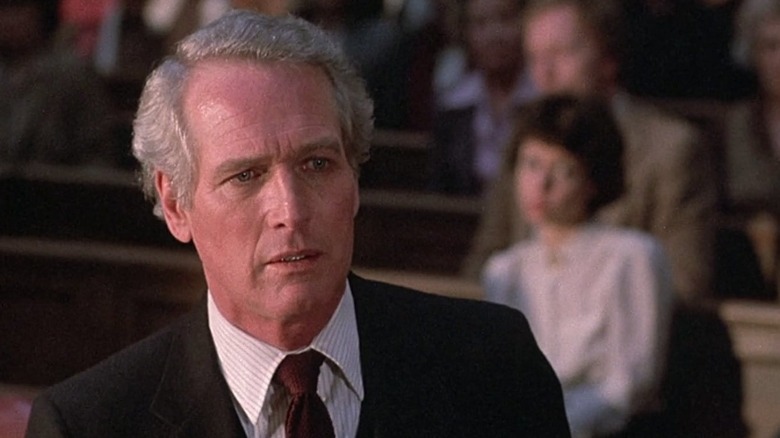 Sidney Lumet, David Mamet, and Paul Newman are three names that, when combined, are inevitably going to lead to a sublime time at the movies, and that is very much the case with this courtroom drama. With Charlotte Rampling and James Mason in supporting roles, "The Verdict" sees Newman giving one of his best performances as an alcoholic ambulance-chaser who gradually falls back in love with the law thanks to a medical malpractice case. It's a classic example of the odds being stacked against a "little guy" who is taking on an evil corporation — in this case, a Catholic hospital — with only the slimmest of chances of winning at trial. 
The courtroom drama is one of the genres that Americans do extremely well, perhaps because the law is such big business in the U.S., and "The Verdict" stands up against the many John Grisham adaptations as one of the greats. Newman fought to keep the unlikeable aspects of the main character, including a moment when he strikes a woman who betrays him (something that also happens in "The Absence of Malice," which Newman starred in the year before), and while it's not easy to watch, the film is better for it.
Paris Blues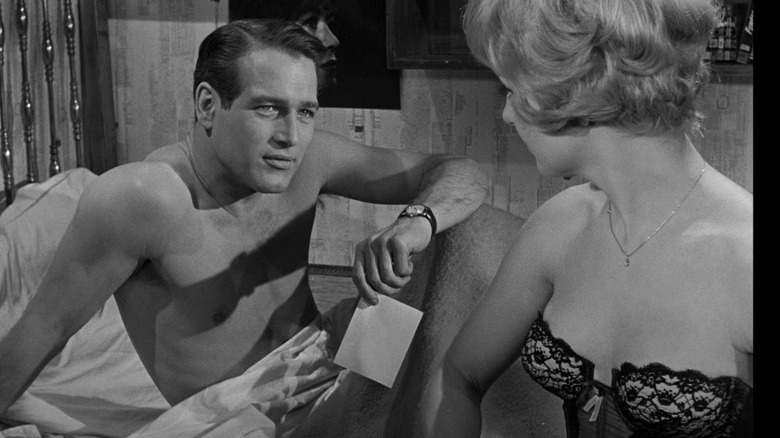 In terms of the Paris-based movies on Newman's filmography, it was a tough call whether to go with this or the psychedelic '60s chaos of "What a Way to Go!" "Paris Blues" is one of 10 collaborations between Newman and his wife Joanne Woodward, and one of six collaborations with director Martin Ritt. Newman and Sidney Poitier play American jazz musicians in Paris who have romances with Woodward and Diahann Carroll, respectively. 
The book that "Paris Blues" is based on features an interracial love story, and this is teased at the start of the film, with Newman initially pursuing Caroll's character. However, she rejects him and he is pursued by Woodward instead, as the studio was worried about the film's reception in the U.S. While it obviously could have been more progressive, there are still some aspects that push boundaries for the time, such as Carroll and Poitier arguing about civil rights, the fact that Woodward is quite sexually forward, and that she has two children at home. Duke Ellington's music also helps set the scene, and Newman and Woodward have sizzling chemistry, as usual.
The Rack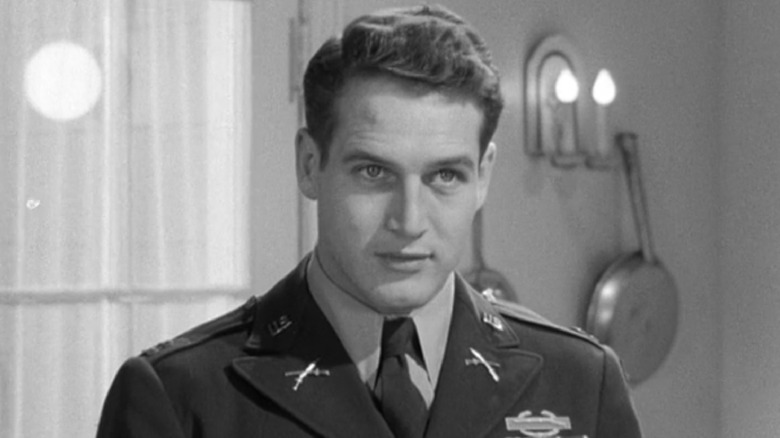 One of Newman's earliest starring roles came in this astonishing examination of PTSD and mental torture in the Korean War, which was made just as that conflict was ending. Newman plays a returning soldier who is court martialed for collaborating with the enemy, but it comes out during the trial that he was broken down through the use of solitary confinement and emotional manipulation, rather than physical torture. "The Rack" was made around the same time that Newman was attending the Actor's Studio, and this comes through in his performance. 
This film was way ahead of its time in many ways, particularly in the new style of acting and its sensitive treatment of returning soldiers. Quite a large part of the film is made up of the trial, but it's so well written and acted that it is compelling throughout. Nearly 30 years later, it would make an interesting companion piece to "The Verdict," with Newman playing a different role in a trial and showing how his acting evolved over his career. Newman was not known for his war films, but the ones that he did star in were good ones. A year after "The Rack," he also made "Until They Sail," a World War II film set in New Zealand that also has much to recommend it.
Slap Shot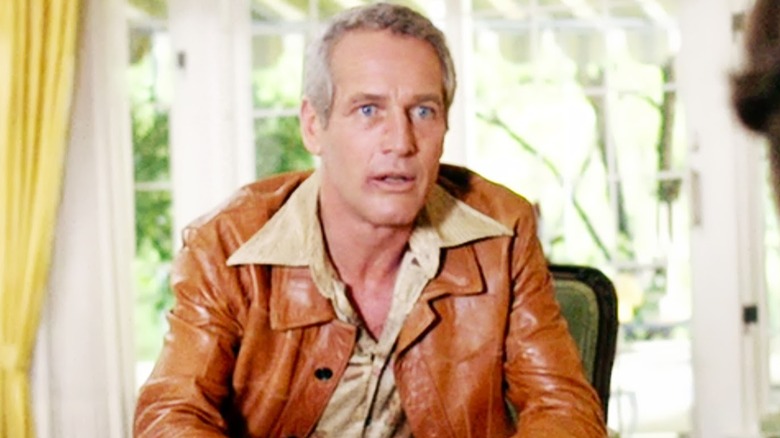 Newman frequently said that, of all the characters he played, his favorite was hockey coach Reggie Dunlop, and that his favorite movie-making experience was "Slap Shot." One of the greatest sports movies ever made, this comedy sees Newman as a player-coach who experiments with extreme violence in order to win matches and satisfy fans. It initially works, thanks to three bespectacled siblings recruited for the team (played by a real-life hockey-playing pair of brothers and their teammate), who almost steal the movie from under Newman's nose. 
The script by Nancy Dowd was based on her brother's minor-league ice hockey career, and many real-life incidents, such as players getting arrested during games, were brought into the film. "Slap Shot" rounds out the trio of classics that Newman made with director George Roy Hill, and although it didn't achieve the same success as "The Sting" or "Butch Cassidy," it would go onto be considered a cult classic. 
A major shout-out has to go to Newman's wardrobe in this film. From the orange leather suit to the fur-trimmed coat, this was '70s sartorial style at its finest. You can tell that Newman is having a ball in this movie, and that translates to the audience. Even if you're not the sporty type, it's still an extremely funny and entertaining time.
Somebody Up There Likes Me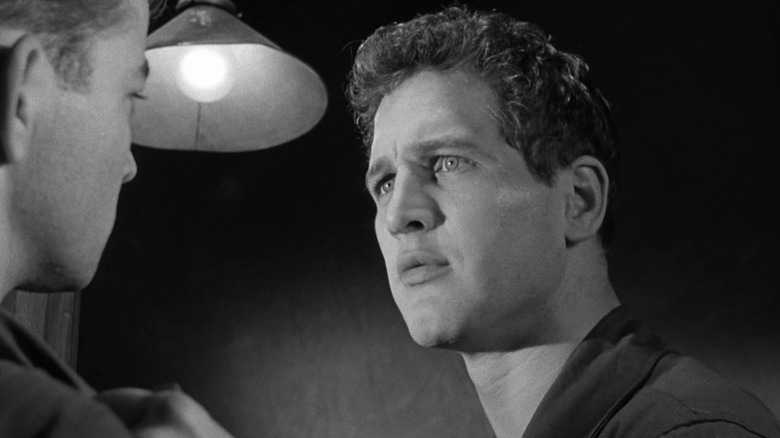 From ice hockey, to boxing, to, of course, pool, Newman's career was peppered with sports movies — and then there's the fact that Newman was a real-life car racer. "Somebody Up There Likes Me" contains Newman's breakthrough role, the boxer Rocky Graziano. It's also notable for featuring Steve McQueen's first onscreen appearance, as McQueen would go on to have something of a rivalry with Newman. 
Rocky would set the mold for many Newman characters to come — he has a difficult relationship with his father, leading him to act out against authority figures, just as he did in "Cool Hand Luke." It also stars Sal Mineo (best known for "Rebel Without a Cause") and should have starred James Dean as Rocky, but Newman stepped in once Dean died. 
Pier Angeli plays Rocky's love interest Norma, a calming influence on both Rocky and the film itself. Newman's Italian-American New York accent is laid on a little thick, but the young actor is working hard at his craft, and you can see the clear influence of figures like Dean and Brando. "Somebody Up There Likes Me" needs to be seen, as it's the jumping-off point of Newman's career — everything else stemmed from this.
Cool Hand Luke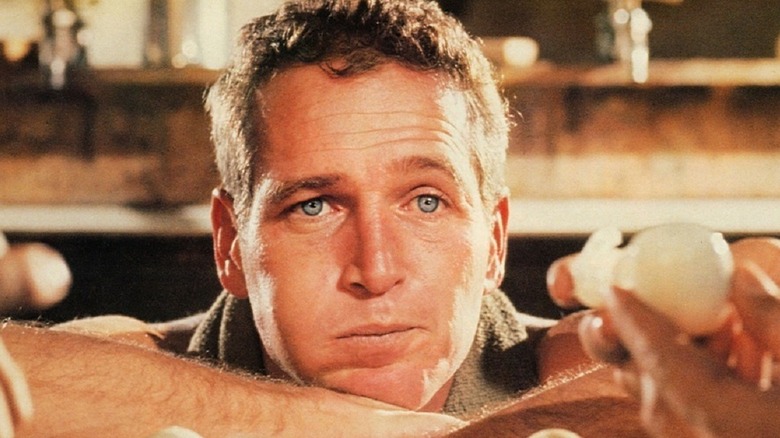 In "Cool Hand Luke," Newman gave one of his most iconic performances as a rebellious prisoner who becomes a reluctant leader and a martyr to his fellow inmates. Made in the late '60s, but set in the early '50s, "Cool Hand Luke" was one of four collaborations between Newman and director Stuart Rosenberg. 
Luke continually provokes the guards and earns the respect of his fellow prisoners by pulling off audacious stunts, the most famous of which is a bet that he can eat 50 hard-boiled eggs in an hour. Once Luke's mother dies, he begins multiple escape attempts, which are always followed by beatings and time "in the box." 
The guards gradually grind Luke down and seemingly break him, to the great disappointment of his fellow prisoners. There are a few stand-out images, such as the appearance of the "man with no eyes" (called so because he wears mirrored sunglasses), who becomes a symbolic figure who Luke feels he must beat. The other is the ultimate symbol of freedom: a magazine photograph of Luke with two beautiful women that turns out to have been fabricated, proving that freedom is unachievable for most of the men. 
There are many religious and mythological motifs as well, with Luke almost becoming a Christ-like figure to his fellow prisoners. "Cool Hand Luke" is one of the first roles you think of when you think of Newman; it really embodies his charisma and star power.
Rachel Rachel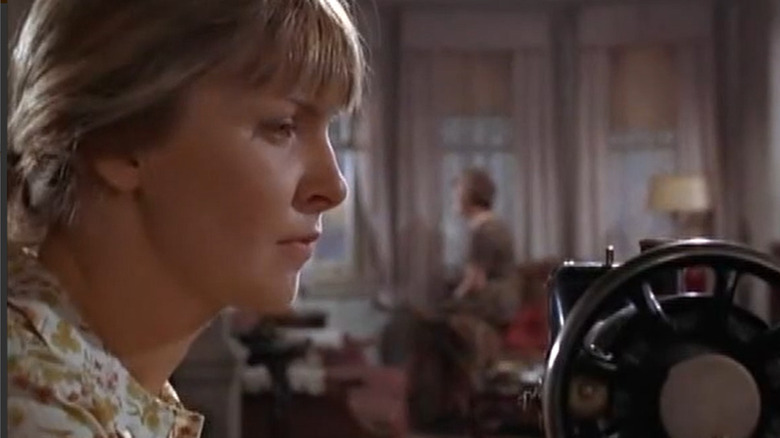 Newman directed five films, the best of which has to be this Oscar-nominated drama starring Joanne Woodward as Rachel, an "old maid" and a school teacher (she's in her late '30s). Rachel lives with her mother and has defied the regular expectations of women at the time, i.e., to get married and have children. When a childhood friend blows back into her small town, he awakens her to the possibilities that life holds for her. 
"Rachel Rachel" is not a simple portrayal of a woman by any stretch. Every aspect of Rachel's life is complicated, including her relationships with her best friend, religion, her mother, and sex. Woodward's performance is incredible. Although this was made in the late '60s, it has many qualities that we associate with '70s films: a loose style of direction, and a lightness of touch that allows the actors to excel. It is comparable to some of Robert Altman's portrayals of complicated women in the '70s. 
It's a shame that Newman didn't direct more, because he had a talent for it, and collaborating with Woodward clearly brought out the best in him.
The Hudsucker Proxy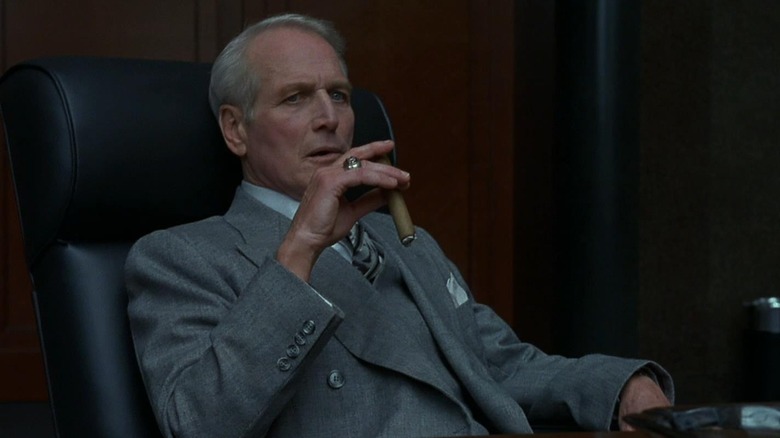 One of the Coen brothers' more underseen, idiosyncratic works is this tale of a pure soul corrupted by a system of corporate greed. The '80s were filled with seemingly aspirational stories about corporate ladder-climbing, such as "The Secret of My Success." In 1994, it feels like the Coens (with co-writer Sam Raimi) were making a parody of those films, while also looking to the influence of 1957's "Sweet Smell of Success." 
In "The Hudsucker Proxy," Tim Robbins plays Norville, the unwitting mail clerk who becomes a pawn in Sidney J. Mussburger's (Newman) nefarious scheme. It's great to see Newman in full cigar-chomping villain mode, while Jennifer Jason Leigh plays the fast-talking, wise-cracking, barnstorming Amy in one of her best performances. 
It's interesting that, in Newman's latter years, he turned to period pieces such as this, 2002's "Road to Perdition" and the nostalgia-infused "Cars." With Mussburger and the gangster Rooney, he also began favoring darker, more villainous roles. Even though the characters in "The Hudsucker Proxy" are cartoonish archetypes, Newman brings a softly-spoken menace to the role, rather than going totally over the top. It's one of the Coens' and Newman's best films.
The Hustler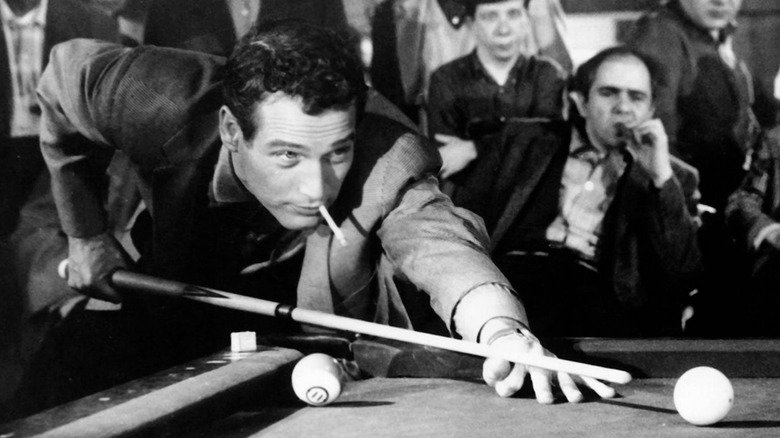 Along with Luke Jackson, the role of Fast Eddie Felson is one of Newman's most enduring characters. Pitted against the older and more experienced Minnesota Fats, Eddie is desperate to prove himself as the best at his chosen profession, pool. 
However, much of "The Hustler" is not about Eddie's battle with Minnesota Fats, but rather his internal struggle about whether or not he needs a mentor and manager — here, that figure takes the shape of Bert Gordon (George C. Scott). It is fascinating that "The Hustler" is so much about this, because nearly 25 years later, Martin Scorsese would make a (fantastic) sequel, in which Eddie becomes a mentor to new blood (played by Tom Cruise). 
The heart of this film is Sarah Packard, in a sublime performance by Piper Laurie that was deservedly nominated for an Oscar. Sarah is an alcoholic, but for a brief time, she and Eddie save one another. However, he is inevitably drawn back into the world of hustling once more, because he cannot imagine a life without pool, while Sarah has a tragic demise. 
All of Newman's sports movies portray the activities as both callings and sources of addiction, even though his characters may be better off without them. Winning is more important to Eddie than money — his pride and ego are at stake, qualities that define many of Newman's characters. "The Hustler" one of the essential films of the '60s.
Butch Cassidy And The Sundance Kid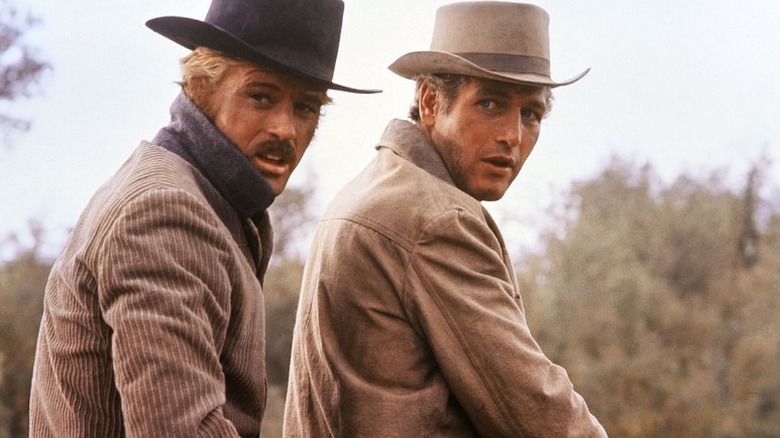 While the Newman and Redford partnership only spanned two films, both are such classics that it feels like they were together for many more. The third important ingredient here is director George Roy Hill, who got the best out of the two stars' dynamic with each other. The sharply witty dialogue in "Butch Cassidy and the Sundance Kid, which was written by William Goldman, is what sets it apart from many other westerns, giving it a light touch and bringing warmth to the characters. 
Butch and Sundance bumble their way through the story, making mistakes, getting lucky, and following an inevitable path to implosion. Newman's most charming scene is, of course, the "Raindrops Keep Falling on my Head" sequence with Katherine Ross, which is a delightful interlude from Butch and Sundance's constant running for their lives. The central trio have fantastic chemistry with one another, making us want to go on this harebrained journey with them, however ill-advised it may seem. 
"Butch Cassidy" spins the whole notion of the heroic cowboy and the American Dream on its head. There are no winners here, and all of the humor makes the downbeat ending all the more heartbreaking. It's quite possibly the best western of all time
Nobody's Fool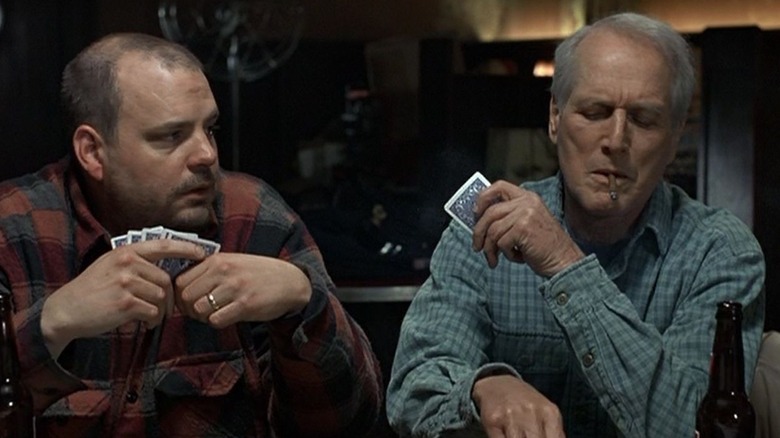 Newman appeared in both a film and a mini-series based on Richard Russo's novels, and this combination of writer and actor is one to be treasured. 1994's "Nobody's Fool" sees Newman as Sully, a cantankerous man living in a small town where everyone's lives are entangled. The ensemble cast, which includes Melanie Griffith, Jessica Tandy, Philip Seymour Hoffman, Margo Martindale, and — unbelievably — Bruce Willis, populate the film with eccentric characters who are still recognizable humans. 
The writing is witty and sharp, and the warmth helps us stick with Sully, a man who abandoned a young family years before, as he gets to know his grandson. Willis is very good as Sully's rival, making you wish that he made more comedy-dramas, and Griffith makes for an enjoyably flirtatious foil for Newman, especially considering that she co-starred with him 20 years earlier in "The Drowning Pool," when she was just 17. 
"Nobody's Fool" is such a treat. It quickly establishes people that you buy into and care for, and it gives them a satisfying arc to follow. Newman was deservedly nominated for an Oscar for his portrayal of Sully, a beautifully written and performed character.
The Long Hot Summer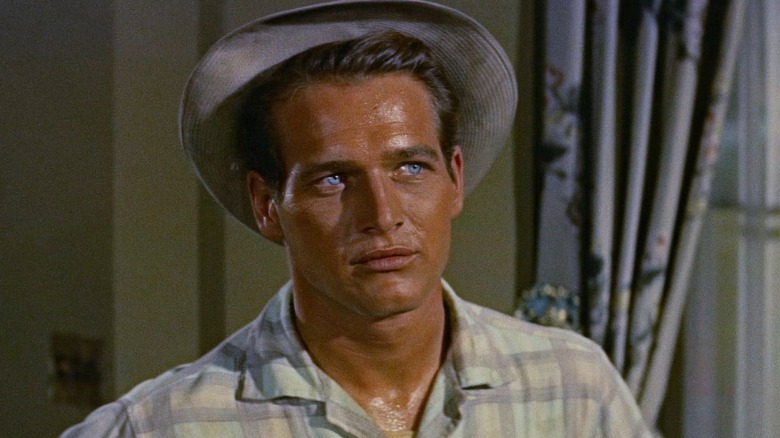 Newman appeared in two films set amid sultry Mississippi summers in 1958, but played two characters who couldn't be further from one another. In "The Long Hot Summer," he appears as Ben Quick, an itinerant interloper who swans into town and immediately impresses the head honcho, Will Varner (Orson Welles). But it takes much longer to win over Varner's daughter, Clara (Joanne Woodward). While in "Paris Blues" Wooward pursues Newman, the tables are very much turned here; he is the hunter. 
Quick is trying to outrun his past and his name — as in the William Faulkner story the film is based on, Quick's father was a barn burner. This film marks the start of the Woodward-Newman relationship, and their chemistry is perhaps at its sizzling peak. A scene in which Quick sleeps on the balcony outside Clara's room due to the sweltering summer ramps up the heat in more ways than one. 
As the scheming Varner, Welles makes a great scene partner for Newman. "The Long Hot Summer" is an essential Newman film, especially when paired with "Cat on a Hot Tin Roof."
The Sting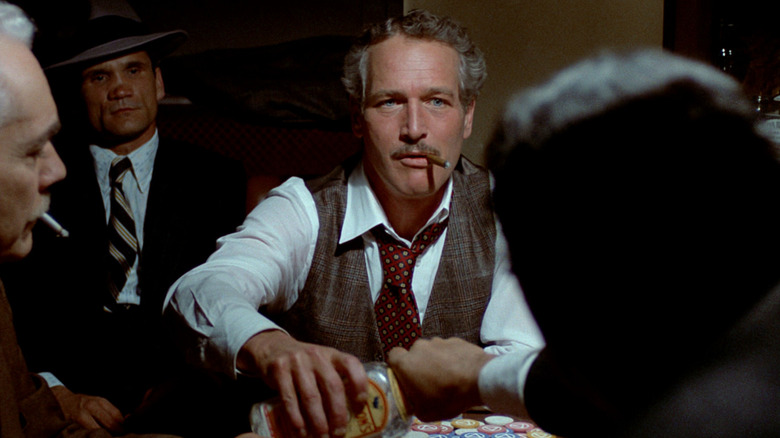 The second of Newman and Redford's team-ups, this influence of this ingeniously plotted story of a long con can be felt in everything from "The Grifters" and "Ocean's Eleven" to "Lucky Number Slevin." 
Newman gets an all-time great entrance as the massively hungover Henry Gondorff: "Glad to meet you, kid. You're a real horse's a**."  Newman also gets the iconic early scene during the poker game on the train, opposite Robert Shaw's Lonnegan, in which he poses as a drunk and out-cheats the cheater. Newman and Shaw's hate-hate relationship is one of the film's biggest strengths, with Lonnegan's blood pressure visibly rising every time he sees Gondorff and Newman playing it cool. 
Eileen Brennan's Billie is another highlight. With a huge ensemble cast and an intricate plot with so many moving parts, "The Sting" needs a steady hand at the center, and Newman provides exactly that. He is the experience to Redford's innocence, making for an interesting contrast to their dynamic in "Butch Cassidy." "The Sting" is one of the all-time great best picture winners.
Hud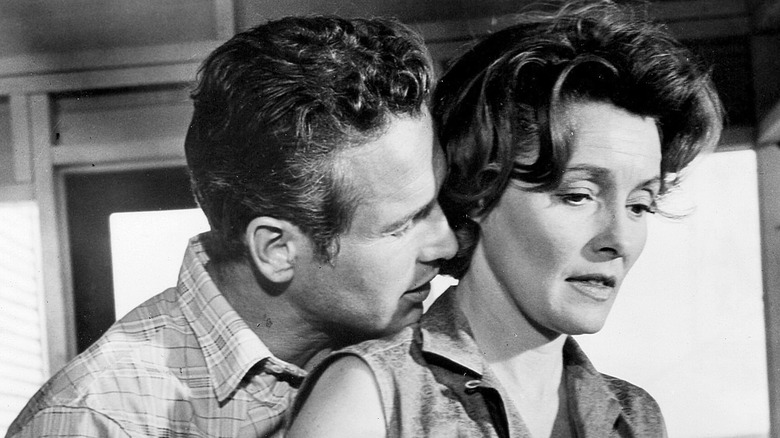 Apart from, of course, Joanne Woodward, Newman's two best leading ladies were Piper Laurie in "The Hustler" and Patricia Neal in "Hud." Although Neal only gets around 20 minutes of screentime, her presence makes a lasting impact. In the film, Newman plays Hud Bannon, the disappointing son of rancher Homer (Melvyn Douglas), whose nephew Lonnie idolizes him. 
It's the classic tale of a generational clash that had become so popular in the '50s, mostly embodied by James Dean; "Hud" is one of many roles that makes you wonder how different Newman's career might have been if Dean hadn't died. 
Hud is one of Newman's least likeable characters, but we are given enough backstory to have some sympathy for him, and Newman is incapable of delivering a performance that doesn't have enough charm and charisma to win the audience over to some degree. The black-and-white cinematography by James Wong Howe is one of the film's greatest strengths, and, like "Butch Cassidy," challenges the notion of what a western should be. It's not an easy film, but it is one of Newman's best.
Cat On A Hot Tin Roof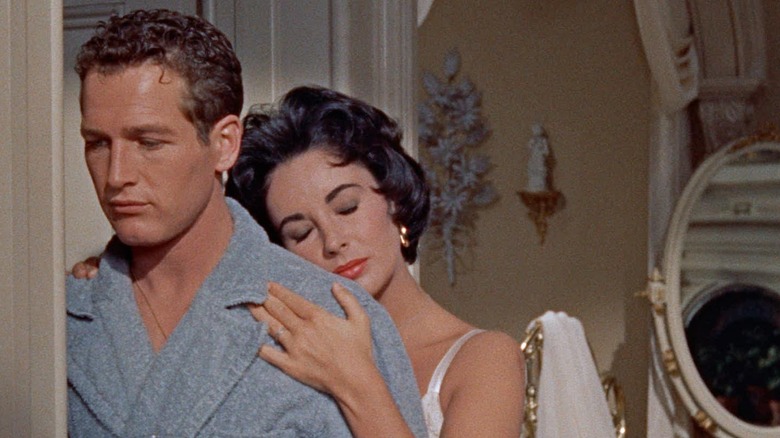 Two superstars at the peak of their physical beauty come together in this Tennessee Williams adaptation (the first of three for Newman) and hash it out over the course of one day and night, trapped in a stiflingly hot room and surrounded by the "mendacity" of the family from Hell. Burl Ives' Harvey "Big Daddy" Pollitt dominates the proceedings, although Madeleine Sherwood's "Sister Woman" and the "no-neck monsters" also contribute to the background cacophony that Newman's Brick is desperate to drown out with a bottle of whiskey. 
Harder to block is Elizabeth Taylor's insistent Maggie, who is hellbent on getting through to her husband as he tries to freeze her out, remaining as cool as his silk pajamas and as icy as those blue eyes. Newman delivers his best performance as a man so disgusted with himself that he doesn't believe that he deserves his wife's love or lust, a stark contrast to the arrogant, rebellious, cocky, and confident characters he would often play. 
While the true nature of Brick's "close" relationship with his dead best friend Skipper is largely exorcised from the film, there are enough hints to make sense of Brick's tortured soul. A thoroughly absorbing melodrama that comes to a great crescendo at the end, "A Cat on a Hot Tin Roof" was the film that made the world sit up and fully notice Paul Newman, the film star.
Read this next: Robert Redford's 15 Best Movies Ranked
The post The 15 Best Paul Newman Movies Ranked appeared first on /Film.