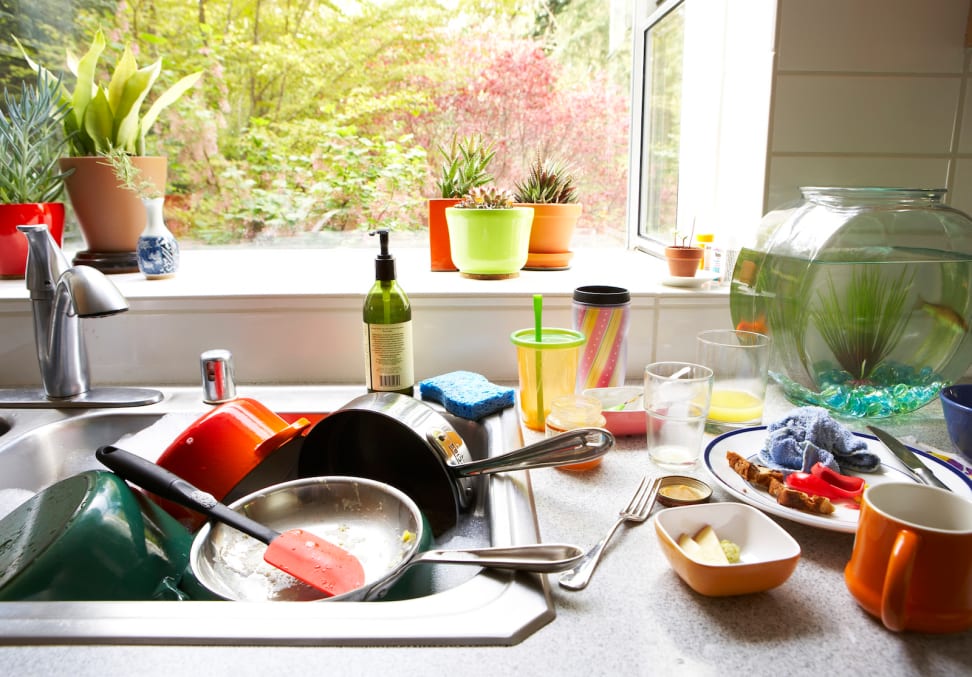 — Recommendations are independently chosen by Reviewed's editors. Purchases you make through our links may earn us a commission.
If you're like most people, the kitchen is probably the center of your home. It's where you stumble in looking for coffee in the morning, where you cook dinner, and probably where you spend a lot of time with your family. It's also the site of all kinds of spills, stains, stinky trash cans, and dirty dishes—which is why it's so important to have the right tools to keep it fresh and clean.
We've spent years testing nearly all the daily kitchen essentials (you might even say we've tested everything but the kitchen sink). We've scrubbed, wiped, and thrown things out, combining scientific testing with ordinary real-life use. Why? We wanted to find the absolute best supplies for washing and drying dishes, cleaning countertops, and dealing with garbage so that you can enjoy spending time in what many call the center of your home.
Unless your kitchen magically cleans itself, you'll want to upgrade your arsenal of essentials to include our best tested items!
These are the best kitchen essentials we tasted:
Best Paper Towels: Bounty Select-a-Size
Best Kitchen Sponge: Scotch-Brite Dobie All Purpose Pads
Best Dish Soap: Dawn Ultra
Best Dish Rack: PremiumRacks Professional Dish Rack
Best Dish Towel: Williams Sonoma All-Purpose Pantry Towels
Best Trash Can: Simplehuman 45L Rectangular Step Can
Best Trash Bags: Glad ForceFlexPlus Advanced Protection
Best Mop: Gladwell Cordless Rechargeable Electric Mop
Most Convenient Floor Cleaner: Swiffer WetJet
Best Paper Towel
Bounty Select-A-Size
It's the name synonymous with the paper towel—for good reason. Bounty's plain old "quicker picker upper" proves far better than its competitors.
It can clean ketchup from the counter with a single swipe, leaving barely a smudge behind. It's also great for dusting. When dry, the Bounty feels thick and strong, despite the fact that it's not particularly heavy. When submerged in water, it holds its strength and can withstand rigorous underwater scrubbing. It also leaves less residue than most other paper towel options when dampened and used to clean a cast iron pan and carpet.
Finally, the towel tears perfectly nearly every time. What more could you want from a paper towel?
Pros
Strong and thick

Can withstand rigorous scrubbing
Best Kitchen Sponge
Scotch-Brite Dobie All Purpose Pads
If you want a basic sponge that can handle everything from burnt cooking mishaps to standard dirty dishes, Dobie has your back. It just plain gets the job done—and painlessly at that. It's too soft to scratch your cookware but textured enough to remove tough stains. It's also thin enough to really get into the narrow corners of a pan.
The Dobie isn't particularly absorbent, so it's better used for cleaning rather than sopping up spills. That said, the result is that it doesn't stay perpetually damp, which means it's likely to be less appealing to bacteria and bad smells that tend to feel at home on a wet sponge. Use your Dobie on dishes, stains, and anything that could use effective scrubbing, and grab an absorbent towel if you need to soak up any liquid.
See more of the best kitchen sponges we tested and reviewed.
Best Dish Soap
Dawn Ultra
You might think of Dawn as the dish detergent used to clean up wildlife after oil spills—some bottles of Dawn Ultra actually sport pictures of baby ducks as a reminder. We can't assess how well it works on oily wildlife, but we can tell you that throughout our tests Dawn Ultra really excelled at cleaning dishes. It came out at the top of the list because it made quick work of basic meat, spinach, oatmeal, milk, and egg stains; scoffed at the challenge of removing burnt sugar, burnt cheese, and lasagna from our test dishes; and dissolved bacon grease better than any other detergent we tested, leaving only the slightest haze at the end.
Dawn Ultra is pleasant to use with a mild, fruity fragrance, a thicker texture, and a distinctive blue color. In the tests, this product was able to get through a dishpan full of grimy dishes without too much effort. If you want an effective dish detergent that can get your hand-washed dishes very clean, Dawn Ultra is the one for you.
Pros
Best at cleaning tough stains

Fruity Fragrance
Best Dish Towel
Williams Sonoma All-Purpose Pantry Towels
This classic towel from Williams Sonoma not only looks good in any kitchen (it comes in six colors), but it gets dishes dry without any fuss. Made from ribbon cotton terry, the towel is a pro at drying irregular objects like wine glasses and vases while still feeling soft to the touch.
Although the towel stays damp for longer than some thinner dish towels, it also retains more water than its competitors, which means it should be able to wipe water from plenty of dishes before you need to grab another towel.
Bonus: It's also quite cheap.
Best Trash Can
Simplehuman 45L Rectangular Step Can
This trash can is a reliable winner in a bevy of "best of" lists, and it's not hard to see why. The 45L can is about as glamorous as waste receptacles can get. The gleaming, stainless steel unit (which also comes in black, white, bronze, or rose gold) has custom-fit liners that dispense from inside the can, a wide rim that both secures and obscures the bags, a lid with patented "shox" technology that facilitates a smooth, silent close, and a steel foot pedal supposedly designed to withstand 20 steps a day for 20 years. Clean, rectangular dimensions allow it to be tucked into corners or set along a wall, and while it's still quite heavy, a handle in the back assists in lugging it around. It also has a Nano-Clear coat (frequently used on cars) that harnesses UV rays in order to repel fingerprints, inhibit germs and microbes, and eliminate odors. Granted, you'll pay for all these features, but an impenetrable build and 10-year warranty ensure you won't be coughing up cash for a new can for a while.
Pros
Easy to store

Repels fingerprints
Best Trash Bag
Glad ForceFlexPlus Advanced Protection Tall Kitchen Drawstring Trash Bags, 13 Gallon
The Glad ForceFlex Plus Advanced Protection has all the features that make a great trash bag, including ease of use, durability, flexibility, and pure strength.
The trash bag has a noticeably more substantial feel than most other bags. The heavy-duty drawstrings close with ease and make taking out the trash a piece of cake. As an added bonus, the bag is scented with Febreze, which significantly reduces the smell of any trash placed inside.
The Glad ForeFlex is capable of containing even the heaviest loads without breaking. You shouldn't have to worry about a messy accident unless you're planning on filling it with near 40 lbs of garbage or a hefty pile of sharp objects.
With a flexible design, useful drawstrings, and a sturdy build, this trash bag is the best you'll find on the market.
Best Mop
Gladwell Cordless Rechargeable Electric Mop
You might think that a mop that needs power would be overkill—and you would be wrong. In fact, having to plug the Gladwell mop in to charge for about four hours before using it is probably the only negative thing about it. Because once powered up, you exert little to no energy in pushing it across the floor—it glides effortlessly, picking up dirt by way of its two spinning microfiber fabric heads, which can be thrown in the washing machine after each use.
Think of it as the difference between using a manual, push-powered and gas-powered lawnmower; the gas mower nearly pushes itself, much like the Gladwell. The Gladwell mop even picked up dust and dirt left behind by the broom I used on the floors before mopping, while it cleaned and sanitized the floor.
Since the rotating cleaning heads are round, the mop is extremely easy to operate around corners, which is a plus, and it's fun to use. My teenage daughter was so enamored with it that she now wants one for her birthday!
Most Convenient Floor Cleaner
Swiffer WetJet Mop Starter Kit
While the Swiffer WetJet isn't exactly a mop, it does all that you'd expect a mop to do namely, use a cleaning solution to pick up dirt from the floor. Only, the good news is that you don't have to pull out a bucket and fill it with hot water and liquid cleanser to use it. In about two seconds, you can be swiffering your floor, which is extremely handy when friends or your in-laws are at your door.
That's really its best feature—ease of use. It doesn't take up much space in the closet and is immediately ready to go once you attach the disposable paper cleaning head to the base. The starter kit comes with four AAA batteries, which powers the dispersal of the cleaning solution onto the floor, as well as the cleaner itself. Pop both the batteries in and load the bottle of cleaner and you're ready to go.
Press the trigger button on the handle to spray cleaner on the floor and then push the WetJet around where it is needed. When you're done, pull the disposable mop head off and toss it in the trash.
The one area where the Swiffer is less convenient is when picking up massive spills its disposable mop head can only hold so much liquid. So you'll need to have extras on hand to sop up the mess. It's still convenient to use in that regard, but you'll likely go through two or three sheets if cleaning up a glass or more of water or wine.
If you've heard rumors, as we had, about the Swiffer cleaning solution being dangerous for pets, you'll be happy to know that several organizations have refuted that information. The ASPCA Animal Poison Control Center confirms that "this product can be safely used around pets."
The convenience of having the Swiffer always at-the-ready, and the speed with which you can put it to use, means cleaner floors in the least amount of time possible with this mop.
More Articles You Might Enjoy