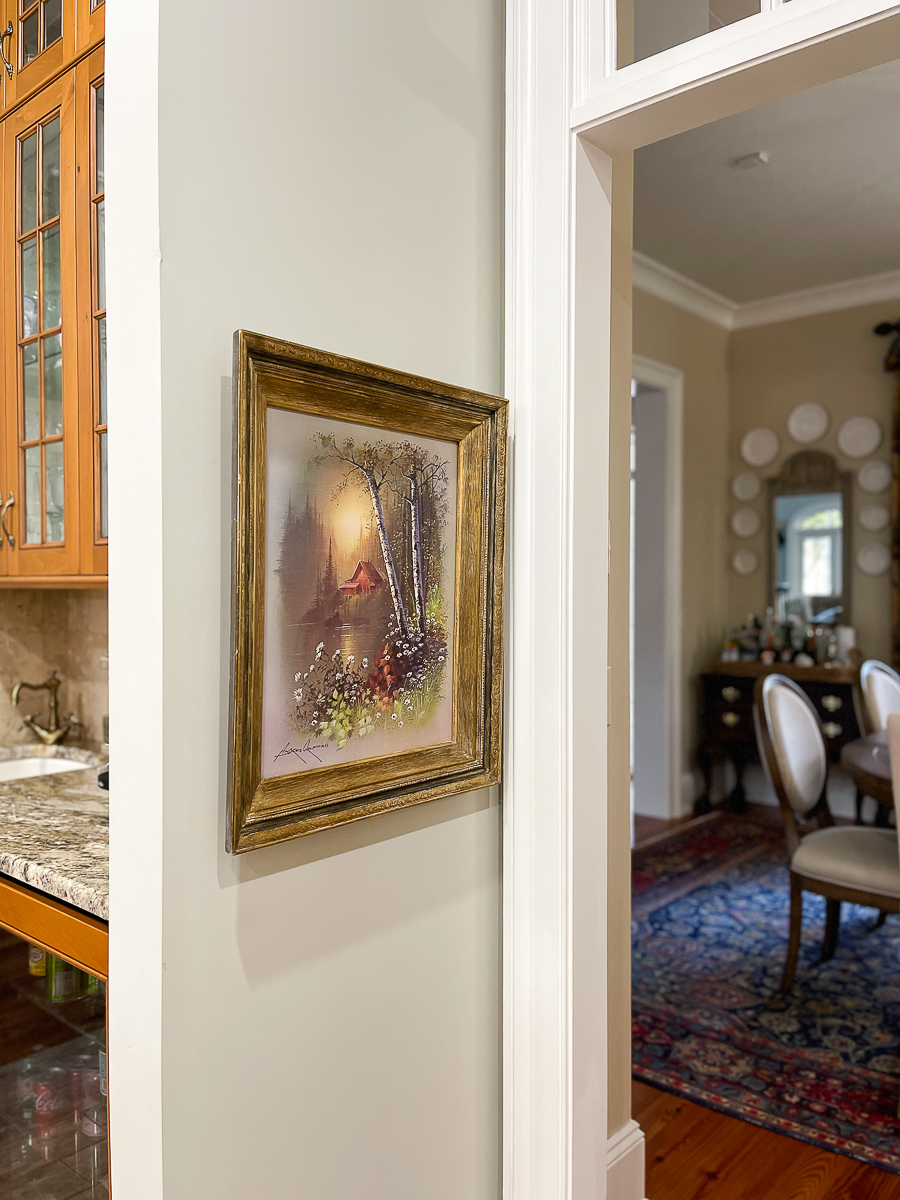 These tips for updating and decorating with thrift store art will have you decorating your home with eclectic style on a budget in no time!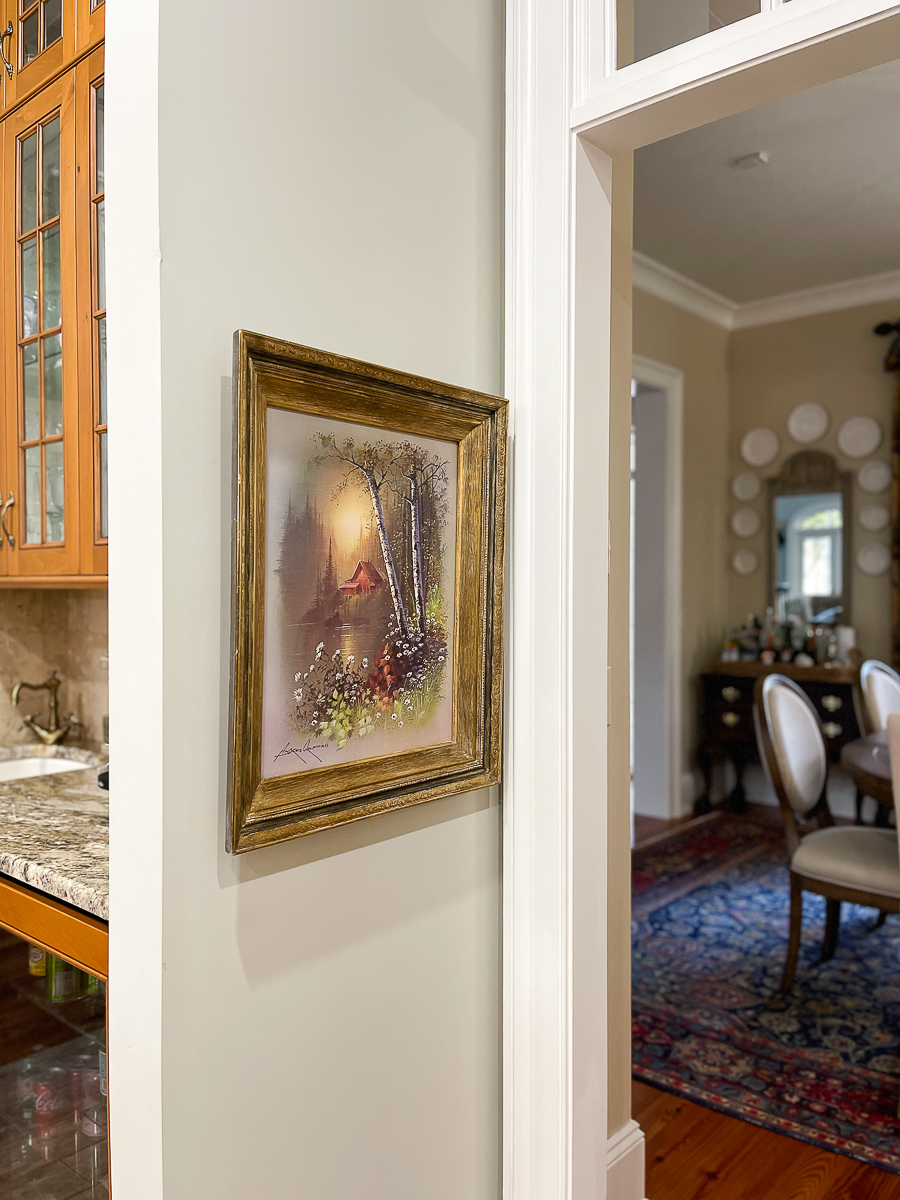 Latest from OSH
This post may contain affiliate links. If you purchase something using one of my links, I may earn a small commission from the retailer costing you nothing more. You can read more on my disclosure page. YOU WILL FIND A SHOP THE LOOK FOR OUR HOME AT THE BOTTOM!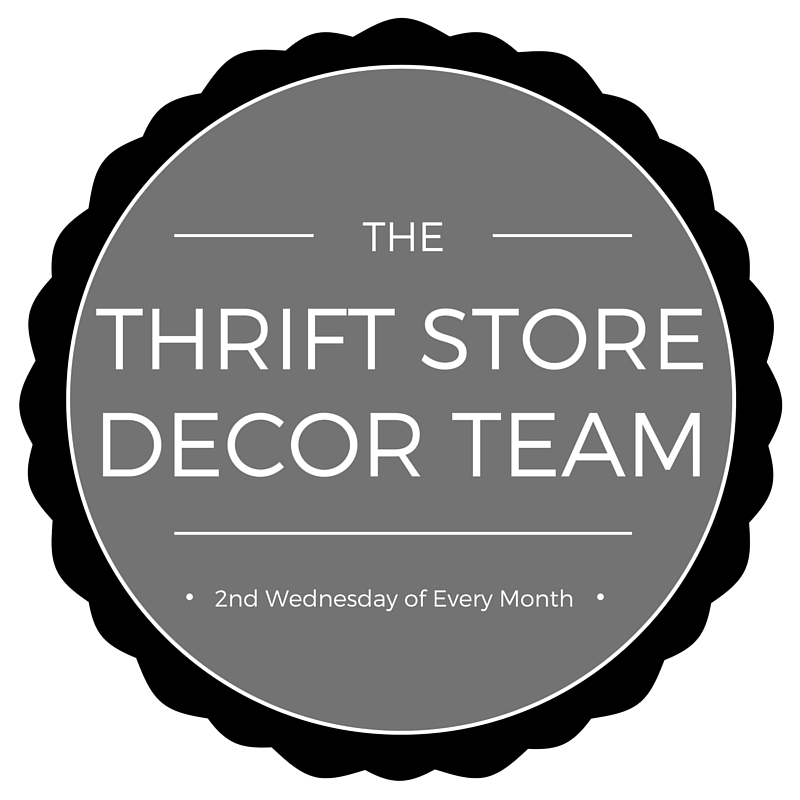 Welcome to this month's makeovers!!!! At the end of this post, you will find a list of 8 other NEW thrift store makeovers for the month!!!
Tips for Updating and Decorating with Thrift Store Art
Thrift store art is the first place I gravitate towards when I shop at the thrift store.
It can be one of your best values in the store.
If you remember my gallery wall on the staircase, patience rewarded me as a gathered art over several years until I had enough to put a dent in the space with my found treasures.
What to Look For
ready to hang art that needs a cleaning
fabulous frames – it's ok to toss or re-donate the art inside
Oil paintings
botanicals
landscapes
The Before
These two pieces of art were found months ago with the intention of using them in the Broadway Lake Airbnb.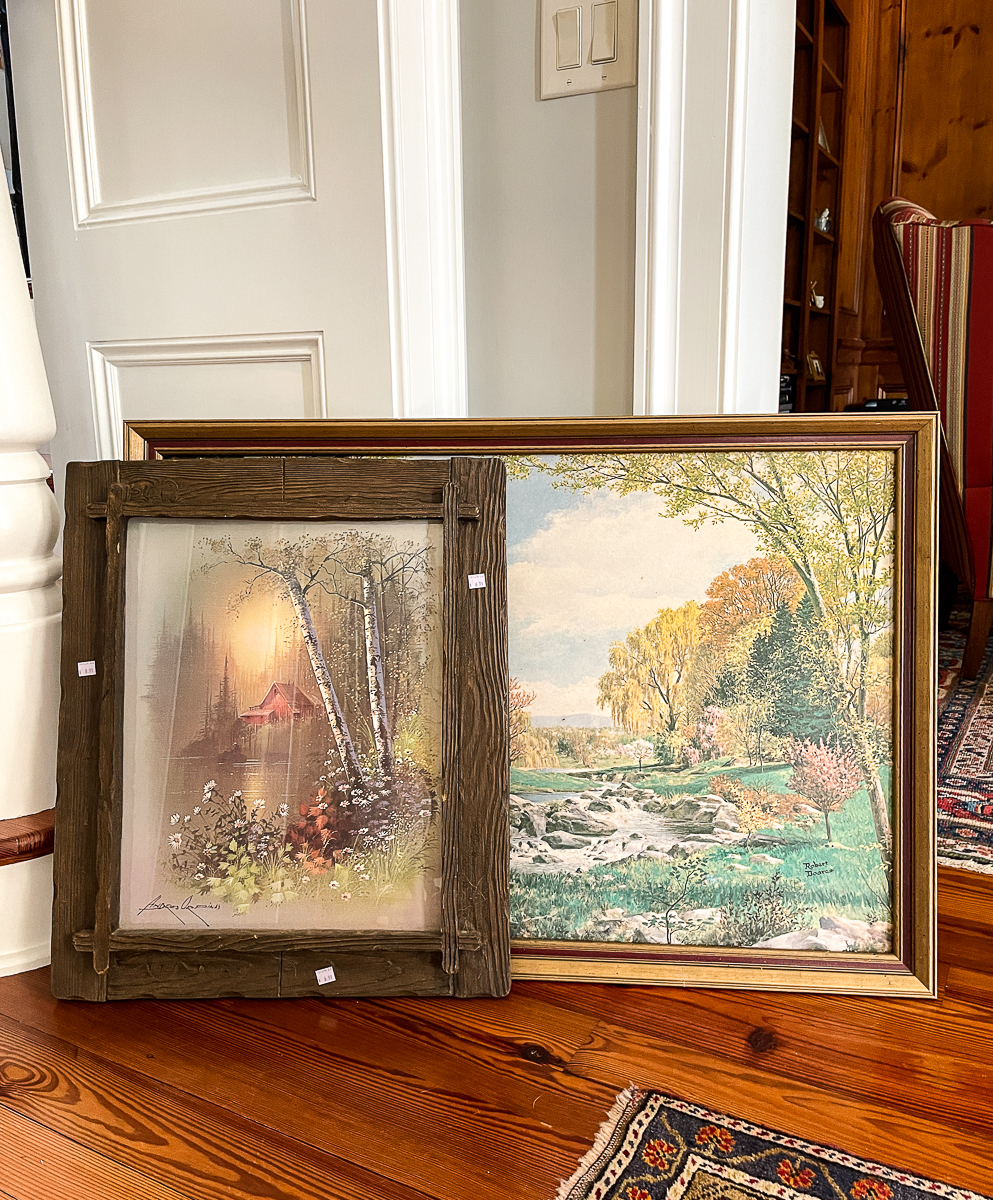 Neither of the two pieces of art is anything memorable. They are replicas of other art that have been printed on paper and applied to boards to look like oils. I'm ok with that! It totally fits the lakehouse cottage and eclectic vibe.
I knew for sure that I did not like the frame and glass on the boat in the lake piece. The frame isn't horrible, but a little too rustic for the vibe.
Do you remember when I mentioned that you should look for frames? I checked my frame stash and found this fabulous frame that would really elevate the look of the simple art.
The larger rectangle art was pretty fabulous as is, but I wasn't quite loving the deep reddish burgundy inner band on the frame.
My Plans
I planned to use what I had in my paint stash to update the frames.
I used grayish-white paint to paint over the reddish burgundy inner band of the frame to give it a light airy look.
I painted 2 coats with the graying white using an artist's brush.
Sometimes my plans change as I work on a thrift store project.
It took 4 tries on the frame to get it just right using wax and paint!
Supply List
The Large Landscape
I knew when I saw this that it would be perfect in one of the two lakehouse bedrooms that need art over the bed.
The colors are pretty and fit our aesthetic. This was honestly a bit more than I would like to have paid at $17.99, but it was fabulous.
Before you get to work, you must clean your art. Be careful with the actual art itself. You don't want to ruin it.
Use a gentle cleaner. I just usually grab an all-purpose spray or some Lysol wipes. You'd be surprised by the amount of grime on these frames.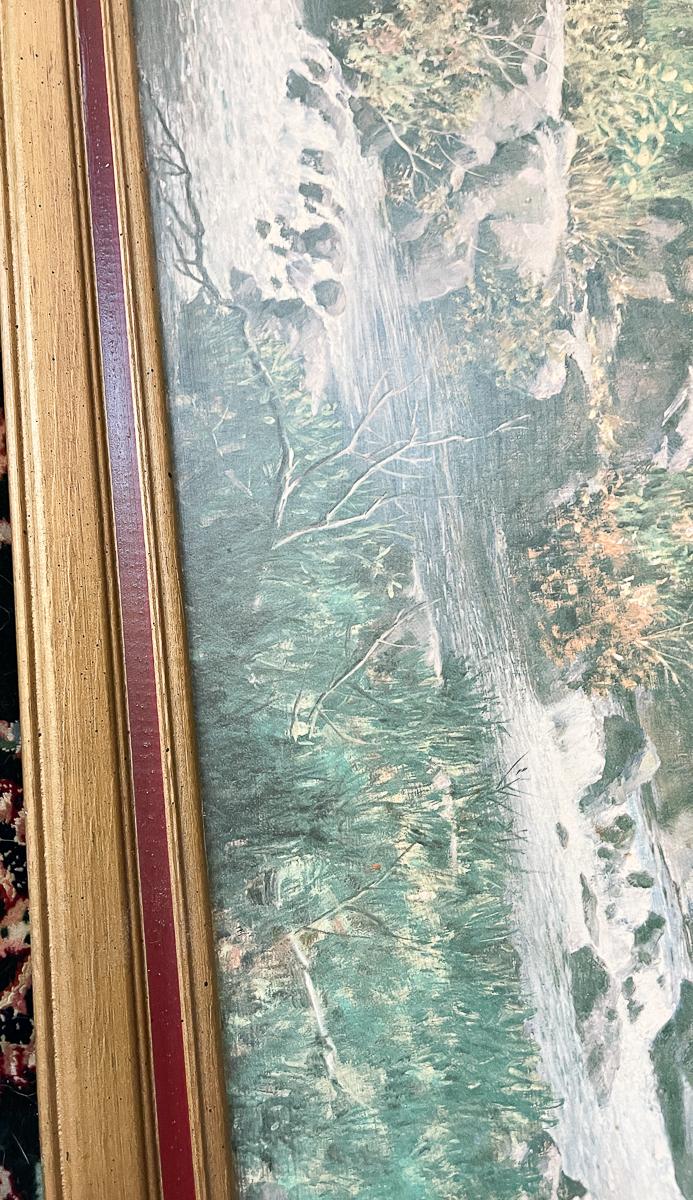 I don't go at this with that every stroke has to be perfect! This art is old, thrifted, and vintage.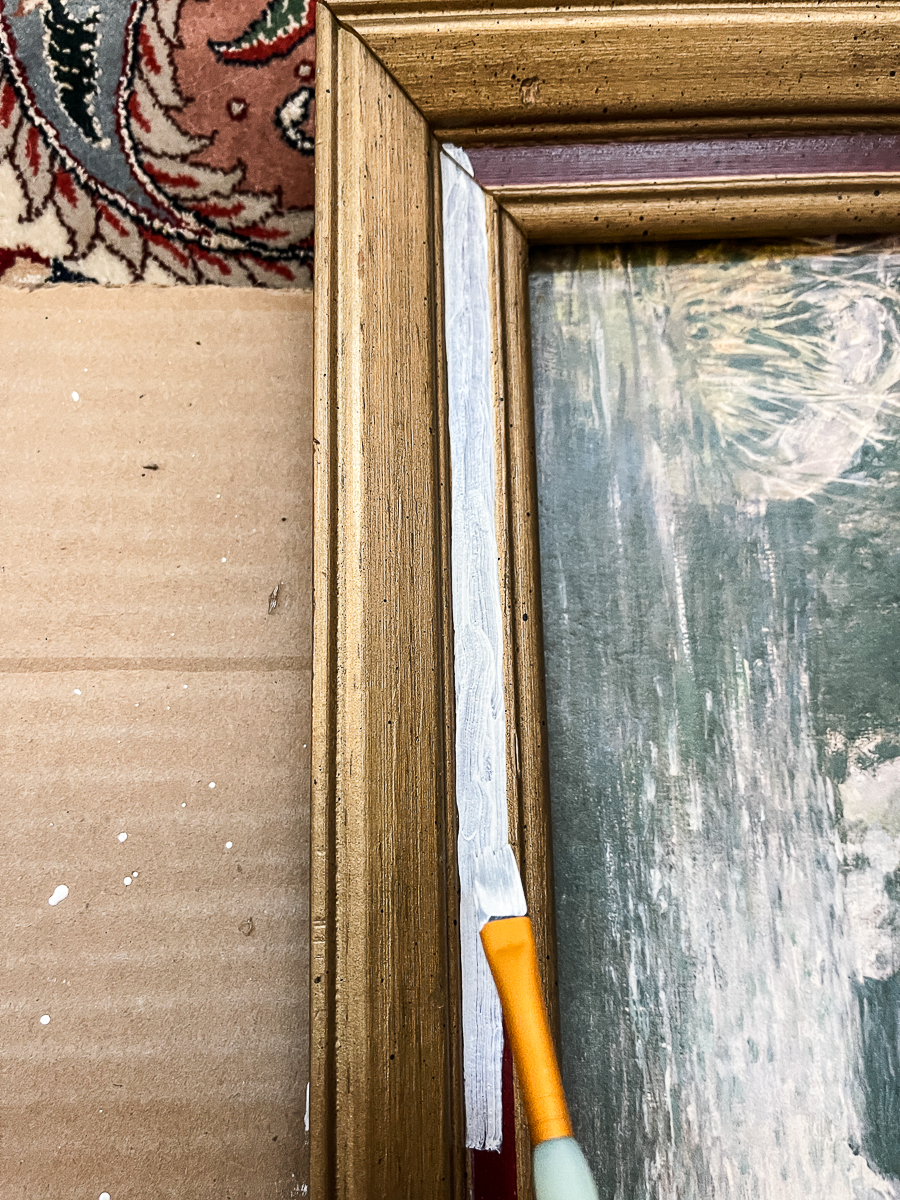 I used grayish-white paint to paint over the reddish inner line of the frame. Even a cream would have worked. I did not want a bright white. I didn't want it to look brand new and fresher than the entire frame.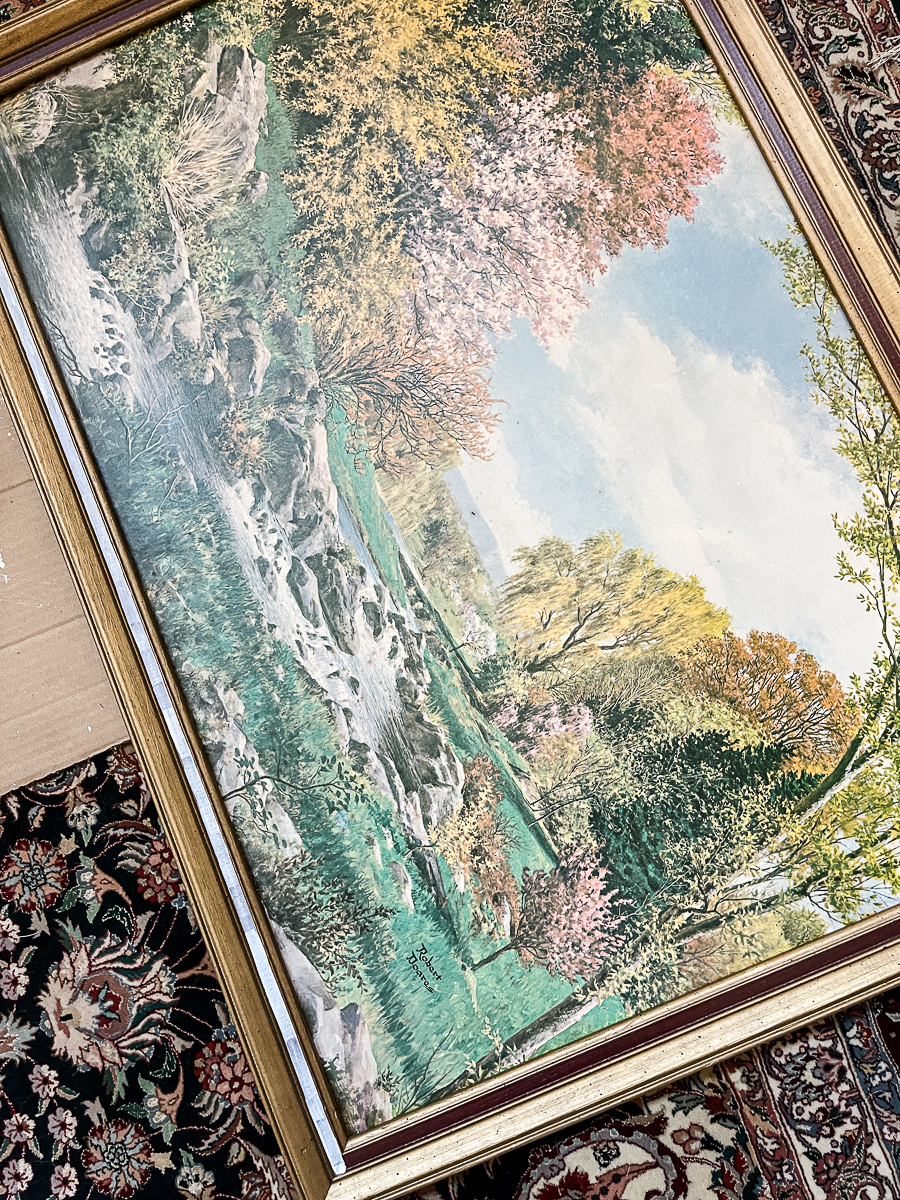 Two coats of paint and this one was complete. I love it when one comes together this easily!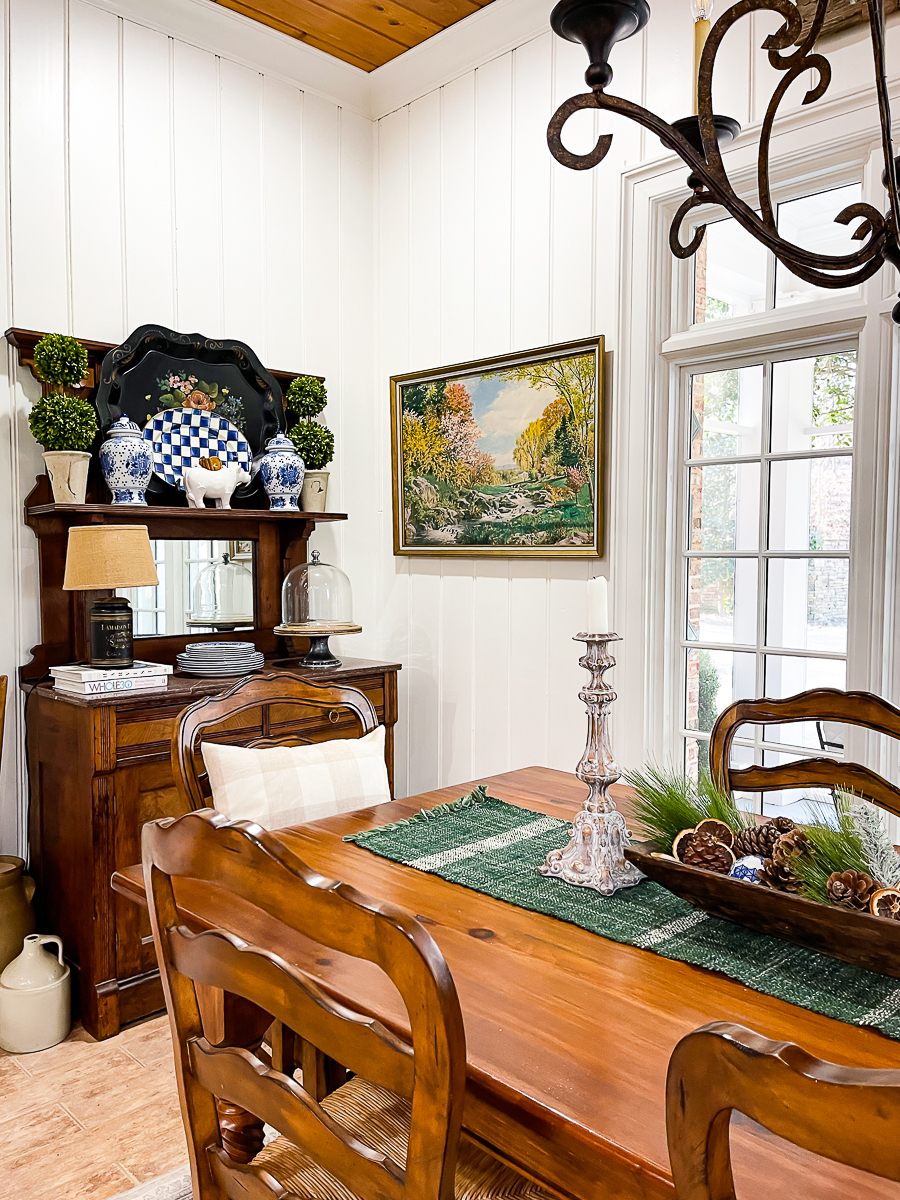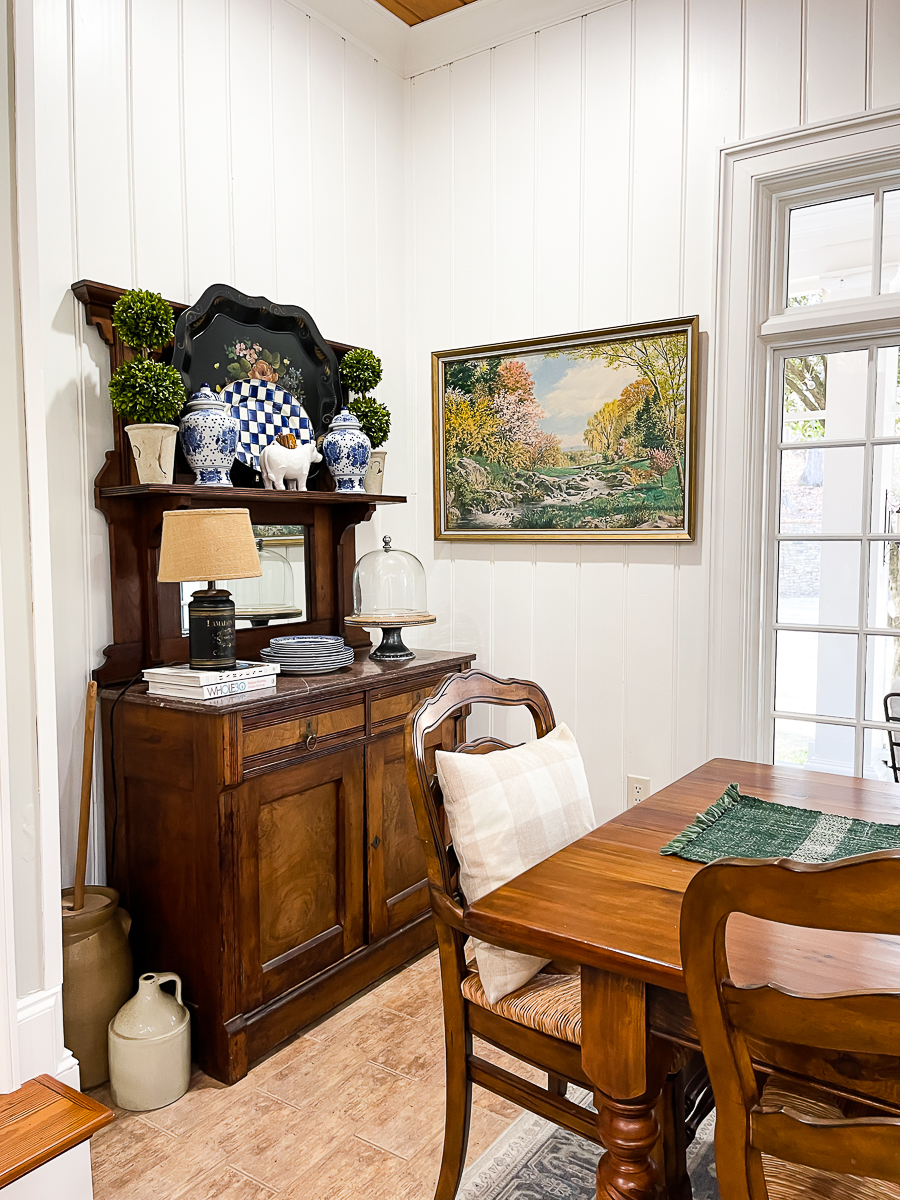 Scroll through the photos below!
I took my existing art down in the kitchen just so I could photograph it for you. When I take it to the lake house, I'll be sure to update this post with it in its place there.
The Smaller Vertical Art
This is such a sweet print with the boat in the water. I did not like it hidden behind the glass. I honestly considered just taking the glass off the art and seeing if I could live with the frame.
I checked my frame stash in the attic and had this frame that I paid $6 for years ago in the attic. It is the exact size for the art! I was a bit torn. I'd rather save it for art for our house, but it really took this art up a notch or ten!
The frame was just way too shiny and new for the lake house and this more rustic-looking art.
This is the piece that took 5 tries before I liked it.
I wanted to make it a bit lighter so I decided to bring out the white.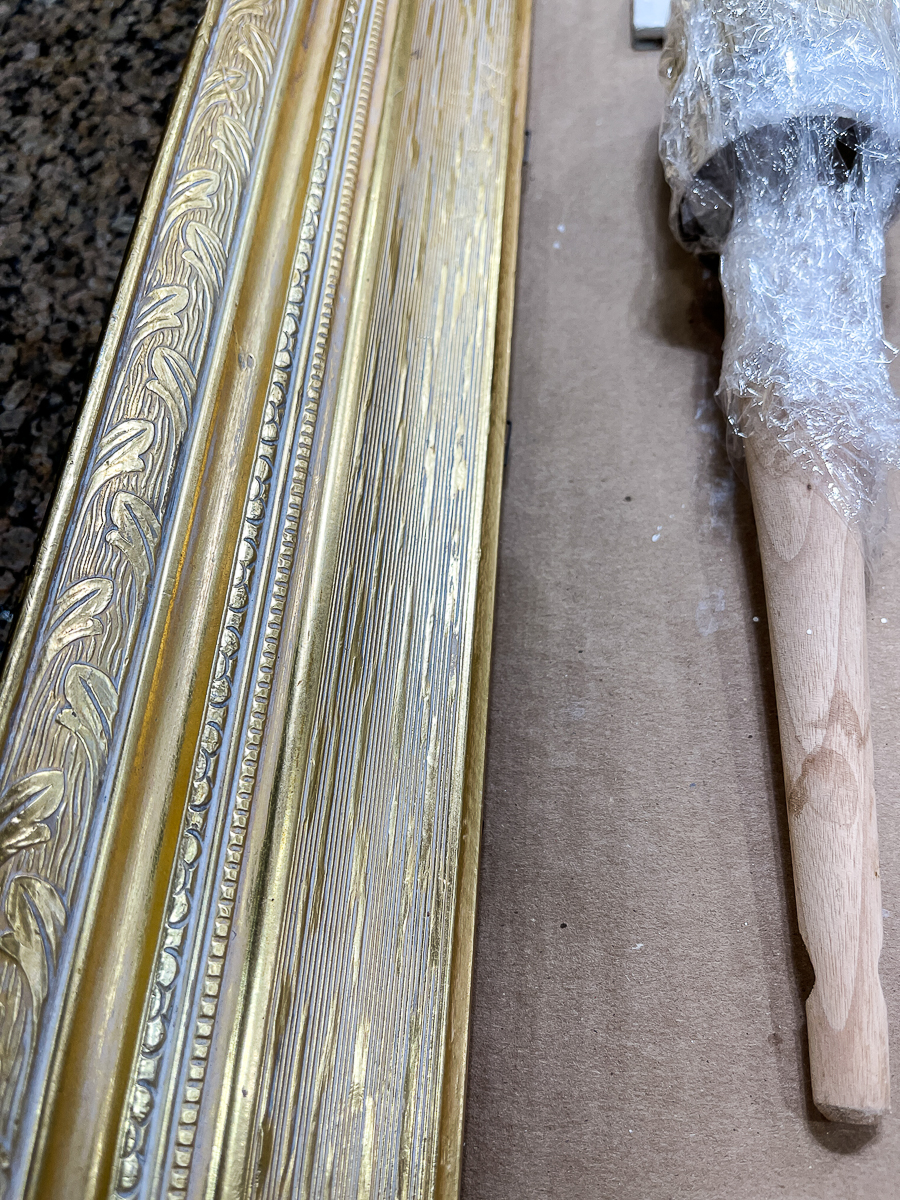 I had white wax on hand by Annie Sloan so I applied two coats on the frame buffing between coats and afterward.
This did nothing for me.
So I decided to use the same grayish-white paint on the narrow inner band. I did 2 coats. BEFORE I painted, I did sand just a bit to rough up the area since I had just waxed. I wanted the paint to adhere.
I still wasn't happy!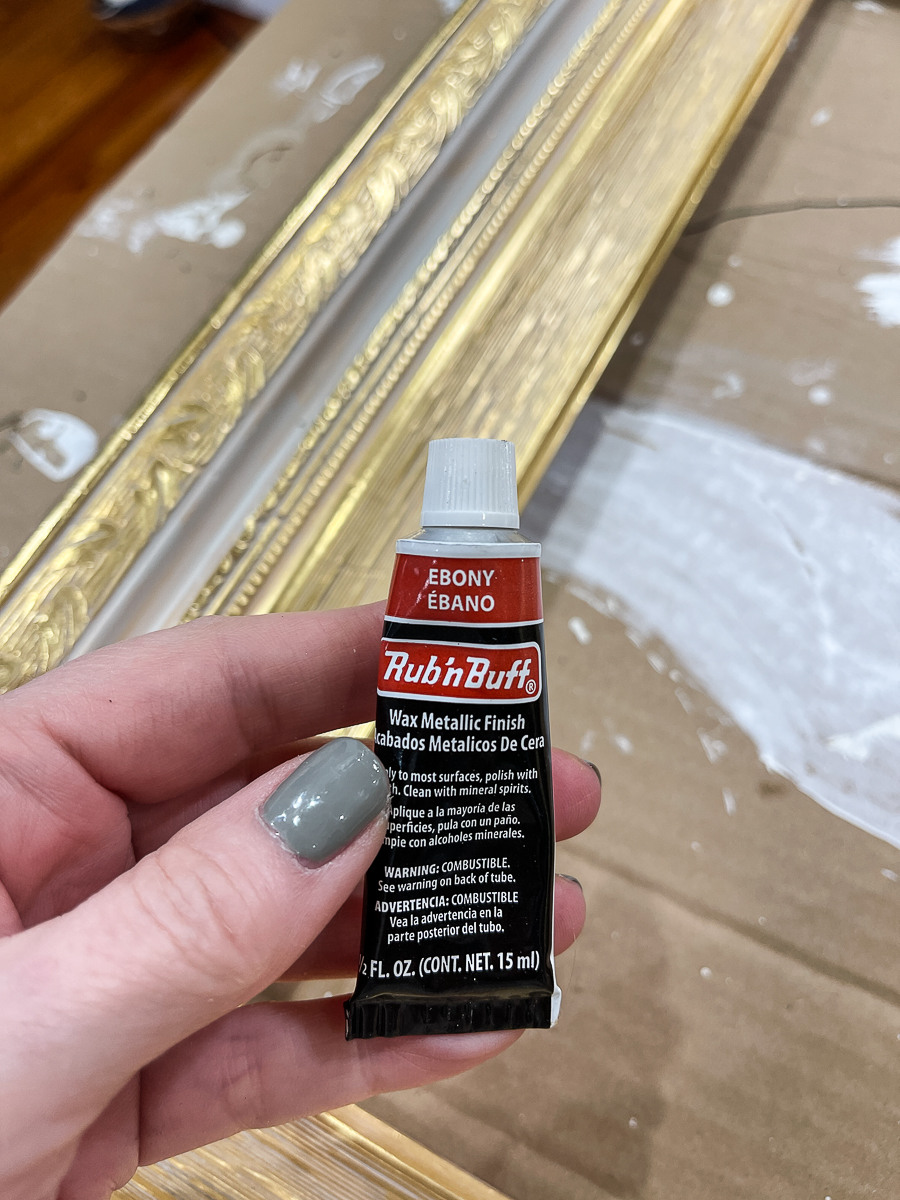 Next, I applied a coat of ebony Rub 'n Buff. I like the contrast, but it was just way too harsh.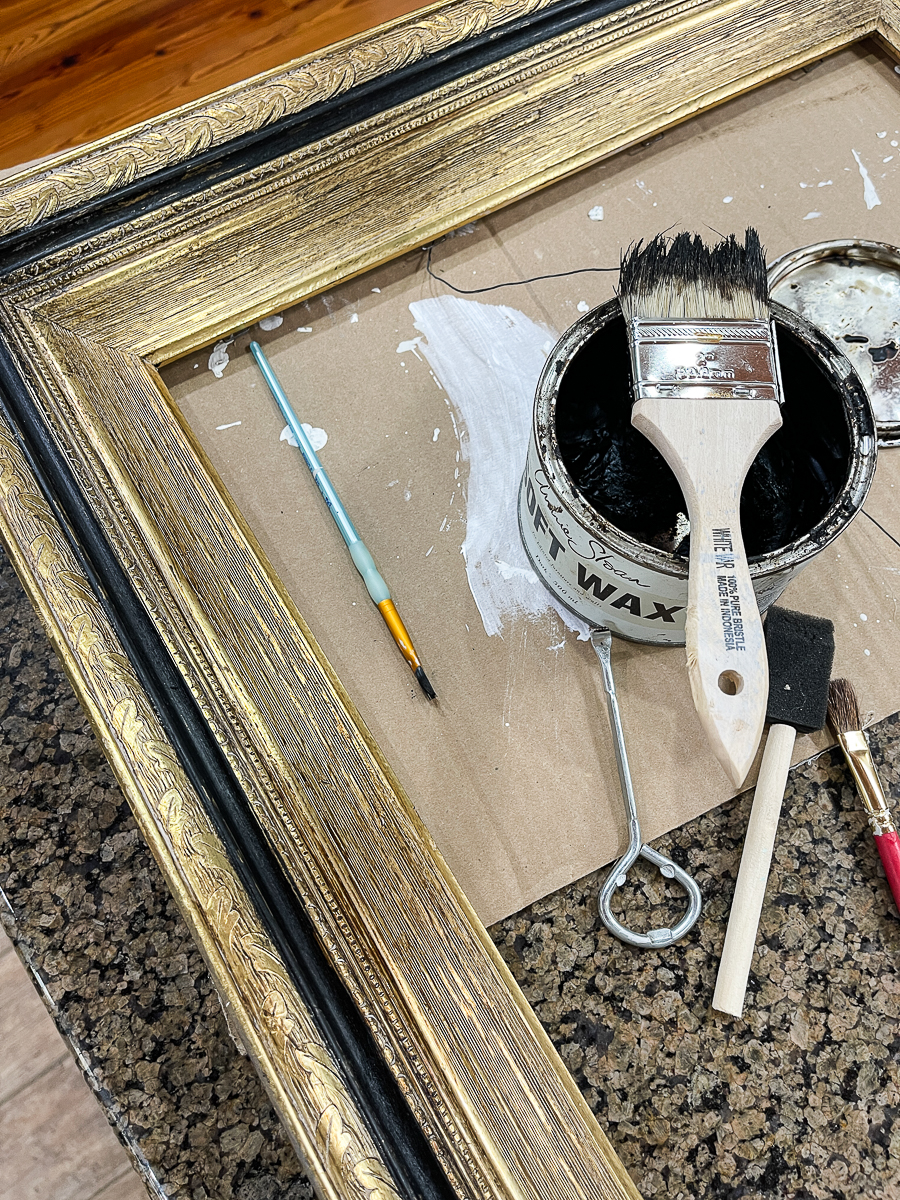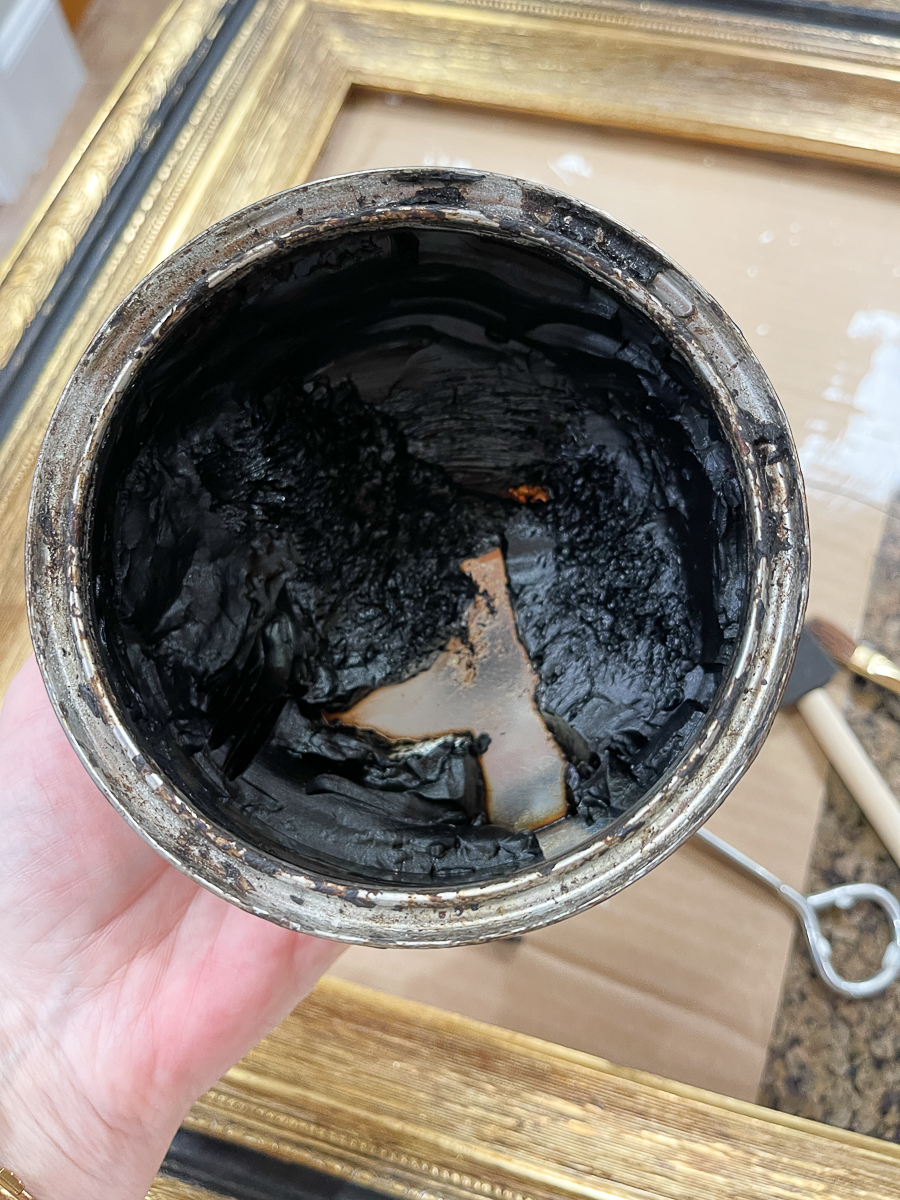 It still needed something. I reached for my dark wax and quickly applied a very light coat.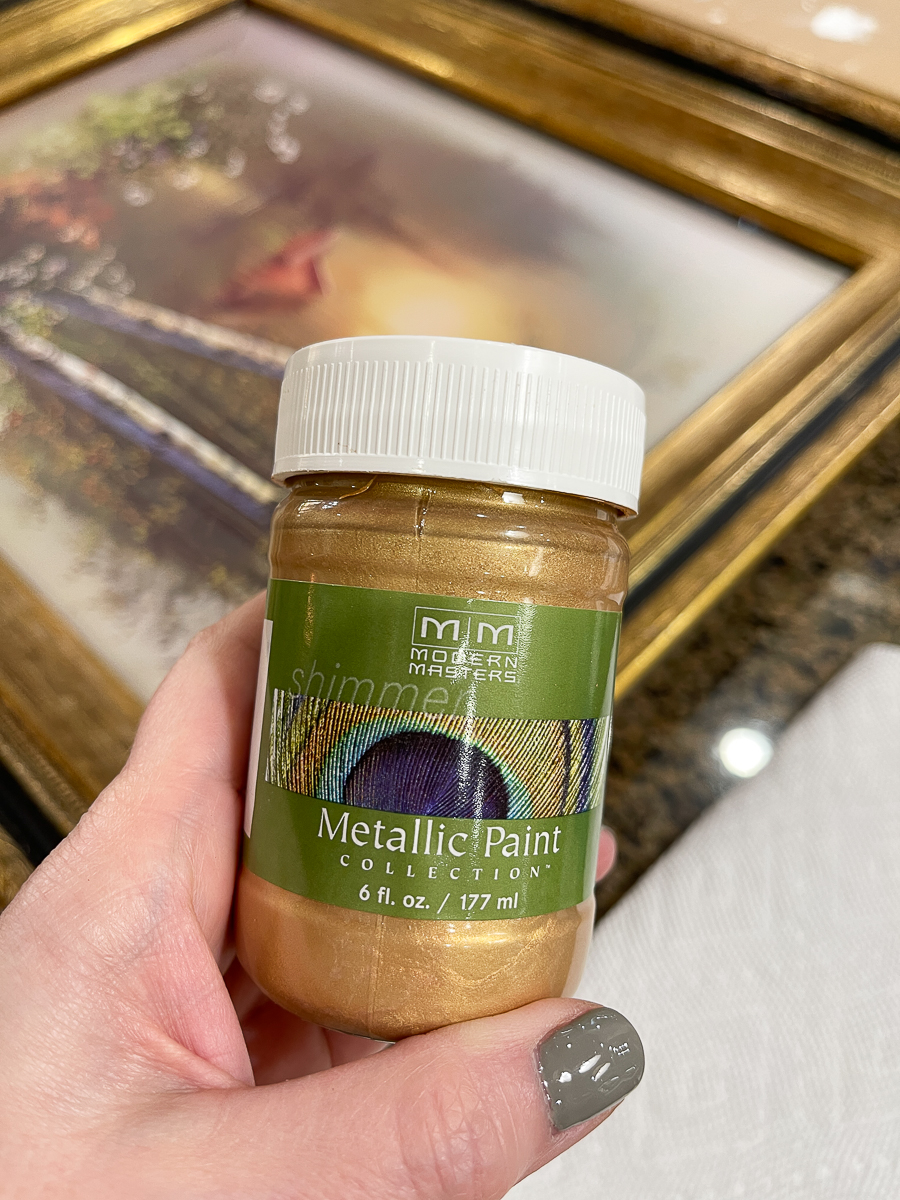 The sweet spot came on the fourth try when I dry-brushed gold paint over the black. It allowed there to still be some definition but softened it while allowing some light black to still show through.
Dry brushing is when you lightly dip the brush in the paint and then brush some of the paint off onto a paper towel before applying it to the frame.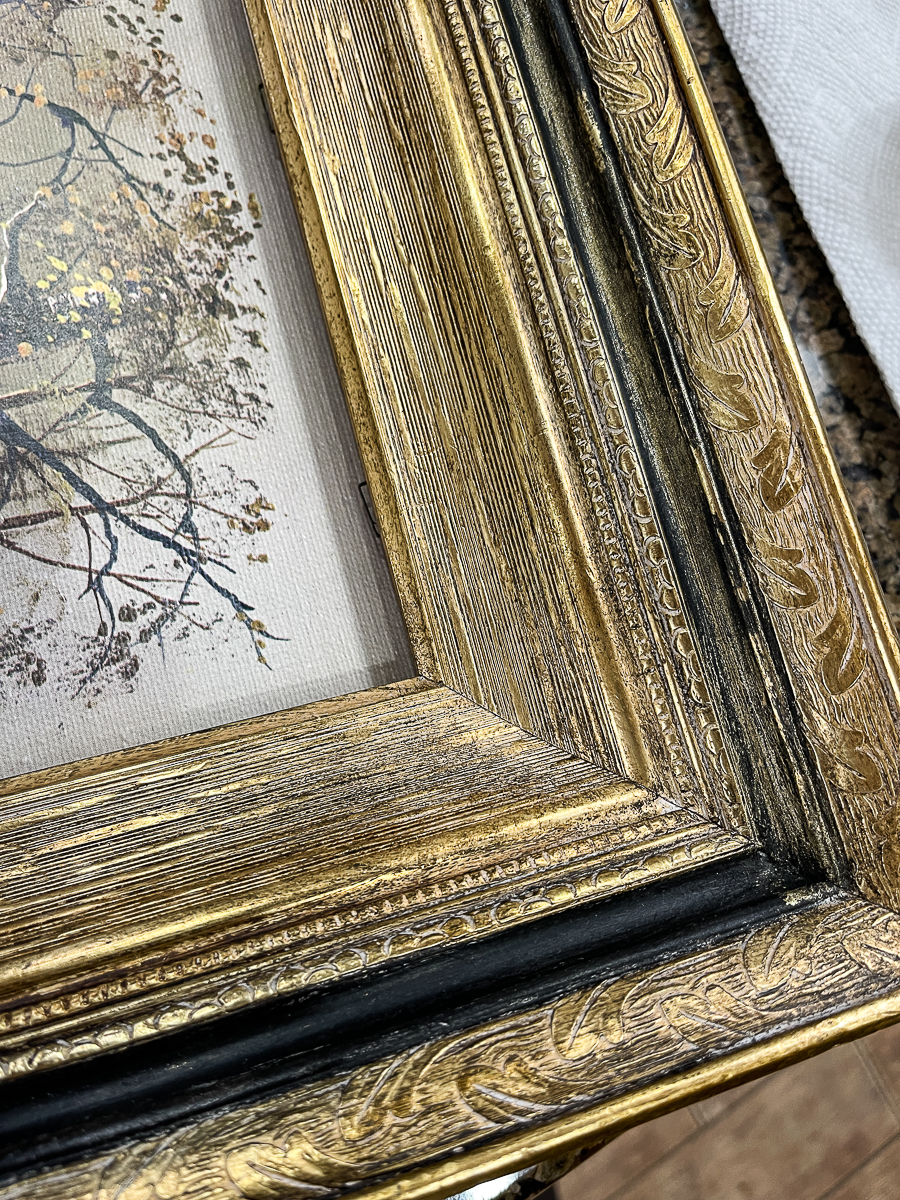 Do I regret the white wax? Absolutely not! It still softened the original gold finish to give it more of a softer look. I liked a bit of the white coming through.
This did the trick! I love the vintage look that the frame was taking on now. Use care when using dark wax. You must apply it over clear wax first or you will be left with a dirty-looking mess. In my case, I applied the white wax which helped the dark to glide on easier.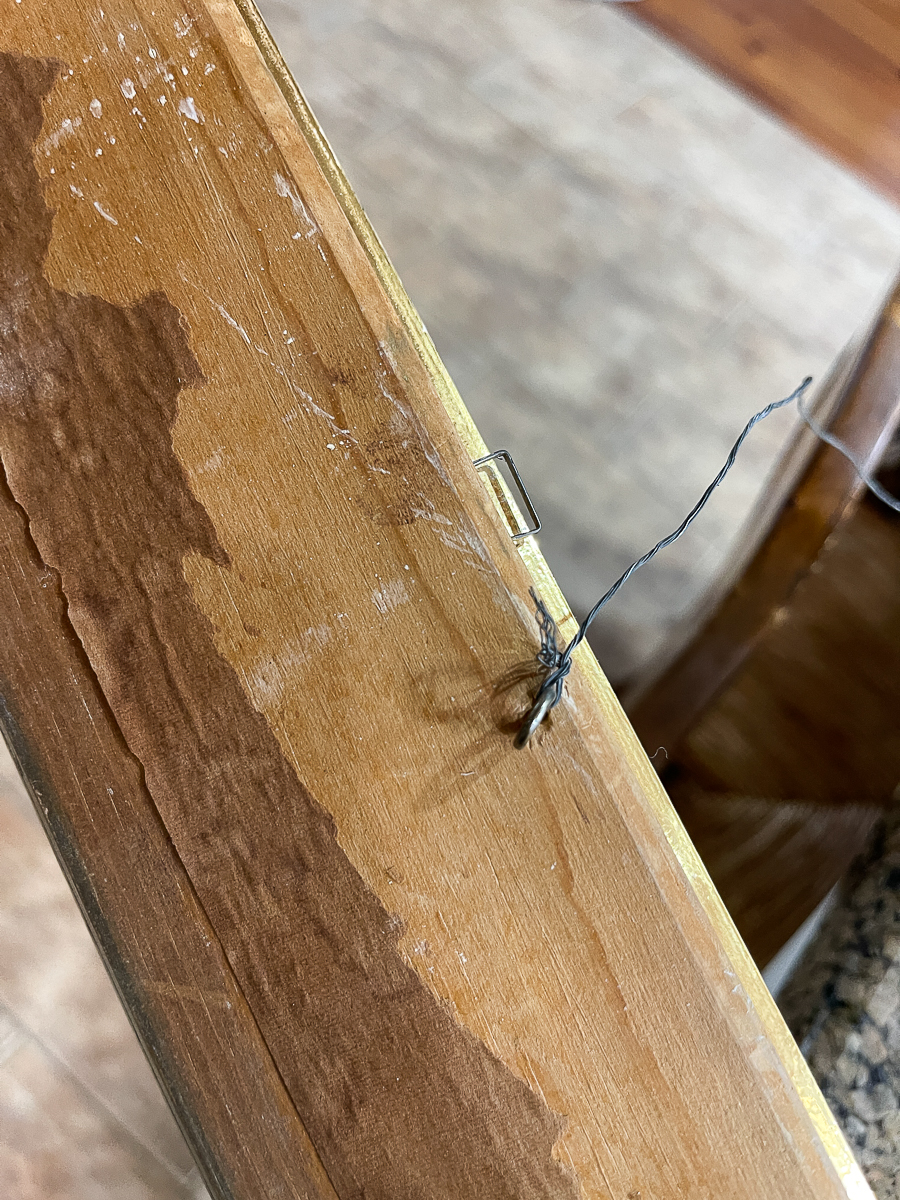 Next, I removed and repositioned the eye hooks to hold the wire for hanging. They were positioned horizontally for the frame. They needed to be for vertical placement.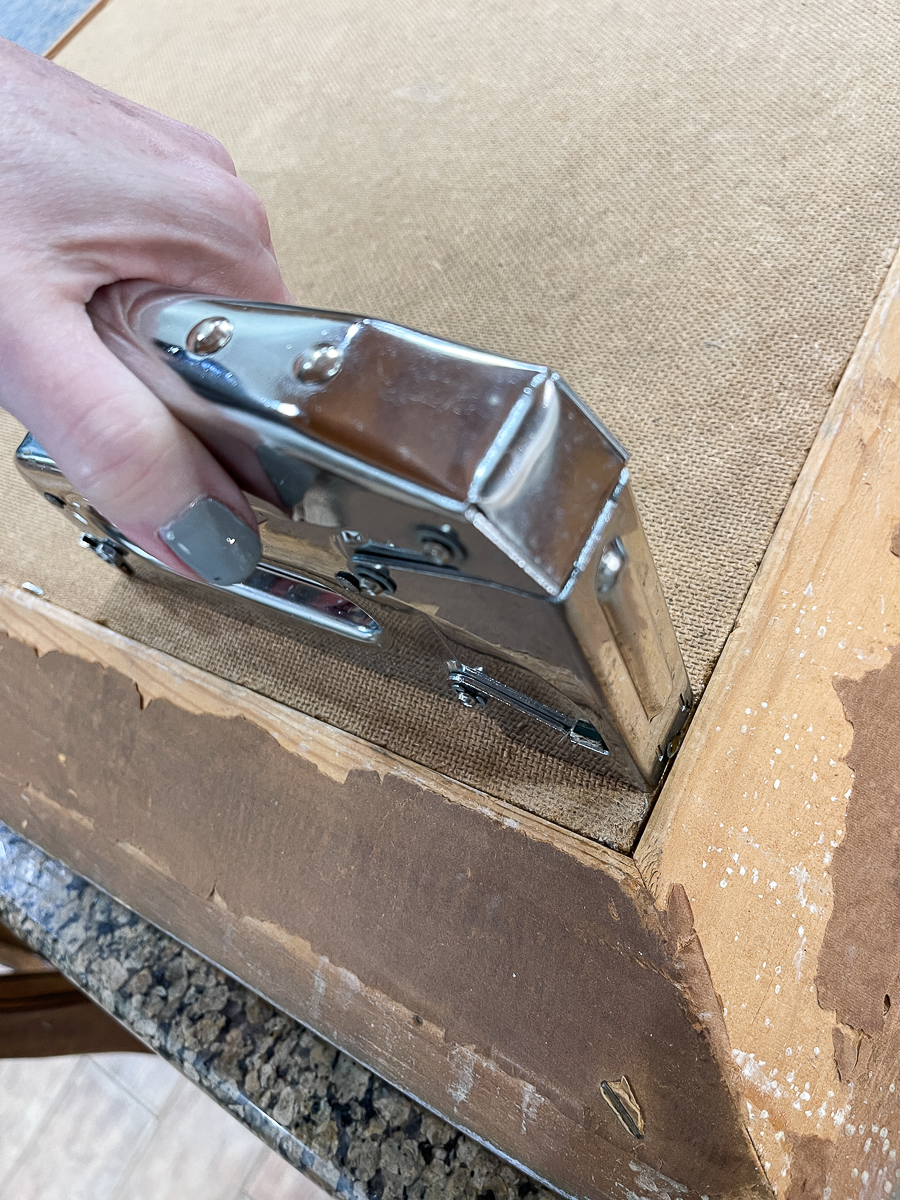 I had to remove staples on two sides to place the art in the frame. I then had to use my heavy-duty stapler to hold it in place.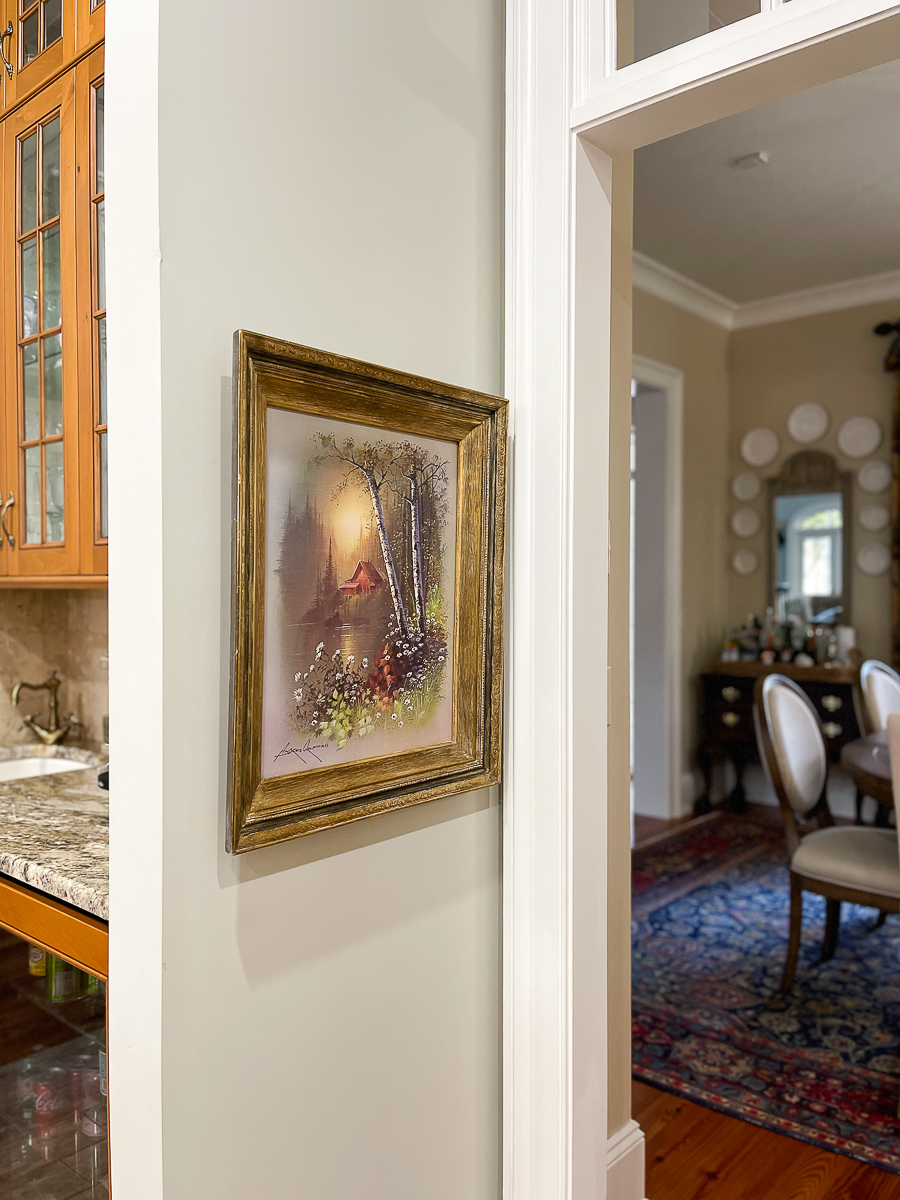 I am so happy with the outcome here.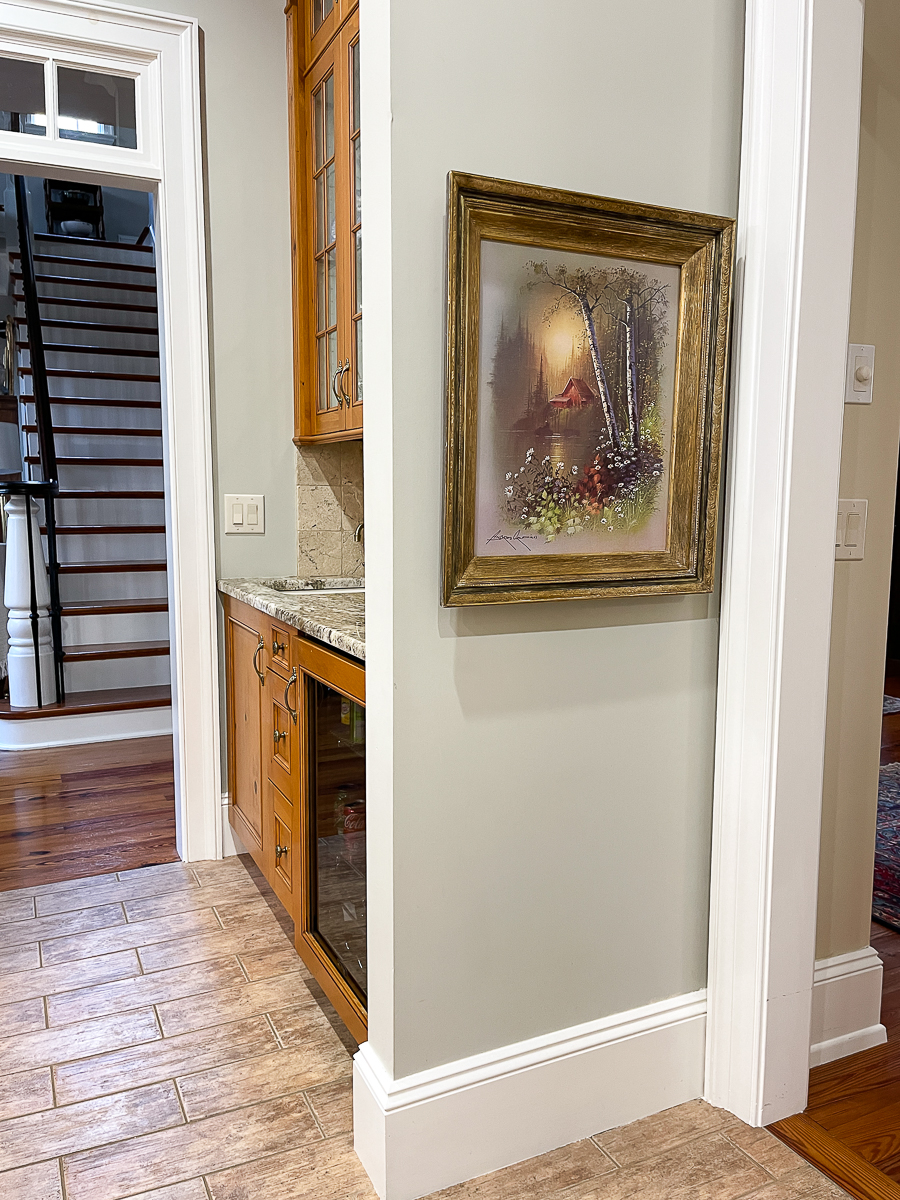 Scroll Through the Photos Below
The art that is normally in place here.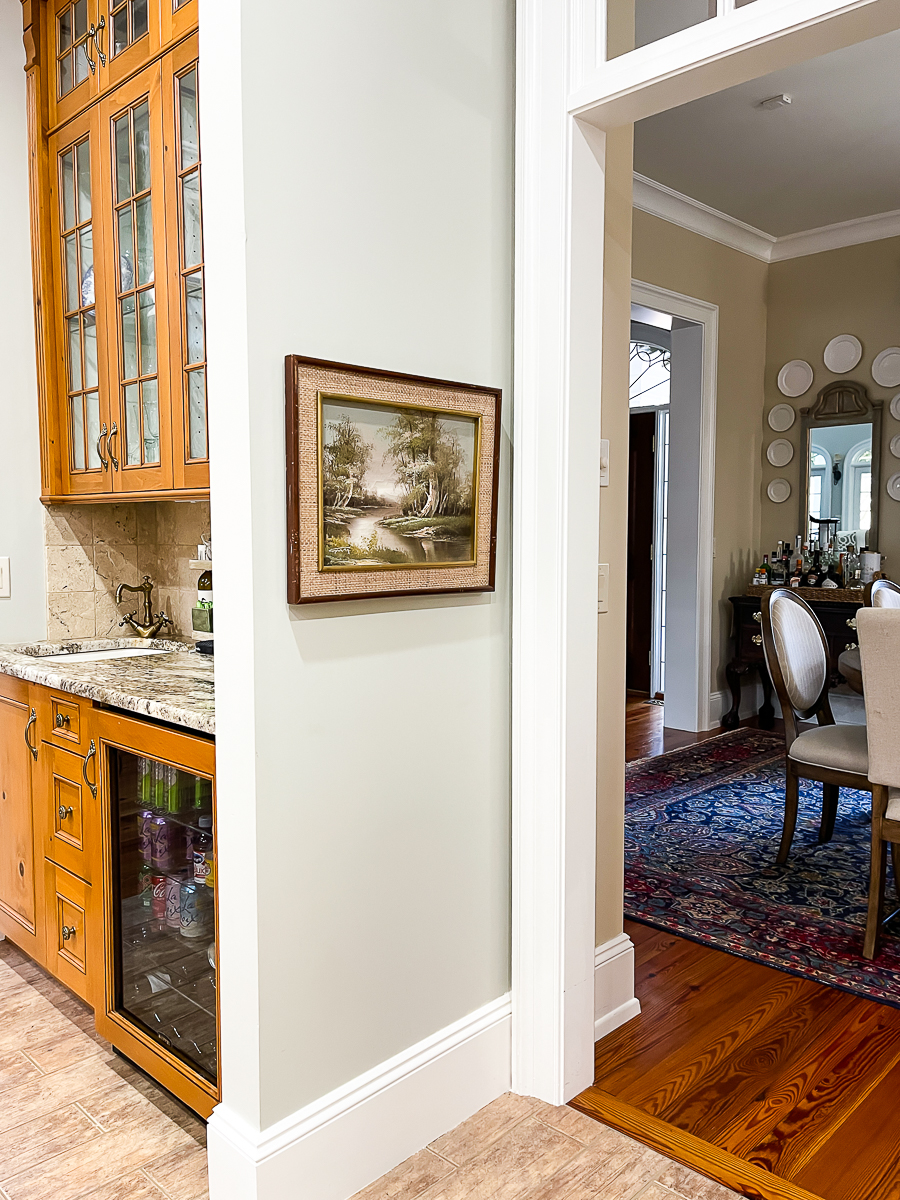 I removed another piece of thrift store art to photograph the makeover piece. I am not exactly sure where I will place it in the lake house yet but have the den in mind.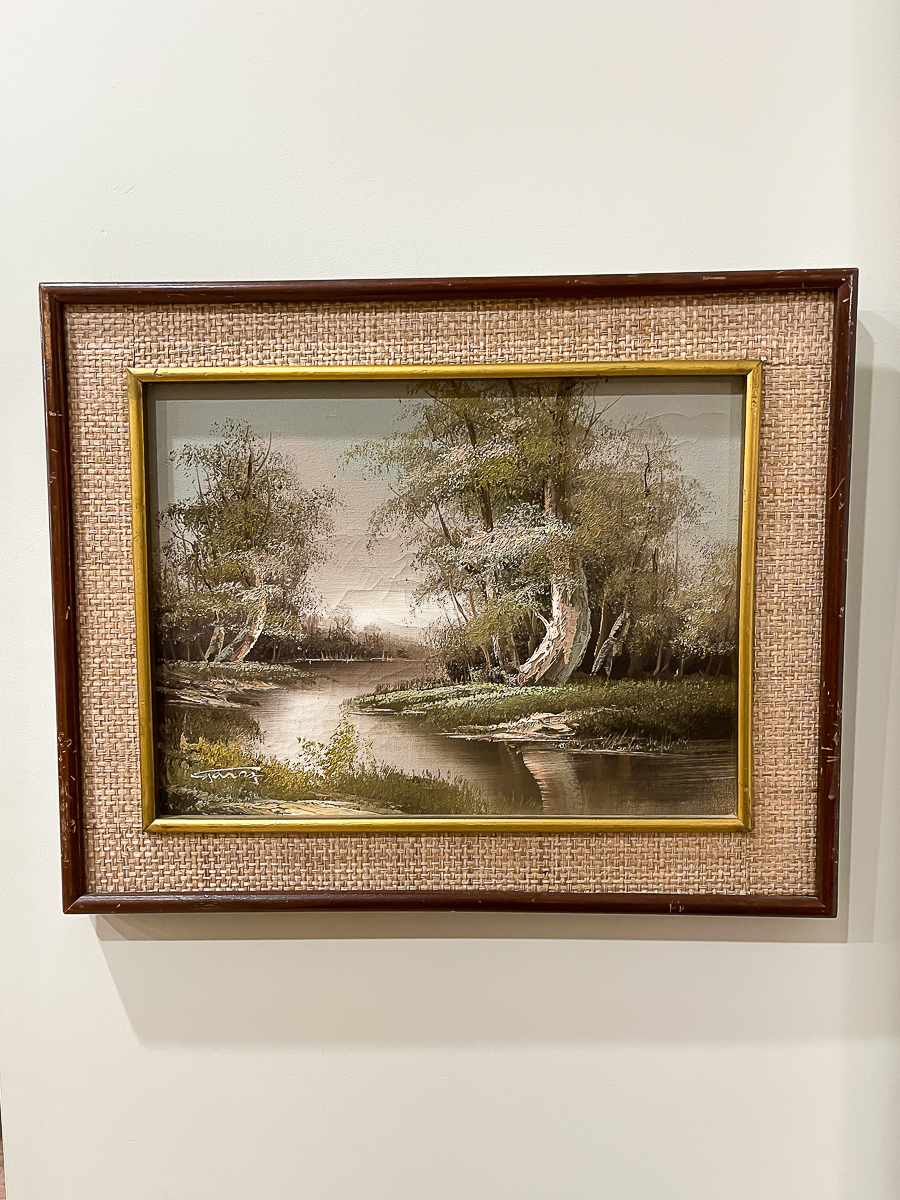 This is usually in place here. The frame has not received a makeover. If I do anything, it would be to add gold to the outer wood tone, but for now, I'm ok with it.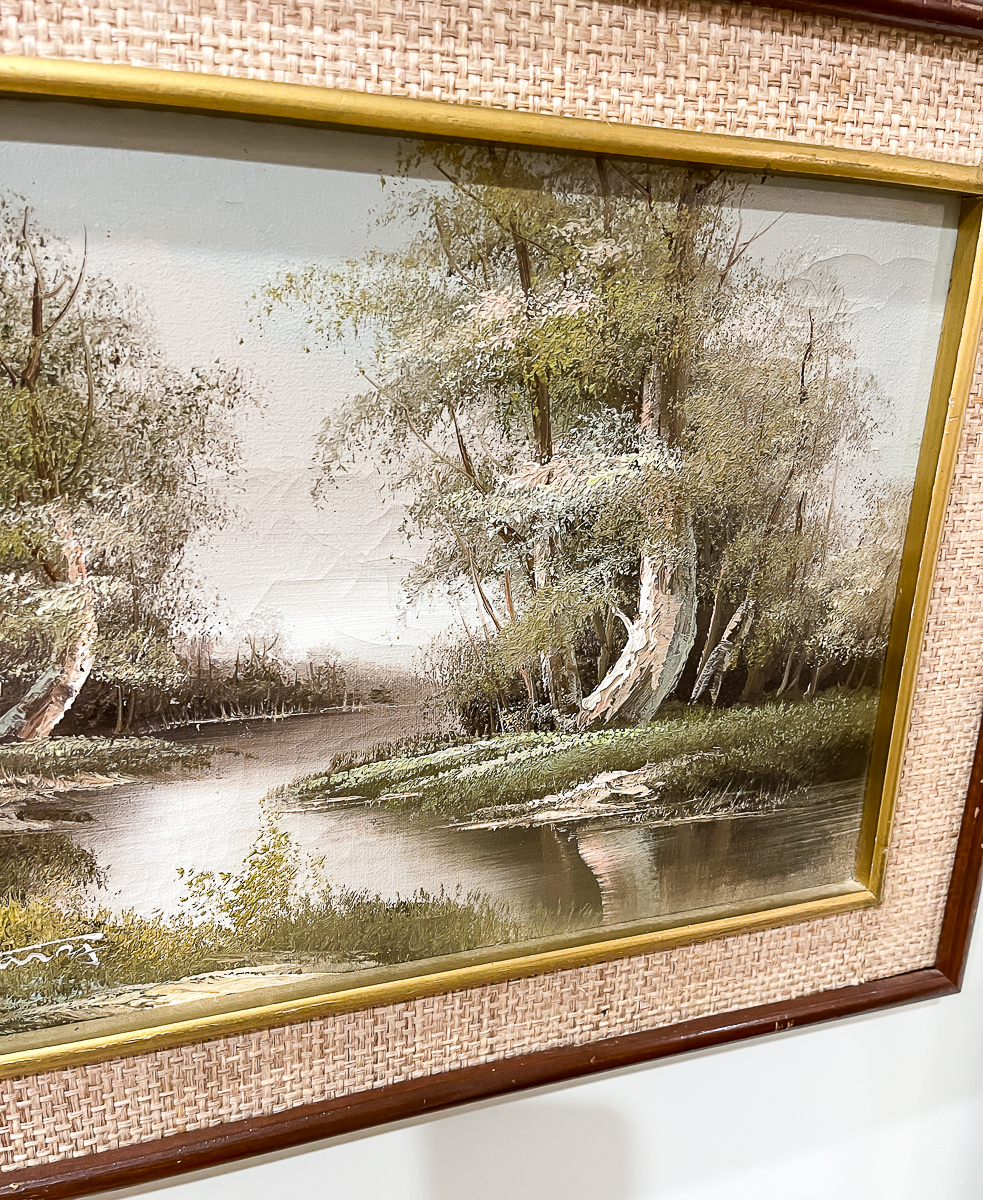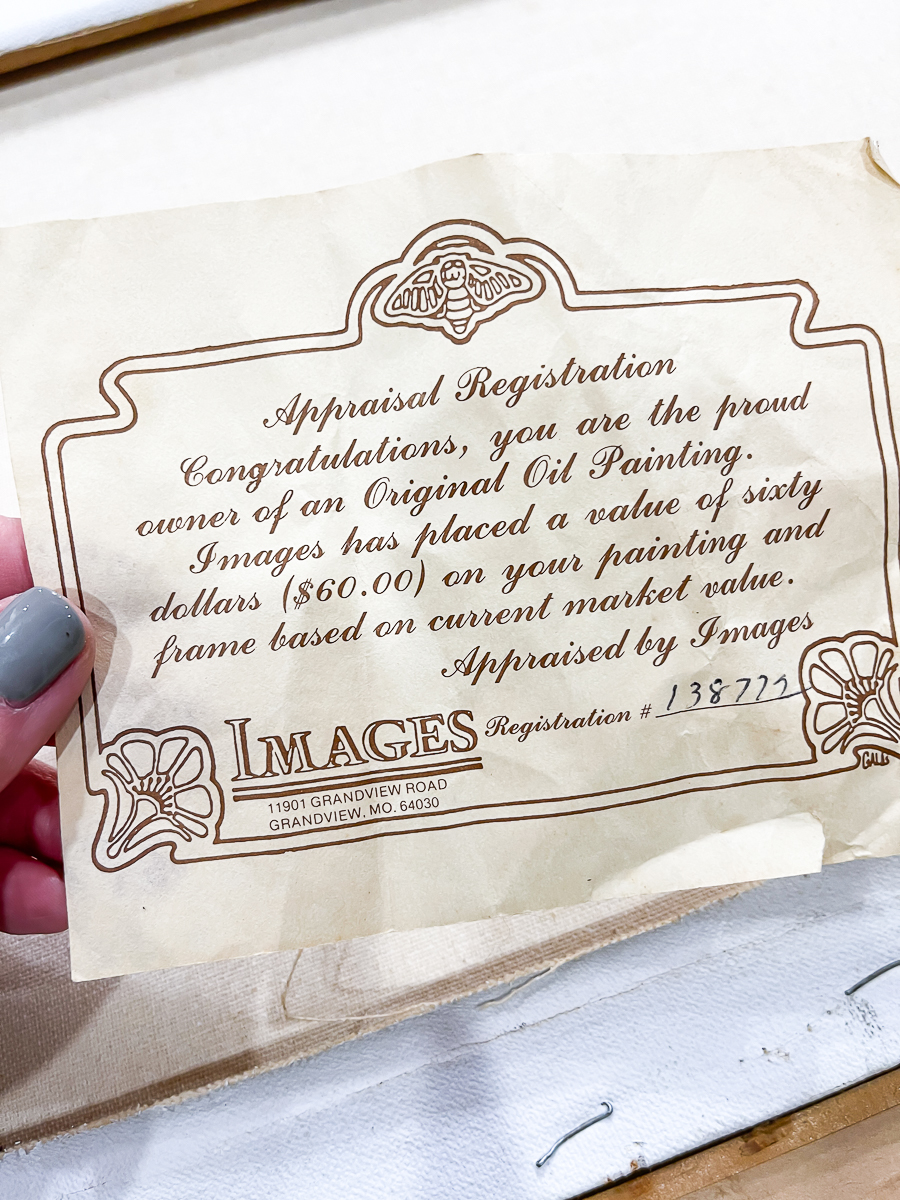 This is a piece of paper attached to the back. I paid $5 for this one.
More Budget Art Ideas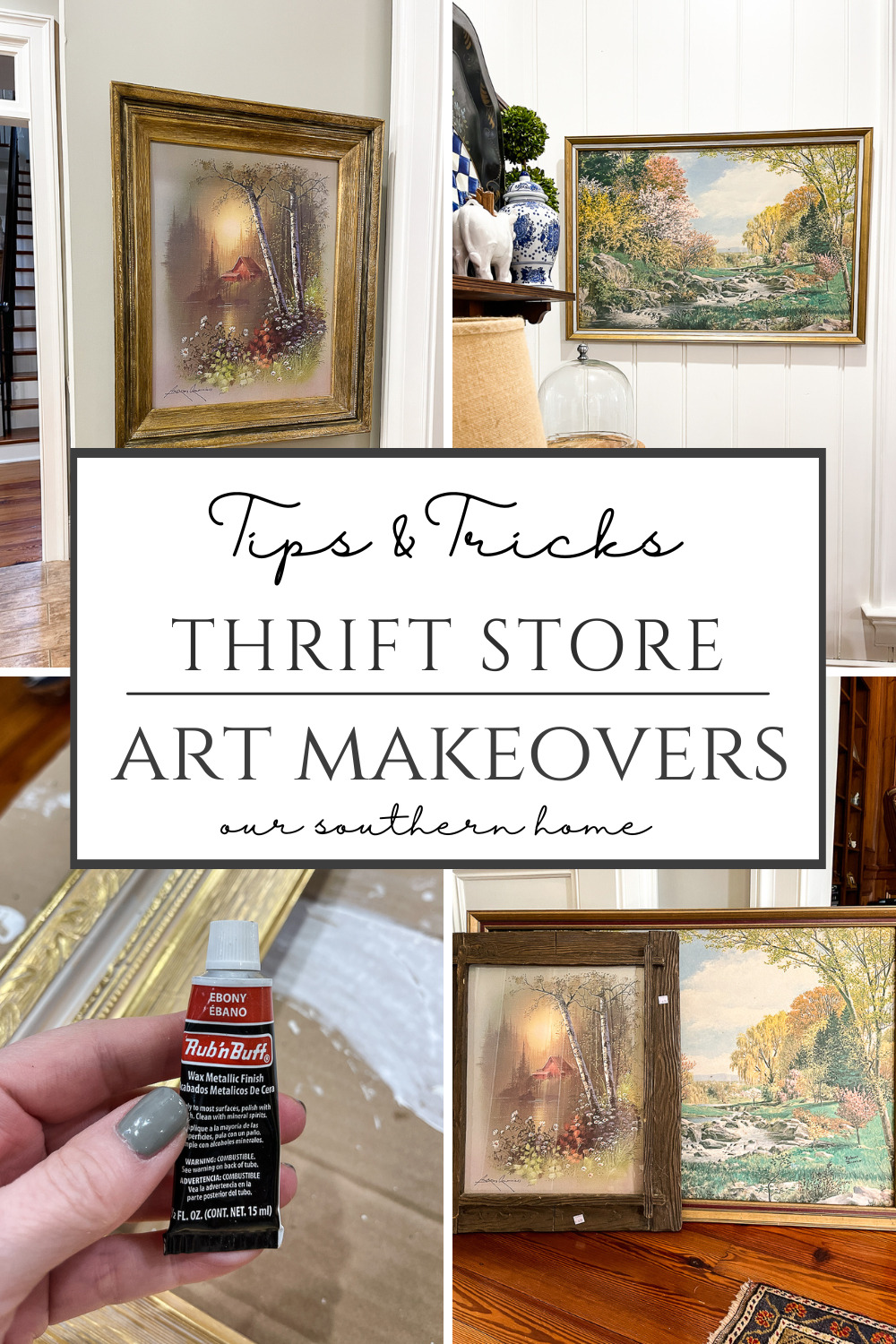 Thrift Store Team Projects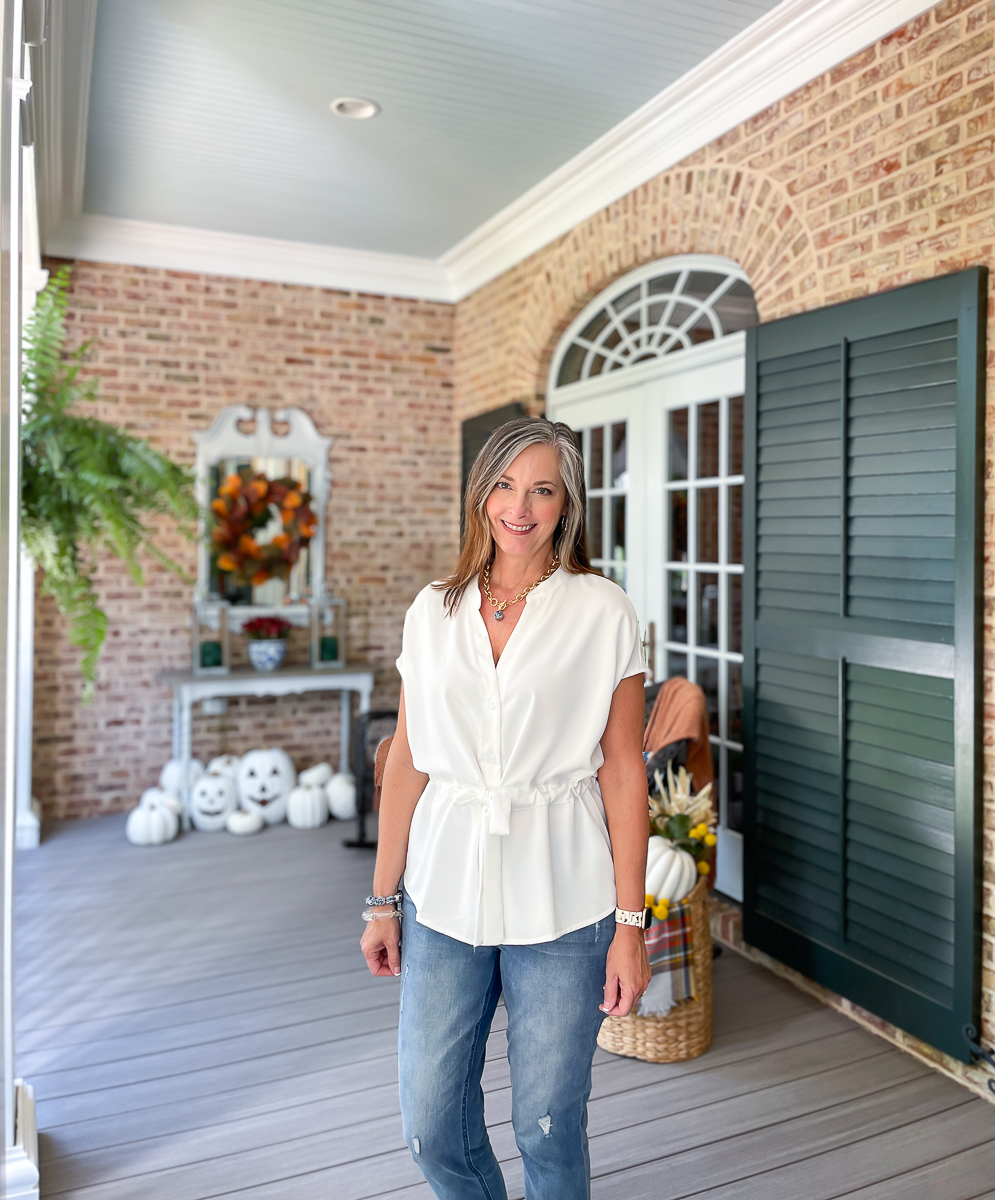 Christy has been creating content for Our Southern Home since 2012. She has been featured in numerous print and online publications. Her classic, eclectic design approach spans her home and fashion style. Christy has a way of mixing store-bought with thrift store, antique and vintage finds. As a recent empty nester, she is having fun navigating this new stage of life. Read more about Christy HERE. Be sure to subscribe below. You can also contact me HERE.
The post Tips for Updating and Decorating with Thrift Store Art appeared first on Our Southern Home.