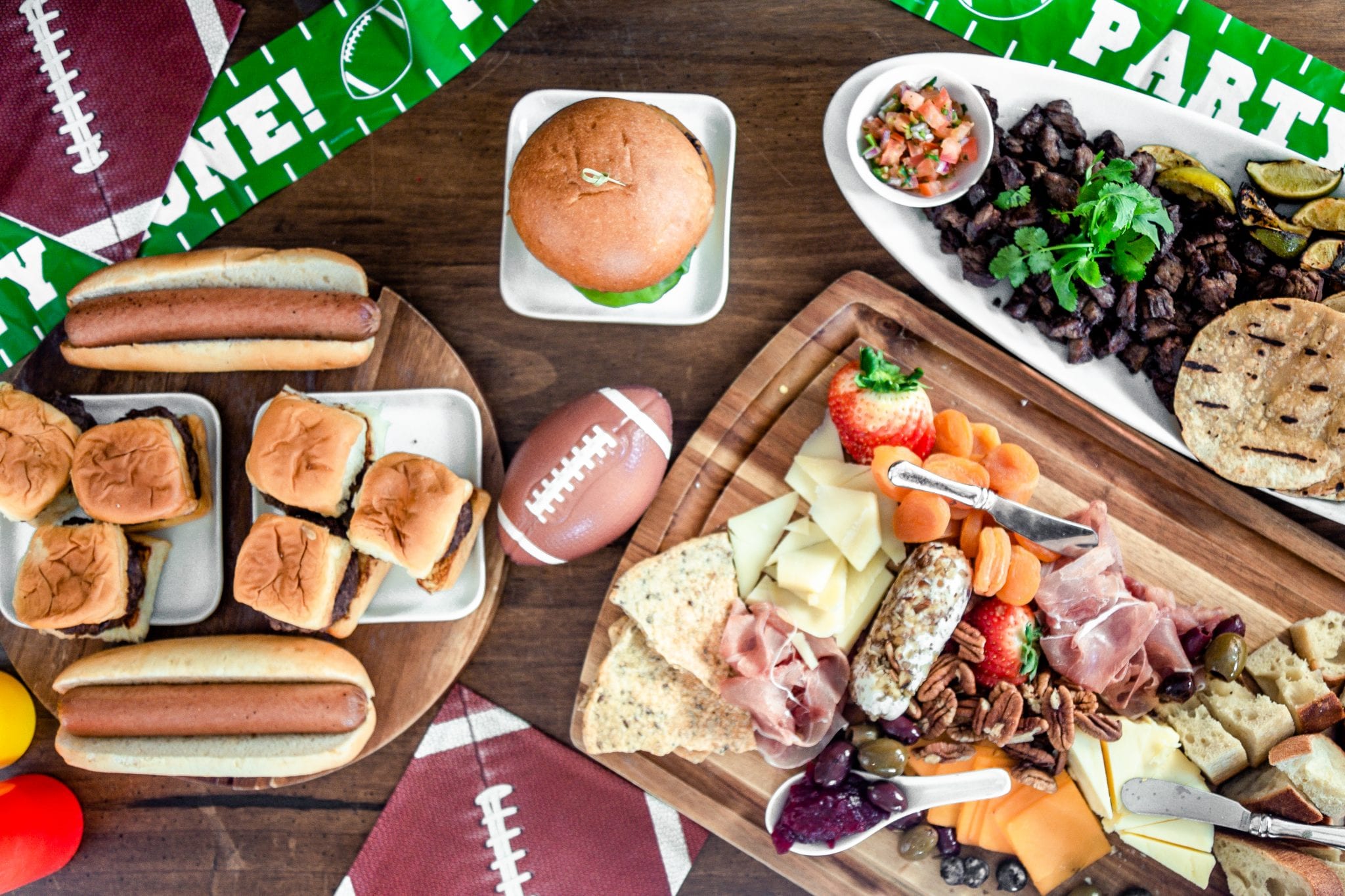 The NFL Superbowl is one of the most-watched events in the nation. Billions of dollars are dumped into the game, commercials, half-time show, and millions of Americans will tune in to see what team wins the championship. While some will flock to the bars, be packed like sardines, and gazing at a small screen, plenty will be hosting their own intimate Superbowl party. If youre having people over to catch the game, go the extra mile by making some snacks theyre going to remember. These yummy and healthy recipes make for a perfect accommodation to your game day gatherings.
Vegetarian
Greek Feta Dip
Forget the usual chips and guacamole. This Greek Feta Dip is creamy and delicious, so dont be surprised if its gone in a flash.
Ingredients
12 oz. feta
1 c. Greek yogurt
1 oz. (8-oz.) block cream cheese, softened
1/4 c. extra-virgin olive oil, plus more for drizzling
Juice and zest of 1 lemon
Kosher salt
Pinch crushed red pepper flakes
2 tbsp. freshly chopped dill, plus more for garnish
1/2 c. chopped cucumber
1/2 c. halved cherry tomatoes
Pita chips, for serving
Directions:
In a large bowl, combine feta cheese, Greek yogurt, cream cheese, oil, and lemon juice and zest. Beat using a hand mixer until fluffy. Season with salt and red pepper flakes
Transfer dip to serving bowl, and top with cucumber, tomatoes, dill, and a drizzle of oil.
Serve with pita chips.
Vegan
Baked and Breaded Avocado Bites
These baked avocado bites are a delight to snack on, plus theyre a healthy option!
Ingredients:
2 large Hass avocados, pitted, peeled, and sliced into bite-size pieces
1/2 cup Soy Milk
1 Tbsp. vegetable oil
1 cup panko bread crumbs
1/2 tsp. paprika
1/2 tsp. onion powder
1/2 tsp. garlic powder
1/2 tsp. salt
1/2 tsp. pepper
1/2 cup flour
Directions:
Preheat oven to 450F
Whisk soy milk and vegetable oil together in a small bowl
Combine bread crumbs with paprika, onion powder, salt, and pepper.
Roll each slice of avocado in flour, then dip into soy milk mixture. Once coated, roll in bread crumb mixture, then place on baking sheet.
Bake for 20 minutes, then serve immediately with your preferred dipping sauce.
Keto
Keto Taquitos
Impress your guests with this super unique snack that is both delicious and keto-friendly.
Ingredients:
2 tbsp. extra-virgin olive oil
1/2 onion, finely chopped
4 cloves garlic, minced
1 tsp. ground cumin
1 tsp. chili powder
2 c. shredded chicken
2/3 c. red enchilada sauce
4 tbsp. freshly chopped cilantro, plus more for garnish
Kosher salt
2 c. shredded cheddar
2 c. shredded Monterey jack
Sour cream, for serving (optional)
Directions:
Preheat oven to 375F and line two baking sheets with parchment paper.
In a medium skillet over medium heat oil, then add onion and cook for 3 minutes.
Add garlic and spices and cook for 1 minute, then add chicken and enchilada sauce and bring to a simmer.
For the taquito shells: in a medium bowl, mix together cheeses, then divide into 12 3.5in piles on the baking sheet. Bake until cheese is melty and slightly crispy around the edges. Let cool for 2-3 minutes, then peel shells over parchment
Add a small scoop of chicken to each and roll lightly.
Salty
Cheesy Jalapeno Pretzel Bites
Pretzels are a superior game-day snack, but when theyre stuffed with gooey and cheese and jalapeno, they cant be beat.
Ingredients:
1 tbsp. olive oil
3 jalapeos, seeded and finely chopped
kosher salt
2 (4-ounce) packages pretzel bites (about 24 total; we used Pretzilla)
4 oz. cream cheese, at room temperature
1/2 tsp. finely grated lemon zest
1 tbsp. lemon juice
Dash hot sauce
1 oz. extra-sharp orange Cheddar, coarsely grated (about 1/3 cup), plus more for sprinkling
1 scallions, finely chopped, plus more for sprinkling
Directions:
Heat oven to 400F. Line a baking sheet with parchment paper.
Heat a medium skillet over medium heat, then add oil, jalapenos, and salt, stirring occasionally.
Use a paring knife to remove top of each pretzel, leaving a 1-inch opening. Use your thumb to press into the opening, making it larger for stuffing.
In a bowl, combine cream cheese, lemon zest and juice, and hot sauce. Slowly fold in jalapenos, cheddar, and scallions, then transfer the mixture to a resealable plastic bag.
Cut a corner of the bag to make it a pipette, then begin to fill up each pretzel. Transfer to baking sheet, and sprinkle more cheese and a light dash of salt. Bake until cheese melts, 5-6 minutes, then serve with scallions.
Sweet
Gooey-Packed Brownies
Brownies are the ultimate game day desserts, and these are packed with caramel, pecans, pretzels.
Ingredients:
12 tablespoons (1-1/2 sticks) unsalted butter
2-1/4 cups semi-sweet chocolate chips, divided
2 cups sugar
4 large eggs
1 teaspoon vanilla
1 cup all-purpose flour
cup unsweetened cocoa powder
1 teaspoon baking powder
teaspoon salt
1-1/4 cups caramel bits, divided
1 cup crushed pretzels
cup chopped pecans, divided
1 (12-15 ounce) jar caramel sauce
35-40 mini pretzels (football shaped if you can find them), for decorating
Directions:
Preheat oven to 350F. Line 913-inch baking dish with parchment paper and lightly grease with cooking spray.
In a large microwavable bowl, melt the butter and 1-cup of chocolate chips in 30 second chunks of time until melted. Stir in sugar then whisk in eggs one at a time until combined. Add vanilla to mixture.
In a separate bowl, whisk together flour, cocoa powder, baking powder, and salt. Gently store flour mixture until well combined.
Fold in 1 cup caramel bits, 1 cup crushed pretzels, 1 cup chocolate chips and cup chopped pecans. Bake for 30 minutes.
Once cooled, spread caramel sauce evenly over top of brownies. Garnish with remaining chocolate chips, pecans, and pretzels.
Gluten-Free
Quinoa Buffalo Bites
This appetizer will give you the satisfaction of buffalo chicken without the guilt of cheating on your diet!
Ingredients:
1 Cup Cooked Quinoa
2 Large Eggs
1/4 Cup Grated Carrot
1/4 Cup Finely Chopped Celery
3 Tablespoons Buffalo Wing Sauce
1/4 Cup Shredded Cheddar Cheese
1/4 teaspoon Salt
Directions:
Preheat oven to 350F
Spray 12 mini muffin tins with nonstick spray
Combine all ingredients, then transfer to mini muffin tins
Bake for 30-35 minutes
Transfer to cooling rack
Savory options courtesy of The Butchery
The Butcherys House Sandwich Sliders
Ingredients:
2 lb. House Marinated Steak Tips from The Butchery
1 tbsp. olive oil
1 white onion, sliced
5 large red peppers, sliced
10 slices of white American cheese
5 grinder rolls
Directions:
Slice house marinated steak tips thin and cut against the grain. Cook the sliced steak tips on a flat top grill or skillet on medium-high heat until nicely browned, about 8 minutes
In another pan, heat olive oil on medium heat and cook sliced onions and red peppers until slightly softened, about 10 minutes
Place 2 slices of white American cheese inside each grinder roll, then broil on high for 2 minutes or until cheese is melted.
Add cooked steak tips and sliced onions and peppers. Cut each prepared sandwich into thirds for 15 sliders.
Crispy Jidori Chicken Wings
Ingredients:
For the wings:
12 Jidori chicken wings
1 tbsp. baking powder
2 teaspoons Wheely Qs SPG seasoning
For the sauce:
1/4 cup unsalted butter, melted
1/2 cup hot sauce of choice
Directions:
Adjust oven rack to upper-middle and preheat to 375F. Pat dry chicken wings with paper towels, squeezing out as much moisture as possible.
Transfer to large bowl and add baking powder and Wheely Qs SPG Seasoning. Toss wings thoroughly until evenly coated.
Line baking sheet with aluminum foil and arrange wings on sheet, about 1 inch apart. Bake for 30 minutes, then flip and continue to cook until crisp and golden brown, about 20-30 minutes
While wings are cooking, whisk together butter and hot sauce. When wings are cooked to golden brown, toss and coat in the sauce. Serve with ranch or blue cheese dip.
Goat Cheese Sausages
Ingredients:
4 Pontrelli Goat Cheese Italian Sausages
Tinga Sauce
Directions:
Grill or cook sausages in a skillet to get a nice caramelized crust and hot through the center (150F), about 6 minutes per side
Let cool for a few minutes so the cheese doesnt spill out, then slice at an angle and serve with toothpicks and a tangy dipping sauce such as Tinga Sauce.
And if you dont feel like cooking
Ranch 45 in Solana Beach has you covered for all your Super Bowl party needs! Their Big Game Party-Pack is completely customizable, featuring crowd pleasers such as hamburgers, hot dogs, meat back ribs and tender tri-tip. You can even choose from a variety of sides including chili, nachos, carne asada, and more! Place your order by calling Ranch 45 at (858) 461-0092 or emailing them at info@ranch45.com.